The recent fleet of MacBooks and Mac desktops already delivers insanely fast speeds, largely thanks to Apple's custom M1 processors that have rolled out over the past few years. But if those machines don't offer quite enough muscle for your daily workflow, Apple just introduced what's looking like the most powerful Mac ever: the Mac Studio.
Essentially a supersized Mac Mini, the Mac Studio claims to outperform virtually every other Mac — particularly if you choose to spend the cash to equip it with the new M1 Ultra processor — and seems ideal for true professionals that are juggling tasks like advanced music projects, intensive 3D artwork and high-end software development. Here's everything you need to know about this promising (and expensive) new Mac, and how it compares to some of the speediest desktops in Apple's current lineup.
Mac Studio preorders and release date
The Mac Studio is available for preorder now in two core configurations, and begins shipping on March 18. The desktop starts at $1,999 with an M1 Max processor and $3,999 with an M1 Ultra processor, the latter of which is Apple's newest and reportedly fastest CPU. There are plenty of optional upgrades available for both versions, including up to 8TB of storage, up to 128GB of memory and higher-end versions of both the M1 Max and M1 Ultra chips that pack extra graphics cores for visually intensive tasks.
Mac Studio with M1 Max
Memory: 32GB
Storage: 512GB
Pricing: From $1,999 at Best Buy, Apple
Mac Studio with M1 Ultra
Memory: 64GB
Storage: 1TB
Pricing: From $3,999 at Best Buy, Apple
Mac Studio at a glance
Like the Mac Mini, the Mac Studio is a compact, cube-shaped desktop computer that connects to your own peripherals and monitor. It effectively looks like two Minis sandwiched into one extra-powerful PC, with a chunky 7.7 by 7.7 by 3.7-inch design that still shouldn't take up much desk space. The Studio is aimed primarily at creative professionals, and offers a choice between Apple's two most powerful processors: the M1 Max (which debuted — and impressed us — on the new MacBook Pros), and the all-new M1 Ultra, which seems to deliver a frankly overkill level of power that may be best reserved for folks with truly demanding workflows.
No matter which version of the Mac Studio you decide on, you'll likely enjoy a major performance upgrade over whatever computer you currently own. Apple claims that the Mac Studio with M1 Max delivers up to 2.5 times the CPU performance of the highest-end 27-inch iMac, while the Mac Studio with M1 Ultra pumps out up to 3.8 times the CPU performance compared to that same iMac. In more practical terms, Apple says the M1 Max version is up to 7.5 times faster than the 27-inch iMac when transcoding video, while the M1 Ultra version is up to a whopping 12 times faster for the same task.
The M1 Ultra Mac Studio in particular is looking like one of the most powerful computers ever, reportedly capable of juggling 18 streams of 8K video and offering up to 128GB of memory to aid with multitasking. To put that number in perspective, most comparable PCs offer a fraction of that at up to 48GB.
The Mac Studio offers a healthy selection of ports within its small chassis, including four Thunderbolt 4 connections in the back, ideal for connecting high-resolution displays and speedy storage drives. The M1 Ultra version has two additional Thunderbolt 4 ports up front, while the M1 Max version gets you standard USB-C connections. You also get an Ethernet port for wired internet, two USB-A ports for older accessories, an HDMI connection for TVs and monitors, and an audio jack for headphones or speakers.
The takeaway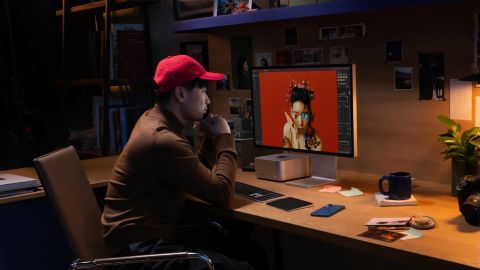 | | | |
| --- | --- | --- |
| Processor | Apple M1 Max (24-core or 32-core GPU) | Apple M1 Ultra (48-core or 64-core GPU) |
| Memory | 32GB or 64GB | 64GB or 128GB |
| Storage | 512GB, 1TB, 2TB, 4TB or 8TB | 1TB, 2TB, 4TB or 8TB |
| Ports | USB-C (2), SDXC, Thunderbolt 4 (4), USB-A (2), HDMI, 10Gb Ethernet, 3.5mm headphone jack | Thunderbolt 4 (6), SDXC, USB-A (2), HDMI, 10Gb Ethernet, 3.5mm headphone jack |
| Size and weight | 7.7 x 7.7 x 3.7 inches, 5.9 pounds | 7.7 x 7.7 x 3.7 inches, 7.9 pounds |
| Price | $1,999 | $3,999 |
Based on Apple's claims and our own experience with the company's M1 machines, the Mac Studio could very well be one of the most powerful computers ever — if not the most powerful. However, with starting prices of $1,999 for the M1 Max model and an absurd $3,999 for the M1 Ultra configuration, the Studio seems exclusively made for creative professionals who need even more power than even the latest M1 MacBooks, iMacs and Mac Mini can offer.
If your workflow consists of 3D animation, massive multitrack music recordings or advanced coding (and if you don't mind supplying your own monitor and accessories) the Studio is worth keeping on your radar. But most folks seeking a compact desktop will be just fine with the latest Mac Mini, which starts at a much cheaper $699 and has a standard Apple M1 chip that we've found to deliver an absurd amount of power for everyday computing. And if you'd rather have an all-in-one solution with a built-in display and included accessories, the 24-inch iMac (starting at $1,299) is a great option. Still, the Mac Studio promises an exciting level of sheer performance, and we're looking forward to testing it ourselves in the coming weeks to see just how big an upgrade it is for power users.
Mac Studio specs