When discussing the best wireless earbuds, the AirPods Pro 2 and Bose QuietComfort Earbuds II are often mentioned in the same breath. These flagship models package elite active noise cancellation (ANC), satisfying sound and terrific call quality into familiar designs. Recent software updates have also enhanced both sets of buds in key areas, such as battery life and connectivity.
The AirPods Pro 2 are most ideal for Apple users, while the QC Earbuds II work reliably with all Apple, Android and Windows devices. However, their unique feature sets may convince you to purchase one over the other, no matter the operating system.
After two weeks of head-to-head testing, we broke down the AirPods Pro 2 and Bose QC Earbuds II to determine the better true wireless investment.
AirPods Pro 2 vs. Bose QuietComfort Earbuds II at a glance
| | | |
| --- | --- | --- |
| Active noise cancellation | Yes | Yes |
| Transparency | Yes | Yes |
| Spatial audio | Yes | No |
| Battery life (rated) | 6 hours (earbuds only); 30 hours (with case) | 6 hours (earbuds only); 24 hours (with case) |
| Wireless charging | Yes | No |
| Sweat and water resistance | IPX4 (earbuds and case) | IPX4 (earbuds only) |
| Weight | 0.19 ounces (per bud) | 0.22 ounces (per bud) |
| Ear tip sizes | XS, S, M, L | S, M, L |
| Software support | iOS | iOS, Android |
| Colors | White | Triple Black, Soapstone, Midnight Blue, Eclipse Gray |
| Price | $249 | $299 |
Equally comfortable, though the AirPods Pro 2 design is more practical
The aesthetic and functional changes Apple implemented on their second-gen ANC buds are noteworthy. For starters, the AirPods Pro 2 now come with responsive touch sensors to control volume via slide gestures. The AirPods 3's skin-detect sensors were added for more accurate motion detection; taking off the buds enables auto-pause. Apple's new ear tips produce a tighter seal, making these a superior workout companion to the original AirPods Pro. Build quality remains subpar, but you still get IPX4 water resistance, which has also been applied to the charging case this time around. On top of that, the case has two cool features: a lanyard loop and a built-in speaker that sends out tones to indicate charging status, low battery, pairing or help locating the case when misplaced.
Bose completely revamped its true wireless design with the QC Earbuds II. Ditching the originals' bulky, elongated form for the popular long-stem look was a wise choice. These buds feel lighter and less obtrusive when worn. Certain elements were carried over from the first-gen model, including motion detection, touch controls and IPX4 protection. The QCE II are also composed of sturdier materials. Expect a secure seal, thanks to Bose's updated ear tip kit with stabilizers that mold nicely to the inner part of your ears. We just wished that Bose's ear tip fit test was as accurate as Apple's version. The QCE II's charging case is another sweet upgrade that resembles the stylish, egg-shaped Google Pixel Buds Pro case. Unfortunately, it doesn't come moisture-proof like Apple's case, nor does it feature Find My Buds compatibility or wireless charging.
TL;DR: Both sets of buds fit like a glove, but the AirPods Pro 2's overall design is streamlined for easier use.
Two models that play to their auditory strengths
The QCE II deliver class-leading ANC with new CustomTune technology. Every time you place these buds in your ears, they will adapt to your environment for optimal noise neutralization. The results are nothing short of spectacular. Bose's mics silenced ambient noises across the frequency spectrum; household appliances, washing machine tumbles and my son's high-pitched cries all went unheard. Adjusting between 10 levels of ANC is significant since it grants full control over how much noise you want to block out. These changes can then be assigned and saved to different profiles. ANC also performs well during calls. The mics reduced background interference at a high level and demonstrated excellent speech recognition, and features like Self Voice were clutch for hearing my voice louder during chats.
Bose's Aware Mode was just as impressive. It uses ActiveSense technology to let you hear ambient noises loud and clearly without compromising audio quality. Speaking of which, these buds did a fantastic job of fine-tuning sound to my hearing. Songs and live performances were given a punchy, dynamic presence. A customizable EQ is available in the Bose Music app to tweak bass and treble. Codec support is limited to SBC and AAC, meaning you'll get pleasant streaming quality from the best music streaming services. The company has also confirmed that 24-bit and lossless audio are coming in 2023 through a software update.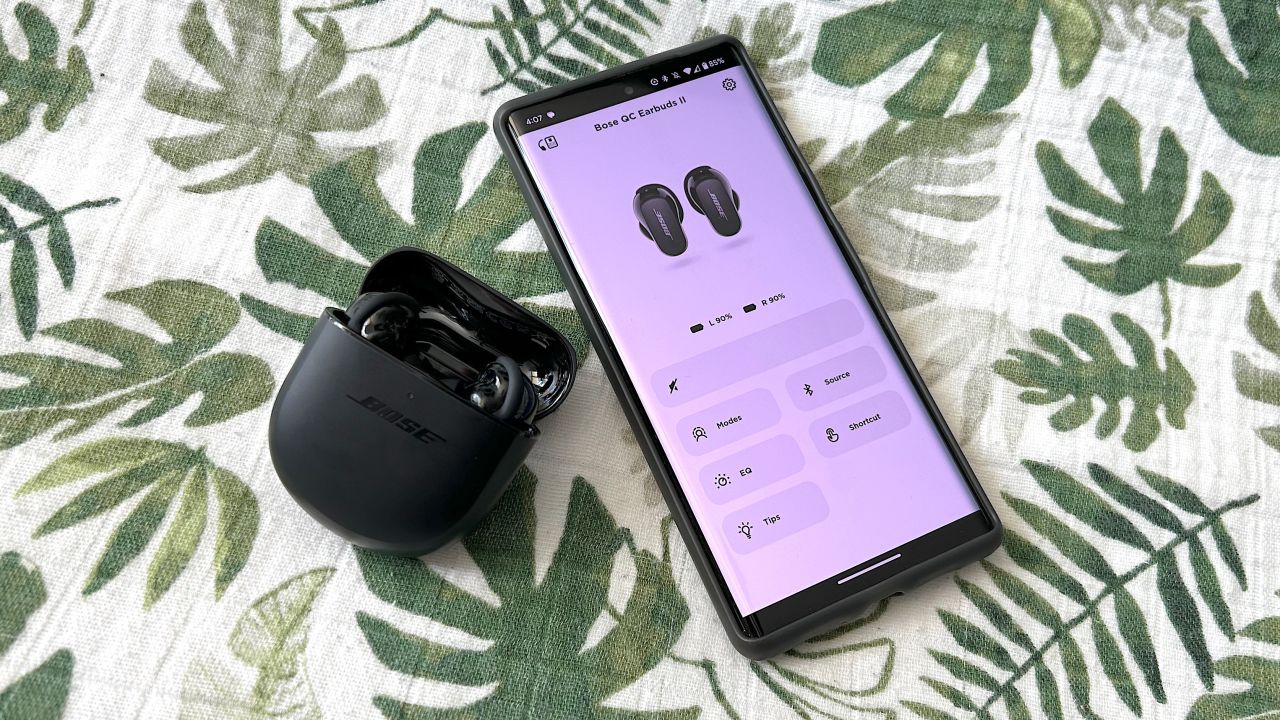 Apple claims the AirPods Pro 2 block out twice as much noise as the first-gen AirPods Pro. I disagree, but these buds are capable of blocking out 85% of noise, including many high-frequency sounds (e.g. bird chirping and sirens). Common distractions such as chatty co-workers and loud TVs went unheard, and wind resistance was effective enough to keep whisking effects from ruining FaceTime calls, which sounded great both indoors and outdoors.
Sound quality is where AirPods Pro 2 truly excel. A new low-distortion driver and custom amplifier pump out richer bass and extra detail. Apple lets you personalize the soundstage in many ways, from the EQ in iOS loaded with 20-plus well-engineered presets to Headphone Audio Customization for automatic sound profiling. Codec support is the same as the QCE II, and Apple has its own lossless audio codec (ALAC) that's available across the entire Apple Music catalog in resolution up to 24-bit/192 kHz.
But the AirPods Pro 2's killer feature is Personalized Spatial Audio. This updated version of Apple's 3D audio format works with the iPhone's TrueDepth camera to scan your ears and create a tailored, immersive listening profile. It's awesome. Apple Music tracks sounded natural, especially orchestral tracks where instruments were placed properly and transitioned smoothly from left to right when enabling head-tracking. Apple TV content was just as engaging. Fight scenes sounded more visceral and horror movies left me at the edge of my seat.
The QCE II have no spatial audio alternative.
TL;DR: Active noise cancellation and call quality go to the QC Earbuds II. Overall sound quality goes to the 3D audio-equipped AirPods Pro 2.
Innovative features on both ends, but Apple offers more
The AirPods Pro 2 and QC Earbuds II both offer plenty of features, but the AirPods Pro 2 have much more functionality hidden underneath their plastic sheath.
AirPods staples return, such as automatic switching, audio sharing, "Hey Siri" voice activation (Apple devices only), multiple EQ support and several hearing-impairment listening modes (Headphone Accommodations, Headphone Levels, Live Listen). Then come new additions like Adaptive Transparency, Find My support with the charging case and Personalized Spatial Audio. That covers about 60% of features (check out our full list of AirPods tips and tricks for the rest). Recent iOS updates have also fixed battery life bugs.
The QC Earbuds II come stocked with a reasonable number of features, but there should be more when factoring in the higher price tag. We already touched on the big ones: adjustable ANC with profile saving, Auto-Transparency, CustomTune, EQ and Self Voice. Digital assistance is spot-on for Google Assistant and Siri use. A new update welcomes Mono Mode to enable independent single-bud use, something the AirPods Pro 2 offer as well. All these can be accessed through the Bose Music app, along with several toggle controls and shortcuts.
Pairing with compatible devices isn't an issue with either model. The QC Earbuds II are more platform-neutral and connect more easily to most devices. On the opposite side, the AirPods Pro 2 connect instantly with all Apple devices, but require effort and patience to pair with third-party devices.
One interesting perk that both models share is Bluetooth 5.3. This gives the AirPods Pro 2 and QCE II longer range (est. 50 feet) and faster connectivity. Not to mention a future update could theoretically add support for Bluetooth LE Audio to enjoy greater wireless sound.
Neither model supports Bluetooth multipoint to pair to two devices simultaneously.
TL;DR: Bose has its fair share of features, but could benefit from more. Meanwhile, Apple achieves the perfect balance of quantity and quality.
Apple finally wins the battery life challenge
It took many generations, but Apple finally created AirPods with sustainable battery life. The AirPods Pro 2 hold up to 7 hours with ANC off, 6 hours with ANC on and 5.5 hours with spatial audio and head-tracking on. These estimates hold up well. The charging case has even received a generous boost and holds between 30 to 34 hours, depending how you use the buds. It also supports wireless charging and will work with any Qi-enabled charging pad, including a CNN Underscored favorite, the Belkin Boost Charge Pro.
Bose left playtimes unchanged from the original QCE: 6 hours. Listening at high volume and max ANC levels will decrease this by about an hour. Furthermore, there is no way to turn off ANC, limiting ways to stretch out the battery for longer use. The QCE II's charging case holds a max of 24 hours, equating to four additional charges. Wireless charging is MIA.
TL;DR: The AirPods Pro 2 have better battery life management and play times, whereas the Bose QCE II fall short on all charging fronts.
Bottom line
The AirPods Pro 2 and Bose QC Earbuds II are certified sequels that improve on their predecessors with smarter features, stellar sound and stronger ANC. At $249 and $299 respectively, neither comes cheap, but grade-A true wireless performance often comes at a premium.
As an overall winner, we're picking the AirPods Pro 2 because of their excellent 3D audio capabilities, longer battery life, solid noise reduction and endless number of features.
A loss doesn't diminish the Bose QCE II's value. These are hands-down the best wireless earbuds for noise cancellation at any price point. ANC performance combined with stellar proprietary technologies that enhance sound and call quality gives these buds some strong selling points.
In the end, it's all about getting the most for your dollar, and the AirPods Pro 2 offer much more in functionality.