This article is part of our series Battle of the Brands, in which we compare category-leading products to their counterparts to determine which are actually worth your money.
When it comes to smart speakers, Amazon's Echo, the Nest Audio from Google and Apple's HomePod Mini are currently the three most popular models. When you distill their functionality down, they all do mostly the same thing — effortlessly allowing you to get answers, control your home, make phone calls and even play music — all by using your voice. They even cost the same at around $100.
However, these three small speakers have some noteworthy differences in terms of size, design and sound quality, and your experience with each one will vary based on which Apple, Google and Amazon products you already own.
Not sure which smart speaker is for you? We've tested the Echo, Nest Audio and HomePod Mini extensively, and are ready to help you make that decision.
Amazon Echo vs. Nest Audio vs. HomePod Mini specs at a glance
| | | | |
| --- | --- | --- | --- |
| Smart assistant | Alexa | Google Assistant | Siri |
| Smart home ecosystem | Alexa, Matter | Google Home, Matter | HomeKit, Matter |
| Integrated smart home hub | Zigbee | N/A | HomeKit |
| Bluetooth audio | Yes | Yes | N/A |
| AirPlay 2 support | N/A | N/A | Yes |
| Chromecast support | N/A | Yes | N/A |
| Size and weight | 5.7 x 5.7 x 5.2 inches, 2.1 pounds | 6.89 x 4.89 x 3.07 inches, 2.65 pounds | 3.9 x 3.3 inches, 0.76 pounds |
| Color options | Charcoal, Glacier White, Twilight Blue | Chalk, Charcoal, Sage, Sand, Sky | White, Yellow, Orange, Blue, Space Gray |
| Price | $100 | $85 | $99 |
You want a smart speaker that doubles as a smart home hub (and a Wi-Fi extender)
The 4th-Gen Echo isn't just a smart speaker — it can also help get smart home gadgets online and keep them connected using its built-in Zigbee hub. Thanks to the combination of the Alexa app and Zigbee, setting up additional smart home devices is a painless process; tap a few buttons, the Echo finds compatible nearby smart home devices and asks if you want to use Alexa to control them. While other smart speakers require you to have a dedicated hub for, say, pairing a set of Philips Hue lights, the Echo lets you do it all from a single device.
You want the most robust and most reliable smart assistant
Amazon started the smart speaker craze with its Alexa digital assistant, and in our testing, has generally been proven to be the fastest to respond — and capable of doing the most. For example, you can ask Alexa via your Echo to turn your lights on or off, run a custom smart home routine and make an announcement that it's movie time across the rest of your Alexa-enabled devices.
If you shop on Amazon often, you can not only place orders with your voice — say, "Alexa order more toilet paper" — but also receive updates about any Amazon deliveries. A short chime and a yellow LED light let you know there's an alert, which will then tell you when to expect delivery of your latest order. It sure is handy, but can also be dangerous, especially if your kid asks Alexa for the newest Lego set.
You want the loudest possible sound
While all of these speakers sound good, we found the 4th-gen Echo to offer the strongest, loudest audio of the bunch. It got notably louder than the Nest Audio and HomePod Mini in our side-by-side tests, and doesn't get noticeably distorted at full volume.
You have family members with Echo devices
With Amazon's Echo lineup, you're able to place audio (or video, for devices that support it like the Echo Show) calls to other Echo devices and talk with friends or loved ones. Once a family member adds you as an approved contact, you'll be able to "Drop In" on their Echo device(s) whenever you want to have a quick chat or see how their day was. Conversely, you can approve loved ones who you want to have access to your Echo. Though you may want to think twice before you add your mother. Just saying.
You want a smart speaker with Bluetooth
Not only can you ask the Google Assistant to play your favorite tunes, podcast or other audio service, you can also connect to the Nest Audio from any Bluetooth-capable device and use Nest Audio as an external speaker. To be clear, you can use an Echo as a Bluetooth speaker as well, but Apple's HomePod Mini lacks the same feature. For the Nest, you'll need to use the Home app for the initial pairing process, but after you can just to say "Hey Google" or "Ok Google," followed by "Connect" to reconnect Nest Audio to your phone, computer or tablet.
You want to fine-tune your music playback — and use multiple speakers
The Nest Audio sounds pretty good out of the box, but we appreciate that you can fine-tune the audio within the Google Home app for iOS and Android. Amazon offers a similar feature for Echo speakers on the Alexa app, but you won't find any customization options on the HomePod Mini.
And while all three of these speakers support multi-room audio — you can pair multiple Echoes, Nests or HomePods to spread sound around your home — we found the Nest Audio to offer the smoothest pairing process. It took us about 10 seconds to pair two Nest Audio devices and assign them as separate left and right speakers, creating a more immersive stereo mix with minimal hassle.
You rely on Google services
Nest Audio uses the Google Assistant for all voice interactions, which is the same assistant Android phones and tablets rely on when you use the phrase "OK Google" or "Hey Google" before asking for things like a weather update or to check on a local store's hours. By using Google Assistant, Nest Audio is able to do things like look up your daily Google Calendar agenda, or take advantage of Voice Match to identify who is talking so you can get tailored answers or play podcasts or music from your linked streaming accounts.
If you use the Google Home app on your iPhone or Android phone to control smart home devices, then a Nest Audio is a natural choice. You can continue to use the Home app on your phone, but you'll also be able to use Google Assistant to control lights, adjust your home's temperature or control any of the hundreds of smart home devices that work with Google Home.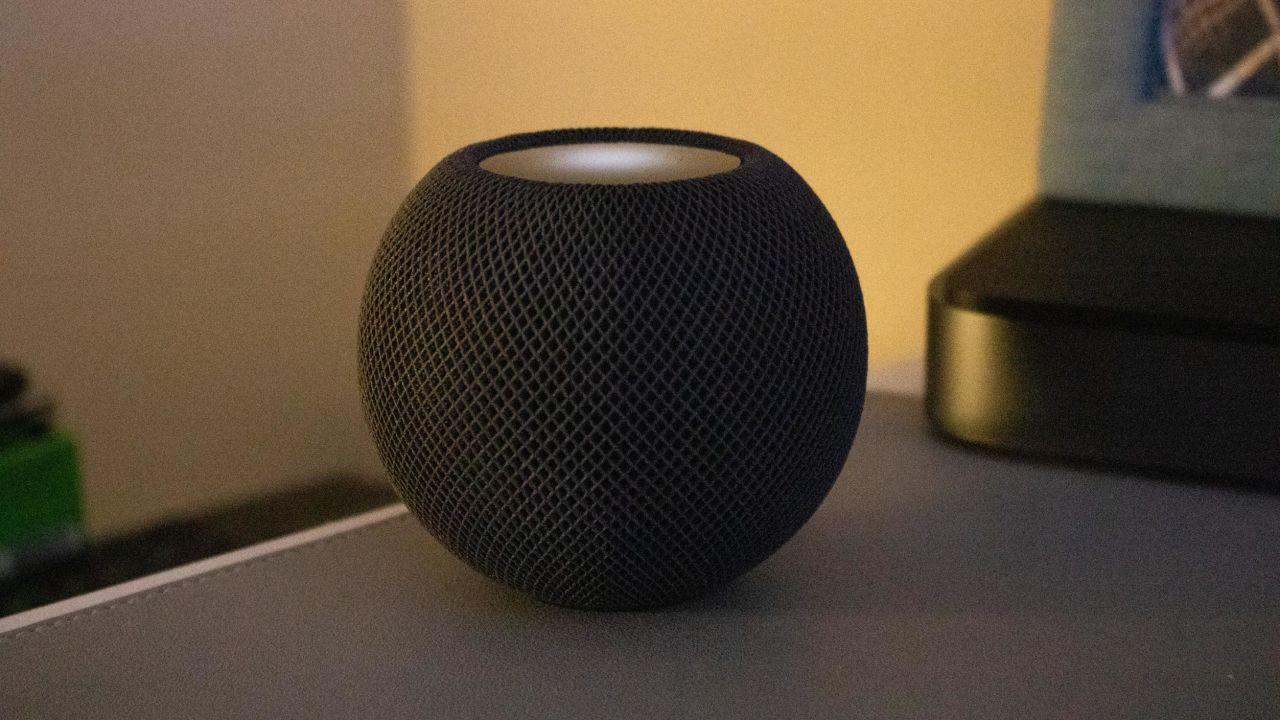 You're tight on space
The HomePod Mini is the smallest out of the leading smart speakers, with a design that's about the size of an apple. It's easier to fit into a tight space than the 4th-Gen Echo or the Nest Audio, and is a fraction of the weight of both speakers for when you need to take it with you.
You want the boldest color options
Apple's smart speaker comes in yellow, orange, blue, white and Space Gray, giving it the most color options out of the bunch — and certainly the boldest. If you want a smart speaker that can truly stand out in your setup, the newer yellow, orange and blue options are especially worth looking at.
You use an iPhone
The HomePod Mini relies on Siri — yes, the same Siri the iPhone, iPad, Mac and Apple Watch use — for any voice interactions. All of your Apple devices are smart enough to know when they're around each other, so when you say "Hey Siri" near a HomePod Mini, your Apple Watch or iPhone will let the smart speaker answer. You can then use Siri to play from your Apple Music library, control your smart home devices, send messages or ask for your daily agenda. You can even use a HomePod Mini to place or receive a phone call. We found the HomePod Mini especially easy to set up with our iPhone, thanks to a quick pairing process that only took about three minutes.
You use Apple's HomeKit platform
Going beyond the iPhone, if you already have smart home devices around your house like light switches, thermostats or a doorbell that integrate directly with Apple's HomeKit platform, then you should add a HomePod Mini to the mix. Not only does it allow you to use Siri for voice commands and interactions, but a HomePod Mini doubles as a HomeKit Hub. That means you can control smart home devices when you're not home.
Bottom line
The choice between the three different smart speakers starts with what kind of phone you have. Amazon's Alexa and Google's Assistant work with either an Android or iPhone, so an Echo or Google Home are interchangeable. The HomePod Mini is the best choice for Apple users and anyone with an iPhone.
From there, you're able to eliminate at least one option as you continue to examine your needs and wants from a smart speaker. The Echo works with almost every smart home device and platform, with Nest Audio right behind it, and finally, the HomePod Mini's deep integration with Apple makes it a must-have for any iPhone user.
That said, the emergence of the new Matter standard (which Apple, Amazon and Google all support) is allowing all of these devices to become more platform-agnostic, so it's easier to mix and match no matter what kinds of other smart home gadgets are in your household. As such, it's equally important to consider factors such as sound quality and space — the Echo will get the loudest, while the HomePod Mini will fit easiest into any setup.