National Pet Day isn't until April 11, but you can celebrate your furry friend now with exclusive early access to discounts at Wild One. You'd be hard-pressed to find more stylish pet accessories than Wild One's offerings — think minimalist design and chic jewel tones, all constructed with utility and comfort in mind. Right now you can use code CNN35 for 35% off bestselling pet gear at Wild One.
Whether you need a durable new leash for daily walks, a travel carrier for upcoming vacations or treats to show your pup some love, this sale has you covered. Mix and match to build the perfect accessory wardrobe for all your adventures. At these discounted prices, you'll save even more than you would purchasing bundled gear kits on the Wild Ones site. This sale lasts only until Wednesday, so don't hesitate to give the sale a browse.
Keep your dog looking snazzy and feeling secure with this lightweight harness perfect for any activity. With three leash attachment points, a variety of color options and an adjustable neck and chest, this harness is the perfect option for any dog.
Upgrade your walk with a durable, waterproof leash like this one. Adjustable length and easy-to-clean surfaces make this leash the perfect addition to any outdoor adventures with your dog. Mix and match with a collar or harness for maximum cuteness.
Cleaning up after your dog may not be the most glamorous task, but now you can be neighborly and fashionable with this convenient elastic attachment that hooks onto any leash or bag. You'll never be caught without a bag ever again, and it's a cinch to refill the carrier with eco-friendly replacements, which you can buy here.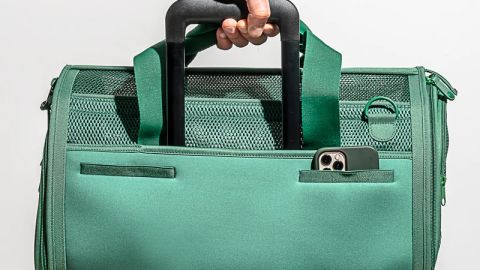 You'll never have to leave your best friend at home again, thanks to this comfortable, airline-compliant carrier. The modular bag transforms to your needs: The shoulder strap can act as a leash, and the interior cushion serves as a foldable dog bed.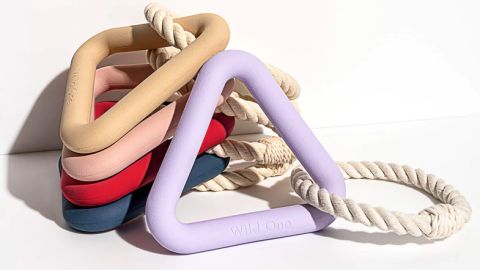 This toy might look like a work of modern art, but it's durable enough for tug-of-war chews too. With one side made of natural rubber and another made of reinforced cotton, this food-safe, BPA-free toy will surely stand the test of time.
Supplement your daily walks with positive-reinforcement training, or just treat your pet on the go with this convenient treat pouch. The adjustable bag contains compartments for a poop bag dispenser and treats as well as other essentials. Made from recycled materials, this bag works as a crossbody bag or fanny pack, keeping your hands free for leashes and snuggles.
Keep things classic with this dishwasher-safe stainless steel dog bowl. The silicone base keeps the bowl from slipping around the floor during mealtimes, and it's even customizable with characters and emojis.