There are a ton of great products that drop every week — and we're here, as always, to keep you up to date on the best of them. Each week, we'll be rounding up a short list of our favorite product drops from the last seven days for you to shop as you sip your morning coffee or take a quick break from work (trust, it's the only list you need for staying up to date on these things).
This week brings the launch of a Mother's Day collection from Homesick Candles; new cutting implements for cooking indoors and out from Our Place, Oxo and Misen (famed for its $15 kitchen shears); new Spanx styles and colors for activewear and everyday; and a whole lotta swimwear and lingerie releases from Andie, Cuup and more.
Shop our favorite new releases below, but be fast — they're prone to selling out.
Clothing and accessories
Size-inclusive and sustainably minded swimwear and underwear company Andie has gotten into the tropical spirit of these warmer temperatures with its new swim collection, Memories of Maui. The styles come in sizes 0 to 26 and feature a total of five new limited-edition prints and colorways, including a floral palm pattern, plus a new style of suit: The Marbella ($110) is a one-piece with a pretty squarish neckline that looks great on the beach and stays up in the waves. It's not just about looks, though; the whole line is made with Glossy Eco Nylon, made from recycled fibers for durability and sustainability cred.
Cuup's swimwear is known for bra-inspired sizing, meaning that not only do you get a better fit, but the brand's bikini tops should never do that thing where you surf a wave and lose your top in the process. To add to its collection, the brand's announced three new colorways for swim and lingerie over the past couple of weeks: super-vibrant Iris (a violet blue), Ultramarine (a royal blue) and Sky (a pastel blue).
Iris belongs to the swimwear collection, including popular styles like the Scoop top ($98) and high-waisted, full-coverage Tap bottom ($68). Lingerie, meanwhile, gets a cheerful lift with Sky and Ultramarine available in the deep-V Plunge bra ($68) and modal bikini-style bottoms ($18), plus other everyday styles. Not sure on bra size? Cuup's designed a handy fit quiz to make sure the first time's a charm.
Buying sustainable is all well and good, but if it goes in the landfill at the end of the day, it's fair to question the point of making an eco-friendly purchase in the first place. Enter Cuyana's new resale platform, Revive, where customers can send in their preloved Cuyana pieces for others to enjoy, whether they're selling them or donating them. Right now the brand is just accepting bags and small leather goods for resale, but if you have any other pieces from the collection, you can donate them; each piece sent in will go to LA-based Helping Ease Abuse Related Trauma's (H.E.A.R.T.) Cuyana Lean Closet free store to help women starting a new life.
Inspired by Fabletics' bestselling The One shorts for guys, the similarly designed The One Joggers offer a longer length that's great for spring or for lounging around the house. It's made with quick-drying, anti-stink lightweight fabric so you're fresh after a workout, and the colorways range from an all-purpose black to royal blue and a '90s teal. Not only are there pockets, but there's a towel loop so you can go from weights to treadmill hands-free. Shop it now before sizes and colors sell out at Fabletics.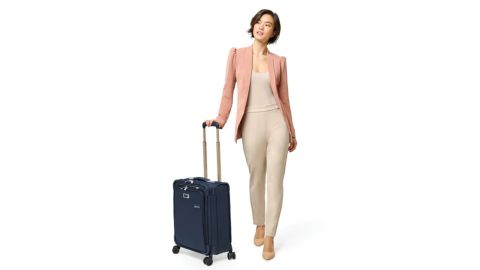 Even the best collections can use an upgrade sometimes, and Briggs & Riley has redesigned the brand's bestselling Baseline collection (starting at $75) of checked bags, carry-ons and more — and it's perfect timing for all the summer adventures (and business conferences) to come, now that those are a thing again. Some of the best features on the bags include an upgraded bag-expanding feature that takes just one button (as opposed to another zip) to use, shock-absorbing wheels that might just be the trick for cobblestone streets and extra-wide garment panels to prevent creasing for business shirts and summer linens.
Sustainable vegan leathers are getting cleverer and cleverer, and it's safe to say we're impressed by Everlane's new cactus leather collection of bags ready to take you into spring and beyond. The brand's elegant, minimalist styles are on full display with the smooth (not prickly) texture of the leather alternative, including on-trend sling bags ($138), a modern triangle tote ($372) and everyday hobo ($189).
Nordstrom has won us over with the brand's in-house Nordstrom Made collections, and now the retailer has debuted a new spring collection from Open Edit that is everything we want when it comes to statement pieces for our spring wardrobes. It has pieces for adults and grown-ups, and it's all available to shop online and in-store now. On our wish list? A ribbed sweater tank dress with a deep back plunge ($59), adorable Velcro strap sneakers in a cool green for little ones ($36.95) and glam satin pajamas ($69) for the guys.
Comfy lingerie brand Lively is celebrating six years this month, and to mark the occasion, the brand has launched its bestselling style in a new silhouette: the Spacer T-Shirt Bra ($45), and it's the perfect way to support the girls under your favorite spring tee.
The bra, which combines balconette vibes with the perfect under-T-shirt look, is designed to be super lightweight and has light barely there padding, meaning it won't make you feel dragged down as the temperatures heat up. It also does double duty by transforming into a racerback-style bra for under summer's breezy T-strap dresses.
Spanx has been doing more and more lately when it comes to not just activewear and loungewear but nine-to-five wear (check out the AirEssentials if you want some seriously comfy but polished back-to-the-office clothes). When it comes to the first category, there's a new drop this week as well: The brand's just launched new colorways in the Booty Boost legging ($98), including Jade, White Camo, Storm Blue, Graphite Dust, Storm Tie Dye, Cloudy Tie Dye and Dark Fig (patterned styles here), plus bike shorts ($62) if that's more your vibe. Full-length leggings are also available if 7/8 isn't your vibe.
Also now available? Spanx trousers and shorts that take you from the start of your day to the boardroom. In four different styles, these trousers are polished enough for work and play with the supportive feel Spanx brings to each piece it makes. The Ankle Slim Straight Pant is a great cropped length for spring, while the Kick Flare Pant zhuzhes up a slim leg with some, well, flair. Six- and 4-inch-inseam shorts ($88 solids, $92 prints) are also available and feature a high waist.
Florals for spring aren't exactly groundbreaking … unless they're from Rifle Paper Co. and its wonderful collection of whimsical buds and blooms. The first totes from the company, the two new styles are great for holding everything you need for a day that takes you from work to kids' after-school activities to weekend shopping.
The Rifle Paper Co. Everyday Tote ($180) comes in floral (and fruit-inspired) designs that include the vibrant Garden Party, the Menagerie Garden set off against black and the light blue Pomegranate. Roomy and open, they each have a snap closure and slip pocket. For adventures further abroad (or for travel lovers in general), there's the Bon Voyage Travel Tote large enough to hold a change of clothes for weekends away.
Norm Architects has been making some of our favorite minimalist furniture and home goods for years now, and Koio has been sheathing our feet in luxury footwear that stands up to daily use. Now the two design forces have joined up for a limited-edition collaboration resulting in both furniture and footwear.
The Koio x Norm Architects Sneaker ($295) combines the best of Oxfords and sneakers, and it comes in two colorways, Black Timber (leather) and Cliff (suede). Made in Tuscany, it has the handy trick of a collapsible heelback for a slide fit if you want it on easy days. To add to your entryway, there's also the made-to-order Koio x Norm Architects Bench in Oak ($6,000), which is handcrafted in Japan by the master craftspeople at Karimoku Case Study and topped with an unobtrusive nubuck seat (this is already sold out, so be sure to check back when it's available to order again).
Home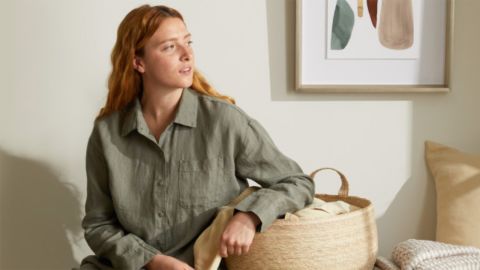 Linen is the perfect material for both hot temps and cold ones, thanks to its thermoregulating nature, and Parachute's loungewear are the perfect styles for hanging out at home. Now you can get a little extra natural feeling into your spring around-the-house (or out-on-errands) wear with the brand's new colorway, Moss.
It comes in styles from a relaxed house dress ($129) to a robe that's perfect for first thing in the morning or after a post-work bath ($109). Pants ($74) and shorts ($49) are also available in guys' and women's fits, plus long-sleeve button-up tops ($74) and boxy tanks ($49) that complement both styles of bottoms.
Oxo is a go-to kitchen brand that's just taken its first foray into nature with the launch of its Outdoor Collection, a handy set of 16 essentials that keep your campfire meals cooking (and easily served up). We're talking a French press made to withstand the rigors of outdoor caffeination ($25.99), a Santoku knife with a guard and nonslip handle that'll get your potatoes chopped ($19.99) and a heavy-duty scrubber complete with cover perfect for getting every last charred bit off your camping pans ($11.99). Shop the whole collection before it sells out; some pieces are down to just a couple left in stock.
It's hard to argue with a beautifully scented candle as a gift, and Homesick makes some of the best in the biz, complete with cheeky labels that communicate all sorts of vibes, whether you're saying thanks for everything your mom did for you or sending her the candle equivalent of a spa vacation (way cheaper than an actual spa vacation at $34). The former candle, the Thank You, Mom blend ($34), features a pretty perfect combo of scents, including bergamot, lavender and sage up top, jasmine and ylang-ylang in the middle and base notes of sandalwood, musk and lily.
Whether you're chopping fresh herbs or deboning a chicken, a stalwart pair of kitchen shears makes pretty much any task easier — and Misen's $15 pair, launched in August 2021, is both super affordable and highly sought after (they've been known to have up to a 3,800-person wait list). They're now officially back in stock in the brand's signature blue, all but guaranteeing that they'll never get lost in the kitchen drawer, as well as a paprika red, gray and black.
Our Place is a go-to for gorgeous kitchenware at this point, and each piece is designed to offer plenty of substance along with its great aesthetic. Case in point: the brand's German steel knives, which are extremely sharp and feel great in the hand (no wobbly blades here!). They've just been reissued with the addition of super-calming lavender and sage green colorways, both of which might just make meal prep a little more chill for stressed-out cooks. Trios are $230, or you can buy them individually in a paring knife ($60), chef's knife ($70) or serrated knife ($60).
Sur La Table and One King's Lane have teamed up on three gorgeous table and chair sets for outdoor entertaining. The trio includes that airy teak-and-rope Castle Collection, the bistro-y rattan-and-teak Fete Collection and a contemporary metal Heritage Collection that looks great with a variety of exterior styles and stands up to weather too.
Skin care
True story: I never use body lotion because I hate the greasy way it feels going on — like I have to wait half an hour before I get dressed afterward. Instead, I've done what everyone else does here in Europe and now keep a bottle of Bio-Oil on my bathroom shelf. But what might just change my mind is the launch of Bio-Oil's very first lotion. The emulsion formula promises not to be greasy but still packed with everything skin needs: plant oils (twice as much as similar products), vitamins and antioxidants for moisture and a little bit of glow. Right now you can get it on Amazon for just $10.58, and you can then save even more by clipping the 40% off coupon on the page.
Electronics
The Beats Studio Buds have long been some of our favorite earbuds, thanks to their excellent sound and effortless pairing with both iPhones and Android devices, and they just got three stylish new colors this week. The buds' Moon Gray, Ocean Blue and Sunset Pink hues all look great up close, delivering some extra pop for those who are tired of wearing the same drab white earbuds all the time.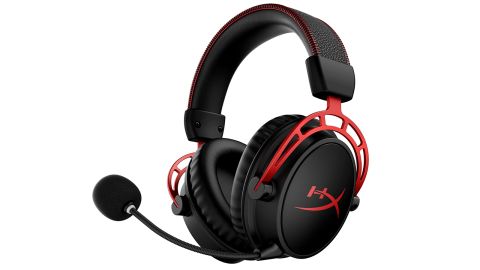 HyperX makes some of the best gaming headsets around, consistently delivering excellent comfort and superb audio for hearing the competition coming. The new Cloud Alpha Wireless retains all of those great qualities but throws in a truly bonkers 300 hours of promised battery life that we can't wait to put to the test over our next few weeks of gaming.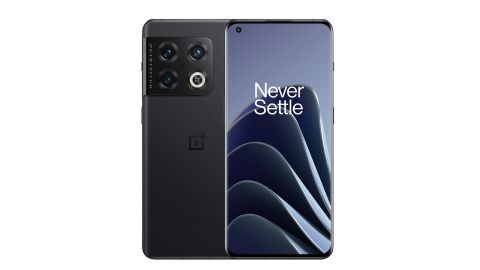 Looking for an Android phone that stands out from the Pixels and Galaxies of the world? You should take a look at the OnePlus 10 Pro. Starting at $899, this phone delivers specs that hold up to the major players, including a speedy Snapdragon 8 Gen 1 processor, a 120Hz display for smooth scrolling and an advanced triple-camera system.
All that fancy tech is wrapped up in a distinct, sleek design that looks especially attractive in Emerald Forest, and packs a battery that promises a day's worth of juice from a 15-minute charge. The OnePlus 9 Pro impressed us by delivering fast performance and strong cameras for a price that undercut Samsung and Google, and we can't wait to put the 2022 model through its paces.
We all have a ton of devices we juggle each day, and battery levels don't last forever. To get a few different gadgets juiced up at the same time, Nomad Goods' new Base One Max MagSafe Charger ($149.95) is designed to charge up your Apple Watch and MagSafe-compatible devices like iPhones and AirPods. Best of all, it looks great on the nightstand (and should you bring it with you, it weighs just 2 pounds).