Dunkin' is here to wake up your beauty routine. The coffee chain has teamed up with e.l.f. Cosmetics for a limited-edition makeup collection inspired by Dunkin's donuts and drinks.
Consisting of five new products available online at ulta.com, the donut-themed line features products that look and smell like your morning coffee run. The quirky collab flaunts co-branded packaging with Dunkin's signature orange-and-pink lettering, and Dunkin' fans have the opportunity to pick up some special merch when they buy the Classic Dunkin' Stack Vault, a set that includes all five makeup products, plus an "e.l.f runs on Dunkin'" coffee tumbler and straws.
On the makeup range's menu, you'll find clever crossovers like The Dunkin' Dozen (a 12-shade eye shadow palette) and a Strawberry Frosted With Sprinkles Face Sponge (which resembles the pastry). Discover all of the e.l.f x Dunkin' products here.
"Glazed donut skin" has been on our radar since Hailey Bieber declared it the next big beauty trend, and now e.l.f's fan-favorite Putty Primer is here to help you get one step closer with a new donut-scented edition. Not only will the primer give you the smooth, poreless base that defines the trend, but you'll also smell like the treat it's named after.
This palette features 12 pigmented shades in pinks, browns and a couple accent colors, all with tasty-sounding names like Chocolate Frosted With Sprinkles and Boston Kreme.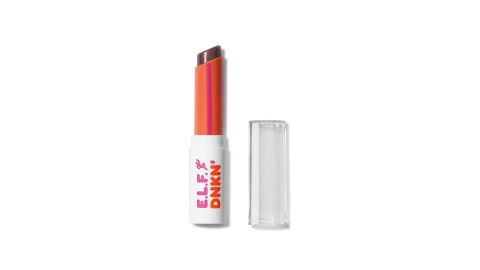 Can't get enough coffee? Follow your morning brew with this gentle coffee-scented exfoliating treatment that will leave your lips smooth and hydrated.
This donut-shaped makeup sponge will help you frost your face with foundation, concealer and more.
Keep your lips glazed and glossy on the go with this lip gloss duo. Each tube doubles as a keychain, and the sheer gloss comes in Dunkin's classic pink and orange.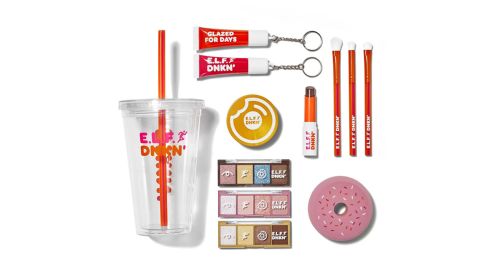 For under $100 you can get the whole e.l.f Cosmetics x Dunkin' collection, plus an exclusive coffee cup, straws and makeup brushes.