YouTube announces extremist ban
7:36 p.m. ET, June 5, 2019
Our live coverage has ended. Scroll through the posts below to read more about YouTube's ban or follow CNN Business.
7:43 p.m. ET, June 5, 2019
YouTube won't take down homophobic harassment videos, but it will demonetize them
Carlos Maza, a video journalist who works for Vox is speaking out after YouTube declined to ban the videos of Steven Crowder, a prominent right-wing personality who Maza says used the platform to attack him with homophobic and racist slurs. 
The company did say it would demonetize the videos, meaning they can't make money off of ads, for "continued egregious actions that have harmed the broader community."
Maza, who is gay and of Cuban descent, spoke to CNN Business on Wednesday, the morning after YouTube announced that Crowder's videos "don't violate our policies."
"I don't know what else I could have done," Maza said. "To see such clear, obvious examples of abuse that I compiled for them and to still take no action. It means that the policies that YouTube has about bullying and harassment are not real policies."
The Google-owned company has a history of demonetizing controversial videos and not including them as suggested content instead of removing them completely. Maza said the demonetizing was not enough, as Crowder could still make money selling merchandise through a link on YouTube.
Some background: On May 30, Maza tweeted a video compilation of clips collected over a number of years in which Crowder and his co-hosts respond to Maza's popular "Strikethrough" series — a media criticism show that often takes on right-wing media. In Crowder's YouTube videos, they describe Maza in starkly homophobic terms and also include attacks on his ethnicity.
Maza told CNN that he had privately flagged Crowder's videos in the past to YouTube, but after the company refused to take them down he decided to go public.
On Wednesday, Crowder tweeted about the decision by YouTube, saying, "YouTube and Vox have launched an all out WAR on ALL independent creators. Thousands of channels under review!"
Crowder did not immediately respond to a request for comment.
Watch for more:
5:47 p.m. ET, June 5, 2019
Here's what we know about YouTube's ban on supremacist content
YouTube's ban on supremacist content comes a few months after Facebook said it was banning white nationalist content from its platform.
That ban came two weeks after the suspect in the terror attack at two New Zealand mosques streamed part of the massacre live on the platform. A manifesto allegedly written by the suspect revealed white nationalist views.
Last August, YouTube and other social media platforms banned the conspiracy theorist Alex Jones. Jones had previously pushed false conspiracy theories about the Sandy Hook school shooting. He's being sued by the families of the victims for defamation.
YouTube has long faced criticism for allowing misinformation, conspiracy theories and extremist views to spread on its platform, and for recommending such content to users. It's been shown that people who visited the site to watch videos on innocuous subjects, or to see mainstream news, have been given recommendations pushing them toward extreme content.
In January, YouTube said it would start reducing its recommendations of "borderline content" and videos that may misinform users in "harmful ways." That included videos featuring fake miracle cures for serious diseases, claiming the earth is flat and making blatantly false claims about historic events such as 9/11, according to the company. The company said such content doesn't violate YouTube's community guidelines, but that it comes close.
5:31 p.m. ET, June 5, 2019
Sandy Hook attorney says YouTube ban on hoaxer videos "too late to undo the harm"
An attorney representing 10 of the families who lost relatives in the Sandy Hook massacre said on Wednesday that he welcomed YouTube's decision to remove videos denying the shooting. However, he said it was "too late to undo the harm" that has been caused to them by conspiracy theories circulating on the platform over the last several years.
"Sandy Hook happened now nearly seven years ago, and so during that entire time the clients were subject to hostile postings on YouTube that disseminated this false narrative and caused undue harassment, threats, and fallacies as they were trying to heal," the attorney, Josh Koskoff, told CNN Business in a phone interview. "At the same time, better late than never."
The families of the Sandy Hook victims have for years been subject to harassment stemming from conspiracy theories being pushed on YouTube and other social media platforms.
One of the dominant conspiracy theories was that the shooting was a false flag staged to gin up support for implementing gun control measures. Alex Jones, the right-wing conspiracy theorist and InfoWars founder, who was one of the prominent disseminators of that theory, has been sued by Sandy Hook families in both Texas and Connecticut courts.
4:32 p.m. ET, June 5, 2019
What YouTube means when it says it will ban "borderline content"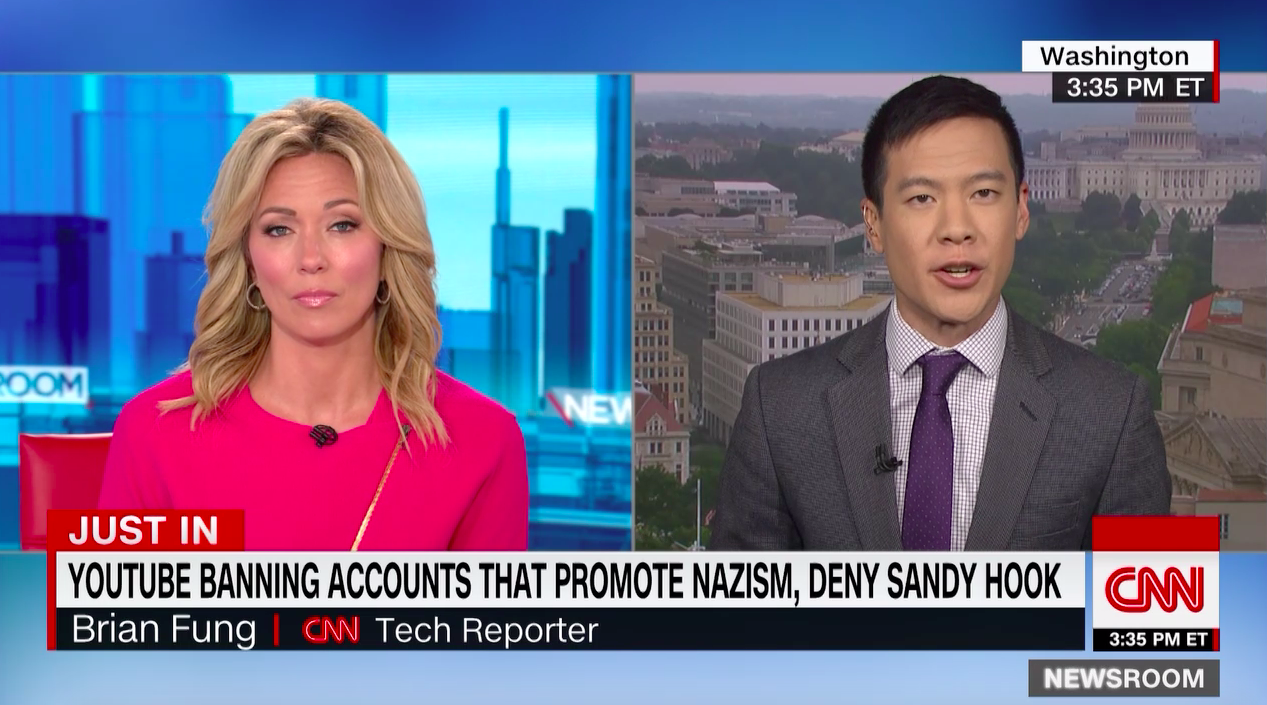 CNN Tech Reporter Brian Fung explained on Wednesday that YouTube's ban on discriminatory content could also apply to videos that don't necessarily violate the policy, but come close.
In a blog post Wednesday, the company wrote it will prohibit "videos alleging that a group is superior in order to justify discrimination, segregation or exclusion based on qualities like age, gender, race, caste, religion, sexual orientation or veteran status."
Funk said while the post is specific, it can apply to a broad range of content.
"So examples of this might include things like videos promoting fake medicine or videos that promote the idea that the Earth is flat," Funk said. "YouTube calls these types of videos "borderline content." So the bottom line here is this is a significant step YouTube is taking that could end up affecting a broad range of content on this platform."
Watch for more:
3:42 p.m. ET, June 5, 2019
YouTube says it will ban some offensive content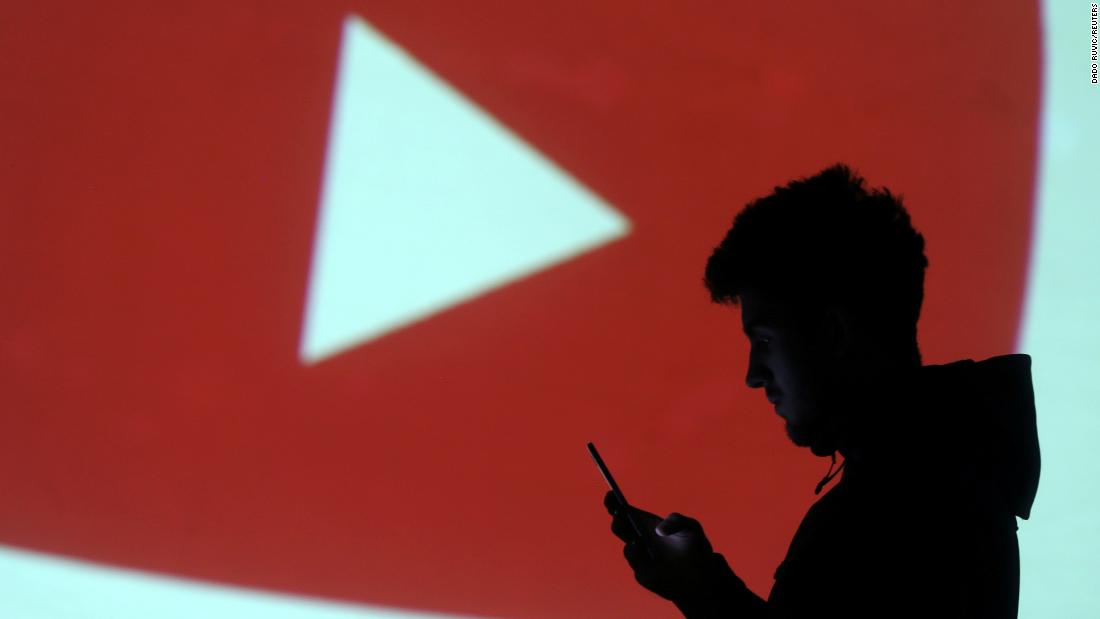 YouTube says it will ban supremacist content and remove videos that deny well-documented atrocities, like the Holocaust and the massacre at Sandy Hook elementary school.
The move comes as the video service, owned by Google, faces increasing scrutiny for hosting extreme and divisive content.
In a blog post Wednesday, YouTube said it was prohibiting "videos alleging that a group is superior in order to justify discrimination, segregation or exclusion based on qualities like age, gender, race, caste, religion, sexual orientation or veteran status."
On Tuesday, however, the company said YouTube videos mocking Carlos Maza, a video producer, for being gay had not violated its policies.