Uber and Lyft drivers strike for better pay
12:26 p.m. ET, May 8, 2019
Uber/Lyft driver in NYC: 'You have to give something to get something'
There are two planned rallies outside of Uber and Lyft's (LYFT) offices in Long Island City today.
The first, happening now, is being held by the Independent Driver's Guild, a Machinists Union affiliate that represents over 45,000 for-hire vehicle drivers in New York City.
The messaging from IDG, which receives some funding from Uber, is that it is rallying in solidarity with drivers across the country who are fighting for fair wages.
New York City implemented a first-of-a-kind minimum pay for drivers on February 1. Under the new policy, all drivers will earn a minimum take-home pay of $17.22 per hour, or $27.86 before expenses.
One of the organizers at the IDG rally said that "everyone in the country" wants to have a pay floor implemented and the rally is intended to help push for that.
Uber and Lyft driver Jermain Stevens tells me:
You have to give up something to get something."
Stevens says he's been driving for the companies for three years and "to some level" things have changed for him since the new minimum wage law kicked in. He's taking time off work today to rally on behalf of other drivers around the country.
The next rally, organized by the New York Taxi Workers Alliance, is slated to start at 1 pm.
12:05 p.m. ET, May 8, 2019
Lyft driver: 'There's no job security'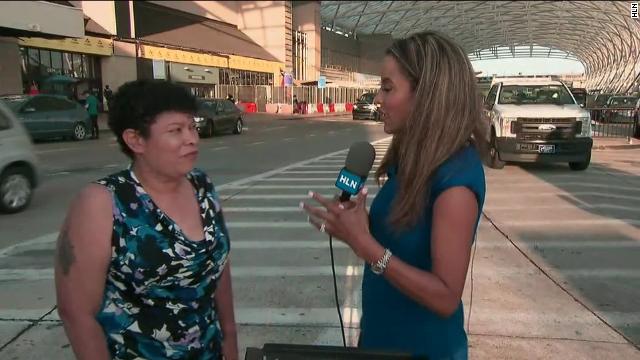 Stella Lawson, a part-time Lyft (LYFT) driver who is helping organize a strike with Uber workers in Atlanta today, said job stability and safety concerns are at the top of the list for protesters coming together against both companies.
"My main concern is there's no job security for these drivers. There's constant pay cuts," she told HLN's Shyann Malone.
"We got safety issues ... Drivers are being attacked."
Like others protesting in cities across the globe, Lawson said drivers have seen their pay decline, not improve, over time.
"It feels like the company has used its drivers," she added.
"As the company started succeeding and making money, instead of pay going up, the pay goes down."
11:41 a.m. ET, May 8, 2019
Uber has tried to appease its drivers before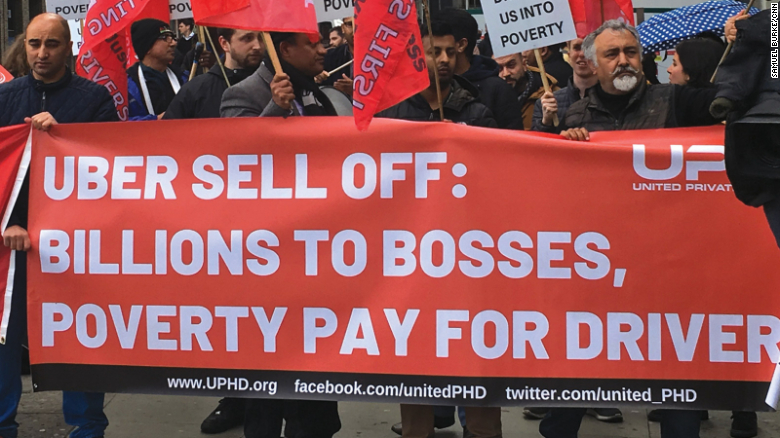 Uber has long been criticized for its handling of drivers, who often quit within a few months, according to research.
But the company has made efforts recently to be responsive to them.
In November, Uber announced a loyalty plan in the United States that offered perks, ranging from extra pay and free online education to dent repair and gas discounts.
Uber Pro — which debuted in seven cities and all of New Jersey — let drivers earn points from rides to qualify for four different tiers of status.
Drivers in the top two tiers were eligible to receive a 3% or 6% pay boost, and also get tuition coverage for themselves or a family member at Arizona State University's online program.
The program was designed to help retain drivers, who are independent contractors so they do not receive benefits such as health care.
"It's really important that Uber is giving drivers more cash," said Harry Campbell, editor of The Rideshare Guy.
"If you're putting in thousands of rides, have a high rating and have been loyal, there hasn't been a financial reward."
11:24 a.m. ET, May 8, 2019
'This is just too much': Overworked Uber drivers sound off in London
Uber drivers are parking their cars along the street where the ride-sharing company's London headquarters are located, forming a sea of Toyota Priuses and Hyundais with flashing lights.
Several workers who spoke to CNN Business today said they were there to protest their wages after feeling undervalued for years.
"It's simple," said Mohamed Mia, who has worked as an Uber driver for nearly six years.
"I want increase in the fare and for them to reduce commissions. I have to work between 70 and 80 hours a week, and this is just too much for one person." 
Mohammad Onupom Rahmen, a 47-year-old London driver, told CNN Business he has seen his hourly pay drop over the last several years, even as he's taken on longer shifts.
He quit his job at Marks & Spencer four years ago because of the flexibility Uber offered, but has now turned to working longer hours to make ends meet.
Rahmen said he previously earned £9 an hour, but now makes £7 to £8 an hour.
"I have to work harder to earn the same," he said. "Now I have to work late nights, [because] when the traffic [moves] faster, I can drive faster and make more trips."
Driving for Uber is Rahmen's main source of income, which he uses to support his wife and two children in London, as well as family that's still in Bangladesh.
10:25 a.m. ET, May 8, 2019
Strike organizer says this is 'just the beginning'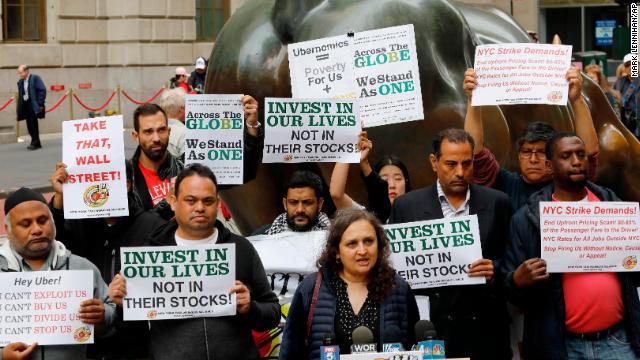 Bhairavi Desai, the executive director of New York Taxi Workers Alliance, held a press conference this morning in New York.
She said today's strike is "just the beginning," and claimed that tens of thousands of Uber and Lyft (LYFT) drivers are striking.
Striking is the hardest thing workers do and it's when you really feel your power," Desai said.
She added that ride-hailing apps should "take notice because we are able to do this in their biggest market [New York] in just five days."
10:24 a.m. ET, May 8, 2019
Uber pledges 'better conditions,' and maybe even four-year degrees
Uber has responded to the protesters gathering around the world today, acknowledging the demands for better pay among scores of drivers that are logging off the app.
"Drivers are at the heart of our service — we can't succeed without them," the company said in a statement.
"Thousands of people come into work at Uber every day focused on how to make their experience better, on and off the road.
Whether it's more consistent earnings, stronger insurance protections or fully-funded four-year degrees for drivers or their families, we'll continue working to improve the experience for and with drivers."
10:04 a.m. ET, May 8, 2019
The walkout is underway in Brooklyn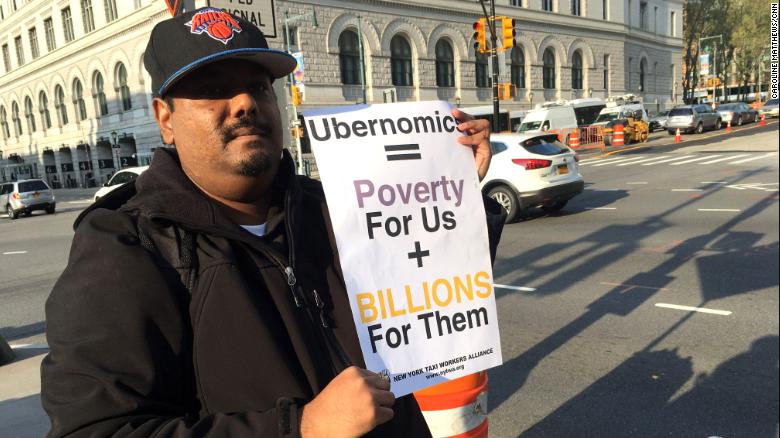 The strike just started and we're hoping for change," said Will, a volunteer picketing in Brooklyn on Wednesday.
12:06 p.m. ET, May 8, 2019
Where Uber strikes are happening
Thinking of using an Uber today? That might be difficult, depending on where you are.
Uber drivers worlwide are on strike -- and urging passengers to boycott the app.
Here's where the strikes and protests are happening around the world:
Atlanta
Boston
Chicago
Dayton, Ohio
Glasgow
London, UK
Los Angeles
Melbourne, Australia
New York City
Philadelphia
San Francisco
San Diego
Seattle
Stamford, Connecticut
Washington, DC
In addition to powering off their apps, drivers will hold rallies held in strategic places, such as outside local Uber offices.
12:06 p.m. ET, May 8, 2019
Uber drivers make a stand
Uber drivers worldwide are walking out to protest their low pay a few days ahead of Uber's Wall Street debut. The ride sharing company is expected to go public Friday on the New York Stock Exchange, and could raise as much as $10 billion.
Strikes are scheduled for Wednesday in major US cities, as well as parts of the United Kingdom, Australia and South America. The message from participants: Uber needs to offer its drivers job security and higher wages.