Uber files for the most-hyped IPO of the year
4:40 p.m. ET, April 11, 2019
Uber's massive IPO, by the numbers
2018 revenue: $11.3 billion (⬆️ 42%)
2018 adjusted net loss: $1.8 billion (⬇️ 30%)
Drivers: 3.9 million drivers*
Customers trips: 1.5 billion*
Average wait time for riders: 5 minutes*
* Fourth quarter of 2018
5:04 p.m. ET, April 11, 2019
Uber CEO admits to 'missteps' in IPO filing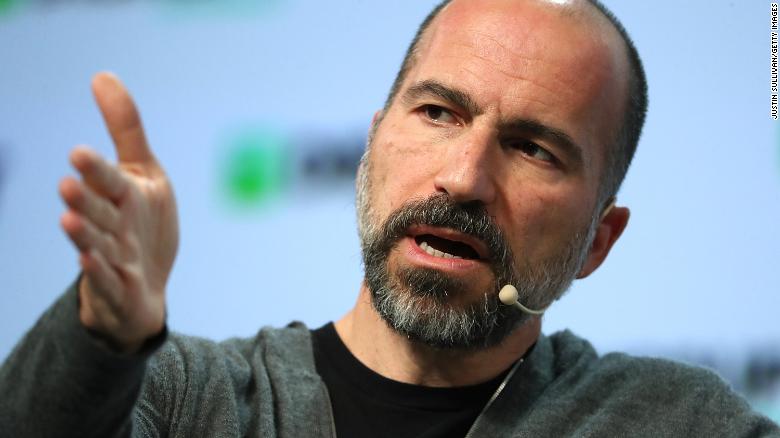 In his letter to shareholders in the company's IPO filing, Uber CEO Dara Khosrowshahi admitted to the company making "missteps" on its long and bumpy road to go public:
"Of course, in getting from point A to point B we didn't get everything right. Some of the attributes that made Uber a wildly successful startup — a fierce sense of entrepreneurialism, our willingness to take risks that others might not, and that famous Uber hustle — led to missteps along the way. In fact, when I joined Uber as CEO, many people asked me why I would leave the stability of my previous job for one that was anything but. My answer was simple: Uber is a once-in-a-generation company, and the opportunity ahead of it is enormous."
4:51 p.m. ET, April 11, 2019
Some drivers will get cash 'appreciation awards.' Here's what that means
Uber says it will give one-time cash "appreciation awards" to some of its drivers.
Payments will be based on how many trips drivers have made since they started driving for Uber:
$100 for 2,500 trips
$500 for 5,000 trips
$1,000 for 10,000 trips
$10,000 for 20,000 trips
Additionally, drivers must have completed at least one trip this year and be in good standing with the company.
Drivers eligible for the appreciation awards will have the option to buy shares ahead of the IPO.
Lyft also rewarded some top drivers with cash bonuses of $1,000 or $10,000, depending on certain trip thresholds. Drivers had the option to use the money to buy shares in the company as well.
4:39 p.m. ET, April 11, 2019
Safety is an ongoing struggle for Uber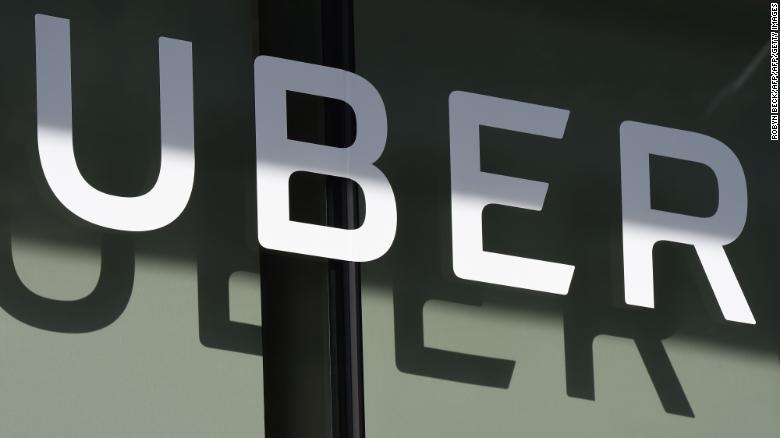 Uber continues to find itself in the spotlight over troubling safety incidents. The company says safety is its first priority, but it has a long way to go to prove it.
An April 2018 CNN investigation found that 103 Uber drivers in the US have been accused of sexually assaulting or abusing their passengers.
After CNN started asking questions, Uber made some changes to its safety policies, including:
Running annual background checks on drivers.
Ending forced arbitration for passengers who allege that they've been sexually assaulted or harassed by drivers.
The company pledged to release a safety transparency report with data surrounding reports of sexual assaults and abuse by drivers. CNN has been asking for this data for more than a year.
In its IPO paperwork Thursday, Uber notes:
"The public responses to this transparency report or similar public reporting of safety incidents claimed to have occurred on our platform ... may result in negative media coverage and increased regulatory scrutiny and could adversely affect our reputation with platform users."
And the safety complaints are still coming. A woman who says she was sexually assaulted by an Uber driver in Washington, DC is suing the company for $10 million.
Uber is facing another lawsuit that accuses the company of failing to warn women about a series of rapes by fake Uber drivers in LA.
4:14 p.m. ET, April 11, 2019
Meet the CEO taking Uber public
Dara Khosrowshahi took over at Uber in September 2017. At that time, Uber was the most dysfunctional company in tech.
Past job: The former head of Expedia
Why him?: Khosrowshahi was viewed as someone who could be the adult in the room and put the company on track to go public. The company needed saving after a series of PR crises resulted in the forced resignation of former CEO Travis Kalanick.
More on Dara: An Iranian refuge, Khosrowshahi immigrated to the United States at the age of 9. Under Khosrowshahi, Expedia became one of the first tech company's to legally challenge Trump's travel ban.
Kalanick, on the other hand, was widely criticized for joining President Trump's economic advisory council before ultimately stepping down.
5:11 p.m. ET, April 11, 2019
Lyft stock plummets as Uber seeks to go public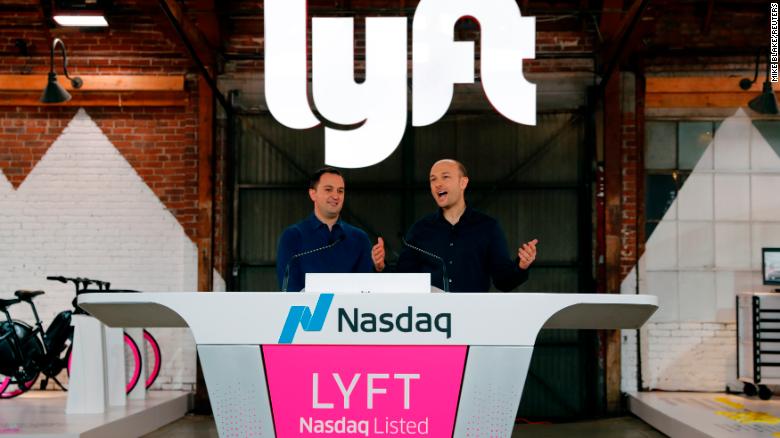 For years, Uber worked to bulldoze over Lyft through a mix of aggressive fundraising and dirty tricks. But now Lyft's troubles may be Uber's troubles too.
Lyft, the closest proxy to Uber, quickly fell below its IPO price of $72 after going public last month. Its stock is now hovering around $60.
The lackluster public market debut by Lyft (LYFT) may add jitters to the stampede of unicorns racing to Wall Street, including Uber. The Wall Street Journal reports Uber may seek a lower valuation amid Lyft's stock decline.
4:42 p.m. ET, April 11, 2019
Uber's bumpy road to Wall Street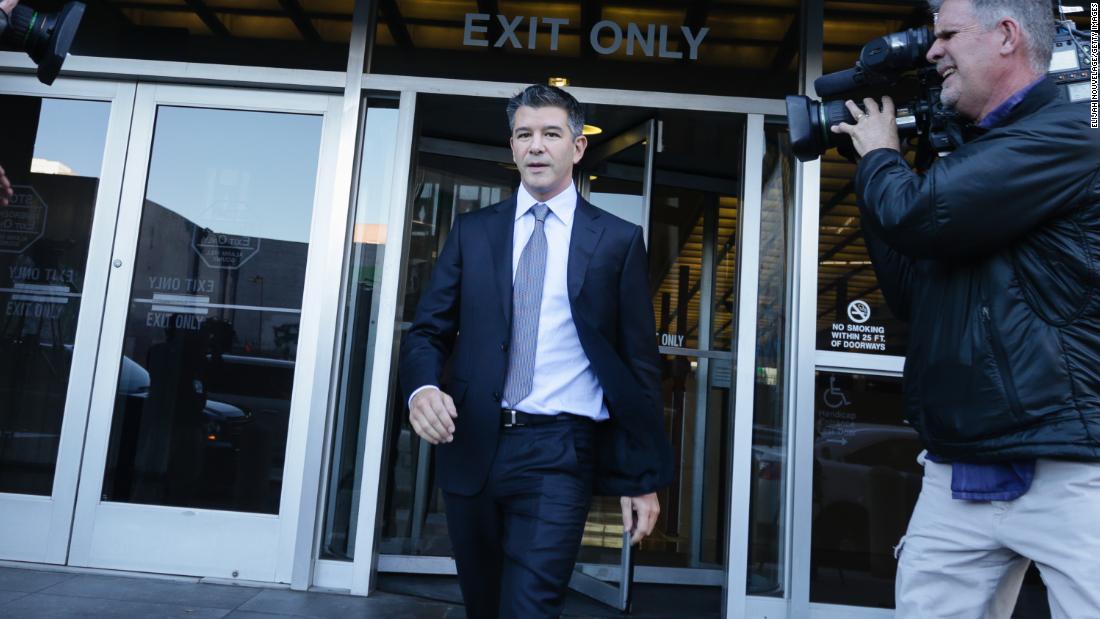 Two years ago, Uber was nearly derailed by allegations of sexism and harassment, a damning investigation into its workplace culture and the exodus of nearly all of its C-suite.
Travis Kalanick, Uber's cofounder, CEO and the driving force behind its rapid expansion, was ousted from the company in June 2017. What followed was a rapid and very public effort to reset the organization and save Uber's brand.
Dara Khosrowshahi, a seasoned executive brought in to replace Kalanick as CEO, worked to overhaul the company's brash culture, hire a new bench of top execs, and ultimately pave the way for it to go public.
4:42 p.m. ET, April 11, 2019
Uber files to go public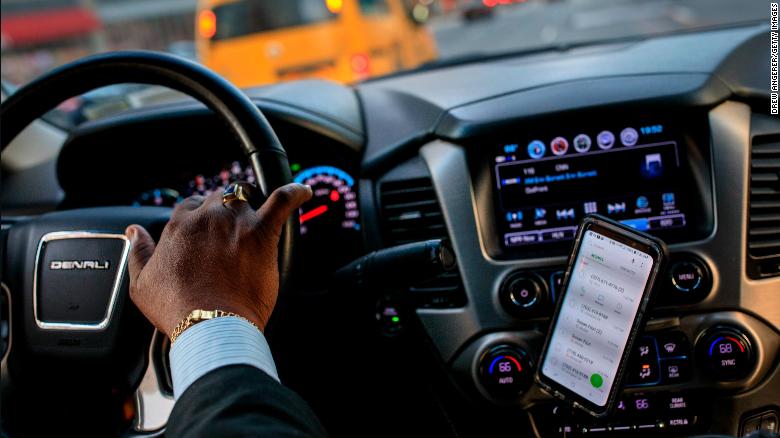 Uber officially filed paperwork on Thursday for what is expected to be one of the largest technology IPOs ever.
The company expects to trade on the New York Stock Exchange under the stock ticker "UBER." It said it plans to raise up to $1 billion, a placeholder amount that is likely to change.
Uber, which is the most valuable startup in the United States, joins a stampede of tech unicorns racing to Wall Street. That list includes Pinterest, Slack, Postmates and Uber's chief rival, Lyft.