In their first joint appearance since leaving Facebook (FB), Instagram, co-founders Kevin Systrom and Mike Krieger responded to Elizabeth Warren's proposed plan to break up tech giants like Amazon, Google and Facebook. 
"We live in a time where the anger against big tech has increased tenfold," Systrom told TechCrunch's Josh Constine on stage at SXSW on Monday.
"Whether that's because the property prices in your neighborhood have gone up, whether that's because you don't like Russian meddling in elections … that doesn't mean that the answer is to break all of the companies up."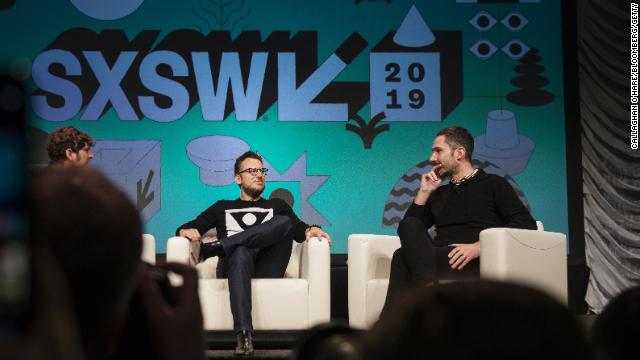 Systrom said there are ways to address matters like economic issues or foreign election meddling without breaking up a company, which he says won't fix these problems. 
"That doesn't mean that companies shouldn't be broken up if they get too big and they're monopolies and cause problems," he said. "But being big in and of itself is not a problem."
Systrom said proposals to break up all tech giants show that the people don't truly understand the problem. He fears these plans play on current anti-tech feelings, instead of giving solutions to address real problems. 
Facebook bought Instagram in 2012 for $1 billion when the photo-sharing platform had about 30 million users. Systrom and Krieger left the company last September, reportedly due to tensions with Facebook CEO Mark Zuckerberg over the direction of Instagram. The co-founders had maintained a fair amount of control over their app even after it was acquired by Facebook. 
"We knew if we got to the scale we wanted, the autonony would be gone," Systrom said. "In some ways, there being less autonomy is a function of Instagram winning … It got to a size where it was meaningfully important to this company [Facebook]."  
The co-founders didn't share what their future plans are, although they said it probably wouldn't be another social media app.
"We're giving ourselves time to get curious about things again," Krieger said.