What's moving markets today: October 9, 2019
4:13 p.m. ET, October 9, 2019
Stocks finish higher, despite mixed messages on trade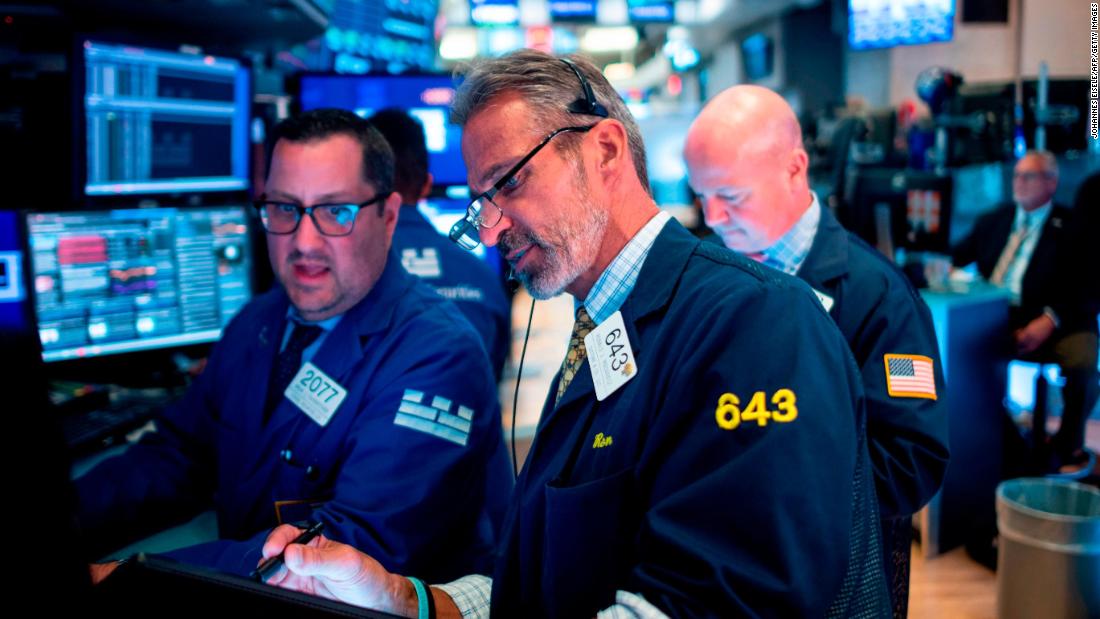 US stocks finished another trading session higher, driven by news on the trade front.
Prior to the market open, a report from Bloomberg fueled hopes for at least a partial trade deal with the United States.
But minutes before the close, a Reuters report said that China is less optimistic about progress on the trade front, citing the United States' blacklisting of 28 Chinese organizations for human rights abuses as having hurt goodwill. While stocks came off their highs following the report, they hung onto most of their gains.
All S&P 500 sectors finished higher, according to Refinitiv.
Johnson & Johnson (JNJ) was the worst performing Dow stock, closing down 2%, after the company was ordered to pay $8 billion in damages over one of its drugs.
3:43 p.m. ET, October 9, 2019
Fed minutes fuel analysts' expectations of a rate cut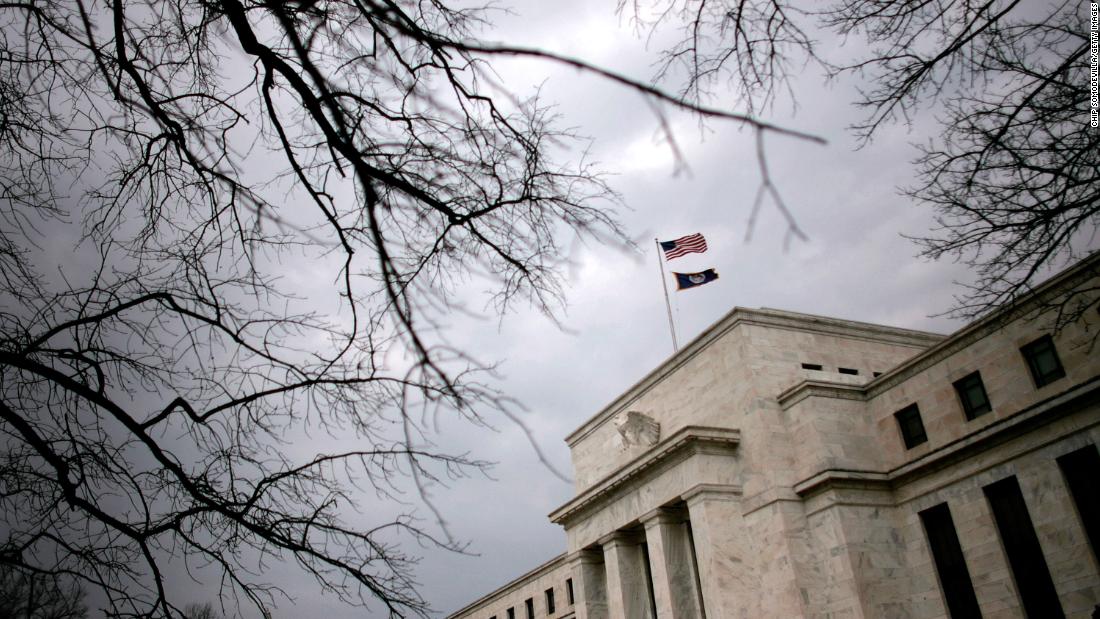 The minutes of the Federal Reserve's latest meeting buoyed expectations that the central bank will cut rates again -- and soon.
"The minutes of the September FOMC meeting underlined that the Fed is prepared to cut rates further, but provided few hints of when that might happen," said Michael Pearce, senior US economist at Capital Economics.
Fed Chairman Jerome Powell has said that policy wasn't on a pre-determined path, and the minutes reiterated this stance.
The minutes "revealed that the labor market was becoming a bigger blip on the policy radar," said Michael Gregory, deputy chief economist at BMO.
Indeed, the minutes cited softness in companies' capital formation, manufacturing and exporting activities, which might spread to their hiring decisions as a risk.
"With September job creation along with the shorter-term job growth trends all cooling further, the case for an October 30 rate cut was given stronger evidence," said Gregory.
Chances of an October 30 rate cut are now at 83%, according to the FedWatch Tool.
On Tuesday, Powell said the central bank will announce measures to expand reserves but stressed it wasn't as much quantitative easing as balance sheet management.
"The FOMC may not call it 'QE' and it is not intended to represent quantitative easing, but the Federal Reserve is returning to being a net buyer of Treasury securities," said Bob Miller, head of Americas fundamental fixed income at BlackRock.
3:16 p.m. ET, October 9, 2019
The Fed is worried the trade war could hurt hiring and consumer spending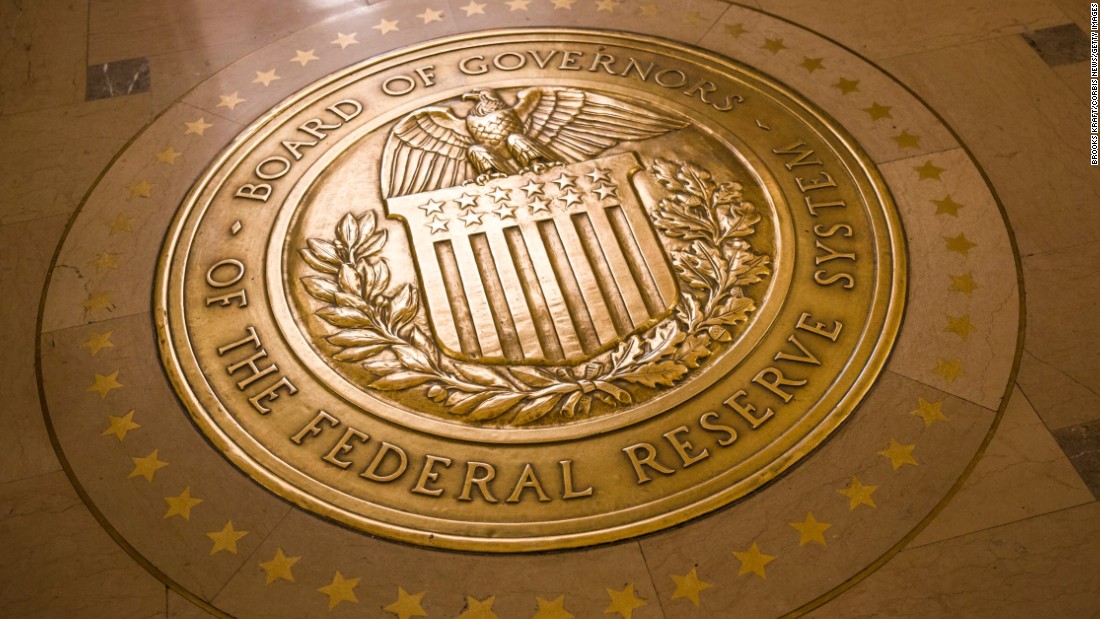 Policy makers at the Federal Reserve are growing more concerned about the effects that slowing global growth and the Trump administration's trade war could have on American workers and the US economy.
The minutes of the central bank's September meeting, released today, show that Fed officials raised concerns that weakness in business investment, trade and manufacturing would trigger a pullback in spending by American consumers, which has been the key driver of the US economy. Other officials noted that more recent models have shown a rising likelihood of a recession over the "medium term."
The Fed cut interest rates last month by a quarter percentage point, to a range of 1.75% to 2% to boost the economy. But some policy makers indicated they were in favor of a bigger rate cut to help reduce the risk of an economic downturn.
Stocks bounced higher following the release of the minutes, with the Dow up about 200 points, or 0.8%.
The S&P 500 and the Nasdaq Composite are up by more than 1%.
1:05 p.m. ET, October 9, 2019
Another rate cut is likely, but is the Fed wasting its arsenal?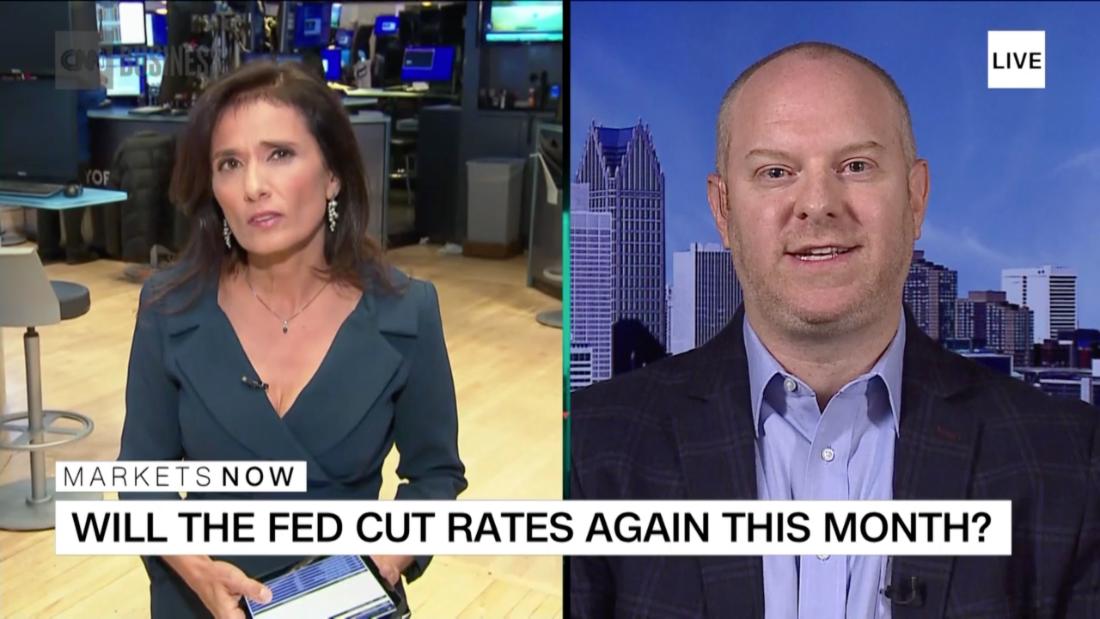 The Federal Reserve is expected to cut rates again before year-end, but some investors are worried that the central bank is using up its arsenal while the economy is still doing fine.
Even though a rate cut later this month would be good for the market in the short term, the unemployment rate is near a 50-year low and markets are relatively close to record highs.
"We worry -- long-term -- if we do hit a recessionary period, will the Fed have used up all of its bullets?" Phil Bak of Exponential ETFs told Paula Newton on CNN Business' digital live show Markets Now.
Chances for a quarter percentage point rate cut at the October 30 meeting are at 81%, according to the CME's FedWatch Tool. A week ago it was at 77%.
1:20 p.m. ET, October 9, 2019
Healthcare stocks have caught a cold
Shares in the healthcare industry might not be the defensive plays that they used to, as legal and political risks are overshadowing the sector, said CNN Business' own Paul La Monica on the digital live show Markets Now.
Three of the worst performing Dow stocks of the year are Walgreens Boots Alliance (WBA), Pfizer (PFE) and UnitedHealth (UNH).
With President Donald Trump pushing for lower drug prices and Democratic presidential candidate Elizabeth Warren supporting Bernie Sanders' Medicare For All idea, there is plenty to worry about for healthcare companies.
A case in point this week is consumer care company Johnson & Johnson (JNJ), which was ordered to pay $8 billion in damages in a case involving the marketing of its anti-psychotic drug Risperdal.
12:53 p.m. ET, October 9, 2019
Stocks are still caught in the headlines, trader says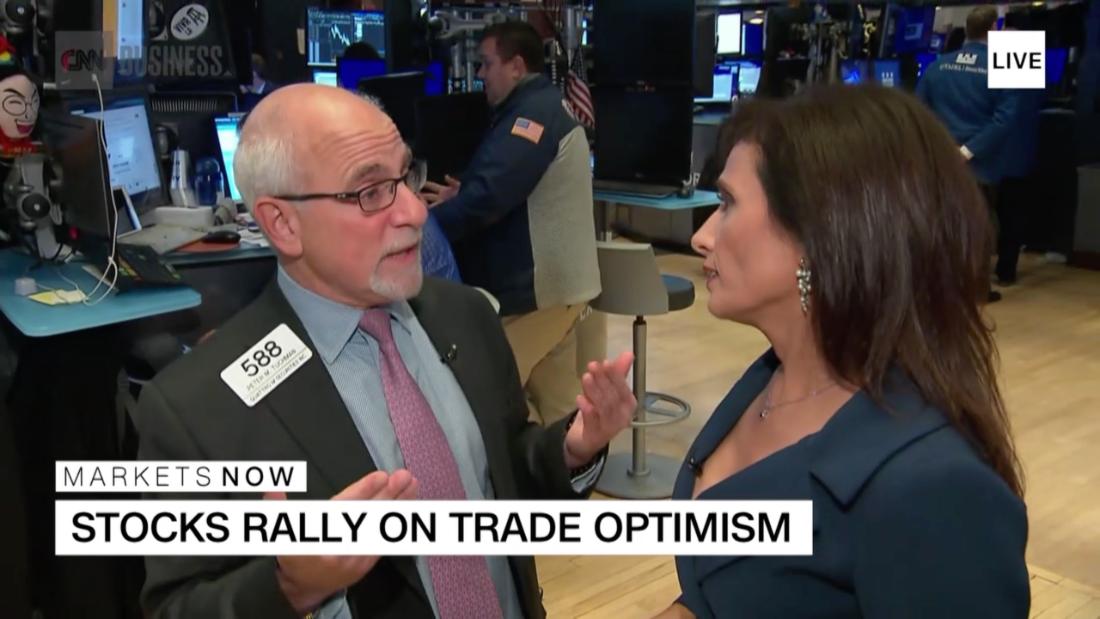 Stocks are up today on hopes that the United States and China could reach a partial trade deal, but that doesn't mean the rally is here to stay.
"The whole China story has beaten up the market a lot," said Peter Tuchman of Quattro M Securities on the CNN Business digital live show Markets Now.
Tuchman qualified today's upward move as a bounce back.
"A headline or a tweet can move this market 300 points or more," he added.
Investors are on the sidelines as long as the uncertainty about whether there will be a trade deal after all.
11:56 a.m. ET, October 9, 2019
There's a 35% chance of a US recession in the next 12 months, NY Fed model says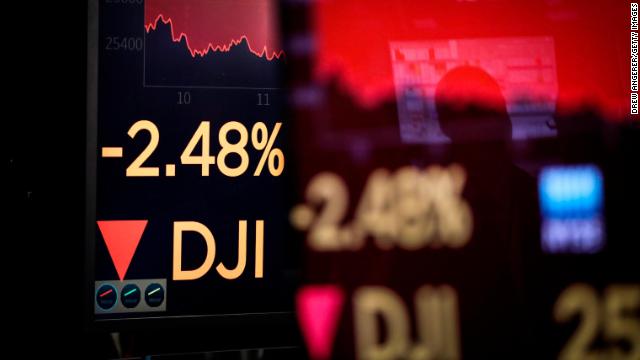 The good news is that Wall Street's favorite recession signal has gotten a bit more optimistic. The bad news is that the New York Federal Reserve's recession model is still flashing red.
The chance of a recession in the United States over the next 12 months dropped to 35% in September, according to an update published this week by the NY Fed.
That's down from 38% in August, but still above the 30% threshold that typically signals trouble.
Keep in mind that this closely-watched model, which is based on the US Treasury yield curve, was forecasting just a 15% chance of a recession a year ago.
And the NY Fed model never reached 50% before the last three recessions, not even during the 2008 meltdown.
Warning signs have been flashing recently about the sustainability of the US economic expansion, which is already the longest on record.
The trade war has hammered the US manufacturing sector, which in September suffered its worst month since the end of the Great Recession. That pain has started to spill over into the far larger service sector, which grew at a three-year low last month.
Jerome Powell, the chairman of the Federal Reserve, said in a speech on Wednesday that although the economy "faces some risks," it is still "in a good place."
11:33 a.m. ET, October 9, 2019
Have the gold bulls won?
Gold prices are elevated despite relative optimism on the trade front that's buoying equities.
The precious metal is a safe haven asset, just like US Treasury bonds, and demand for it rises with increased volatility and uncertainty. But gold seems to have captured investor interest irrespective of hopes for a partial trade deal between the United States and China.
The worldwide holdings in gold-backed exchange traded funds have "seen 17 consecutive days of money inflows. This has been the largest consecutive inflow since 2009," said Naeem Aslam, chief market analyst at ThinkMarkets.
"The captivating element is that these inflows are coming while the price is still in a battle with a 1500 mark, and we can't really say that if bulls have actually won this battle," said Aslam.
An ounce of gold last traded at $1,505.90, up 0.6%.
"What I mean by this is that investors are anxious to park their funds in the safe-haven assets."
11:15 a.m. ET, October 9, 2019
CEO departures hit a record high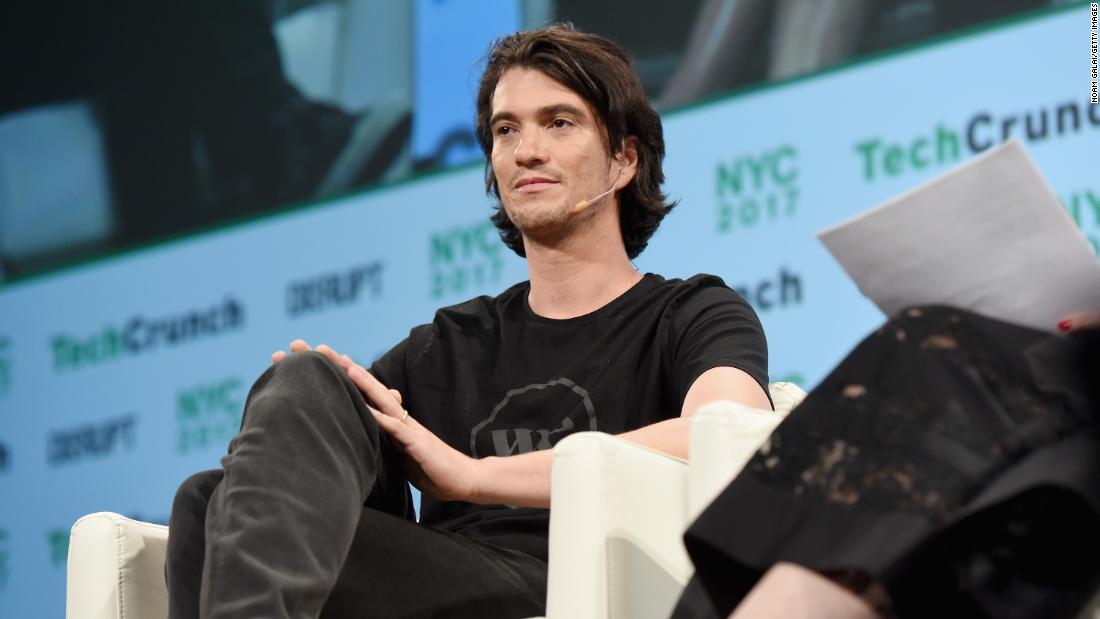 WeWork boss Adam Neumann is hardly alone. CEO turnover spiked to an all-time high last quarter.
Outplacement firm Challenger, Gray & Christmas said on Wednesday that a record 434 CEOs left their posts during the third quarter.That's up 40% from the second quarter and 10% from the same period in 2018.
The previous record was set in the final quarter of last year, when 425 CEOs exited.
Neumann stepped down from his post in September after WeWork's IPO imploded. Other high-profile CEOs who said goodbye in recent months include Charlie Scharf, who left Bank of New York Mellon (BK) to join Wells Fargo (WFC), and Overstock (OSTK) CEO Patrick Byrne, who left the online retailer in August under unusual circumstances.
So far this year, 1,160 CEOs have left their posts, up by 13% from this time in 2018, according to Challenger.
"Coming off a decade-long expansion, companies that started and developed during this period find themselves needing new leadership to continue to grow," Andrew Challenger, the firm's vice president, wrote in the report.