What's moving markets today: September 18, 2019
1:35 p.m. ET, September 18, 2019
FedEx on track for worst daily drop since 2008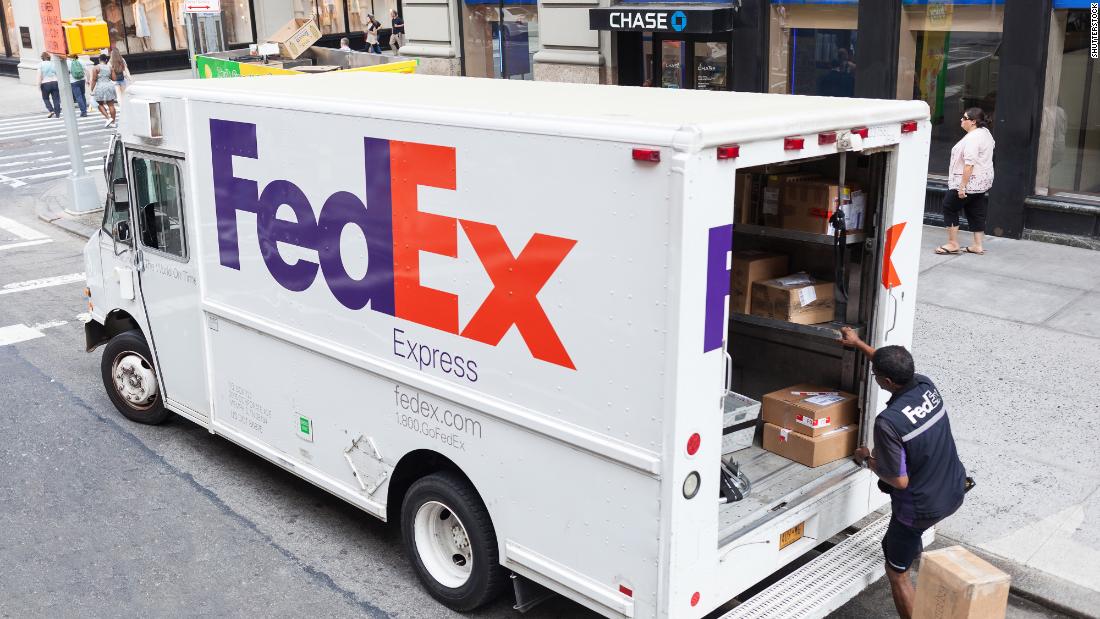 It's a brutal day for FedEx (FDX) shareholders. The stock was down more than 13% in midday trading after warning of a weak outlook. That puts FedEx on track for its worst drop since the dog days of the Great Financial Crisis. Shares plunged 14.5% on December 9, 2008.
But the stock has suffered another double-digit percentage drop not that long ago. FedEx plummeted 12% on December 19 of last year too after it first warned that global trade tension was hurting its results.
CEO Fred Smith said Tuesday he was worried that many in the US "were whistling past the graveyard" and ignoring global threats to the American economy. It looks like FedEx investors are painfully aware of those risks though.
1:24 p.m. ET, September 18, 2019
The Fed should cut today, and then twice more, strategist says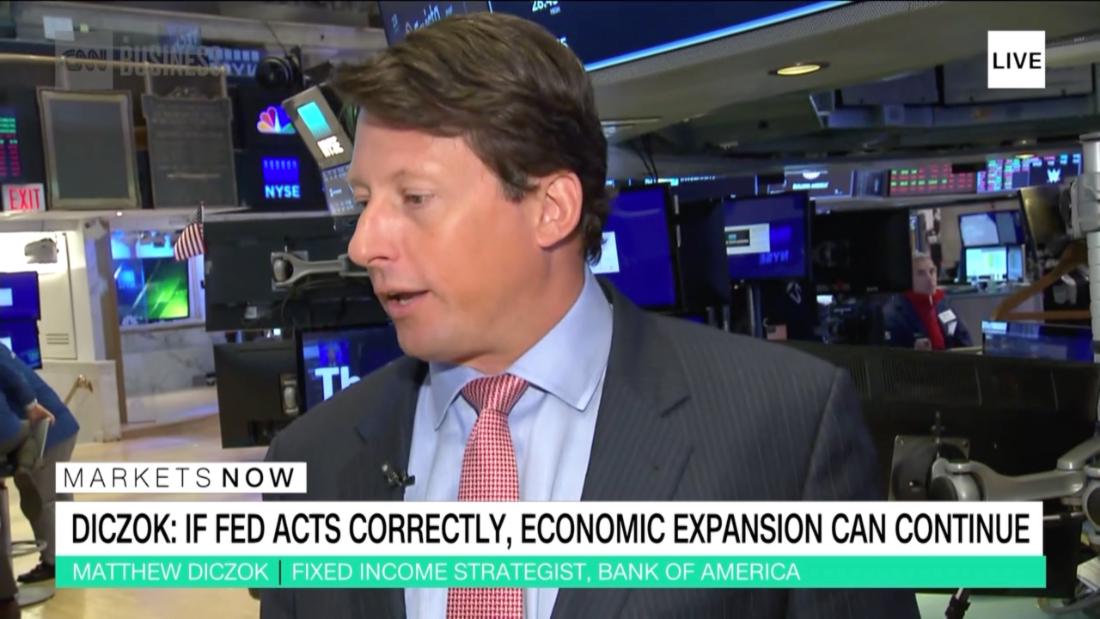 There's a "very high likelihood that the Fed will cut today," Matt Diczok, fixed income strategist at Bank of America, told Paula Newton on CNN Business' digital live show Markets Now.
And the central banks should keep cutting rates for the next two meetings as well.
"What we're starting to see is that the global slowdown that started overseas ... is finally coming to the US," he said.
This is what the Fed has been concerned about and its aim is to keep the economic expansion going.
Market liquidity has also been on investors' minds this week, as the New York Fed injected liquidity into the market twice in the last two days.
But Diczok is less concerned, saying the requirement for Fed liquidity is the result of a technicality. Credit and stock markets didn't really react to it either, he said.
Following a large issuance of Treasuries and a squeeze of investment reserves, overnight lending rates jumped higher at the start of this week.
1:25 p.m. ET, September 18, 2019
Saudi Arabia is the central bank of oil
Why is the attack on Saudi oil production such a big deal, when America has become a huge oil producer and exporter?
"Saudi Arabia is the central bank of oil," said CNN Business' own Matt Egan on our digital live show Markets Now.
Although the kingdom calmed nerves and sent oil plummeting yesterday by saying its production was coming back online, Egan noted some reports say a ramp-up will be slow. Saudi oil may only be operating at 90% by the end of the year.
1:26 p.m. ET, September 18, 2019
If the Fed doesn't cut, the market will tank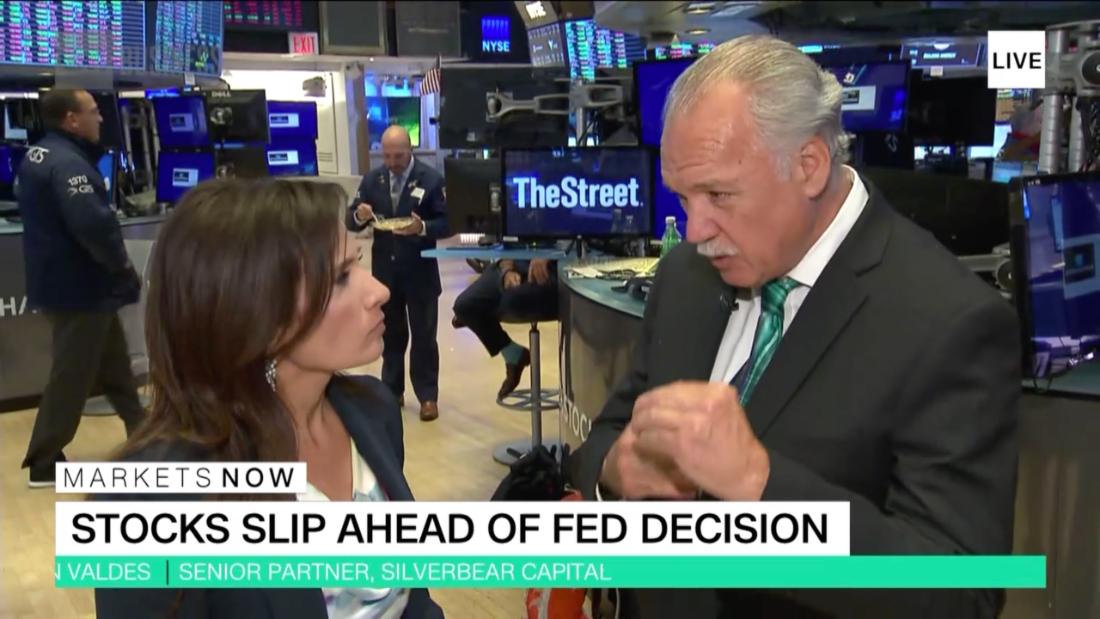 The Federal Reserve's interest rate decision is due soon and expectations for a quarter percentage point cut are at 70%, according to the CME FedWatch Tool.
But if the Fed doesn't budge today, the market will tank, said Alan Valdes, senior partner at Silverbear Capital on the CNN Business digital live show Markets Now.
Valdes expects a cut today, one more in October and another one before year-end. But Fed Chairman Jerome Powell is unlikely to telegraph further details, he said.
"A lot depends on inflation, a lot depends on consumer confidence, which has been weaker," Valdes added.
Consumers are the backbone of the American economy, but of late, worries about the US-China trade war have been seeping into consumers' minds.
12:33 p.m. ET, September 18, 2019
Stocks hold losses at midday
US stocks remain soundly in negative territory around midday, with less than two hours to go until the Federal Reserve's interest rate decision.
The Dow is more than 60 points, or 0.2%, down, while the S&P 500 is 0.3% lower and the Nasdaq Composite is down 0.4%.
Two-thirds of Dow stocks are in the red, led by Caterpillar (CAT), 3M (MMM) and Walgreens Boots Alliance (WBA), according to Refintiv.
In the S&P, FedEx (FDX) is the biggest loser by far, down more than 13% following worse than expected earnings.
Oil prices remain lower. US oil futures are down 1.8% at $58.30 a barrel, while the international benchmark Brent crude is down 1.3% at $63.73 per barrel.
11:13 a.m. ET, September 18, 2019
Fed can breathe sigh of relief about the yield curve
Remember when everyone was panicking about the inverted yield curve? That's when the rate on the 2-Year US Treasury was higher than the 10-Year. That's often happened before a recession.
But the curve has since returned to somewhat more normal conditions, with the 10-Year yielding about 1.76% -- higher than the 2-Year yield of 1.68%. That's a good sign, according to Wilmington Trust chief economist Luke Tilley.
Tilley said in an interview with CNN Business before the Fed announcement Wednesday that "the yield curve had been screaming for a rate cut" when it was inverted. There were even calls not that long ago for the Fed to possibly slash short-term rates by a half of a percentage point to restore balance to the bond market universe.
But Tilley said the yield curve "looks a lot less scary" now. And that's a big reason why he thinks the Fed may cut rates today, once more this year and just once in 2020 before pausing.
In fact, Tilley believes there is now little chance of a recession next year...unless the trade truce between the US and China ends and the threat of even more tariffs come into play.
11:15 a.m. ET, September 18, 2019
CEOs are less optimistic about the future
CEOs are less optimistic about the economy in the near term.
According to the Business Roundtable's third quarter CEO economic outlook index, companies' plans for capital spending and hiring waned "likely due in part to growing geopolitical uncertainty."
The surveyed CEOs project 2.3% GDP growth this year, down 0.3% from last quarter's estimate. The outlook index number also dropped below its historical average.
CEOs are concerned about US trade policy and foreign retaliation, as well as a slowing of the global economy, the Business Roundtable said in a press release.
JPMorgan (JPM) CEO Jamie Dimon said "The US needs strong, sustained long term economic growth in order to remain globally competitive and expand opportunity for more Americans," according to the Business Roundtable.
Over the past year, more than half of the surveyed company heads also reported trade worries were having a negative impact on sales. One third of CEOs also sad it negatively impacted hiring.
10:18 a.m. ET, September 18, 2019
You're not crazy. The markets have been really volatile
Check out the VIX for the past five days ...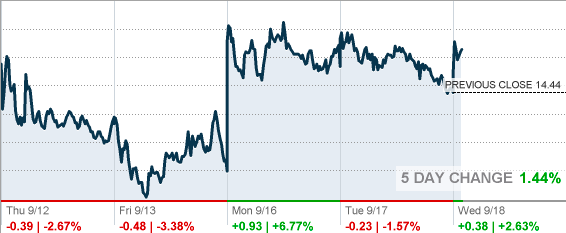 10:19 a.m. ET, September 18, 2019
Why Wall Street is getting nervous about overnight lending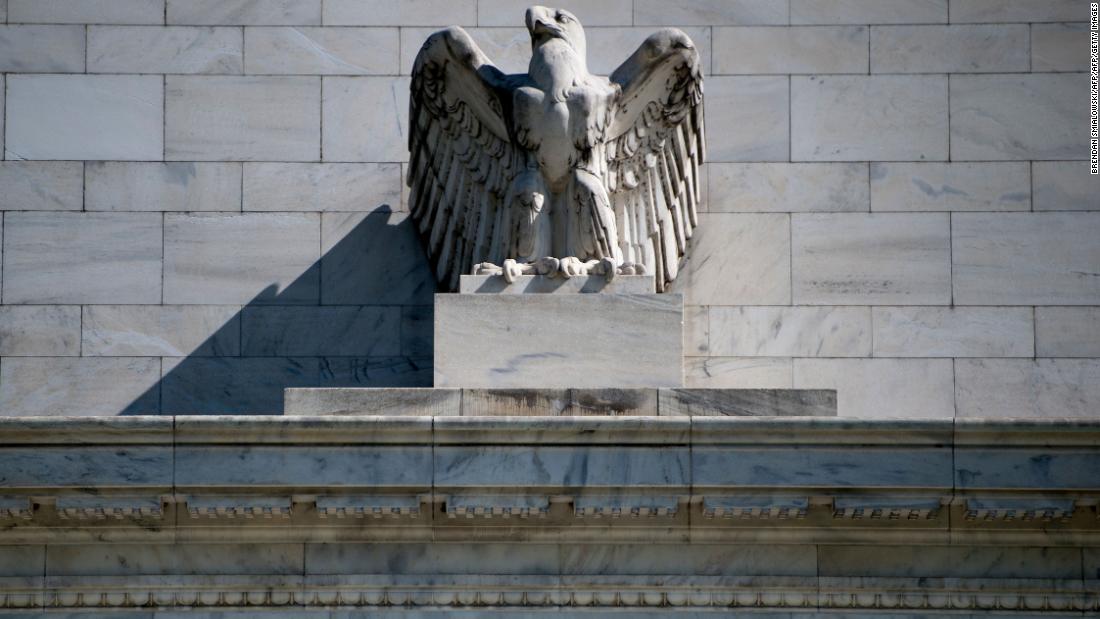 For a second-straight night, banks have sent a clear message to the Federal Reserve: Add more money to America's financial system.
Banks use the overnight lending market to borrow money to fund short-term purchases, such as US Treasury bonds. The Fed sets the target rate at its board of governors meeting: The rate is currently set between 2% and 2.25%, although it is expected to cut rates by a quarter percentage point later today.
Yet the overnight lending rate shot up to 4% last night and was as high as 10% the night before. Banks were crunched as the Treasury put up a huge number of bonds for sale to fund the government's massive deficit. At the same time, banks needed short-term loans to fund their quarterly tax bills, which had just come due.
The New York Fed spent $75 billion last night after putting $53 billion into the market the night before. That calmed nerves, but last night's rate jump proves the cracks in the financial system aren't going away with a snap of the fingers.