What's moving markets today: September 11, 2019
3:13 p.m. ET, September 11, 2019
Alliance Bernstein wants its portfolio managers to learn about climate change
Investment manager Alliance Bernstein (AB) is collaborating with Columbia University's Earth Institute to create an intensive curriculum on climate risk and investment performance.
Called 'Climate Science and Portfolio Risk', it will be the first of its kind, AB said in a press release about the venture.
All investment teams at AB will have to enroll in the program, in which they will tackle challenges like how rising sea levels, wildfire hazards and other extreme weather affect companies' risks and opportunities.
1:41 p.m. ET, September 11, 2019
New Apple products put the company in a more competitive position, says investor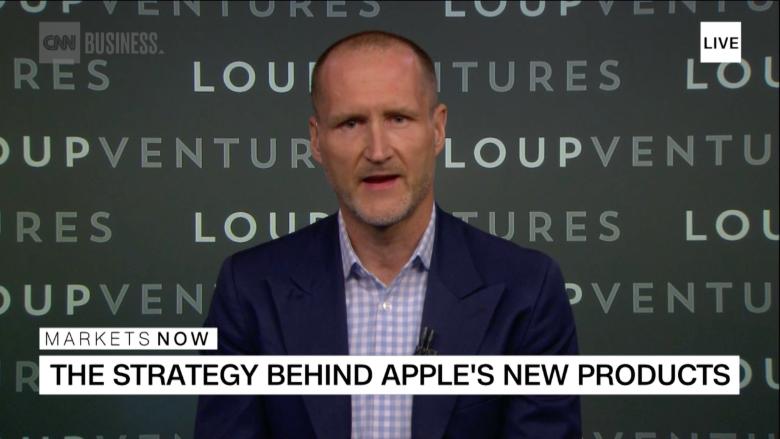 The new products that Apple (AAPL) announced Tuesday are helping the sustainability of its business, Gene Munster, managing partner at Loop Ventures told CNN Business' Alison Kosik on "Markets Now."
"There is a strong case to be made that Apple has the greatest products in the world," Munster said.
On top of that, Apple was uniquely positioned to leverage its devices to promote other products, such as Apple TV. Competitors like Netflix (NFLX) won't be able to do that.
With consumers wanting better battery life, better cameras and lower prices, the California-based tech giant delivered, Munster said.
Even though the future of 5G was missing from Apple's presentation, the company isn't behind the curve on the new technology, which is only sparsely available in the United States at this point.
"If Apple came out with a 5G phone today, it would create an assumption of availability among consumers that is simply not there," Munster said.
1:38 p.m. ET, September 11, 2019
A quarter-point Fed cut will instill confidence and calm markets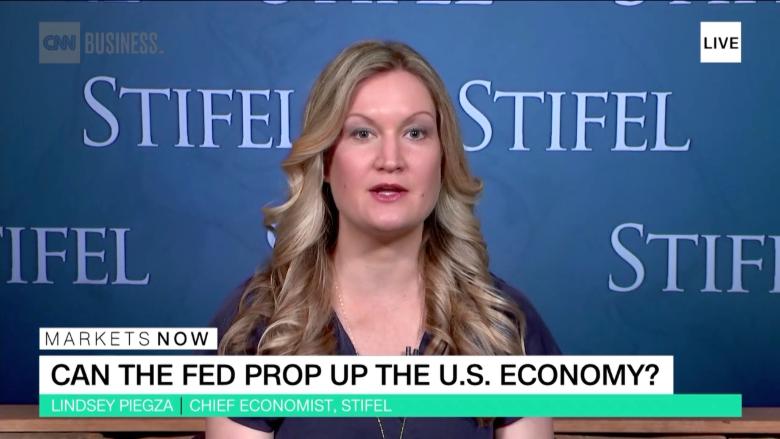 A quarter percentage interest rate cut might not do much to boost the economy right away, but it will help to instill confidence in the US economy, said Stifel's chief economist Lindsey Piezga during CNN's digital live show Markets Now.
"I think it will calm down the market," Piezga said on the show.
But it remains important to watch the central bank's tone regarding future moves. "Are they going to emphasize the positives in the economy... or do they point out the rising risks?"
1:40 p.m. ET, September 11, 2019
Trump won't be happy unless the Fed cuts at least a half point, trader says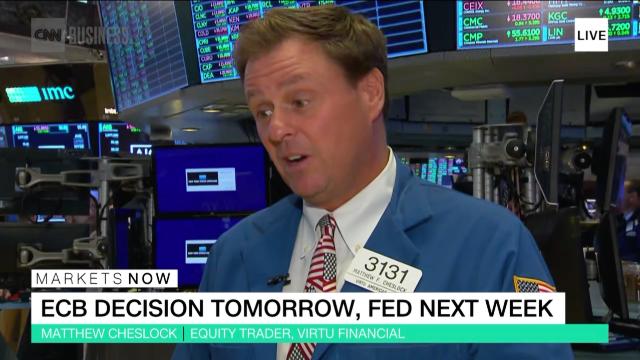 Investors are gearing up for interest rate cuts in the coming weeks, with the European Central Bank's monetary policy update due tomorrow and the Federal Reserve meeting next week.
"Our Fed will be a little more interesting to watch," out of the two, Matt Cheslock, equity trader at Virtu Financial, told CNN's Alison Kosik during the digital live show Markets Now.
President Donald Trump is keeping the pressure on the central bank, tweeting earlier today that interest rates should be cut to "zero, or lower."
"Everything that comes out from the president has moved the markets. Certainly, that's not a good sign when the president is calling the barometer of our economy boneheads," Cheslock said, referencing the earlier tweet.
Trump won't be happy unless we get at least half a percentage point cut, and the market might not be either, Cheslock said.
1:43 p.m. ET, September 11, 2019
Oil price drops 2.5% on report that Trump weighed easing Iran sanctions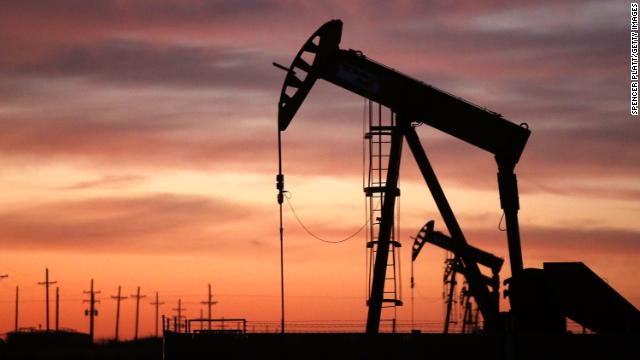 US oil prices dropped as much as 2.5% to $55.99 a barrel on Wednesday, following a Bloomberg report saying President Donald Trump weighed easing sanctions on Iran in order to secure a meeting with Iranian President Hassan Rouhani.
Trump's considerations prompted push-back from former national security adviser John Bolton, who left the administration yesterday. The surprise exit of Bolton prompted speculation that the tensions between the United States and Iran could ease, and oil prices fell on the news.
If Iran sanctions were eased or lifted, oil supply in the global market would increase, thereby pushing down the price.
11:16 a.m. ET, September 11, 2019
Gender diversity on boards correlates with higher credit ratings, says Moody's
The representation of women on corporate boards is linked to companies' credit ratings, says ratings agency Moody's.
Companies rated triple-A — the best possible credit rating — by the agency have the most gender-diverse boards "with women accounting for an average of 28% of their corporate directors."
Companies with lesser ratings also had fewer women on their boards. Nevertheless, the pattern suggested a correlation in the data, but not causation, Moody's said.
"Higher-rated companies also tend to have more women occupying C-suite executive positions. Nearly 25% of executives at Aaa-rated companies are women, versus around 10% for Ca-rated companies.
Regulations that mandate a minimum gender split on boards could, meanwhile, make things worse for companies, as it would require many to turn over directors, which could lead to credit risk in the short-term.
That said, Moody's also assesses companies' governance, and one of the five equally weighted risk categories it considers for the score is board oversight and effectiveness. "A board with less than 30% gender diversity is one indicator among many that strays from Moody's global standards," the agency said.
9:32 a.m. ET, September 11, 2019
Stocks open higher, Dow adds to win streak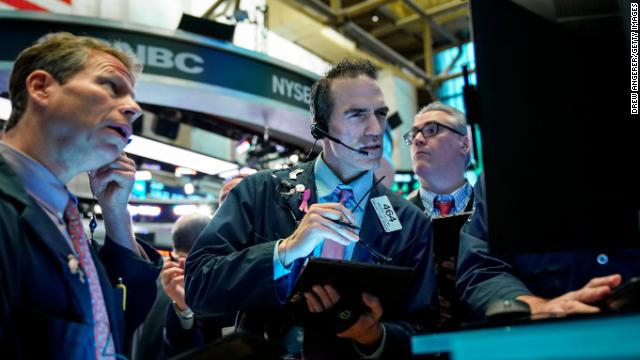 US stocks opened higher on Wednesday, as the Dow is aiming for its sixth day of gains in a row.
Shares of video game retailer Gamestop (GME) dropped more than 16% at the open, after the company reported worse-than-expected sales and said it would close 200 stores.
9:47 a.m. ET, September 11, 2019
Producer price index climbs 1.8%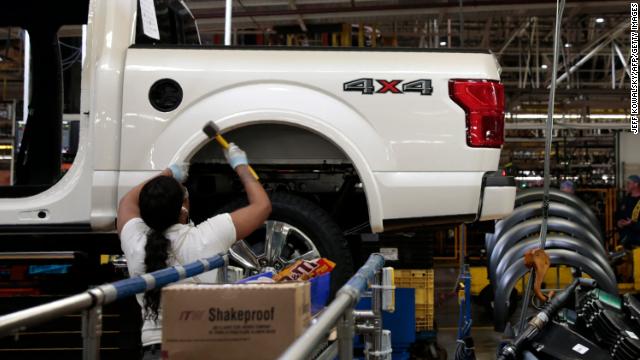 The producer price index rose by 1.8% year-over-year in August, slightly more than economists surveyed by Refinitiv had forecast. But it remains below the Federal Reserve's 2% inflation target.
Prices rose 2.3% in August when stripping out food and energy prices.
The Fed "can start cutting interest rates down to zero as the president wants as there is no inflation," wrote Chris Rupkey, chief financial economist at MUFG.
So far, trade worries and tariffs have not yet pushed up the prices of goods made in American factories.
The consumer price index for August is due tomorrow morning at 8:30 a.m. ET.
9:12 a.m. ET, September 11, 2019
Mortgage rates hit 3-year low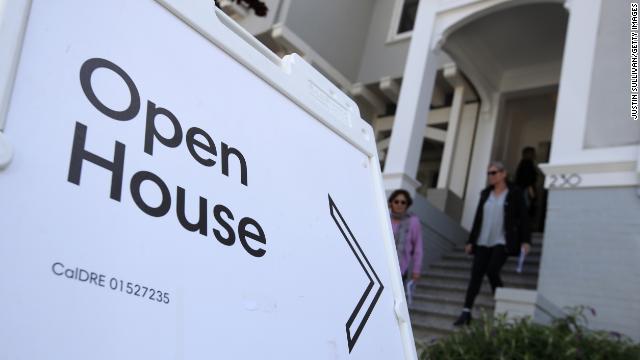 Mortgages are cheaper than they have been in years.
In the Labor Day holiday week, the average 30-year fixed-rate mortgage in the United States dropped to its lowest level since the week of November 4, 2016, according to the Mortgage Bankers Association.
The average rate on loan balances below $484,350 was 3.84%, while the rate on larger loan balances was 3.84%.
Over the summer, mortgages got cheaper but home buying didn't quite seem to catch up, in part because home prices rose faster than wages.
In July, however, existing home sales climbed, as the cheap mortgages are finally showing an effect on the market.