What's moving markets today: August 21, 2019
4:22 p.m. ET, August 21, 2019
Bond market flashes recession warning but stocks end the day higher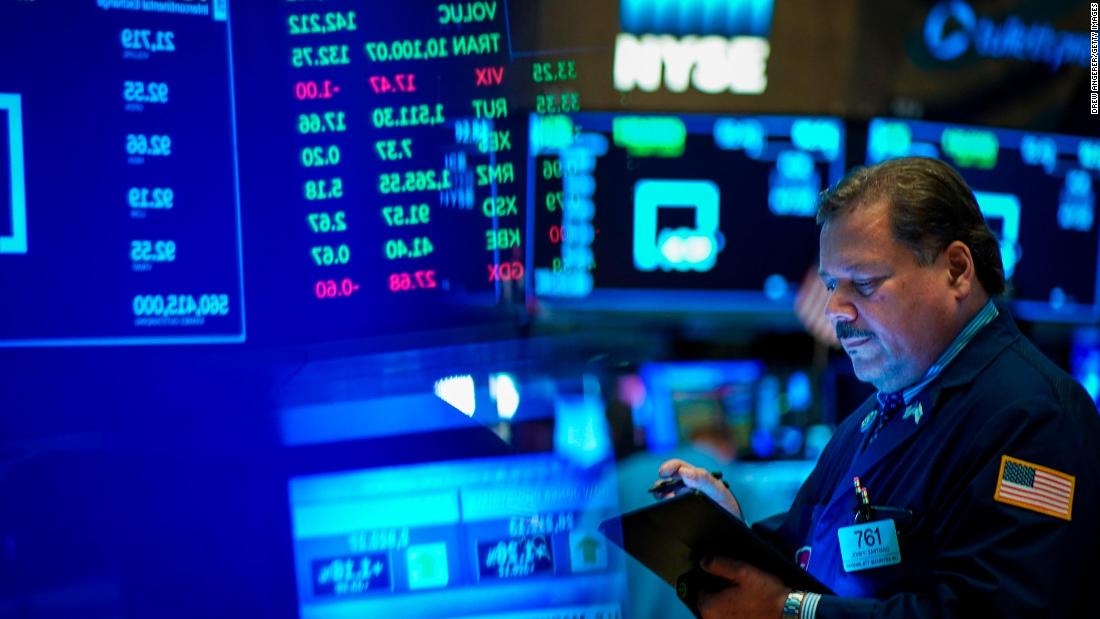 Stocks ended higher even though the bond market, for the second time in a week, flashed a recession warning sign toward the end of the trading day.
The 2-year and the 10-year Treasury yields briefly inverted, meaning the shorter-dated bond yielded more than the longer-dated one.
Stocks hung on to their gains after the release of minutes from the Federal Reserve's July meeting showed that the central bank wants to preserve its options on setting interest rate policy. Still, a September rate cut is priced in at nearly 100%, according to the CME FedWatch tool.
2:19 p.m. ET, August 21, 2019
Stocks barely move after Fed minutes are released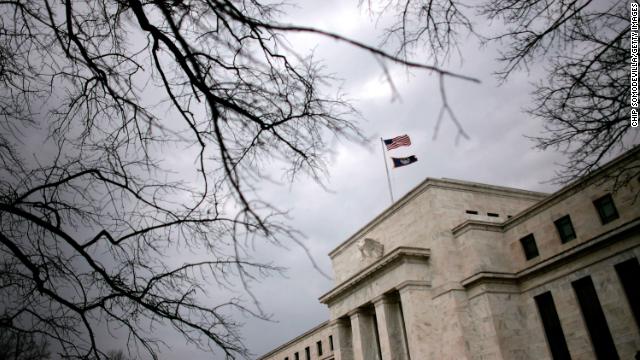 US stocks had a muted reaction to the Federal Reserve's July meeting minutes.
The Dow is up 1%, around 260 points, while the S&P 500 and the Nasdaq Composite are both up 0.8%.
US Treasury bonds also had a limited reaction. The 10-year Treasury yield sits at 1.5639%.
The minutes showed that most central bank officials supported the quarter percentage point interest-rate cut last month. But they didn't confirm whether there will be another rate cut in the near-term. So ... stay tuned to the Fed.
1:27 p.m. ET, August 21, 2019
Schwab strategist Liz Ann Sonders: Things are holding up, but keep an eye on the manufacturing downturn
Worries about global growth and the inverted US yield curve has spurred fears of a recession in the near-term. But investors don't need to worry yet, according to Liz Ann Sonders, chief investment strategist at Charles Schwab.
"I think right now we're not looking at recessionary conditions," Sonders said on the CNN digital live show "Markets Now."
Although there are some clouds on the horizon, for now, the consumer is strong and lower interest rates could boost the housing sector and provide a lift to economic growth.
What about the darkening sky? If the downturn hanging over the manufacturing sector worsens, it could eventually spill over into the services economy, Sonders said. And that would be a scary development. The trade war has already weighed on corporate spending and "we're likely already in a global manufacturing recession," Sonders said.
Still, so far, the downturn has been contained.
1:13 p.m. ET, August 21, 2019
American consumers are still spending and that is boosting retail. Here's where investors can find value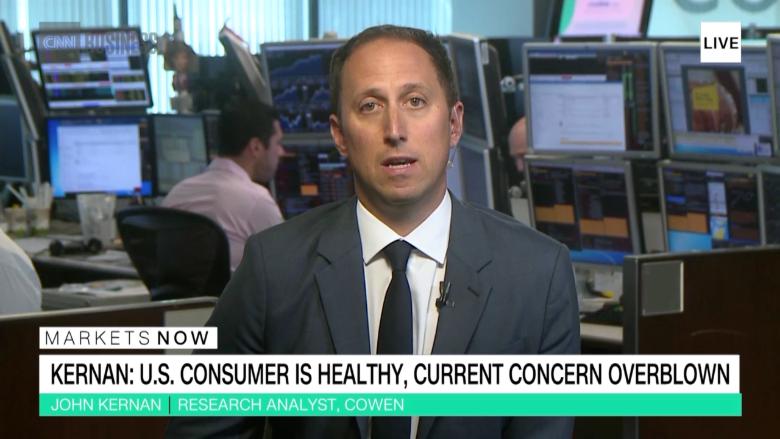 The US consumer is holding up strong. Jobs are plentiful; the labor market is tight. This is good for the retail sector, or at least for part of it, said John Kernan, managing director at Cowen & Co on CNN's digital live show "Markets Now."
"Consumer confidence is near record highs," Kernan said.
For sure, some retailers are struggling, but this wasn't the consumer's fault, he added. Rather, it reflects disruption across the industry that has left some brick and mortar retailers falling behind.
"Innovation and aspiration is where you want to be," he said.
Kernan sees value in brands like Lululemon (LULU), Nike (NKE) and Adidas (ADDYY), which also have long-term growth potential outside the United States.
1:07 p.m. ET, August 21, 2019
The US economy is still a good bet, trader says
Investors should bet on America's economy, Teddy Weisberg, founder of Seaport Securities, told Zain Asher on the CNN digital live show "Markets Now."
Despite jitters about trade and the "good cop, bad cop" dynamic surrounding the Federal Reserve's monetary policy, the US economy is strong and in good shape, Weisberg said. And betting on the economy also means betting on the stock market.
With just an hour to go until the Fed releases the minutes of its July meeting, Weisberg said, "In spite of what President Trump might want, the Fed is independent."
12:43 p.m. ET, August 21, 2019
US deficit will expand to $960 billion in 2019, CBO estimates
America's federal budget deficit will be larger than expected by the end of the year, according to an updated economic outlook from the Congressional Budget Office.
The deficit is now estimated to be $960 billion in 2019 — $63 billion more than expected in May. Between 2020 and 2029, it will average $1.2 trillion per year. The deficit also equates to 4.4%-4.8% of GDP — "well above the average over the past 50 years," according to the CBO report.
The increasing deficit is partially due to a major budget deal that raised spending limits and suspended the debt ceiling. The 10-year deficit is projected at $12.2 trillion, with $1.7 trillion coming from the budget deal alone.
Along with the growing deficit, the amount of government debt America holds will also grow, jumping from 79% of GDP this year to 95% in 2029. It hasn't been that high since World War II.
The CBO projects GDP growth of 2.3% this year. But consumer spending, which has been a key part of US growth, is set to grow at a slower pace in the next years, dragging GDP growth to 1.8% in the next few years.
12:17 p.m. ET, August 21, 2019
Target's stock hits a record high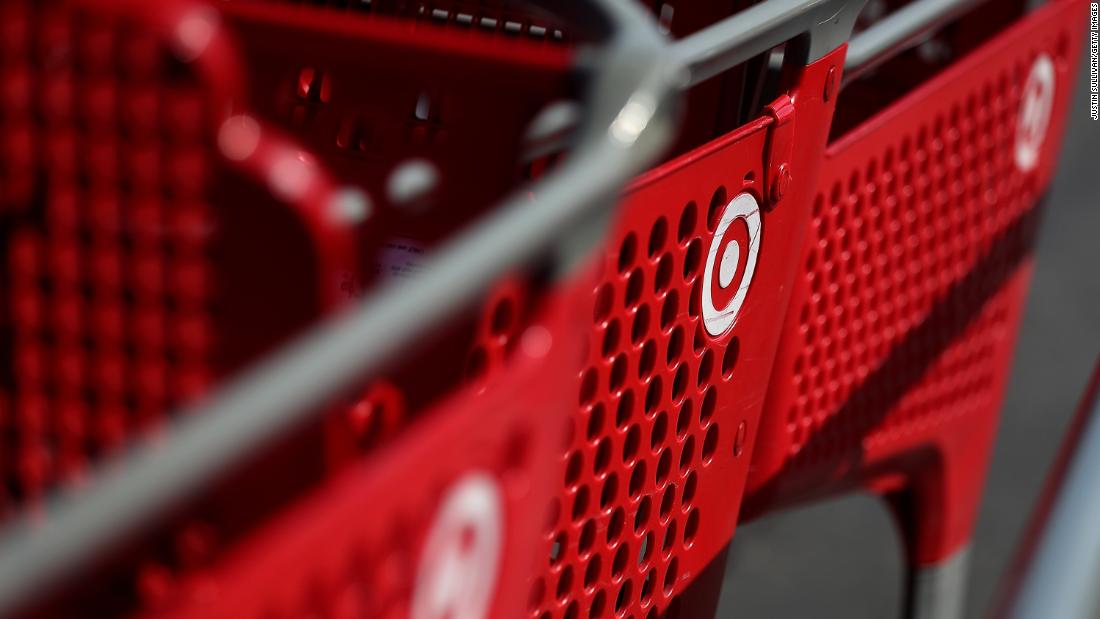 Target (TGT) shares are up a whopping 20% after it posted strong earnings.
Sales at Target stores open at least a year increased 3.4% during the summer quarter and profit rose. The retailer beat Wall Street's predictions for the recent quarter and raised its profit forecast for the rest of the year.
The results come on the heels of Target's best year in more than a decade. Today's gains means the stock is hitting record highs.
11:38 a.m. ET, August 21, 2019
Norway's sovereign wealth fund is making money from low yields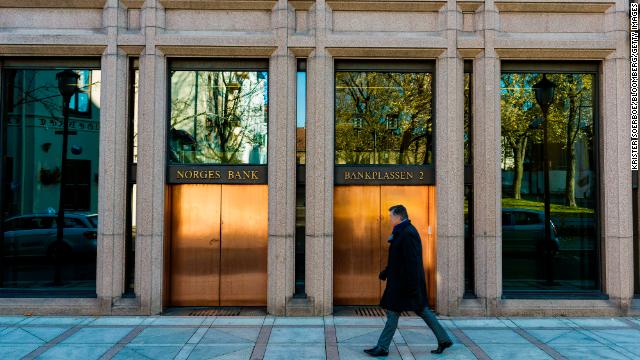 Bond yields have been falling all over the world, and the inversion of the US yield curve has investors worried about a recession. But Norway's sovereign wealth fund is happy to see lower yields.
The massive investment fund, which had a market value of 9.162 billion Norwegian kroner ($1.024 billion) at the end of June, "had a positive return on our fixed-income investments thanks to falling yields," said Trond Grande, deputy CEO of Norges Bank Investment Management, in a press release about the fund's second-quarter results.
Prices and yields move inversely to each other, so if prices go up, yields go down.
The fund returned 3% between April and June.
It holds more than 600 billion kroner ($67 billion), or a quarter of its fixed income portfolio, in bonds with negative yields. its largest holdings are US Treasuries, Japanese government bonds and German Bunds.
The 10-year US Treasury yield is near a three-year low, and Germany just sold a 30-year bond with a negative yield on Tuesday, reportedly for the first time ever.
12:53 p.m. ET, August 21, 2019
Germany is getting paid to borrow for 30 years -- and Trump does not like that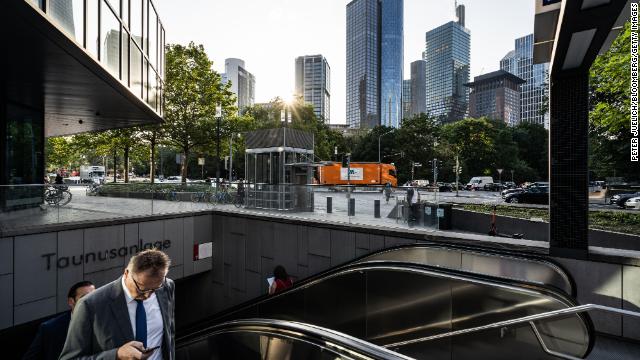 The financial world is upside down. Need further proof? Check out Germany's bizarre bond sale.
Germany sold nearly $1 billion worth of 30-year bonds at a negative yield on Wednesday. It's reportedly the first time in history that Germany has sold debt at that duration with negative yields.
During normal times, rich countries like Germany can borrow money at affordable rates, paying out several percentage points of interest to investors. But these aren't normal times.
Central banks in Europe and Japan have taken the extreme step of setting subzero interest rates. That has allowed countries like Germany to pay zero interest, or even get paid to borrow.
There is now a record $16 trillion of negative-yielding debt around the world, according to Bloomberg.
"The low level of interest rates is a global phenomenon that affects all industrial countries alike," a spokesperson for Germany's finance ministry said in a statement. The spokesperson added that Germany has used low rates "in a responsible way," such as by investing record sums in innovation.
Even countries with shaky balance sheets have been able to borrow cheaply. Look at Greece, a country on the verge of collapse earlier this decade. Greece's 10-year bond yield has collapsed from a crisis-high of 40% in 2012 to just 1.9% today -- roughly the same as America's.
Germany's historic bond sale drew the ire of President Donald Trump, who used it to continue to press the Federal Reserve to sharply lower interest rates.