What's moving markets today: August 7, 2019
4:16 p.m. ET, August 7, 2019
S&P 500 and Nasdaq eke gains after volatile trading day
The S&P 500 and Nasdaq Composite managed to close higher after a volatile day in the market, while the Dow gave up some last-minute gains and finished in the red.
Worries about trade and global growth had investors flee to safe investments like Treasury bonds and gold early Monday. This brought the 10-year US Treasury yield to a three-year low and pushed stocks lower. The Dow was down as much as 589 points at its worst.
It was the second positive day in a row for the S&P and Nasdaq following their worst performance of the year on Monday.
The 10-year Treasury bond last yielded 1.7122%, according to Refinitiv. Gold prices settled 2.4% higher at $1,507.30 an ounce, the highest level since 2013.
3:40 p.m. ET, August 7, 2019
Stocks turn positive
Stocks turned positive across the board in the last half hour of trading, erasing all of their previous losses in a volatile session for the markets.
2:43 p.m. ET, August 7, 2019
Nasdaq turns green as stocks are paring losses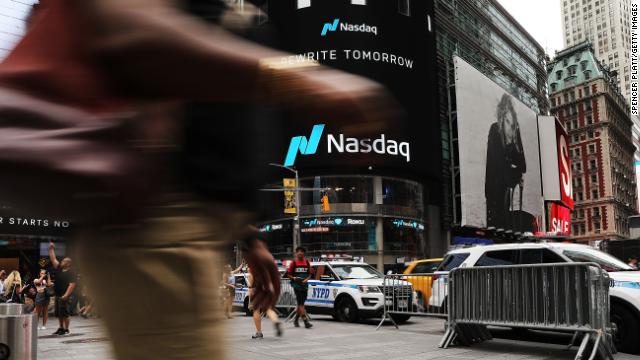 US stocks are paring their losses in early afternoon trading after an this morning's scare from the bond market that saw the 10-year Treasury yield near three-year lows.
The Nasdaq Composite reversed its losses and climbed into positive territory, up 0.2%.
The Dow is down only 0.3%, or 80 points, after it slid more than 500 points earlier in the day. The S&P 500 is only 0.1% lower.
Equities sold off Wednesday amid further uncertainty about trade and the global economy, which sent investors looking for safety in haven assets like gold and Treasuries.
1:14 p.m. ET, August 7, 2019
'Investors lack perspective,' says BMO's Brian Belski
Investors need to take a beat amid all of this headline-induced market volatility, Brian Belski, chief investment strategist at BMO Capital Markets, told CNN's Alison Kosik.
People are managing their money based on fear, particularly younger investment managers who have never seen a market like today's, Belski said.
But "the US stock market and economy remains the most stable in the world," he said, adding that the market is supported by fundamentals.
"I think investors lack perspective," Belski said.
1:11 p.m. ET, August 7, 2019
Safe havens are hot
Market volatility is the theme of the week, with stocks falling and 10-year Treasury yields near three-year lows as investors are making a run for safe havens.
"The uncertainty that's there around our economy is leading investors to shift their money," Jon Corpina, senior managing partner Meridian Equity Partners, told CNN's Alison Kosik on the Markets Now live show.
Investors are worried about the fallout from the US-China trade war, as well as the health of the global economy.
The volatility in the market has scared investors into safer investments like Treasuries and gold. But "if you take a step back and look at our economy and our growth, the picture is still rosy," Corpina said.
11:53 a.m. ET, August 7, 2019
Market volatility is here to stay -- but this isn't 2008
The sense of calm that prevailed on Wall Street for much of 2019 is ancient history. Investors are now very nervous about the US trade war with China and that's unlikely to change anytime soon, according to Randy Frederick, the vice president of trading and derivatives for Charles Schwab.
Frederick told CNN Business Wednesday he thinks volatility is here to say. Investors should expect big moves (both up and down) depending on the latest headlines.
The good news? Frederick does not believe stocks are primed to plunge into a brutal bear market like in 2008. Why? Consumers are still spending. Earnings have remained solid. And the US-China trade war is a well-known risk, not a proverbial black swan.
That said, Frederick thinks that if President Trump does follow through with his threat to impose more tariffs on Chinese-made consumer goods on September 1, then that could lead to a market correction of more than 10%. The S&P 500 is now about 6% below its all-time high.
There is another leg down in stocks if the new tariffs come into effect. That could wipe out corporate profits from earlier in the third quarter and hurt retailers and consumers. That's not priced into the market yet," Frederick said.
11:48 a.m. ET, August 7, 2019
Now is the time to invest in China, says Bridgewater's Ray Dalio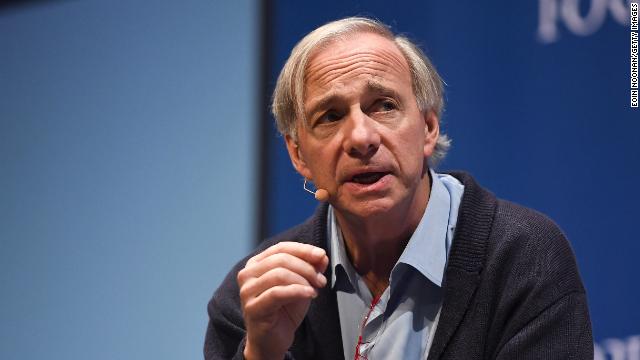 The head of the world's largest hedge fund is bullish on China.
Ray Dalio of Bridgewater Associates thinks the time is right to invest in the Far East.
In a Bridgewater YouTube video, Dalio described China as an emerging powerhouse that is opening up to global investors.
"Now is the time that it's opening up, and you can be early or you can be late," Dalio said.
Index provider MSCI is quadrupling the weight of Chinese large-cap stocks this year, which will give index investors further access to those stocks. China's yuan-denominated bonds have also been added to the Bloomberg Barclays Global Aggregate Index.
"I do think there'll be a restructuring of the world order," in terms of supply chains and trade, he said.
While China has its own set of idiosyncratic risks, it is less or at least no more risky than other markets, Dalio said.
And riskiest of all is not to be diversified.
10:50 a.m. ET, August 7, 2019
Nervous? Here's where to park your money
The Real Estate Select Sector SPDR (XLRE) and Utilities Select Sector SPDR (XLU) ETFs have held up relatively well in the past week.
Big telecoms that pay giant dividends, such as Verizon (VZ) and CNN parent company AT&T (T), may also be safer places to hide if the broader market remains this volatile.
Charlotte Geletka, managing partner with Silver Penny Financial Planning, also said that investors who want to save must broaden their horizons.
Stocks may seem risky, but the alternative is putting your money in assets that will generate little, if any, return.
"We have a lot of clients with cash. Many of them still have PTSD from the 2008 and 2009 crisis. But we're trying to urge people to add more risk," Geletka said.
If you are trying to plan for retirement, you will need some growth. You can't push everything into bonds and cash."
10:41 a.m. ET, August 7, 2019
New tariffs will cost the tech industry $1 billion
A new round of tariffs announced by President Donald Trump last week will hit the technology industry especially hard. 
The 10% tariff on an additional $3 billion in Chinese goods set to go into effect in September would include dozens of consumer tech products, including smartphones, laptops, printers and speakers. That increase would bring the total amount of tariffs paid by the tech industry up to $2.7 billion from the $1.7 billion paid in June, which was already eight times higher than the amount paid in June 2018, according to data released Wednesday by the Consumer Technology Association. 
That will mean higher prices for US consumers buying tech products, CTA President Gary Shapiro said. This could be especially harmful to technology companies as they head into the second half of the year when holiday spending is generally an important revenue driver.