What's moving markets today: June 11, 2019
5:17 p.m. ET, June 11, 2019
Tariffs send this beanbag retailer tumbling 23%
Lovesac (LOVE), which sells sectional couches and beanbags, tumbled 23% on Tuesday after the retailer disclosed that tariffs hurt its business during the start to 2019.
The retailer said that a 10% tariff on imported goods from China squeezed profit during the first quarter of 2019.
Lovesac manufacturers parts of its furniture in China, but said it is working to diversify its manufacturing base.
When tariffs someday go away, Lovesac will be an even healthier and more efficient business than before, CEO Shawn Nelson told analysts on an earnings call.
Other retailers, such as Walmart (WMT), have warned that tariffs will lead to higher prices for consumers.
4:16 p.m. ET, June 11, 2019
What's next for investors on Wednesday
The market is closed for the day and investors are looking ahead to what's next.
Overnight, China's consumer and producer price inflation data is due. The reports will come out at 9:30 p.m. ET.
The main data point for Wednesday is US consumer price inflation for May, which is expected at 1.9% year-over-year, and will be reported at 8:30 a.m. ET. Note that today's producer price index came in below expectations.
US oil inventories data is due at 10:30 a.m. ET.
4:17 p.m. ET, June 11, 2019
Dow snaps six-day winning streak
US stocks ended slightly lower today, marking the end of a rally that has lasted for more than a week. Ahead of today's close, the Dow had logged gains six days in a row. A winning streak like that was last seen in May 2018.
United Technologies (UTX) was the weakest stock in the Dow, dropping 4%. Raytheon (RTN), which is set to merge with United Technologies, was the biggest loser in the S&P 500. Its shares dropped 5.1%.
3:35 p.m. ET, June 11, 2019
Earnings could suffer amid more policy uncertainty, says LPL Financial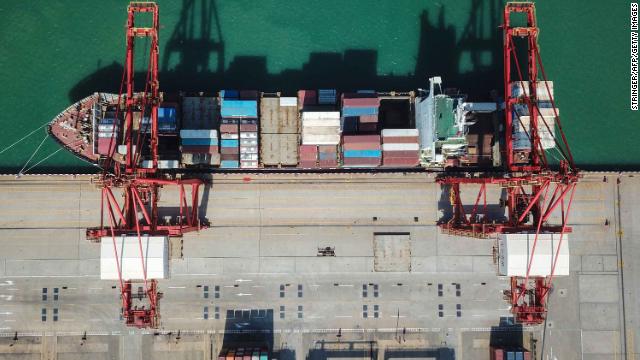 Policy uncertainty, especially when it comes to trade, could weigh on earnings in coming quarters, according to LPL Financial.
"Policy uncertainty remains high, particularly around trade, but you wouldn't know it from last week's stock market rally, which jumped 4.4% on increasing hopes for Federal Reserve (Fed) rate cuts," said John Lynch, chief investment strategist at LPL Financial. "However, that doesn't mean stocks are in the clear as the trade conflict with China continues."
While tariffs on Mexican imports were avoided thanks to the United States and Mexico reaching a deal, the picture is less clear when it comes to China. On top of that, new tariffs, for example against the European Union or Japan, could still be in store as well.
A prolonged trade war with China could mean companies would incur the tariffs or have to change supply chains, leading to rising costs and worsening profit margins, said Lynch:
"As long as the tariffs remain in place, earnings growth will be tougher to come by."
But policy uncertainty concerns more than just trade, said Lynch. Monetary policy is also part of it. Expectations for what the Federal Reserve might do next have changed quite a bit. The market is penciling in an interest rate cut this year.
Amid all this, LPL cut its 2019 S&P 500 earnings forecast from $172.50 per share to $170, which is still above the consensus estimate of $168.
2:27 p.m. ET, June 11, 2019
Trump's use of tariffs could be a drag on the market, says Goldman Sachs CEO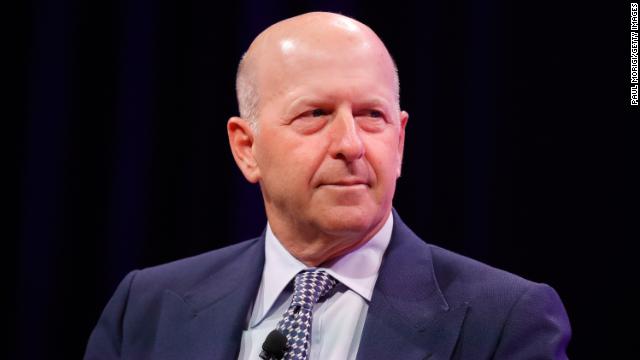 President Donald Trump's liberal use of tariffs in negotiations could impact markets and investor confidence, Goldman Sachs CEO David Solomon said during an interview with CNBC at the Code Conference in Arizona.
"There's no question if the president continues to use tariffs for a broader, political agenda, it can have an impact on market activity," Solomon said.
Stocks have been rallying for more than a week. If the Dow ends in the green today, it will have logged gains for seven days in a row. Investors have been breathing a sigh of relief after Mexico and the US agreed to a deal that avoided tariffs on Mexican imports.
2:43 p.m. ET, June 11, 2019
Boeing shares slip after announcing no new orders for the second straight month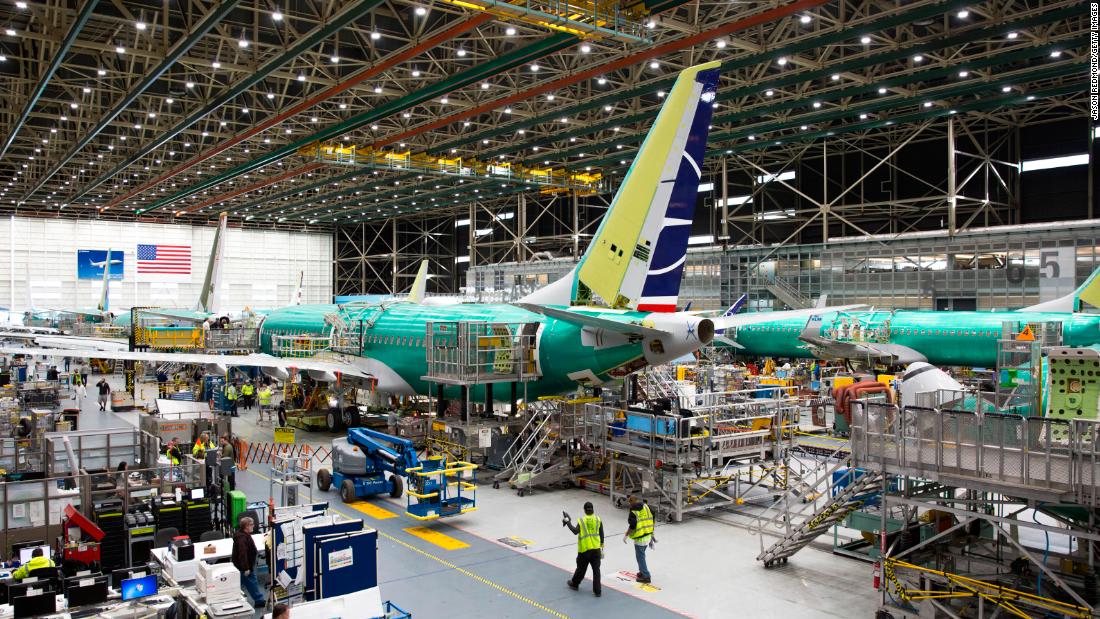 Boeing (BA) shares slipped more than 1% after it reported no new commercial aircraft orders in May.
That's the second straight month that Boeing's orders were at a standstill in the face of the 737 Max crisis.
The drop in orders isn't only because of the grounding of the 737 Max. Boeing also has a massive backorder of about 5,000 planes. Many of its customers do not need to place orders for additional jets right now.
12:24 p.m. ET, June 11, 2019
Stocks pull back at midday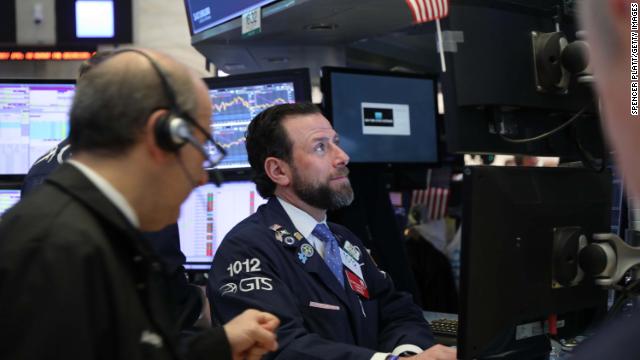 Have we reached the top of this stock rally?
At midday, the Dow, the S&P 500 and the Nasdaq Composite have paired their gains and turned red. The Dow and the S&P are both down 0.1%, while the Nasdaq has slipped 0.2%.
Nevertheless, the S&P remains less than 2% away from it's all time record closing high. And if the Dow closes in the green today, it will be its longest streak of gains in over a year. All in all, this slightly more sluggish day doesn't seem like a cause for concern.
Technology and telecommunications services stocks are leading gains across the board. Verizon (VZ) and Cisco (CSCO) are among the biggest gainers in the Dow, up 1.9% and 1.5%, respectively.
11:08 a.m. ET, June 11, 2019
JPMorgan says Beyond Meat's valuation has gone too far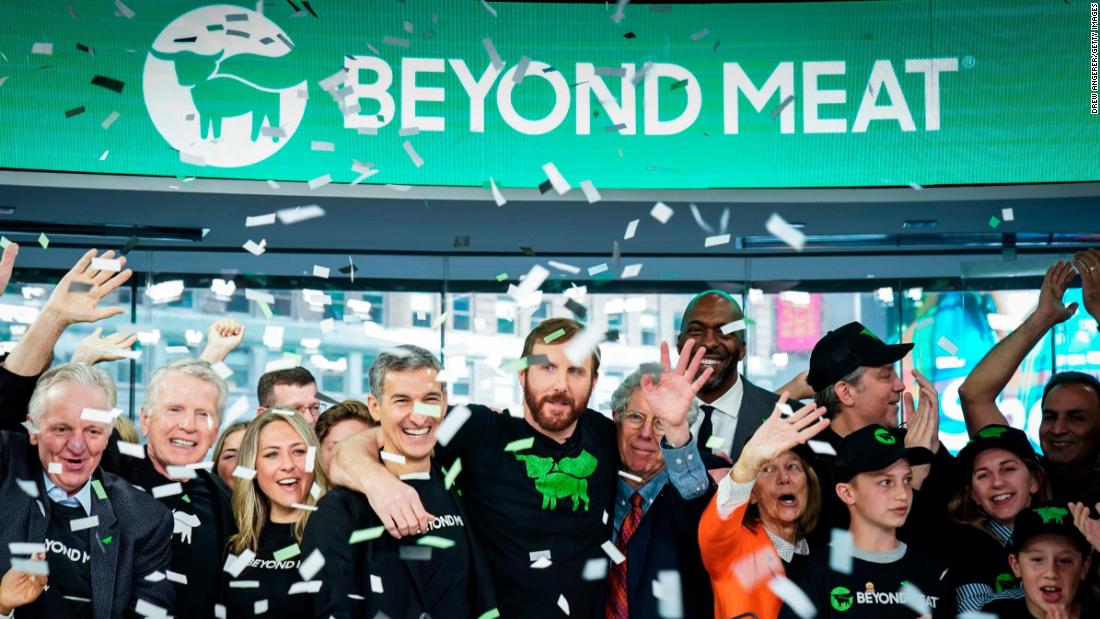 Beyond Meat's stock had soared more than 570% from its initial public offering price as of the market close on Monday. But one Wall Street analyst thinks the plant-based protein company's valuation is now beyond reason.
JPMorgan's Ken Goldman downgraded Beyond Meat (BYND) to a "neutral" rating on Tuesday, news that sent shares plummeting nearly 20% in early trading.
Goldman, who just raised his forecast for the stock to $120 a share last Friday, noted in newly released report that Beyond Meat had surged "beyond our price target."
This is particularly noteworthy since JPMorgan Chase (JPM) was one of the lead underwriters of the Beyond Meat offering. Investment banks typically lavish praise on the companies that they advise.
Goldman said that he still believes the company's fundamentals look solid, but he also now thinks the valuation is way ahead of itself.
Any hiccup in performance — real or perceived — could lead to a meaningful correction in the share price," Goldman wrote.
11:07 a.m. ET, June 11, 2019
Sprint and T-Mobile shares slide following reported major lawsuit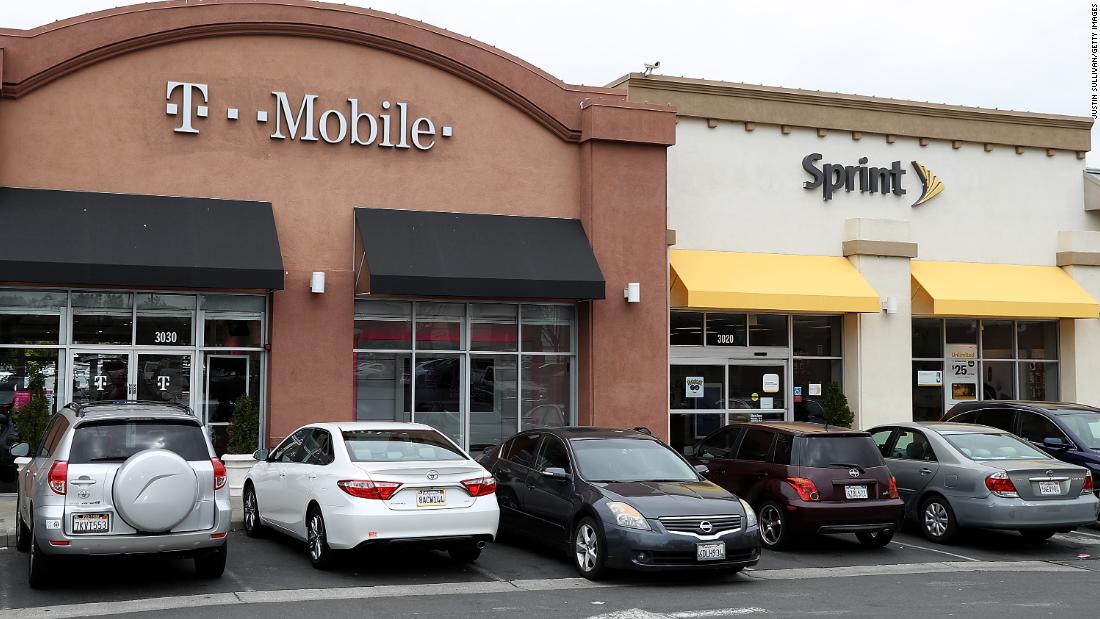 Sprint (S) shares tumbled 7% following a report that several state attorneys general are planning to file a lawsuit blocking its planned merger with T-Mobile (TMUS).
Reuters reports New York's state AG Letitia James is leading the lawsuit, with 9 other attorney generals expected to join.
T-Mobile shares also fell nearly 2%.
The proposed $26 billion merger between the two telecommunication companies has faced a rocky path.
In May, the pair announced that they adjusted their merger terms to address concerns brought to them by the FCC. The regulator and the US Department of Justice both have to approve the deal before the companies can complete their merger.