What's moving markets today: May 23, 2019
4:16 p.m. ET, May 23, 2019
Trade war rocks stock market, crushes oil
US stocks were hit on Thursday by rising worries about the US-China trade war. The Dow dropped 286 points, or 1.1%. The S&P 500 declined 1.2%, while the Nasdaq slumped 1.6%.
However, markets ended well off their worst levels of the day. The Dow had been down by as much as 449 points. 
The selloff was driven by a growing realization that the trade war could get worse before it gets better. China-sensitive stocks like Apple (AAPL) and Deere (DE) fell.
"There is a bit of tariff exhaustion. People are tired of hearing about it," said JJ Kinahan, chief market strategist at TD Ameritrade.
Trade war fears crushed US oil prices, which plummeted 6% to a 10-week low of $57.91 a barrel. It was oil's worst day since Christmas Eve.
Chevron (CVX) and ExxonMobil (XOM) fell 2%, while oil drillers like Hess (HES) and Devon Energy (DVN) plunged more than 7% apiece. 
2:20 p.m. ET, May 23, 2019
Politicians react to McDonald's pay and workplace environment
McDonald's (MCD) is taking heat from workers' rights groups and politicians on issues including pay, safety and allegations of sexual harassment in the workplace. Workers in 13 cities walked off the job today to call for higher pay and new sexual misconduct policies.
The company held its annual shareholder meeting earlier in the day, but made little mention of the criticism it has faced this week. 
Here's how some Democratic presidential hopefuls are reacting:
Pete Buttigieg
Kirsten Gillibrand
Bill de Blasio
Bernie Sanders
Julian Castro
1:43 p.m. ET, May 23, 2019
What happens if tariffs last through the 2020 US presidential election?
Wall Street firms have begun warning in recent days that President Donald Trump is likely to follow through on his threat to impose a 25% tariff on all remaining US imports from China.
That kind of escalation would mark an all-out trade war scenario that few thought was possible just a few weeks ago.
Analysts at Nomura warned in a report on Thursday that its baseline scenario now assumes the new tariffs will go into effect before the end of the year, lowering GDP growth by 0.3 percentage points from late 2019 into 2020.
The tariffs, which will for the first time hit consumer goods including smartphones and PCs, will simultaneously raise inflation, Nomura said.
Worse, there are few signs that the trade war will be over soon because no formal negotiations are scheduled.
Without a clear way forward during an intensifying 2020 US presidential election," Nomura chief US economist Lewis Alexander wrote on Thursday, "we see a rising risk that tariffs will remain in effect through end-2020."
12:52 p.m. ET, May 23, 2019
Lee and Wrangler stock falls 7% in its public debut
The owner of Lee and Wrangler jeans had a tough debut as a separate company on the New York Stock Exchange.
The stock dropped 7% on an admittedly rough day for the broader market as stocks plunged on US-China trade war fears.
Kontoor Brands was spun off from VF Corp. (VFC), the apparel maker that owns the Vans brand of sneakers, Timberland boots and The North Face jackets.
Kontoor is trading under the ticker symbol KTB.
12:25 p.m. ET, May 23, 2019
The Dow is down nearly 400 points
US markets are treading in negative territory midday as investors grow increasingly nervous about the ongoing trade war with China. All three indices are off more than 1.5%.
All but two stocks on the Dow 30 are down. Home Depot (HD) and Coca-Cola (KO) are the only companies up, gaining 0.43% and 1.07%, respectively.
Notably, Tesla (TSLA) reversed course from this morning and is up .84% after a report that CEO Elon Musk sent a letter to employees that demand is still high for his company's vehicles.
12:11 p.m. ET, May 23, 2019
Key manufacturing measure hits ten-year low in May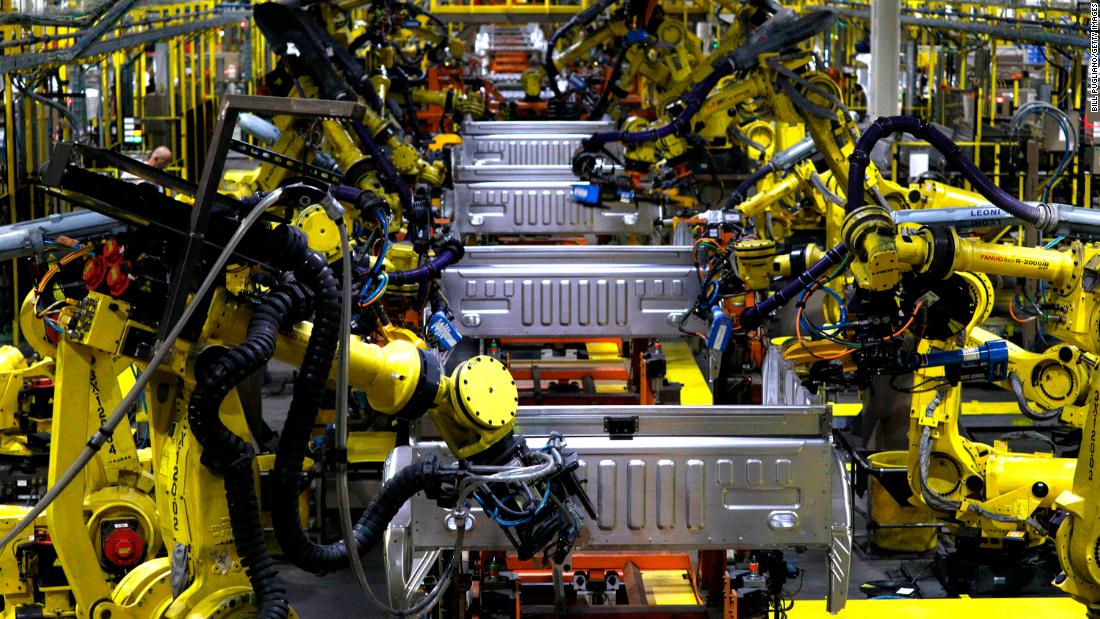 A key manufacturing figure that measures the economy's growth hit a nearly ten-year low, according to a new report.
Financial firm Markit reported that the PMI (Purchasing Managers Index) for May was 50.6, the lowest figure since September 2009.
Chris Williamson, the firm's chief business economist, wrote in note that the slip was because of ongoing trade war between the United States and China.
Growth of business activity slowed sharply in May as trade war worries and increased uncertainty dealt a further blow to order book growth and business confidence," he said.
1:27 p.m. ET, May 23, 2019
Chipotle stock falls on worries about African swine fever
An outbreak of African swine fever in China and other Asian nations could lead to higher pork prices. That would be bad news for fans of Chipotle's carnitas -- not to mention Chipotle investors.
BMO Capital markets analyst Andrew Strelzik downgraded Chipotle's stock to an "underperform" -- basically a sell -- due to worries that Chipotle will have to pay more for pork if the highly contagious and lethal (to pigs) African swine fever is not contained. That will hurt profits.
Chipotle (CMG) shares fell 6% on the news, but they are still up nearly 54% this year.
The good news for consumers is that the disease does not pose a risk to people, the way the E. coli outbreak at Chipotle in 2015 did. The United States Department of Agriculture says "ASF is not a threat to human health and cannot be transmitted from pigs to humans. It is not a food safety issue."
But Strelzik is concerned the outbreak will lead to a shortage in hog supplies that could have a ripple effect on the price of pork and other proteins for several years. As such, he estimated that Chili's owner Brinker International (EAT), Texas Roadhouse (TXRH) and Bloomin' Brands (BLMN) could also suffer. Their stocks all tumbled Thursday as well.
This might wind up being good news for plant-based food maker Beyond Meat (BYND) though. Its sizzling stock shot up about 3%.
Update: Laurie Schalow, the chief corporate reputation officer for Chipotle, took issue with Strelzik's downgrade.
"The cost of our pork represents less than 2% of Chipotle's total food costs," Schalow told CNN Business. "Since we purchase higher quality, more expensive pork than commodity pork, and we have pricing agreements in place, we don't expect a significant impact on our costs."
10:30 a.m. ET, May 23, 2019
Christine Romans maps out the worst case scenario for the US-China trade war
10:10 a.m. ET, May 23, 2019
Oil prices are getting crushed, break below $60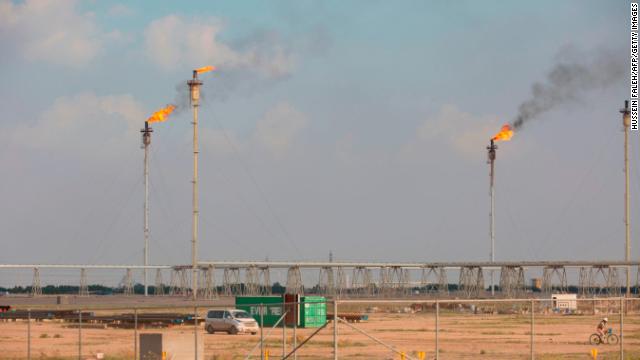 The boom-to-bust oil market is suddenly in another tailspin.
US oil prices plummeted 4% to $58.80 a barrel on Thursday morning. It's the first time crude has broken below $60 since late March.
The selloff comes as financial markets broadly tumble, with the Dow sliding 400 points, or 1.6%.
Oil's recent slide -- it's down 11% since closing at $66.30 on April 23 -- has been driven by two major factors.
The deepening trade war threatens to badly slow economic growth around the world, hurting demand for crude along the way.
Recent government reports show that oil stockpiles have unexpectedly jumped.
"The US-China trade war continues to weigh on sentiment, as does a weakening economic backdrop," said Matt Smith, director of commodity research at ClipperData.
The most striking thing about the oil slump is that it's taking place during a time when OPEC members Iran and Venezuela have been sidelined by US sanctions.