What's moving markets today: May 22, 2019
1:16 p.m. ET, May 22, 2019
Want to invest in cannabis? Here's one way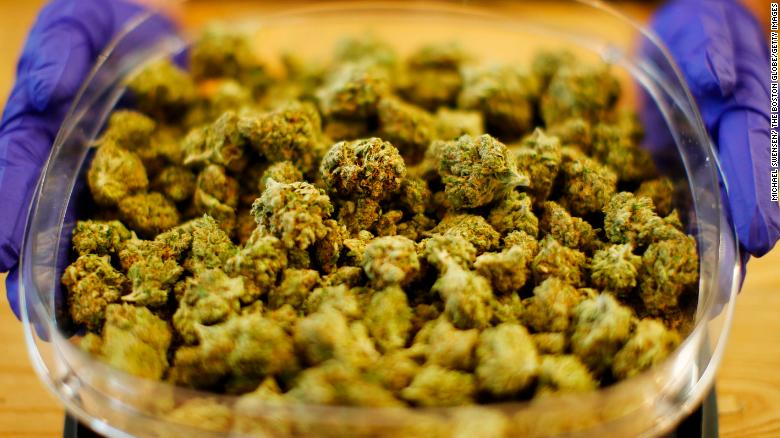 An ETF with a ticker "YOLO" believes it's the best way to invest in the cannabis industry.
Unlike other broad industry ETFs, YOLO is actively managed
"There are some companies I want to avoid. But as an active portfolio manager, I decide which companies I want to overweight or underweight," said Dan Ahrens, portfolio manager of AdvisorShares' Pure Cannabis ETF, on CNN Business' "Markets Now" live show Wednesday.
He said he tries to make the fund low-turnover, but it tries to act very quickly when it sees action on the horizon. For example, it got out of a company called Insys Theraputics, which afterward said it may go bankrupt.
So why "YOLO?"
We think it's a little bit silly," said Ahrens, who likes that it gets attention. "Some people like to associate it with the marijuana stocks. We were excited to be able to get that ticker."
12:59 p.m. ET, May 22, 2019
Is a rate cut on the horizon?
The Fed has said it will hold on rates this year, but investors are starting to think there's a chance it will cut them.
"[Federal Reserve Chairman Jerome Powell] said maybe there's a chance for a rate cut, so we'll have to wait and see," said Alan Valdes, partner at Wall Street Capital Partners, on CNN Business' Markets Now live show Wednesday.
"I don't think he's going to cut rates. I think we're in a good spot now. But with the trade war, anything is possible."
Is that trade war going to hurt the economy?
It's concerning for the retailers. But if you buy an iPhone, do you really care if you have to pay $25 more? I don't think it'll make change consumer habits that much," Valdes told CNN Business' Zain Asher.
12:33 p.m. ET, May 22, 2019
The pound is getting hammered
Political turmoil over Brexit has sent the pound plummeting close to its lowest level this year.
Sterling dropped as much as 0.65% against the US dollar on Wednesday to just above $1.26 before recovering slightly.
The currency has shed about 2.8% this month, and is on track for a record 13 straight days of declines against the euro, according to analysts.
The fall comes as Britain once again faces the prospect of a messy exit from the European Union.
12:19 p.m. ET, May 22, 2019
Markets move lower as trade war fears continue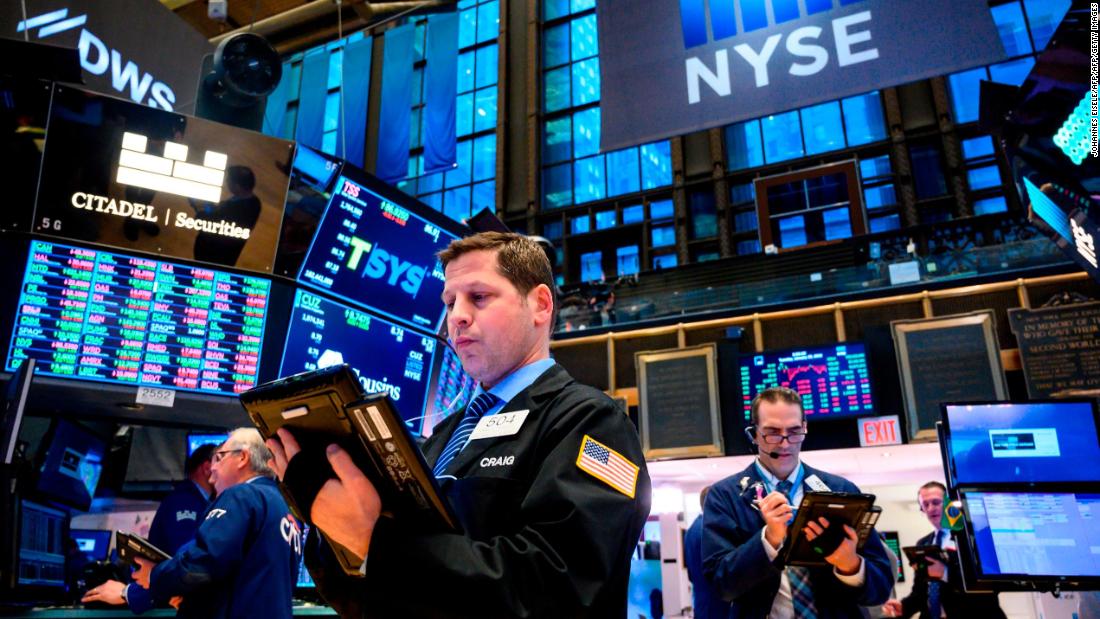 Markets are still reacting negatively to the US-China trade war.
The Dow 30 is a mix of reds and greens. The top gainer is 3M (MMM), up 1.7% and the biggest loser is Apple (AAPL), which is down 1.7%.
Target (TGT) is rallying 9% on strong sales growth, Urban Outfitters (URBN) is declining 8% after a mixed earnings report.
Qualcomm (QCOM) is still sinking and is down 10% after a federal judge ruled that the company illegally charges sky-high prices to license its technology.
12:20 p.m. ET, May 22, 2019
Luckin Coffee is trading below its IPO price
Trouble is brewing for Luckin Coffee (LK).
The stock is down nearly 9% to $15.85 per share, meaning it's trading below the $17 per share it debuted at last week.
Luckin Coffee has quickly taken China by storm since opening in 2017. The chain has nearly 2,400 stores in 28 cities. That makes it second only to Starbucks (SBUX) in China.
Luckin joins Lyft (LYFT) and Uber (UBER) as a highly anticipated IPO that has underwhelmed investors.
10:28 a.m. ET, May 22, 2019
Urban Outfitters says shoppers have come down from a tax cut-induced 'sugar high'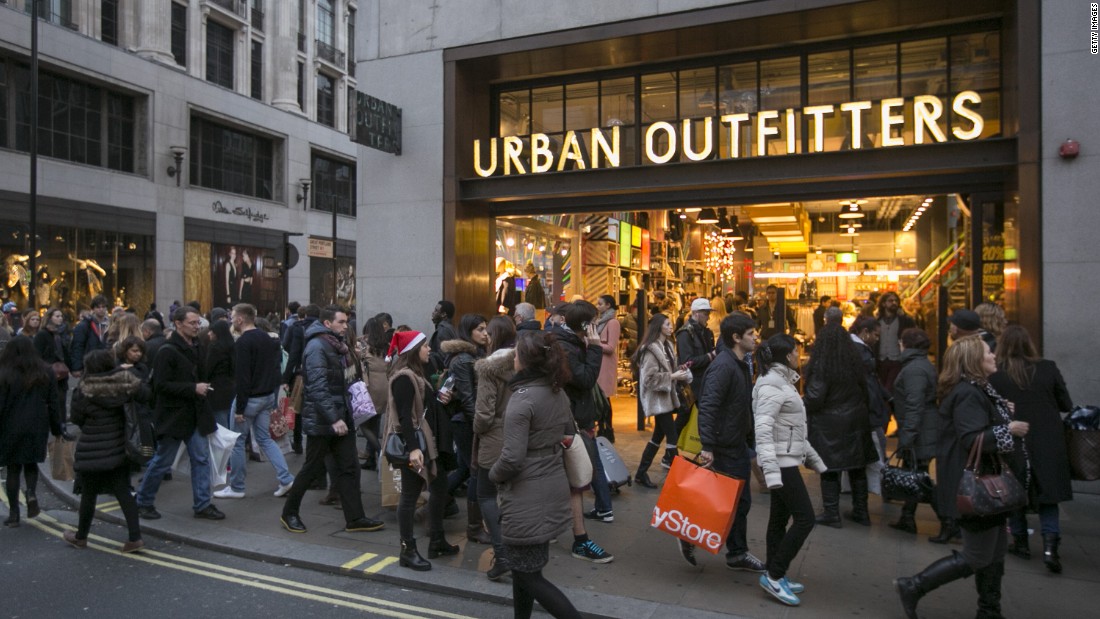 Urban Outfitters (URBN) beat on earnings, but its same-store sales are flat ... and its CEO thinks he knows why.
Richard Hayne said on the earnings call late Tuesday that last year's sales were higher because the shopper was on a "sugar high from the tax rebates."
He said the trend in store visits will continue to decline, despite last year's blip spurred by the Trump administration's tax cuts:
I think right now we are back down to where we were before and if you took out that one anomaly of the summer of 2018, then I think you would see that it's pretty much a direct line and I don't expect that to really change."
The stock is down 6% in early trading and has fallen 25% this year.
10:35 a.m. ET, May 22, 2019
Federal Reserve: the economy is 'pretty strong' despite China trade war
The Boston Federal Reserve thinks we're going to be alright. Eric Rosengren, president of the Boston Fed, told CNN's Julia Chatterley that he predicts the US-China trade war "doesn't have a large impact on my forecast on the economy."
"Both countries do have a strong incentive to try to get to an agreement," said Rosengren. He said that the longer the trade war goes on, the more the potential impact it will have on the economy. "There's a lot of uncertainty and uncertainty's bad for the US economy as well."
But beyond tariffs, the economy is "pretty strong," he said. The unemployment rate is down to 3.6%, the lowest it's been since 1969, when the United Sttes was sending its first man to the moon.
Still, there are conflicting signals with the inflation rate still slightly lower than forecasts of 2.1%.
"I would say the Fed reserve has been missing pretty persistently on those two percent inflation targets," Rosengren said. But he believes that if wages continue to rise as they have been, inflation will also rise to match up with the Fed's goals.
Once the Fed hits its inflation target, it'll have a little more room to maneuver in the event of another recession.
If markets dip very low, Rosengren said the Fed will lend a helping hand: "We will react if it's a very negative shock and we should, because that would be an indication that the economy would slow down."