What's moving markets today: May 16, 2019
4:12 p.m. ET, May 16, 2019
Three-day rally wipes out Monday's plunge; Cisco carries the Dow 215 points higher
It's almost like Monday never happened.
All three major indexes have largely recovered from Monday's sharp selloff, which sent the Dow plunging 617 points.
While trade war concerns continue to linger, Wall Street was driven higher by upbeat earnings reports. Walmart (WMT) reported strong sales growth, while Cisco (CSCO) soared 7% on a big earnings beat and strong revenue forecast.
Solid economic reports on manufacturing activity, housing starts and jobless claims also helped.
US oil prices rose 1.4% to $62.87 a barrel. 
2:57 p.m. ET, May 16, 2019
Eat, drink and be merry! Food stocks at record highs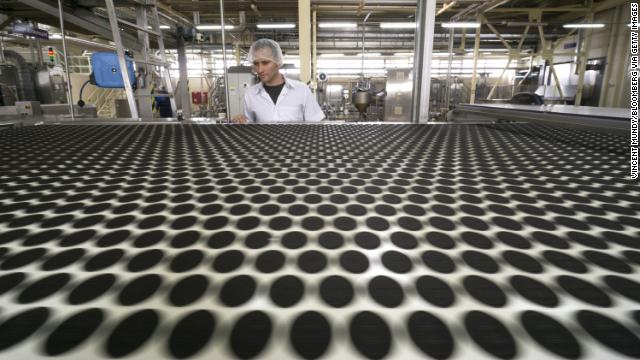 The broader market is enjoying a solid Thursday, and risky tech stocks in particular were soaring.
But it's worth noting that the shares of some sleepy food, beverage and household goods makers were rising too. In fact, several supermarket staples hit all-time highs.
It's a sign that investors are also craving the dependability of steady sales and earnings growth and solid dividends at a time when there are still jitters about US-China trade talks.
Here are some of the blue chip brand name firms that notched new records. Now I'm hankering for some Oreos and coffee!
These weren't the only well-known stocks reaching new peaks either. Procter & Gamble, PayPal, AmEx, Aflac and Costco did too. Ditto for Planet Fitness -- which is where you might need to go if you enjoy too many Mountain Dews, Big Macs and chocolate bars!
2:15 p.m. ET, May 16, 2019
China's yuan drops to 6-month low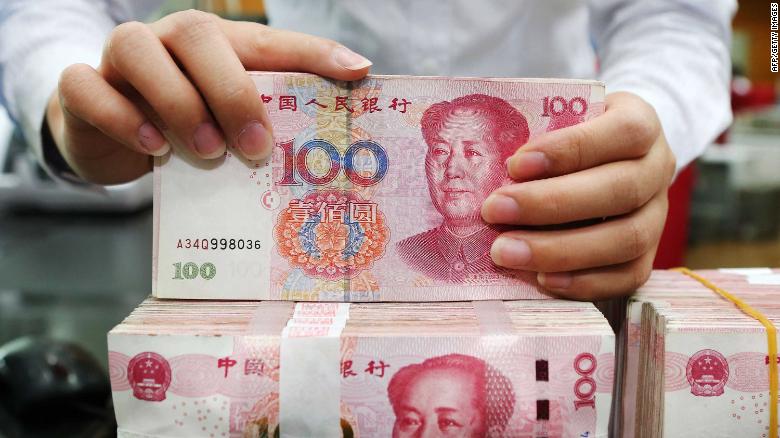 The Chinese yuan has fallen to its weakest level since November 2018 against the US dollar.
The yuan is traded both in Beijing and in the offshore market, in which it moves more freely.
Amid the trade war between the United States and China, analysts have kept a close eye on the yuan. A weaker local currency would help to offset US-imposed tariffs. Chinese officials have consistently said that they wouldn't use the yuan as a tool in the trade spat. Market experts have agreed for the most part, saying last year's weakness in the currency was due to market forces and a selloff across emerging market currencies.
Nevertheless, today's moves seem worth noting.
One dollar currently buys about 6.9265 yuan, edging closer to 7.000, which is a key level investors are watching. This year, the offshore yuan has slipped 0.7%, but the decline has accelerated this month, when it's fallen 2.8%, according to Refinitiv.
2:36 p.m. ET, May 16, 2019
Cannabis company Aurora is selling a LOT of pot
Canadian marijuana stock Aurora Cannabis (ACB) rose again Thursday following its latest earnings a day earlier. The stock is now up nearly 80% this year. I spoke with Aurora's chief corporate officer Cam Battley about how the company hopes to soon be profitable, competition, and what it's like to work with legendary investor Nelson Peltz. Here's a tweetstorm summary of the interview.
11:56 a.m. ET, May 16, 2019
Dow up 300 points at midday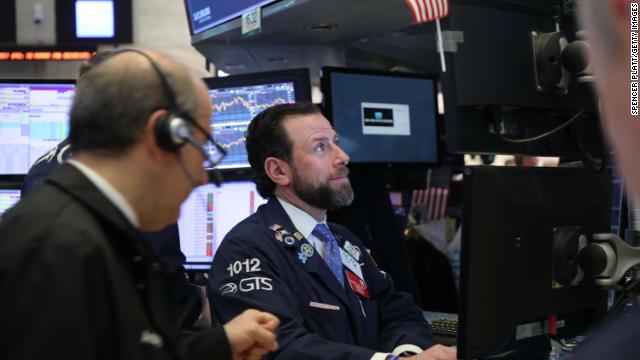 At midday, stocks are solidly in the green. The Dow was up as much as 300 points.
Its the third day in a row that stocks are climbing, helped by the recovery rally that started yesterday after the White House said it would delay planned tariffs on auto imports that would particularly hit the European Union and Japan.
Technology and non-cyclical consumer stocks are registering the biggest gains in the Dow, with Cisco (CSCO), Walmart (WMT) and Microsoft (MSFT) leading the best performers.
3M (MMM) is the only Dow stock in the red.
In the S&P 500, the telecommunications, healthcare and technology sectors are doing best.
11:46 a.m. ET, May 16, 2019
Walmart says it will raise prices because of tariffs
Walmart (WMT), America's largest retailer, said Thursday it will raise prices on some products as a result of the Trump administration's tariffs on Chinese goods.
"We're going to continue to do everything we can to keep prices low. That's who we are. However, increased tariffs will lead to increased prices, we believe, for our customers." Walmart chief financial officer Brett Biggs told reporters on a call after the retailer reported earnings for the first quarter of 2019.
Biggs did not say which items will become more expensive at Walmart. He noted, however, that Walmart's merchant teams have been developing strategies to mitigate cost increases and working with its suppliers to manage prices.
Read the full story about how the trade war could impact prices here.
10:31 a.m. ET, May 16, 2019
Dow climbs more than 200 points
About an hour into the trading day, the Dow is up more than 200 points, or 0.8%.
The S&P 500 is up 1% and the Nasdaq, which was the laggard at the open, climbed 1.1%.
Only three Dow stocks are in negative territory: Apple (AAPL), 3M (MMM) and Chevron (CVX). Cisco (CSCO) and Walmart (WMT) are the strongest gainers in the index.
10:28 a.m. ET, May 16, 2019
Dillard's stock is getting clobbered
Dillard's (DDS) stock is down nearly 12% in early trading after a weak earnings report:
The retailer's first-quarter revenue of $1.47 billion came in slightly below analyst's expectations.
Same-store sales for the quarter were flat.
The stock is now down roughly 7% for the year.
10:07 a.m. ET, May 16, 2019
Stocks open higher, add to yesterday's gains
US stocks opened higher on Thursday, adding to their previous gains. Stocks are extending their gains from a relief rally that began yesterday on the news that the White House would delay tariffs on auto imports.
Shares of Walmart (WMT) rose 3.6% at the open. The retailer revealed a mixed first quarter in its results before the bell.
Goldman Sachs (GS) stock inched up 0.5% after the company announced it would acquire wealth management firm United Capital.