What's moving markets today: May 15, 2019
10:32 a.m. ET, May 15, 2019
Macy's CEO warns new tariffs will have an impact
Macy's CEO Jeff Gennette warned that the Trump administration's new tariffs on Chinese goods will hit the retailer.
It "does have some impact, particularly on our furniture business," Gennette said of the administration's decision to raise tariffs Friday to 25% from 10% on around $200 billion worth of imported goods from China.
But Gennette said the "team anticipates that this can be mitigated."
If tariffs are placed on all Chinese imports, however, "that will have an impact on both our private and our national brands," Gennette said.
Macy's (M) has been working to move its private label product production out of China in recent years. But consumers will likely see prices go up if if tariffs are placed on all Chinese goods.
"It is hard to do the math to find a path that gets you to a place where you don't have a customer impact," he said.
9:35 a.m. ET, May 15, 2019
Stocks open lower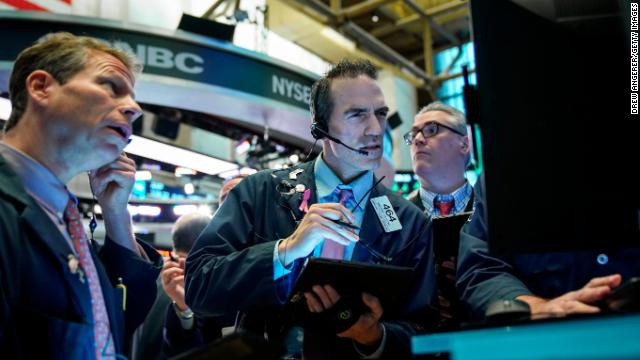 US stocks opened lower on Tuesday as investors came to grips with worse-than-expected retail sales and industrial production numbers for April.
Alibaba (BABA) was in focus after the Chinese e-commerce company reported a 51% revenue jump from a year ago. Its shares climbed 1%.
Back in the US, Macy's (M) also reported earnings including a small increase in same store sales. Macy's stock was up 3.2% at the open.
9:25 a.m. ET, May 15, 2019
Industrial production data was also worse than expected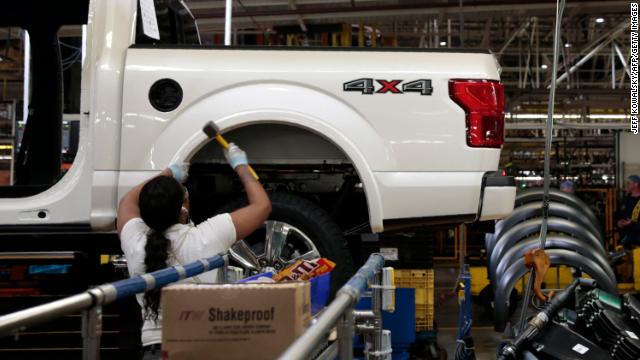 The bad data surprises today didn't stop at retail sales. Industrial production for April, undercut expectations as well.
Analysts had forecast a flat level for month-on-month production. Instead, it dropped 0.5%. Capacity utilization slipped to 77.9% from 78.5% in the same period.
Stock futures extended their losses after the data release.
9:20 a.m. ET, May 15, 2019
Stock futures extend losses after retail sales data
Stock futures extended their losses after this morning's retail sales data, which was worse than expected. Sales in April declined, while they were expected to edge higher.
9:17 a.m. ET, May 15, 2019
Bad economic news: US retail sales fell in April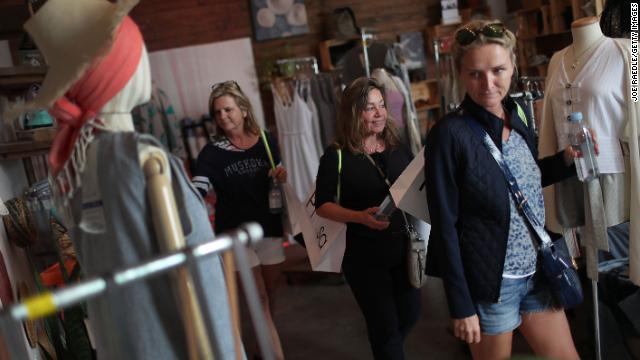 American consumers didn't shop until they dropped in April. And as a result, retail sales...dropped.
The US Census Department reported Wednesday that retail sales fell 0.2% from March. Economists had been expecting a 0.2% increase. Stock market futures fell further following the news.
The decline in retail sales came on the same day that Chinese retail giant Alibaba (BABA) and struggling department store chain Macy's (M) both reported quarterly results that topped forecasts. But that news may be overshadowed by the broader retail figures.
Sales fell in most major categories last month, according to the government. The steepest drops were at auto dealers, electronics and appliance stores and building materials retailers. Sales even declined in the "nonstore retailer" category, a segment that includes Amazon (AMZN) and other online commerce companies.
The bright spots last month? Grocery stores, department stores, gas stations and restaurants.
10:00 a.m. ET, May 15, 2019
Two big pot stocks tumble after posting results
It looks like the business of cannabis, just like any other industry, will have its fair share of winners and losers. Two Canadian marijuana companies reported results after the closing bell Tuesday and their stocks were both lower Wednesday morning.
Tilray (TLRY) fell about 4% despite reporting a smaller than expected loss and a sales surge of nearly 200% that topped forecasts. Aurora Cannabis (ACB) tumbled about 3% after the Nelson Peltz-backed company posted a larger loss than forecast and revenue that missed estimates.
Cannabis stocks popped on Tuesday after another firm -- medical and recreational marijuana producer CannTrust (CTST) reported an actual profit.
But there is one cause for concern throughout the industry. Even though demand is strong, the average selling prices of cannabis-derived products are heading lower now that recreational cannabis is legal in Canada and several states in America. That trend bears watching. Competition is intense in this still very young market.
9:12 a.m. ET, May 15, 2019
Macy's gets off to 'solid start' in 2019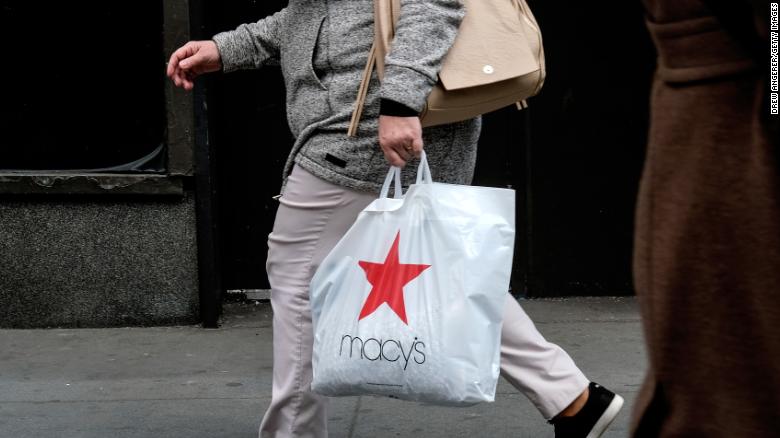 Macy's (M) topped investors' forecasts with its first quarter earnings, signaling that the retailer has moved past a difficult holiday stretch.
On Wednesday, Macy's said sales at stores open at least a year increased 0.7% during the quarter compared with a year earlier. It was Macy's sixth straight quarter of sales growth at stores open at least a year.
Macy's has been remodeling older stores with upgraded fixtures and new merchandise. It has also been adding new Macy's Backstage discount sections to some stores. CEO Jeff Gennette said both strategies lifted sales during the quarter.
Macy's online sales posted double-digit growth during the quarter, too.
Macy's is "off to a solid start this year," Gennette said in a statement. The company reaffirmed its guidance for 2019 and expects sales this year to grow by up to 1%.
The retailer's stock rose 3% in pre-market trading. Coming into Wednesday, Macy's stock had fallen 27% this year.
Macy's stock had its worst day ever in early January after after the company reported sluggish sales for the critical holiday period.
Like other department stores, Macy's has been trying to reinvent its business for consumers' changing shopping habits. For now, Macy's looks like it's keeping up.
8:24 a.m. ET, May 15, 2019
What China slowdown? Alibaba's sales soar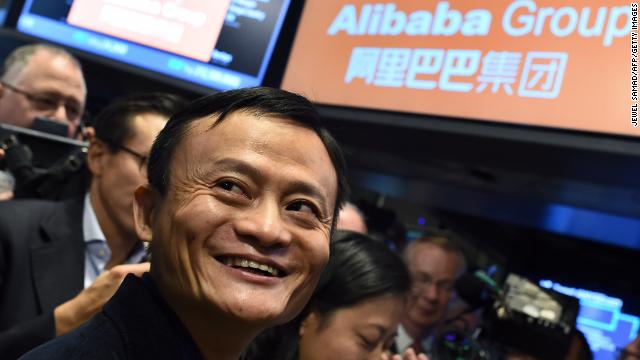 Alibaba co-founder Jack Ma has every reason to be smiling Wednesday -- and not just because of the bizarre sex advice he recently gave to newlywed Alibaba employees.
The Chinese e-commerce giant reported earnings and revenue for its fourth quarter and fiscal year that topped forecasts.
The results seem to suggest that the Chinese consumer is not getting hit too hard by the trade spat by the US and China. They just keep spending.
Shares of Alibaba (BABA), which are already up more than 25% in 2019, rose 4% in early trading on the news. Here's a breakdown of the numbers.
Total revenue up 51% from a year ago
EBITDA up 29% year-over-year
Mobile monthly active users up 22 million from December to 721 million
Full-year gross merchandise volume up 19% to $853 billion
And perhaps the best bit of news for Alibaba investors? The company's giant cloud unit, which competes with Amazon (AMZN), Google-owner Alphabet (GOOGL), Microsoft (MSFT) and IBM (IBM), reported a revenue increase of 76%. Alibaba said customers spent more and the company also added more Chinese companies as Alibaba Cloud clients.
7:40 a.m. ET, May 15, 2019
Lloyd Blankfein thinks China has more to lose than the US under Trump's tariff strategy
Former Goldman Sachs CEO Lloyd Blankfein aired his two cents on President Donald Trump's tariff strategy on Twitter late Tuesday.
"Saying it hurts us misses the point. China relies more on trade and loses more," he said in a tweet, likening the trade spat between China and the US to a labor strike in which management and workers both get hurt but ultimately need to compromise.
Blankfein ended his term as CEO Goldman in summer last year after more than 12 years on the job.