What's moving markets today: May 15, 2019
By CNN Business
Updated
10:41 a.m. ET, May 16, 2019
4:22 p.m. ET, May 15, 2019
What's next for investors on Thursday?
From CNN Business' Anneken Tappe
Wednesday trading is over and global markets seem to have calmed down some. Here's what investors will focus on next.
4:12 p.m. ET, May 15, 2019
Stocks close higher for the second day in a row
From CNN Business' Anneken Tappe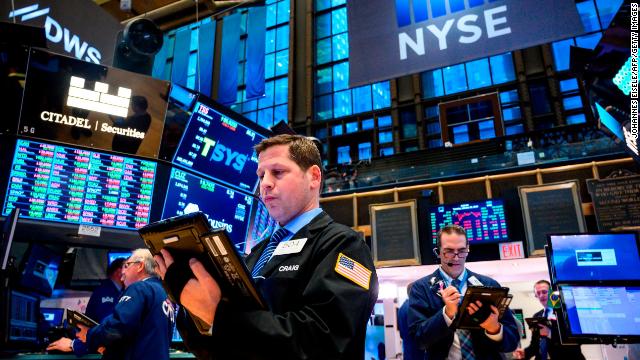 Stocks ended the day higher for the second day in a row.
While markets had started the day lower, they turned positive following reports that the United States would delay tariffs on auto imports by six months. Treasury Secretary Steven Mnuchin also said Washington was close to scrapping tariffs on steel imports from Mexico and Canada.
Visa (V), Microsoft (MSFT) and Pfizer (PFE) were the strongest gainers in the Dow, all closing up more than 1%.
Only five Dow stocks finished the day lower. They were 3M (MMM), Walmart (WMT), JPMorgan (JPM), UnitedHealth (UNH) and Caterpillar (CAT).
In the S&P, all sectors finished the day stronger with the exception of financials. The sector's decliners were led by Charles Schwab (SCHW) and SVB Financial Group (SIVB), which fell 3.6% and 2.9%, respectively.
3:31 p.m. ET, May 15, 2019
Walmart and 3M are the only Dow stocks in the red
From CNN Business' Anneken Tappe
With only about half an hour of trading left in the day, only two Dow components are in the red.
Walmart (WMT), which is due for earnings tomorrow, and 3M (MMM) are lower, sliding 0.2% and 0.1%, respectively.
3:52 p.m. ET, May 15, 2019
Overstock plunges 15% after CEO sells shares
From CNN Business' Paul R. La Monica
Overstock is going through a rocky transition, from being a money-losing online retailer to a become a blockchain and cryptocurrency company. Things got worse on Wednesday. Shares of Overstock (OSTK) plunged 15% after a SEC filing revealed that CEO Patrick Byrne sold 500,000 shares of the company in two separate transactions this week.
Overstock posted a net loss of more than $40 million back in March and also announced layoffs. And even though the company is focusing more on its Medici Ventures investing firm for blockchain technology, as well as tZero security tokens for e-commerce and trading, investors are still worried about the problems in its core retail unit.
Simply put, Overstock can't compete with Amazon (AMZN) and the red hot Wayfair (W), the online home furnishing retailer whose shares have surged 60% this year. The stock sale by Byrne clearly isn't inspiring confidence either.
10:41 a.m. ET, May 16, 2019
Exciting IPOs are coming this year
From CNN Business' Anneken Tappe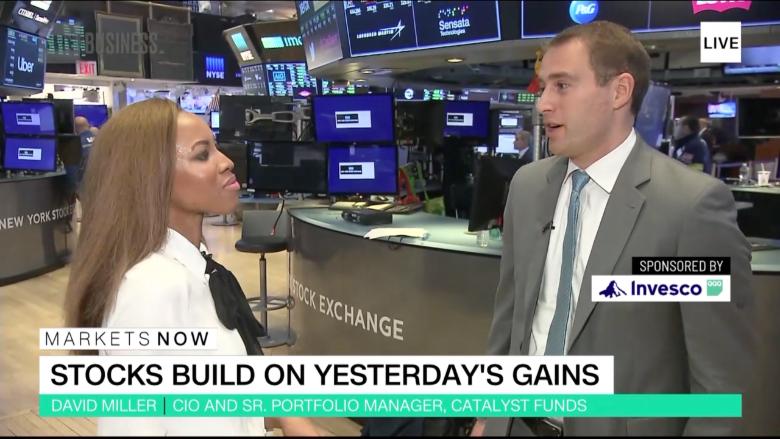 Uber (UBER), Pinterest (PINS) and Lyft (LYFT) were just the beginning of a stuffed IPO pipeline in 2019.
"We're very excited about the upcoming Slack IPO," said David Miller, chief investment officer at Catalyst Funds on Markets Now.
Zoom (ZM) is another recent IPO business that impressed Miller and Catalyst thanks to its gross margins.
Less exciting? The ride-sharing apps.
Uber and Lyft were a very different story, Miller said, citing concerns about their margins. "We're not excited about ride-sharing."
3:08 p.m. ET, May 15, 2019
Retail is hurting in the trade war
From CNN Business' Anneken Tappe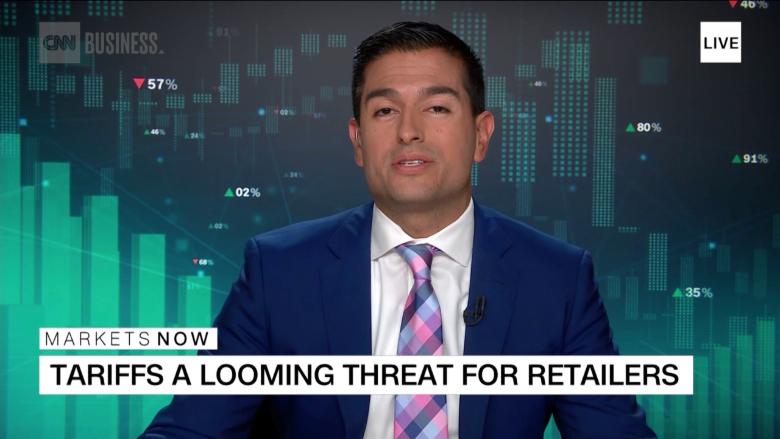 The pain of the trade war between the United States is becoming more obvious.
Tariffs are a looming threat for retailers, which haven't yet passed on trade-war-related costs to consumers, said CNN Business' Matt Egan on Markets Now. Passing on costs could help companies' margins but would weigh on the consumer's wallet.
Wednesday's weaker-than-expected retail sales data for April, for example, underlined that problems for America's retailers are real.
However, some sectors are performing well regardless of the trade spat. Cloud computing was an example of that, said David Miller, chief investment officer at Catalyst Funds on the show.
In any case, it was clear that President Donald Trump was still banking on a deal, which would relieve pressure from sectors like retail and agriculture, Miller said.
But for now, Trump "wants to inflict enough pain on China that they change their behavior," he said.
1:02 p.m. ET, May 15, 2019
Uber is just at the beginning of its growth story
From CNN Business' Anneken Tappe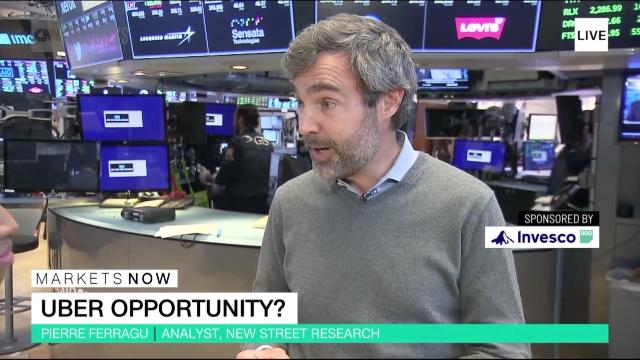 The glory days are still ahead for Uber, Pierre Ferragu, analyst at New Street Research, told CNN's Zain Asher on Markets Now.
Uber (UBER) IPOed last Friday amid a global selloff in stocks. By Monday's close -- after two days as a public company -- Uber was down 17%. Today, the stock is in the green.
On a relative basis, Uber even did quite well in its first few trading days, said Ferragu.
"They're just at the beginning of their growth story in the US," said Ferragu, adding that many people aren't using ride-sharing services yet
Nevertheless, investors are keeping a close eye on Uber's competitor Lyft (LYFT), which IPOed in March. Its shares are down more than 32% since their debut.
11:47 a.m. ET, May 15, 2019
MSG Networks clanks as Knicks lose Zion lottery
From CNN Business' Paul R. La Monica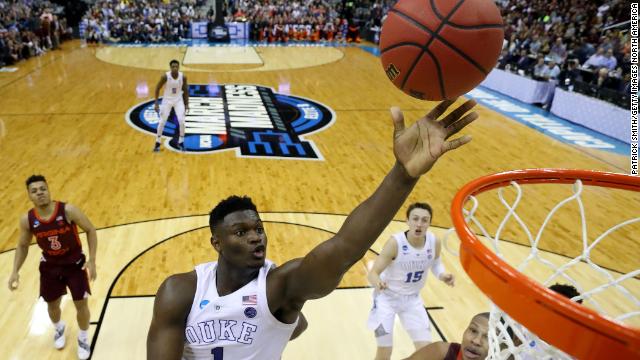 Long-suffering Knicks fans like Spike Lee (as well as this reporter -- a former season ticket holder) have another reason to cry Wednesday. And so do investors in MSG Networks and The Madison Square Garden Company.
The Knicks did not win the NBA draft lottery Tuesday night. They're getting the third pick. The downtrodden New Orleans Pelicans won the top selection, which means they will almost certainly take Duke phenom Zion Williamson.
Shares of Knicks broadcaster MSG Networks (MSGN) fell 6% while The Madison Square Garden Company (MSG), which owns the team and arena, dipped 1%.
The possibility of adding one of the most heralded rookies in recent memory had given Knicks fans and MSGN/MSG investors some hope that the team's fortunes can turn around. Now they have to pray that the team might be able to land a top free agent like Warriors star Kevin Durant or disgruntled Boston Celtic Kyrie Irving.
BTIG analyst Brandon Ross said in a report Tuesday that it's key for the Knicks to add high-profile talent. Ross argues that MSG Networks is currently "a weak product carrying a high price tag" and that "if the Knicks are able to transform into a winner, ratings should follow." That would mean higher affiliate fees and advertising revenue.
11:38 a.m. ET, May 15, 2019
Beyond Meat is surging ... again
From CNN Business' Jordan Valinsky
Beyond Meat (BYND) shares are rallying 11% today.
The surge in its stock comes after the producer of plant-based protein announced a new partnership with Tim Hortons. The Canadian coffee chain said earlier it will begin selling Beyond Meat's sausage patty as an option in three of its breakfast sandwiches.
Beyond Meat went public earlier this month and is trading 250% above its opening price.