What's moving markets today: May 13, 2019
6:36 p.m. ET, May 13, 2019
Apple is in a bear market
Apple re-entered bear market territory in the midst of Monday's market sell-off that was sparked by worries over an escalating trade war between the United States and China. Shares were down 5.81% on the day and are off roughly 20% from a high of over $233 in October.
Shares closed at $185.72 and continued to fall in after-hours trading. The S&P 500 fell 2.4% on the day and the Nasdaq dropped 3.4%.
Apple has been trying to regain its footing in China. In its most recent earnings, it posted revenue of $10.2 billion in the country for the first three months of the year, down 21% from a year earlier. On a call to discuss the results, CEO Tim Cook signaled that the worst may be over for the iPhone, its biggest profit generator, as Apple saw "improved trade dialogue" between China and the United States and "very positive customer response to the pricing actions we've taken in that market."
The latest round of tariffs between the two countries has taken a toll on Apple shares as well as those of companies that provide components for Apple products.
The drop also comes the same day that the Supreme Court ruled a group of iPhone owners who accuse Apple of violating US antitrust rules can sue the company.
4:17 p.m. ET, May 13, 2019
What's next for investors on Tuesday?
Monday's trading is over and the week started off with yet another impressive drop of the the stock market.
Here's what's next for investors on Tuesday.
US import and export prices are due at 8:30 am ET.
In European economic data, analysts are looking at eurozone industrial production figures, which is expected to have worsened from before, as well as Germany's inflation and ZEW survey.
Overnight, China is reporting industrial production and retail sales data for April, both of which are expected to have slowed.
5:10 p.m. ET, May 13, 2019
Earnings for multinationals plunge in wake of China trade dispute
Looking for further proof of how global trade turmoil is hurting Corporate America? Just check out the chart above from FactSet.
Companies in the S&P 500 that generated more than 50% of their sales from outside the US posted a nearly 13% drop in earnings during the first quarter -- while firms that get more than half their sales from the US reported a 6.2% increase in profits.
So it should be no surprise that companies with the most exposure to China were the biggest losers in the Dow Monday. Boeing (BA) and Caterpillar (CAT) fell about 5% while Apple (AAPL) dropped nearly 6%. If the US and China don't resolve their trade spat soon, second-quarter earnings could be even uglier for multinational blue chips.
4:08 p.m. ET, May 13, 2019
Dow closes 617 points lower after China's tariff retaliation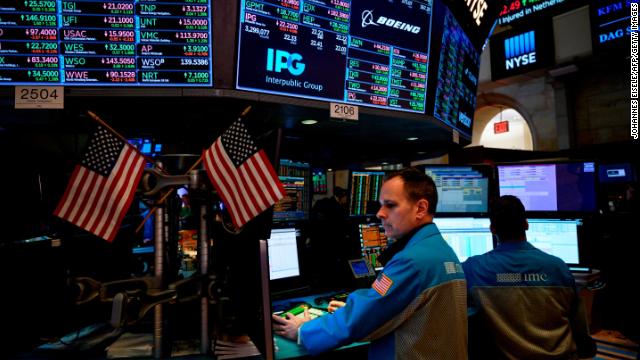 US stocks ended the day as they started it – in the red.
Worries about the repercussions of the trade spat with China are weighing on equity markets around the globe.
It was the worst one-day percentage drop for the Dow and the S&P since January 3. For Nasdaq it was the worst day since December.
The only Dow component that ended the day in the green was Procter & Gamble (PG), eking out a 0.1% gain.
3:56 p.m. ET, May 13, 2019
Amazon stock is in a correction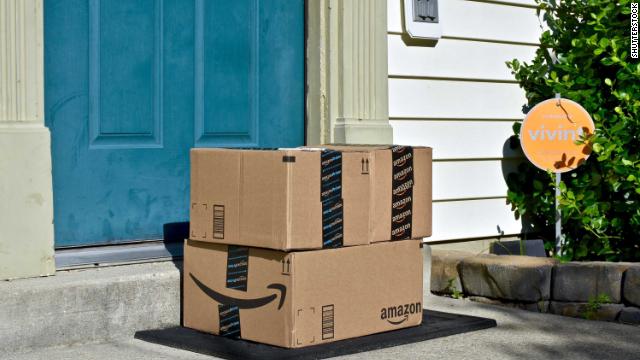 Amazon (AMZN) shares fell into correction territory today.
With just minutes to go until the market closes on another day marked by a global selloff in stocks, Amazon dropped to $1,822.50 per share. That is more than 10% below its peak from September 4, thus meeting the criteria for a correction.
3:21 p.m. ET, May 13, 2019
Commodities caught in the trade war plummet
As global stocks sell off, two commodities in the midst of the Sino-American trade spat have hit new lows: copper and soybeans.
Soybeans are the biggest export from the United States to China, but China also buys soybeans from other countries. So soybeans from the US could get snubbed as the result of tariffs, leaving more supply in the market and bringing prices down.
Meanwhile, copper is vital for China's construction industry. If additional tariffs and retaliation continue, China's enormous construction sector could suffer, which would hurt the overall economy.
Soybean prices dropped to their lowest level since December 2008, according to Refinitiv.
Soybean futures for July, the most actively traded contract, were down 0.7% at 8.035 per bushel.
Copper futures for July were down 1.9% today, at 2.722, their lowest level since January.
2:45 p.m. ET, May 13, 2019
The real problem between the US and China in 2 charts
The biggest economic bone of contention between the US and China probably isn't the trade balance. It's the issue of fair trade and IP theft.
Torsten Sløk, chief economist with Deutsche Bank Securities, put out a report Monday that showed just how significant the issue of piracy is. This first chart shows that the US, France, Switzerland, Italy and Germany are the biggest victims of IP theft.
And this next chart illustrates that the main perpetrator of these crimes is China. Turkey is a very distant second. Electronics, jewelry, medical devices, clothing and sneakers as well as toys are among the most pirated products.
With that in mind, it's worth wondering whether the US should focus more on fair trade practices and less on trying to level the trade balance.
"There are lots of multinationals complaining about IP theft," said Matt Forester, chief investment officer of BNY Mellon's Lockwood Advisors.
Forester argued that any trade deal with China will have much more support from American allies if it focuses more on patent protection and less on trying to convince China to buy more US goods.
2:28 p.m. ET, May 13, 2019
Stocks are down, but let's put things in perspective
Well, that depends on how you look at it, at least if you believe LPL Financial Chief Strategist John Lynch.
Keep in mind that even with Monday morning's losses, the S&P 500 Index is still only about 4% below the all-time high," said Lynch. "In the past, by this time of the year, stocks have typically pulled back 8–9%, so even though fundamentals still look pretty good to us, a pickup in market volatility should be anticipated."
1:59 p.m. ET, May 13, 2019
US might be waging the wrong war with China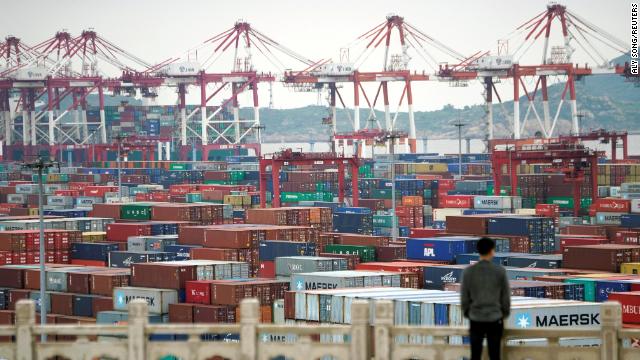 The US and China are now in a full-blown trade skirmish. But many on Wall Street are worried that the Trump administration is fighting the wrong war.
Morgan Stanley Wealth Management's chief investment officer Lisa Shalett released an interesting report Monday about the increased trade tensions.
Her takeaway? The US is worrying too much about imports and exports. A trade balance doesn't really hurt the economy. If it did, then how could the jobs market be this strong?
During the past decade, monthly trade deficits have ranged between $40 billion and $50 billion, yet unemployment declined dramatically to a 50-year low last month. Unfair trade practices by China may be worth fighting, but not trade deficits. More important is that for growth, inflation and capital investment, trade disputes are negative.