What's moving markets today: May 13, 2019
12:53 p.m. ET, May 13, 2019
The Dow and S&P 500 are having their worst day since January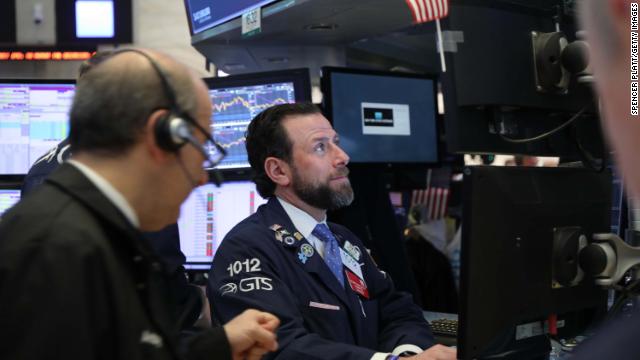 Halfway through the trading day, things have only gotten worse.
The Dow and the S&P are having their worst day since January 3, according to Refinitiv. For the Nasdaq it's the worst one-day percentage drop since December 4.
Not a single Dow stock is positive, as investors are fretting about the potential fallout from the trade war between the United States and China after tensions escalated last week.
In the S&P 500, only 34 companies have moved higher, and most of them are in the defensive utilities sector, such as America Water Works (AWK), up 1.5%.
12:51 p.m. ET, May 13, 2019
Russell 2000 index is in a correction
The small-cap stock focused Russell 2000 Index is in correction.
Amid the global selloff in stocks, the Russell is down more than 10% from its high of 1,741 points that it reached in August 2018.
In midday trading it fell 2.8% to 1,528 points, according to Refinitiv. For the year, the Russell is still up 13%.
Small-caps should ordinarily have a slight advantage over larger companies when it comes to geopolitical turmoil. That's because the revenues of smaller companies tend to be limited to the US. In the Russell 2000, only about 20% of all revenues are generated abroad, compared with 33% in the large-cap Russell 1000 index.
11:41 a.m. ET, May 13, 2019
The Dow plunged over 600 points
2:06 p.m. ET, May 13, 2019
What trade war? Hershey is at all-time high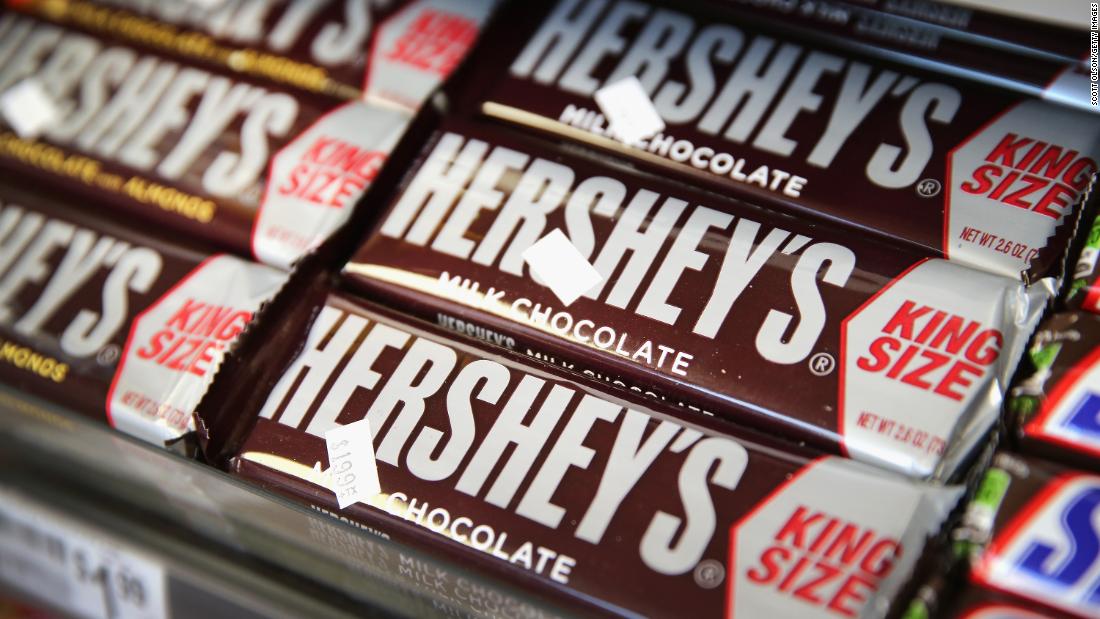 Hershey is among the few major companies that aren't getting crushed on this "special dark" kind of day for the broader market.
Hershey (HSY) shares are up slightly and even hit a new record high today. The stock is now up nearly 20% this year. The candy maker reported earnings and sales that topped forecasts a few weeks ago.
Why isn't the United States' trade tension with China hurting the company? It helps that nearly 85% of Hershey's total sales come from the US.
Or maybe investors are just stress eating Kisses and Mr. Goodbars while the Dow plunges 600 points.
11:15 a.m. ET, May 13, 2019
Safe havens like gold and the Japanese yen are gaining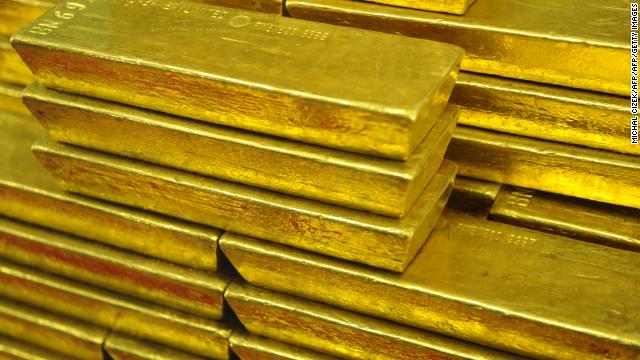 Stocks are falling across the globe as worries about the fallout from the escalating trade tensions are weighing on markets.
Investors are heading for traditional safe haven assets like gold that are perceived to be more insulated from market volatility in times of trouble. Much of that has to do with how liquid these assets are.
On the back of that, gold prices are up nearly 1% today. The price last sat at $1,297.40 an ounce, it's highest level in about a month, according to Refinitiv.
The Japanese yen is rallying some 0.8% against the US dollar. One dollar now buys ¥109.12, its lowest level since late January.
10:48 a.m. ET, May 13, 2019
The worst days for the Dow
The Dow came very close to falling 600 points this morning.
For reference, here are the worst days for the Dow, measured by points: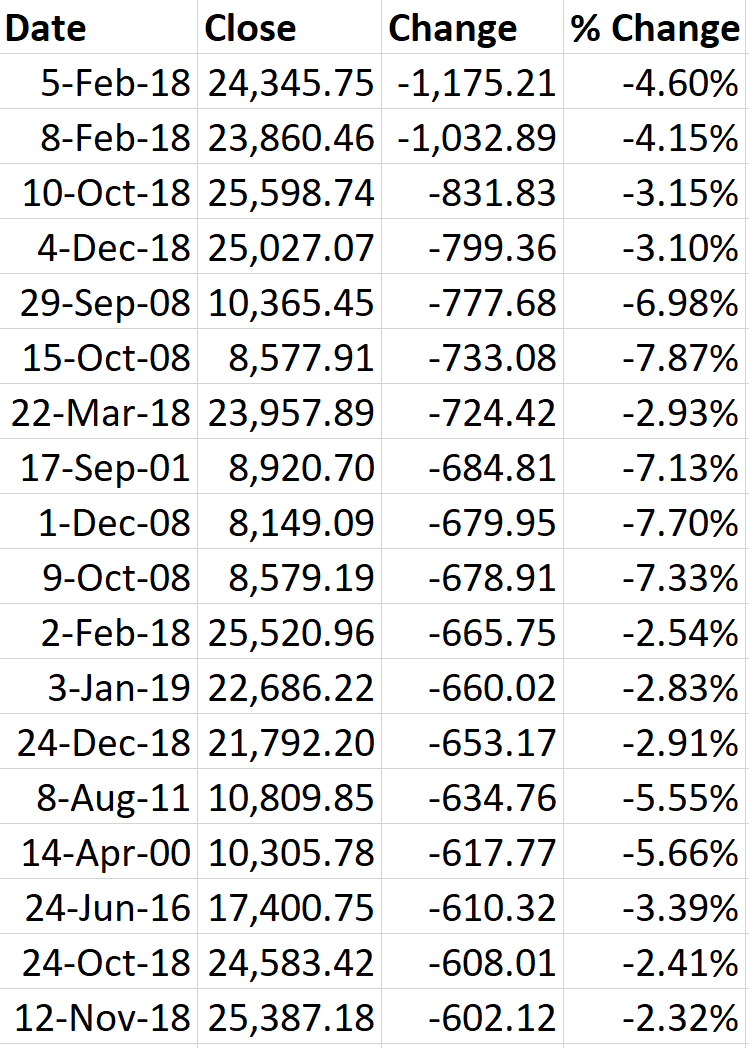 But the Dow is only down 2%. Measured by percentage, today's drop does not register on the top 50 worst days of all time.
10:32 a.m. ET, May 13, 2019
Every Dow stock is in the red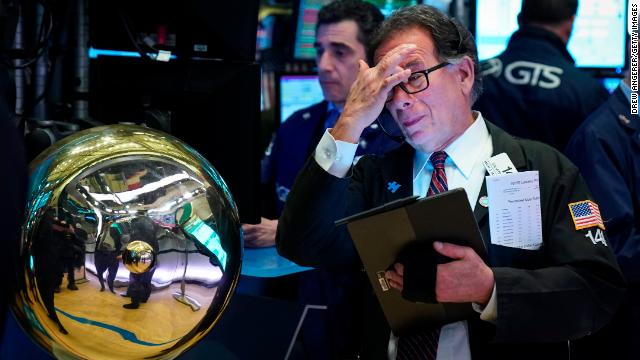 About an hour into the trading day, things aren't looking great.
The Dow is off by more than 500 points, or more than 2%. The S&P 500 and the Nasdaq are down 2.1% and 2.7%, respectively.
Not a single Dow component is in positive territory.
In the S&P, 24 companies are defending their gains amid the trade war-driven market selloff. Storage business Public Storage (PSA), miner Newmont Goldcorp (NEM) and utility American Water Works (AWK) are leading gainers.
10:27 a.m. ET, May 13, 2019
Bitcoin is one thing that isn't plunging today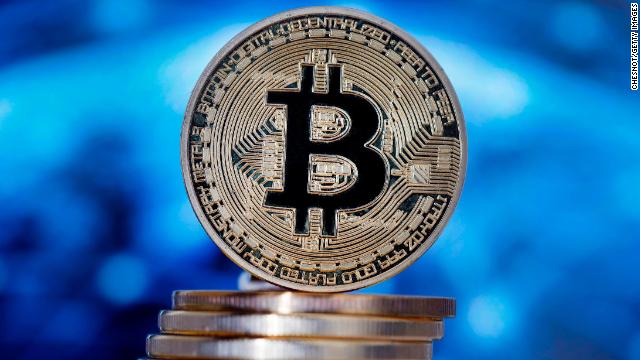 While stocks are headed lower across the world, Bitcoin headed higher.
The cryptocurrency even breached the $7,500 level at one point, which it hadn't touched since August 2018.
With no major news factors behind the aggressive appreciation, the sharp $1000 jump over the weekend remains a mystery to investors. Although such explosive moves are nothing new in the volatile world of cryptocurrency, there is the coincidental view that the rally in Bitcoin has come around the same time as heightened US-China trade tensions have eroded risk sentiment," said Lukman Otunuga, research analyst at FXTM.
Still, it was too early to tell whether Bitcoin had re-established itself as a safe-haven asset, Otunuga cautioned.
Bitcoin is up more than 90% this year, according to Refinitiv.
Read more about whether Bitcoin Is the new buy and hold asset.
9:48 a.m. ET, May 13, 2019
SoftBank slammed by Uber flop and US-China trade tension
Japanese tech investing giant SoftBank is getting hit hard by Uber's IPO flop and the growing trade war with China.
SoftBank is the biggest investor in Uber (UBER). It owns nearly 13% of the company through its SoftBank Vision Fund. The value of that stake has plunged nearly 16% since Uber went public Friday.
Making matters worse for SoftBank? It is also the largest shareholder in Chinese e-commerce giant Alibaba (BABA). And that stock was down more than 3% Monday after the US and China each slapped a new round of tariffs on one another.
SoftBank shares fell more than 3% in Tokyo Monday before Wall Street opened. But based on how poorly Uber and the broader market are doing so far today, expect another big drop for Masayoshi Son's company on Tuesday.