What's moving markets today: May 9, 2019
By CNN Business
Updated
11:55 p.m. ET, May 9, 2019
11:55 p.m. ET, May 9, 2019
That's it for our live coverage of the SALT conference Thursday. Check CNN Business tomorrow to follow Friday's coverage.
8:32 p.m. ET, May 9, 2019
Jerome Powell is 'scared of Mr. Trump.'
From CNN Business' Matt Egan
Federal Reserve chief Jerome Powell is under pressure from the White House and Wall Street.
"I think Mr. Powell is scared. He's scared of Mr. Trump," Jeffrey Sherman, deputy chief investment officer at DoubleLine Capital, said on Thursday at the SALT Conference in Las Vegas.
Trump has attacked Powell and the Fed, arguing they've lifted interest rates too high.
At the same time, US stocks plunged late last year due in part to concerns about Fed policy.
"The market is going to do down and he's going to get attacked," Sherman said.
The Fed's sudden pivot from hawkish to dovish sparked a sharp recovery on Wall Street. US stocks are back near record highs.
But Sherman doesn't think it's a given that the Fed will follow Trump's advice by lowering interest rates. The economy is just too strong.
"Just because the Fed stopped hiking," Sherman said, "doesn't mean the next move has to be a cut."
8:15 p.m. ET, May 9, 2019
'I can't hedge Trump. I can't predict Trump.'
From CNN Business' Matt Egan
President Donald Trump's unpredictability keeps even the world's most elite investors guessing.
"I can't hedge Trump. I can't predict Trump," Jeffrey Sherman, deputy chief investment officer at DoubleLine Capital, said on Thursday at the SALT Conference in Las Vegas.
The DoubleLine exec was responding to a question from CNN's Cristina Alesci about how much time he spends thinking about Trump's tweets. Sherman said he doesn't think about the tweets because they don't matter and can't be forecasted.
"I haven't been able to predict one thing that comes out of his mouth," Sherman said.
US stocks tumbled this week after Trump announced — on Twitter — that the administration planned to raise tariffs on China.
Ray Nolte, chief investment officer at SkyBridge Capital, said investors can reduce their exposure to stocks as a way to minimize the impact of market shocks.
"There's always going to be another tweet," Nolte said.
Investors are now wondering whether Trump will carry out his threat to raise tariffs on China. Sherman guessed there's about a 50% chance the tariffs will be imposed.
"No one knows," he said. "If you followed Mr. Trump the past few decades, he likes tariffs. It kinda looks like he's going to do it."
7:36 p.m. ET, May 9, 2019
Harvard professor: Diversity training is 'money down the drain'
From CNN Business' Nathaniel Meyersohn
Iris Bohnet, behavioral economist at the Harvard Kennedy School of Government, said that diversity training is a waste of money.
"I have not found one single study suggesting that diversity training works," she said during a SALT session Thursday. Bohnet advises businesses and governments on how to promote inclusivity and gender equality.
"Diversity training seems like an easy fix. Estimates say we spend $80 billion a year in this country on diversity training," she said. "This is just money down the drain."
Instead, Bohnet said companies should redesign job applications, interview processes, evaluations and promotions to bringing lasting changes to workplaces and education systems.
She also argued that self-evaluations for promotions don't foster gender equality because men typically evaluate themselves higher than women.
"Performance appraisals don't translate into promotions and we see simple gender gaps," she said. "The data found it to simply be 'unconscious bias.'"
6:19 p.m. ET, May 9, 2019
Automation will wipe out 15% of jobs by 2030, McKinsey chair says
From CNN Business' Nathaniel Meyersohn
The impact of machine learning and artificial intelligence on the workforce and education was the focus of one SALT panel Thursday afternoon.
"Somewhere by 2030, we are going to lose about 15% of the jobs globally that currently exist," said Gary Pinkus, chairman of McKinsey North America. "That's about 400 million people."
As those jobs become automated, up to 900 million new jobs could be added, he said. But workers will need to learn how to do those jobs, which will often require them to learn new skills.
"Retraining is a big challenge," he said.
Carol Reiley, who specializes in robotics, said that "AI is becoming the new electricity," with the potential to reshape every sector in the economy.
"I really like the application of AI going into what is considered un-sexy areas like trucking and agriculture," she said.
4:37 p.m. ET, May 9, 2019
What's next for investors on Friday?
From CNN Business' Anneken Tappe
Thursday trading is over and markets everywhere closed in the red. Here's what investors will focus on next.
At 12:01 am ET, additional US tariffs on Chinese imports will set in.
The United Kingdom will report first quarter GDP growth, expected at 0.5%, according to Refinitiv.
In the United States, April consumer price inflation is due at 8:30 am ET, expected at 2.1% year-over-year.
Friday will be Uber's first trading day. The company is expected to price its shares Thursday evening.
4:06 p.m. ET, May 9, 2019
Stocks finish lower; S&P 500 and Nasdaq fall for the fourth-straight day
From CNN Business' Anneken Tappe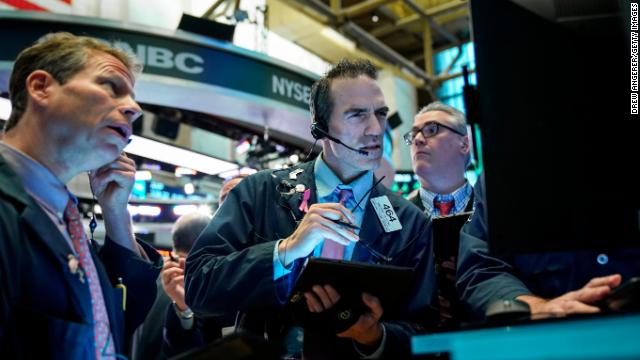 US stocks finished lower as uncertainties about the trade spat between the United States and China continued to weigh on markets.
Chevron (CVX) was the strongest -- and at times the only -- gainer in the Dow on Thursday, rising 3.1%. Intel (INTC) was the weakest Dow stock, closing 5.3% lower.
In the S&P, Coach owner Tapestry (TPR) was the strongest, closing 8.5% higher after posting stronger-than-expected earnings.
3:56 p.m. ET, May 9, 2019
Goldman Sachs thinks tariffs will increase but there's still a chance for a trade deal
From CNN Business' Anneken Tappe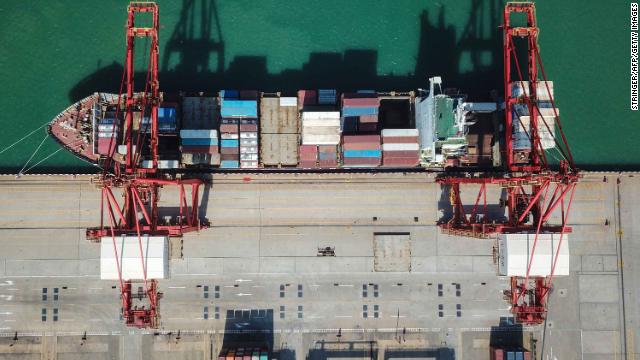 It seems the additional tariffs on Chinese imports that President Donald Trump threatened on Sunday will go ahead after midnight, said Goldman Sachs economists Alec Phillips and Blake Taylor in a note.
But worry not, there's still some light at the end of the tunnel.
The tariff hike at midnight continues to be the most likely outcome. However, we note that details in the notice implementing the tariff hike indicate that exports that have already left Chinese ports before May 10 will not be subject to the increase," said the Goldman analysts.
This creates kind of a loophole that could last as along as a couple of weeks, said the analysts. And perhaps the rhetoric, along with negotiation, will take a more positive tone in the meantime.
The threatened tariff ramp up would affect $200 billion worth of Chinese goods to 25% from the current 10% threshold.
3:27 p.m. ET, May 9, 2019
There are two reasons China might buy fewer soybeans from the Unites States: Trade and swine fever
From CNN Business' Anneken Tappe
Soybean exports from the United States to China could again slow drastically due to the trade spat between the two countries.
China could turn to other sellers to fill their coffers, or it might not have to at all, according to INTL FCStone commodities economist Arlan Suderman.
China is struggling with the fallout from African Swine Fever, which has impacted the local stock of pigs and led lean hog futures to rally over the past months. With fewer pigs left in China, less feed -- that is, soymeal -- is required.
Good timing?