Anthony Scaramucci on stocks, trade and China: May 8, 2019
4:39 p.m. ET, May 8, 2019
What happens when a bitcoin bull and bear duke it out
Things got a little heated when Nouriel "Dr. Doom" Roubini and bitcoin bull Michael Novogratz clashed at SALT on Wednesday.
The bear's take
Roubini slammed bitcoin as the "mother and father of all bubbles and busts."
The NYU professor pointed out that bitcoin's crash was deeper than history's other bubbles like the dotcom boom and even the tulip mania of the 1630s.
Roubini said bitcoin is subject to "massive manipulation" and has "no future as a currency."
The bull's take
Novogratz, the CEO of Galaxy Digital, believes the future is very bright for bitcoin despite the price collapse. He pointed to moves by establishment players like Fidelity into the crypto space and bitcoin's $100 billion market cap.
The debate is already over. Bitcoin won," Novogratz said.
Bitcoin has spiked more than 60% this year, rebounding from its recent crash.
Roubini repeatedly took issue with Novogratz cutting him off, saying at one point "let me finish."
Novogratz tried to make peace with Roubini at the end of the panel by making a friendly bet. 
If bitcoin finishes the year above its current price of roughly $6,000, Roubini would have to wear a t-shirt saying bitcoin is great. If bitcoin ends the year below $6,000, Novogratz offered to wear a t-shirt saying: "Nouriel was right."
Roubini declined the offer, saying: "I don't care about the price of bitcoin."
1:55 p.m. ET, May 8, 2019
Here's why investors at SALT are excited
Investors are super excited about "Opportunity Zones."
There are several panels at SALT focusing on opportunity zones — underdeveloped neighborhoods across the nation that are ripe for investment.
As a result of recent tax reform, opportunity zones have become a way for distressed neighborhoods to attract real estate, housing, small business and community development investment. Investors in these projects receive favorable tax treatment.
Peter Brack, founding partner of Hypothesis Ventures, predicted that opportunity zones will "transform the country" in the same way Amazon (AMZN) or Google (GOOGL) have.
"We're not even in the first inning yet," he said of opportunity zones. But "if we do what we intend to do, we can do well and do a heck of a lot of good at the same time."
Brack was also honest about why he's investing in opportunity zones.
"We're not looking at this from an impact lens," he said. "We're looking at this from a pure, opportunistic thesis."
1:33 p.m. ET, May 8, 2019
Sam Zell warns of 'disaster' if Fed slashes rates like Trump wants
Real estate billionaire Sam Zell agrees with President Donald Trump: The American economy would take off if the Federal Reserve slashed interest rates.
"He's right," Zell said on Wednesday at the SALT Conference in Las Vegas. "The economy would soar, and so would inflation. And the dollar would fall accordingly."
Despite historically-low unemployment and accelerating GDP growth, Trump recently urged the Fed to lower rates by a full percentage point.
"I don't think there's any justification for any kind of significant decrease," Zell said. 
Zell warned cutting rates and causing the dollar to plunge would threaten the greenback's status as the world's reserve currency.
"That would be a disaster," Zell said.
However, the real estate tycoon credited Trump with confronting China on trade, calling it "probably one of the best things he's done." 
And Zell thinks fears about tariffs are overdone.
"We've had tariffs for more than a year, and the end of the world hasn't come," Zell said. 
1:15 p.m. ET, May 8, 2019
Anthony Scaramucci: I did something fireable
Wondering why Anthony Scaramucci thinks he lasted just 10 days in the White House? He's not shy about it.
"I kind of know why John Kelly fired me: I did something fireable," said Scaramucci, Former White House Communications Director and head of Skybridge Capital on CNN Business' Markets Now live show, hosted by Richard Quest.
Scaramucci will interview former White House Chief of Staff John Kelly at the SALT investors conference in Las Vegas Wednesday. He said won't be afraid to ask tough questions about their prior relationship.
"I won't leave the elephant sitting in the room ignored."
1:17 p.m. ET, May 8, 2019
Sam Zell calls 'bulls—t' on $2 trillion infrastructure plan
Real estate billionaire Sam Zell isn't buying the $2 trillion price tag on Washington's tentative infrastructure agreement.
"I think it's all bulls—t," Zell said at the SALT Conference in Las Vegas. 
"That $2 trillion number is the number they agreed to because they thought it would create a big headline and it sounded good," Zell said. 
Last month, Democratic congressional leaders announced an agreement with President Donald Trump on a $2 trillion infrastructure plan, though few details have been worked out.
Zell warned that promises to enact an infrastructure plan are unlikely to be delivered for the next few years. 
The real estate tycoon also pushed back on the anti-immigrant sentiment of recent years. He pointed to the shortage of skilled talent that is holding back the American economy.
"Immigration is what's made this country great," Zell said to applause. "We have to encourage immigration because that's a critical element to growth." 
1:11 p.m. ET, May 8, 2019
Anthony Scaramucci: I am worried about the market
"I am worried about the market. We've had an incredible bull market. There's a lot of cyclicality in the markets," Scaramucci told CNN Business' Markets Now live show, hosted by Richard Quest.
"Everyone is a long-term investor until they have short-term losses. So I have to prepare my clients for that."
He predicted yields will stay where they are, noting the Fed wanted to get ahead of some cracks in the economy. Scaramucci said his firm, Skybridge Capital, has hedges against volatility in the markets caused by the environment.
"I don't like where the Fed is," he said. "I don't like the fundamentals. I don't like the overheated nature of the economy."
1:11 p.m. ET, May 8, 2019
Anthony Scaramucci: Be cautious about Uber
"Uber and Lyft are great services, but it's not clear how they make money and not clear how drivers are doing over the long term as well," Anthony Scaramucci said on CNN Business' Markets Now live show, hosted by Richard Quest.
"I admire what they built. I'd advise people to be cautious here. I prefer the Warren Buffett / Charlie Munger approach: Buy something with predictable cash flow," Scaramucci added. The former White House communications director spoke from the SALT investing conference, which is presented by the firm he founded, Skybridge Capital.
1:04 p.m. ET, May 8, 2019
Fake meat is killing it on Wall Street
Looking for positive news on Wall Street? Look no further than fake meat.
Trade has brought volatility to markets. But McDonald's, Beyond Meat, Burger King and many others are wowing the markets with the plant-based meat-substitute trend.
"Fake meat ... I mean, look at these kind of rallies!" said Matthew Cheslock, equities trader at Virtu Financial on CNN Business' Markets Now live show, hosted by Richard Quest. "It's all good for them."
1:03 p.m. ET, May 8, 2019
What's the next big tech investment? Privacy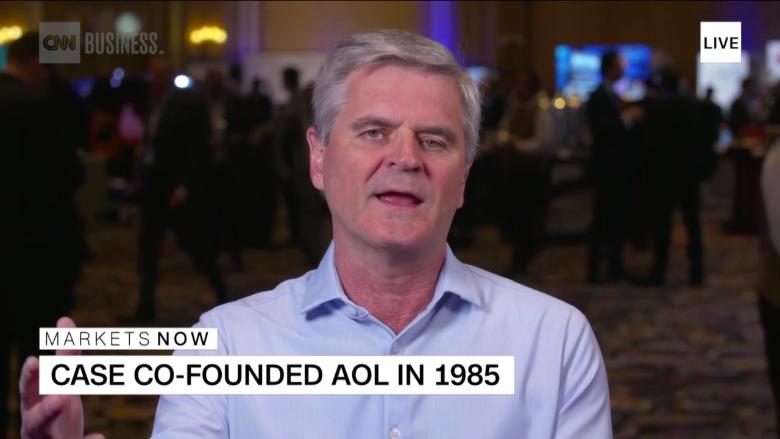 One big opportunity for investment is privacy, AOL founder and former CEO Steve Case said on CNN Business' Markets Now live show. He said the "third wave" of the internet will "Not just be the internet of things, but the internet of everything: billions of connected devices."
"Privacy is one of the big issues over the next decade," Case said. "Government policy ... is going to be a bigger issue over the next few years."
He noted that entrepreneurs won't want to hear that, but it's important to "strike the right balance between regulation and innovation."