Anthony Scaramucci on stocks, trade and China: May 8, 2019
4:12 p.m. ET, May 8, 2019
Stephen Moore on Trump: 'This guy loves to follow the markets'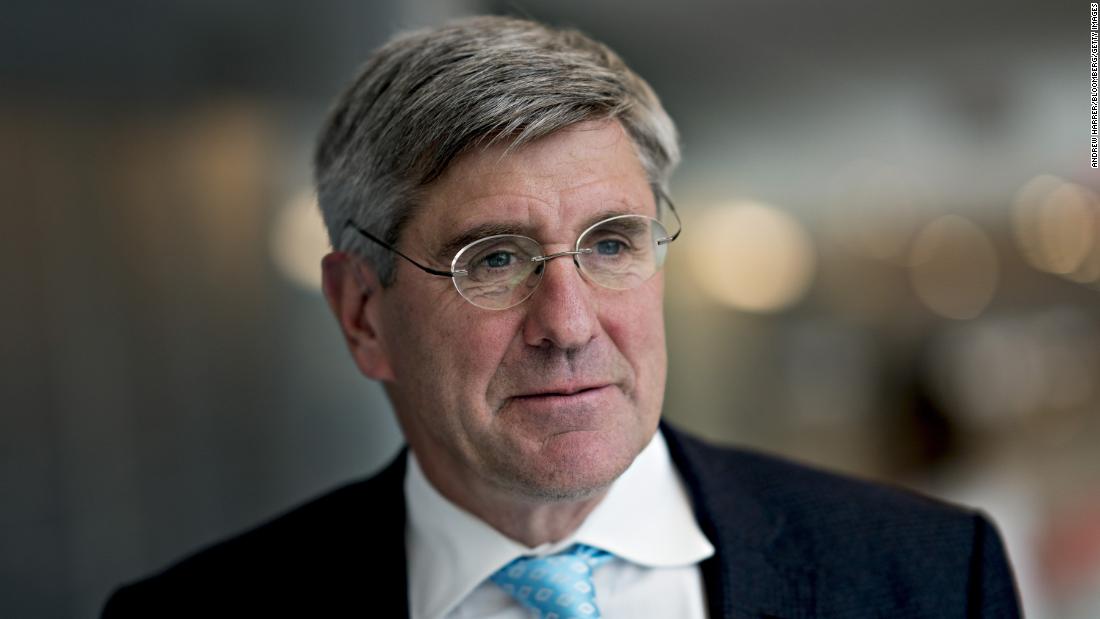 President Donald Trump checks in on financial markets "every few hours," according to economic adviser Stephen Moore.
"This guy loves to follow the markets," said Moore, who until last week was Trump's pick to join the Federal Reserve.
Speaking at the SALT Conference in Las Vegas, Moore said on Wednesday that recent market turbulence over the White House's tough stance on China will give Trump "hesitation."
He understands that if the stock market and economy crash on him, there's no way he can get re-elected," Moore said.
Last week, Moore withdrew his name from consideration to join the Fed amid a firestorm of controversy over years of disparaging comments he made about women and concerns about his qualifications.
Moore tried to make light of the controversy regarding his comments about women.
"I like women. I just don't like women's basketball," Moore said, though his comment failed to draw any laughter from the sparse conference room.
On China, Moore said that he advised Trump to take as good of a trade deal as he can and then get "really tough with China" after winning re-election.
"This isn't going to stop now," Moore said. "This trade dispute with China will last for years and years and years. This is the issue of our time."
3:06 p.m. ET, May 8, 2019
There's now a gig economy ETF: Here's who is in it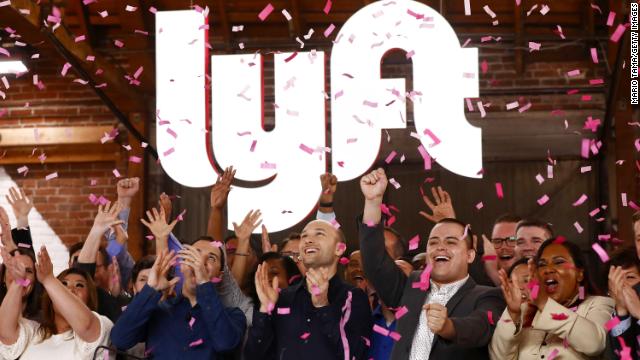 SoFi, the personal finance company popular with millennials, has launched a new investment that's squarely in the wheelhouse of its younger users: a gig economy ETF.
The company said the The SoFi Gig Economy ETF (GIGE) will be run by investment firm Toroso as an actively managed fund. In other words, managers will pick the stocks instead of relying on an index. SoFi also launched a new ETF geared toward high-growth stocks.
"Our members are excited by high-growth and gig economy companies because these companies are in many cases part of their lives," said SoFi CEO Anthony Noto. "We're giving our members a way to get started investing by buying what they know and investing in themselves."
Noto left his job as the COO of Twitter in January 2018 to take over as SoFi's CEO. Interestingly enough, Twitter (TWTR) is the sixth-largest holding in the ETF.
Here's a look at the top five stocks. They collectively make up more than 20% of the fund.
Other big picks? Eventbrite (EB). Facebook (FB) and Alibaba (BABA). And SoFi said the fund is set up so that companies that just went public can be included about a month after the IPO. So don't be surprised to see Uber (UBER) show up as a top holding in June.
3:59 p.m. ET, May 8, 2019
Opportunity Zones are not a 'Trump program.' They're 'bipartisan'
Hedge fund manager and philanthropist Manny Friedman said the idea to create tax incentives for investments in underdeveloped neighborhoods was "a massive bipartisan effort."
The Obama administration conceived of Opportunity Zones, which offer tax incentives for investments in some low-income and underdeveloped ares. They were passed into law as part of Congress' tax cut package in 2017.
Friedman was critical of investors and reporters who call the initiative a Trump-inspired program. "This is not a Trump program," said Friedman, an advocate for Opportunity Zones. "It's a bipartisan program."
Friedman said there was a risk to the future of opportunity zones if the White House changes hands in the 2020 election.
4:39 p.m. ET, May 8, 2019
What happens when a bitcoin bull and bear duke it out
Things got a little heated when Nouriel "Dr. Doom" Roubini and bitcoin bull Michael Novogratz clashed at SALT on Wednesday.
The bear's take
Roubini slammed bitcoin as the "mother and father of all bubbles and busts."
The NYU professor pointed out that bitcoin's crash was deeper than history's other bubbles like the dotcom boom and even the tulip mania of the 1630s.
Roubini said bitcoin is subject to "massive manipulation" and has "no future as a currency."
The bull's take
Novogratz, the CEO of Galaxy Digital, believes the future is very bright for bitcoin despite the price collapse. He pointed to moves by establishment players like Fidelity into the crypto space and bitcoin's $100 billion market cap.
The debate is already over. Bitcoin won," Novogratz said.
Bitcoin has spiked more than 60% this year, rebounding from its recent crash.
Roubini repeatedly took issue with Novogratz cutting him off, saying at one point "let me finish."
Novogratz tried to make peace with Roubini at the end of the panel by making a friendly bet. 
If bitcoin finishes the year above its current price of roughly $6,000, Roubini would have to wear a t-shirt saying bitcoin is great. If bitcoin ends the year below $6,000, Novogratz offered to wear a t-shirt saying: "Nouriel was right."
Roubini declined the offer, saying: "I don't care about the price of bitcoin."
1:55 p.m. ET, May 8, 2019
Here's why investors at SALT are excited
Investors are super excited about "Opportunity Zones."
There are several panels at SALT focusing on opportunity zones — underdeveloped neighborhoods across the nation that are ripe for investment.
As a result of recent tax reform, opportunity zones have become a way for distressed neighborhoods to attract real estate, housing, small business and community development investment. Investors in these projects receive favorable tax treatment.
Peter Brack, founding partner of Hypothesis Ventures, predicted that opportunity zones will "transform the country" in the same way Amazon (AMZN) or Google (GOOGL) have.
"We're not even in the first inning yet," he said of opportunity zones. But "if we do what we intend to do, we can do well and do a heck of a lot of good at the same time."
Brack was also honest about why he's investing in opportunity zones.
"We're not looking at this from an impact lens," he said. "We're looking at this from a pure, opportunistic thesis."
1:33 p.m. ET, May 8, 2019
Sam Zell warns of 'disaster' if Fed slashes rates like Trump wants
Real estate billionaire Sam Zell agrees with President Donald Trump: The American economy would take off if the Federal Reserve slashed interest rates.
"He's right," Zell said on Wednesday at the SALT Conference in Las Vegas. "The economy would soar, and so would inflation. And the dollar would fall accordingly."
Despite historically-low unemployment and accelerating GDP growth, Trump recently urged the Fed to lower rates by a full percentage point.
"I don't think there's any justification for any kind of significant decrease," Zell said. 
Zell warned cutting rates and causing the dollar to plunge would threaten the greenback's status as the world's reserve currency.
"That would be a disaster," Zell said.
However, the real estate tycoon credited Trump with confronting China on trade, calling it "probably one of the best things he's done." 
And Zell thinks fears about tariffs are overdone.
"We've had tariffs for more than a year, and the end of the world hasn't come," Zell said. 
1:15 p.m. ET, May 8, 2019
Anthony Scaramucci: I did something fireable
Wondering why Anthony Scaramucci thinks he lasted just 10 days in the White House? He's not shy about it.
"I kind of know why John Kelly fired me: I did something fireable," said Scaramucci, Former White House Communications Director and head of Skybridge Capital on CNN Business' Markets Now live show, hosted by Richard Quest.
Scaramucci will interview former White House Chief of Staff John Kelly at the SALT investors conference in Las Vegas Wednesday. He said won't be afraid to ask tough questions about their prior relationship.
"I won't leave the elephant sitting in the room ignored."