Stocks plunge on trade fears: May 7, 2019
4:54 p.m. ET, May 7, 2019
Papa John's shares spike on hints of a turnaround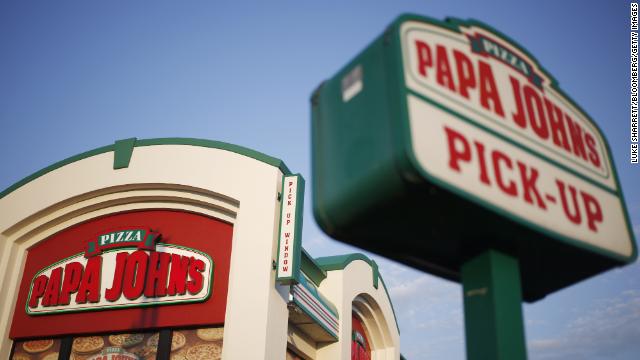 Shares of Papa John's jumped 4% after hours on Tuesday, following a quarterly report that appeared to convince some investors that the troubled pizza company is starting to turn things around.
The company said that in the first quarter, sales at stores open at least a year in North America fell 6.9% compared to the same period last year. The results mark the sixth straight quarter of declines for Papa John's. But it's also an improvement over last quarter, when sales at stores open at least a year in North America fell 8.1%.
Papa John's (PZZA) has been trying to bounce back after a series of controversies. Comments by founder and former CEO John Schnatter's about the NFL player protests and his use of a racial slur during a conference call all hurt sales. The company has invested in a new marketing campaign and shaken up its leadership, among other things, to help repair its reputation and bolster the business.
"The first quarter was a time of promise for Papa John's," CEO Steve Ritchie said in a statement Tuesday. "Substantial, positive change takes time and effort," he added, saying that he's "excited" for the future.
4:44 p.m. ET, May 7, 2019
What's next for investors on Wednesday?
Tuesday's trading day is over and everyone needs a drink. Not a single Dow stock finished in the green as markets recorded their worst day since January.
Here's what's next for investors.
The SALT Conference will get under way in Las Vegas, with CNN Business' own Matt Egan and Nathaniel Meyersohn at the scene
Anthony Scaramucci — founder of Skybridge Capital, former White House Communications Director and SALT founder, will join CNN Business anchor Richard Quest on a special extended edition Markets Now live show at 12:45 pm ET Wednesday.
The economic calendar is rather tame with just German industrial production as a notable release.
Overnight, the Bank of Japan will publish the minutes from its March meeting.
And perhaps most importantly, will stocks rebound tomorrow?
4:24 p.m. ET, May 7, 2019
Stocks record worst one-day drop since January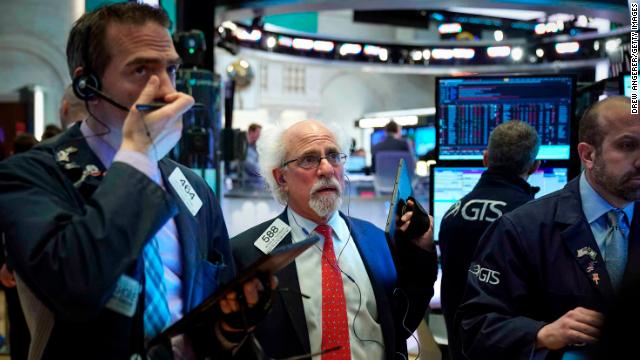 US stocks logged their worst one-day drop since January 3, as trade war fears weighed on equities around the world.
Losses were led by the technology and industrials sectors, which are especially reliant on global trade in terms of both materials and end markets.
Not a single Dow component finished the day in the green. Boeing (BA) fared worst and closed 3.9% lower.
In the S&P, pharmaceuticals producer Mylan (MYL) led losers and plummeted 23.8% after reporting weaker sales.
3:57 p.m. ET, May 7, 2019
Fewer than two dozen S&P 500 stocks are higher
Few companies were spared from Tuesday's violent market sell-off. With less than an hour to go in the trading day, only 23 stocks in the S&P 500 were up. None of the 30 Dow stocks were higher as that blue chip average plunged about 600 points.
The market's biggest winner -- curiously enough -- was American International Group, the insurance giant that was one of the poster children for the 2008 financial crisis. AIG (AIG), a former Dow component, rocketed 7% higher thanks to solid earnings.
Reinsurance companies Assurant (AIZ) and Everest Re (RE) also rose. So did gold miner Newmont (NEM). Gold is a classic hedge against market volatility.
Occidental Petroleum (OXY) was up too after the Berkshire Hathaway-backed company gained the upper hand in a bidding war with Chevron (CVX) for Anadarko Petroleum (APC). Anadarko was up slightly too.
Other winners? GM (GM), Olive Garden owner Darden Restaurants (DRI) and dental equipment company Henry Schein (HSIC). Was it because there weren't many smiles on Wall Street Tuesday? No. The company also reported healthy results.
3:29 p.m. ET, May 7, 2019
Get ready to sprint to the market close after a long day
3:27 p.m. ET, May 7, 2019
Bitcoin fell 75% in 2018. It's up 60% this year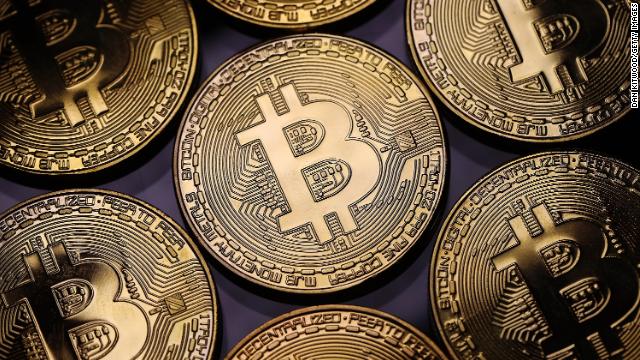 The cryptocurrency is still far from its all-time highs of just under $20,000, which it hit in December 2017. But investors are increasingly optimistic that the bitcoin (XBT) bounce of 2019 is real and that it and other cryptocurrencies may enjoy a steady march higher.
What's going on?
"You are now starting to see more people cite bitcoin as a credible asset that you can use to diversify your portfolio. People are looking at bitcoin as a type of digital gold," said Tyrone Ross, managing partner with NobleBridge Wealth Management.
3:17 p.m. ET, May 7, 2019
Dow's worst days of 2019
Here are the Dow's worst days of the year, so far.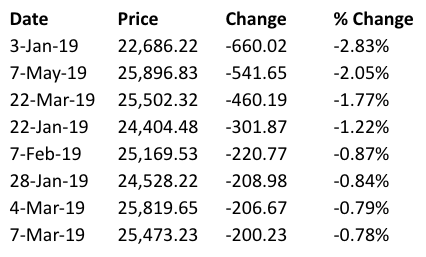 3:22 p.m. ET, May 7, 2019
Dow plunges 600 points. Nasdaq is down 2.5%
The Dow fell more than 600 points, sinking below 26,000 points for the first time since March 29. The S&P 500 was down 2.1% and the Nasdaq fell 2.5%. The Nasdaq is below 8000 points for the first time since April 18.
European stocks fared poorly too. The FTSE 100 (UKX), DAX (DAX) and CAC 40 (CAC40) all closed 1.6% lower. The pan-European Stoxx 600 (SXXP) fell 1.4%.
2:44 p.m. ET, May 7, 2019
Google debuts a new, cheaper Pixel phone
Google (GOOGL) is making a more affordable version of its flagship Pixel smartphone.
The new Pixel 3a phones are half the price of their fancier forebearers, which start at $799:
The 5.6-inch Pixel 3a will cost $399
The 6-inch Pixel 3a XL will cost $479.
Google is also adding new carrier options.
Until now, the phones have only been available on Verizon (VZ). In addition to Verizon, the Pixel 3a devices will be available on T-Mobile (TMUS), Sprint (S), US Cellular and Google Fi.