What's moving markets today: April 17, 2019
5:31 p.m. ET, April 17, 2019
What's next for markets on Thursday
The US session is over and traders are getting ready for Thursday. So are we.
In Europe, April purchasing managers index reports will be released — for the eurozone, Germany, France and the UK.
Philip Morris (PM) reports first quarter earnings before the bell. We'll be watching for whether the company talks more about non-smoking products.
In US economic data, weekly jobless claims and retail sales are due at 8:30 a.m. ET.
Pinterest is set to price its IPO tonight, with shares hitting the market tomorrow under the ticker (PINS). Put that on your board.
4:18 p.m. ET, April 17, 2019
Stocks finish mixed
US stocks ended mixed after better-than-expected Chinese growth data failed to incite a rally.
Health care and telecommunications were the weakest sectors in a range-bound session. Meanwhile, Qualcomm (QCOM) continued its ascent and finished 12% higher. The chip maker started its rally yesterday after it announced a settlement with Apple (AAPL).
3:21 p.m. ET, April 17, 2019
China economic data drives copper higher, but can't save oil
Today was a big day for copper, a key import for China. Copper futures for July jumped 1.5%.
But oil futures slipped, retracing earlier gains, as uncertainty about global supplies continues.
While China's better-than-expected first quarter GDP data eased worries about slowing demand, data from the Energy Information Administration showed a drop in crude inventories.
WTI futures for May settled 0.6% lower.
3:20 p.m. ET, April 17, 2019
If the misery index has found a floor, things will get worse from here
The so-called Misery Index, the inverse of a Goldilocks scenario, is at a record low. If this is as low as it will go, however, this would mean that things are only going to get worse from here.
The misery index plots inflation and unemployment as a measure of how the average citizen is doing.
"We expect the misery index to trough in the next year," Luca Paolini, chief strategist at Pictet Asset Management.
It will happen either because the Federal Reserve allows the market and the economy to overshoot and inflation rises, or "because the global economy enters a recession, a shallow one, but still a recession" and unemployment rises, he added.
At the moment, low employment means solid economic growth, which translates to good earnings growth. Meanwhile, low inflation typically results in low real rates and good liquidity conditions.
Sure, the Fed has been raising interest rates, but on the whole, global real rates have barely budged. But caution is advised.
Every bull market starts and ends with a recession," Paolini said.
2:05 p.m. ET, April 17, 2019
China's growth is good news — but it doesn't mean global economy is out of the woods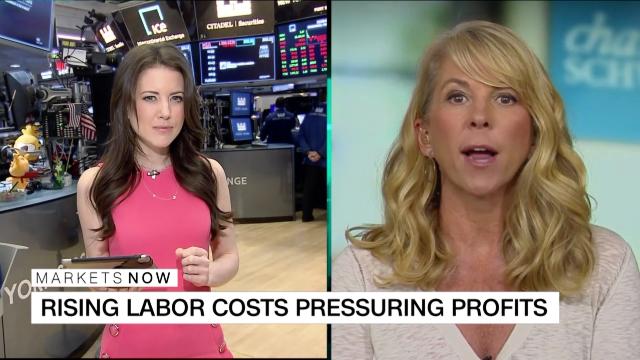 China delivered some surprisingly good news about its economic growth. And that is a great sign for global markets.
The Chinese government reporting better-than-expected Q1 growth of 6.4% will likely give a "boost" to the country's trading partners, Charles Scwab investment strategist Liz Ann Sonders said during the "Markets Now" live show.
But it's wise to be cautious. Firm news about a potential US-China trade deal will be important, because there's a chance investors have been operating on a "buy on the rumor sell on the news" mentality that could warp markets.
As far as looming concerns about a global recession, Sonders said it's too soon to assume we're in the clear.
"To say global recession is not anything terribly bombastic"
She pointed out that the international OECD's March update declared global growth reached its peak mid-way through last year. And the global growth rate, which has been below 3%, is still "generally considered a global recession."
2:05 p.m. ET, April 17, 2019
Casper CEO says IPO market is 'robust' ... but still won't confirm whether his company will dive in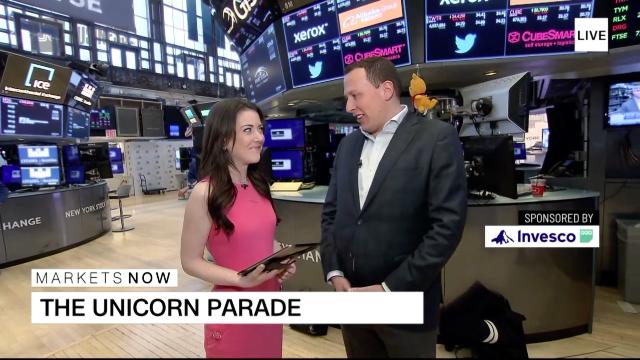 Casper's chief executive has high hopes for the IPO market — despite a so-so debut from Lyft earlier this month.
Lyft, which became the first so-called Unicorn to go public this year, could have been a "one-off," CEO Philip Krim told CNN Business' Julia Chatterley during the "Markets Now" live show, and there's still plenty to look forward to.
Krim said he'll keep an eye out for other big-name IPOs from companies like Uber.
Reuters reported recently that Casper is mulling a public listing of its own, but Krim declined to confirm the rumors.
12:11 p.m. ET, April 17, 2019
Stocks slip at midday
Half-way through the trading session, stocks edged lower.
UnitedHealth (UNH) was the biggest loser in the Dow and dropped more than 4%, as healthcare stocks continue to suffer on worries about how the politics of healthcare could change the industry.
IBM (IBM), which reported a drop in revenues before the bell, was dragged down nearly 3%.
In the S&P, BNY Mellon (BK) is faring the worst, falling almost 10% on the back of weaker-than-expected first quarter results.
6:15 a.m. ET, April 18, 2019
Health care stocks continue to sink
Health care companies couldn't catch a break today and added on to their previous losses.
The industry-wide selloff came on the back of comments from UnitedHealth CEO David Wichmann saying "Medicare for all" proposals could "destabilize the nation's health system".
10:51 a.m. ET, April 17, 2019
US trade deficit narrows for second month in a row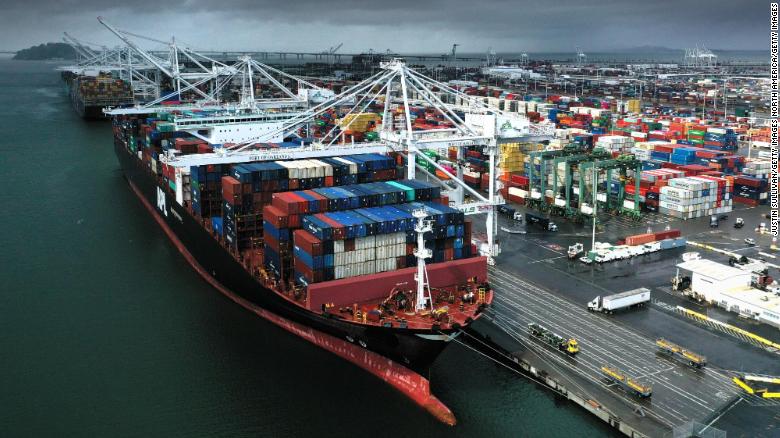 The monthly trade deficit fell by 3.4% to $49.4 billion in February, hitting its lowest level in eight months, according to data released Wednesday by the Census Bureau. 
For the second month in a row, the trade deficit with China also narrowed as the United States continues to negotiate a trade deal with Beijing. 
Exports to China increased by $1.6 billion and imports fell by $1.5 billion.  
Last year, President Donald Trump imposed tariffs on $250 billion of Chinese goods, in an effort to pressure Beijing to come to the negotiating table, but saw the trade deficit climb as importers scrambled to stockpile goods ahead of further threatened tariffs.