What's moving markets today: April 10, 2019
5:23 p.m. ET, April 10, 2019
Bed Bath & Beyond says it will speed up changes as activist investors loom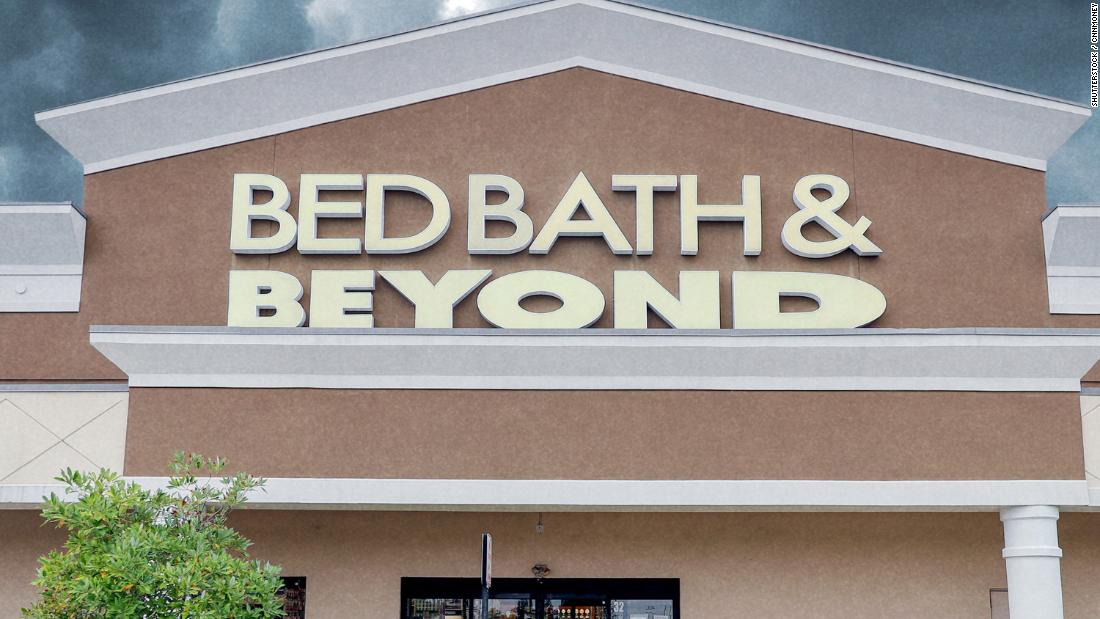 Bed Bath & Beyond is pledging to transform its business and make changes to its board of directors after a group of activist investors pressured the retailer.
Three activist funds last month said they built a roughly 5% stake in Bed Bath & Beyond. The activists nominated a full suite of 16 new board members and planned to recruit a new CEO. 
On Wednesday, Bed Bath & Beyond said it would nominate a new lead director to its board and revamp its corporate governance structure. It plans to announce additional changes to the board in the future.
That news came as the company reported earnings. During its most recent quarter ending in March, Bed Bath & Beyond's sales at stores open at least a year fell 1.4% compared with the year earlier. The retailer lost money during the quarter, too.
The company said it would continue to reduce clutter from its stores, build out its private-label brands and introduce lower-priced products.
Shares of Bed Bath & Beyond (BBBY) fell more than 7% during after-hours trading Wednesday.
4:32 p.m. ET, April 10, 2019
US stocks end session slightly higher
US equities ended Wednesday's session slightly higher.
The Dow closed up 6.6 points, or 0.03%
The S&P 500 closed 0.4% higher
The Nasdaq was up 0.7% at the close
Wall Street largely shrugged off minutes from last month's Federal Reserve meeting, which showed the central bank acknowledged the threat of a global growth slowdown and didn't anticipate an interest rate hike this year.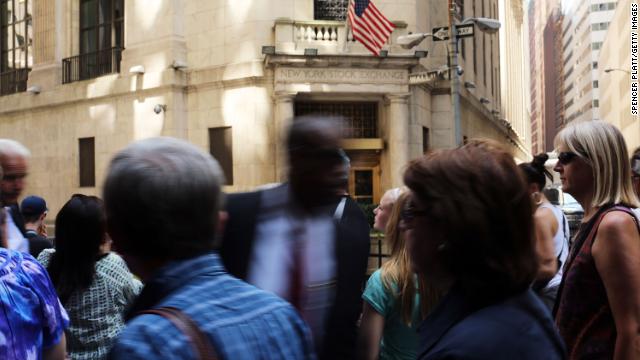 In individual stocks, ride-sharing company Lyft (LYFT) dropped 11% amid competitor Uber's intention to file for an initial public offering. Social media company Snap (SNAP) closed down nearly 3% after a report downgraded its user growth.
Bed Bath & Beyond (BBBY) reports after the bell.
3:36 p.m. ET, April 10, 2019
Bank CEOs unanimously stress importance of Fed independence
CEOs of major US banks stressed the importance of the Federal Reserve's independence and integrity during a House Financial Committee meeting on Wednesday.
Their remarks come amid discussion about Donald Trump's pick for the Fed board, Stephen Moore. Moore is widely considered an atypical choice given his views on the central bank and Fed President Jerome Powell.
While some of the CEOs acknowledged that Moore wasn't a traditional nominee, they also said they had faith in the central bank's confirmation process.
3:38 p.m. ET, April 10, 2019
JPMorgan CEO Jamie Dimon gets grilled on income inequality
JPMorgan (JPM) CEO Jamie Dimon got some tough questions on income inequality during Wednesday's House Financial Committee hearing. Rep. Katie Porter claimed that a single parent in a starting job at JPMorgan couldn't make ends meet on a minimum wage salary of around $16. Dimon responded that the bank provides good benefits. Porter said Dimon didn't have an answer.
Earlier in the hearing, Dimon defended corporate tax cuts and comments he previously made about income inequality.
Rep. Nydia Velázquez asked Dimon if he could "see why so many Americans find your income inequality comments disingenuous" given that corporate tax cuts don't expire like personal tax cuts.
Dimon responded that the corporate tax cuts were designed to make US corporations more competitive on a global scale and that "this group pays their employees quite well."
JPMorgan last year raised the minimum wage it pays its employees to $15-$18 depending on location.
On Monday, Bank of America (BAC) said it would raise its minimum wage to $20 over the next two years.
1:41 p.m. ET, April 10, 2019
YouTube TV hikes its prices by 25%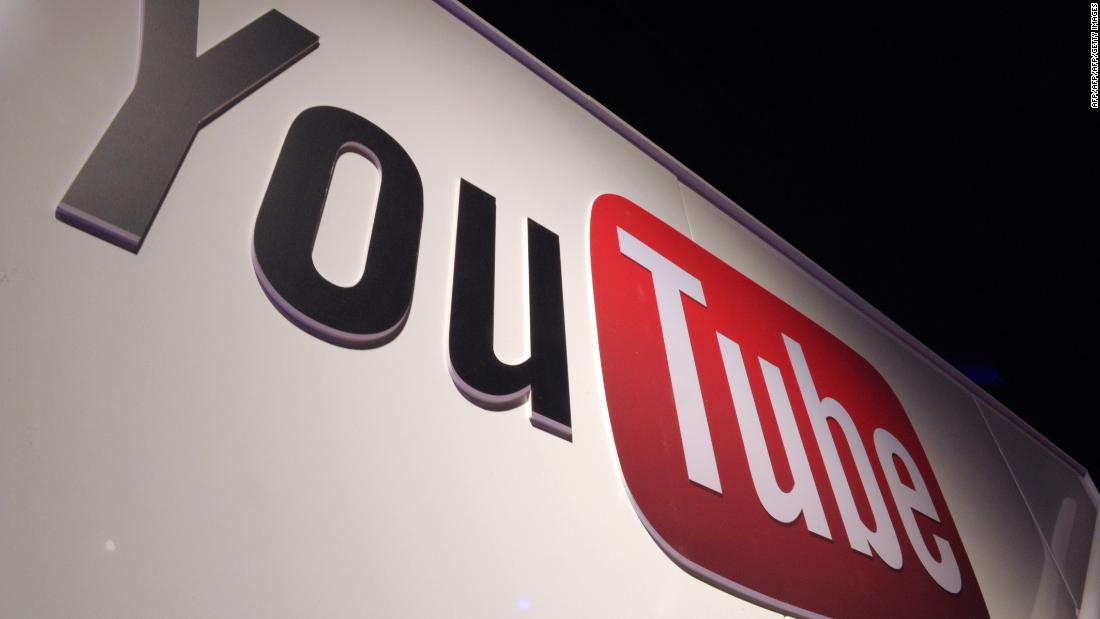 YouTube TV is hiking its price to $49.99 per month from $40 per month, the Google-owned streaming service said in a release.
When YouTube TV launched in April 2017, it cost $35 per month. The price was increased one year later to $40 per month — today's price hike represents a 25% increase.
Subscribers who pay through Apple will see an even bigger fee, and will now pay $54.99 per month. That's an increase of $15 per month.
New subscribers will get the new price immediately, while current users will see the prices in mid-May. YouTube TV also announced it was adding Discovery-owned networks, including HGTV, Food Network, and TLC.
2:26 p.m. ET, April 10, 2019
Where to put your money when earnings are weak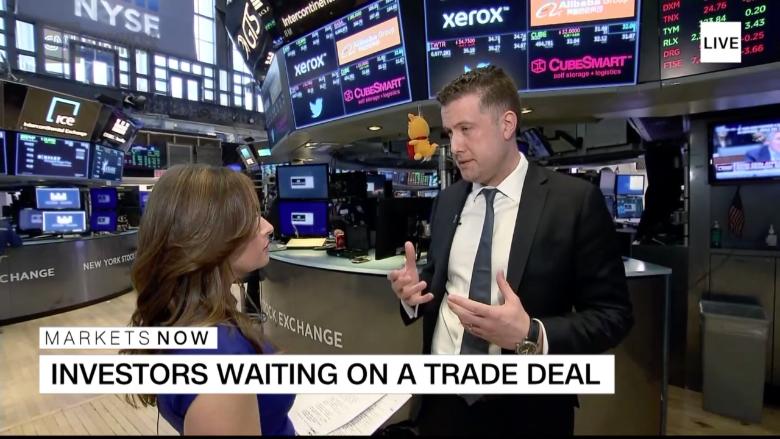 Earnings are expected to slip in the first quarter, but most think they'll rebound throughout the rest of the year.
Not Greg Boutle of BNP Paribas, though, who told Alison Kosik on CNN Business' Markets Now live show that he expects earnings to remain weak this year.
"The sectors we think are most at risk already have low margins," he said. They're more vulnerable to a growth slowdown and virtually zero slack in the labor market.
"That will increase margin pressure," Boutle said.
So where should you put your money?
"If people want to invest in cyclical stocks, they should look at tech," he said. "Tech companies typically have very robust balance sheets."
1:33 p.m. ET, April 10, 2019
Stocks: What's there to worry about?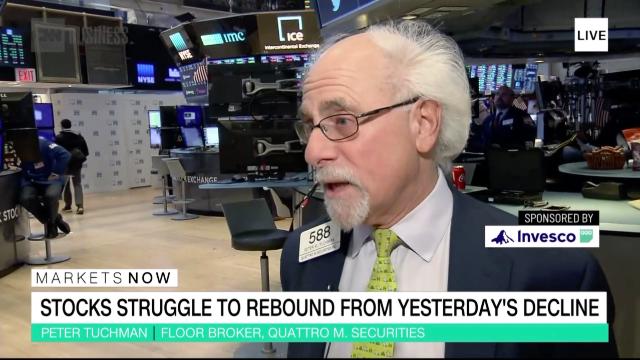 Is there anything for investors to be concerned about?
Not much, Peter Tuchman, floor broker with Quattro M Securities, told Alison Kosik on CNN Business' Markets Now live show.
We had one day of a selloff when they talked about yield curve inversion. We've got Fed minutes coming out today. We have deal wth China that's not really etched in stone yet. Those are only headwinds I'm seeing."
Meanwhile, the S&P 500 is "super strong," and stocks remain the best place to invest, Tuchman said.
"I think the market tells you what it really believes. There's nothing automatic pilot about this. At the end of the year a lot of people bailed, so they're still playing catchup. But you've got fundamentals that are OK."
2:28 p.m. ET, April 10, 2019
Five out of seven big banks expect to be led by a woman or person of color within next decade
Big bank CEOs were put on the spot during the House Financial Committee hearing. Texas Democratic Rep. Al Green asked whether they thought their successors would be a woman or a person of color. None of the executives, hailing from the likes of Bank of America (BAC), Citi (C) and JPMorgan (JPM), said yes.
Green then added the qualified "in the next decade" to his question, upon which five of the seven CEOs affirmed. The exceptions: JPMorgan's Jamie Dimon and Morgan Stanley's (MS) James Gorman.
12:41 p.m. ET, April 10, 2019
Cybersecurity and global growth slowdown are banks' biggest risks, say CEOs
The CEOs of major banks overwhelmingly named cybersecurity and a slowing of global growth as the financial industry's biggest risk factors for the future.
JPMorgan's (JPM) Jamie Dimon also said that the growing non-bank segment was worth monitoring, although it wasn't a systemic risk yet. Goldman Sachs (GS) chief executive David Solomon also added US-China relations to the risk factors.
Citigoup (C) CEO Michael Corbat diverted from his peers and said talking "ourselves into the next recession" was the biggest risk.
The CEOs are testifying before the House Financial Committee in a hearing on accountability of megabanks.