US stocks surge despite the worst jobless claims data in history: March 26, 2020
4:12 p.m. ET, March 26, 2020
Stocks log third day of gains, Dow emerges from bear market
US stocks finished higher on Thursday, recording their third straight day of gains.
Markets had already priced in the sharp increase in jobless claims reported ahead of the opening bell this morning, and stocks rallied throughout the day.
The Dow finished up up 6.4%, or 1,352 points. The index has emerged from the bear market it fell into on March 11, having climbed more than 20% since Monday.
The S&P 500 closed up 6.2%.
The Nasdaq Composite rose 5.6%.
4:10 p.m. ET, March 26, 2020
Gasoline demand is falling off a cliff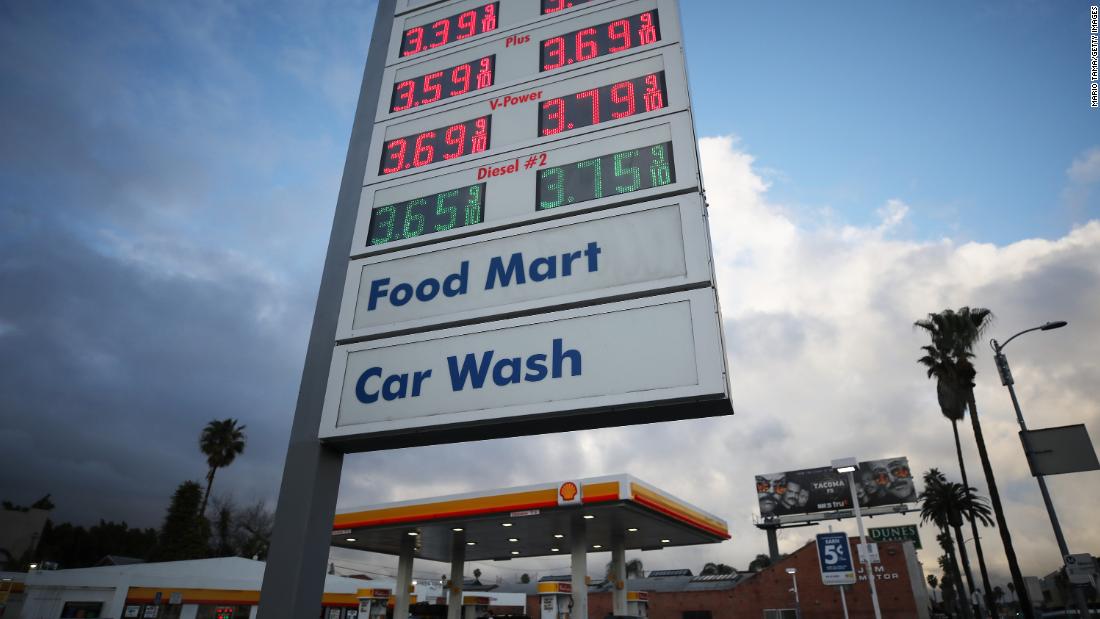 Here's the biggest problem facing the oil market: Its No. 1 customer has disappeared.
The shutdown of parts of the US economy -- roughly half of Americans are under at stay-at-home orders -- has crushed demand for gasoline. And US gasoline is the No. 1 swing far worldwide thirst for oil.
IHS Markit estimates that US gasoline demand could collapse by as much as 4.1 million barrels per day -- or more than 50% -- during the coronavirus response period. That easily exceeds the demand destruction during the Great Recession.
"A sudden drop in miles traveled by car triggered by social isolation measures will have immediate ramifications for gasoline demand," IHS wrote in a report published Thursday.
The pandemic has caused congestion in the 10 most heavily trafficked US cities to nosedive by 76%, according to RBC Capital.
That's because millions of Americans are now working from home. The amount of gasoline consumed by Americans commuting to and from work exceeds all of China's gasoline demand, RBC said.
At the same time, Saudi Arabia and Russia have flooded the market with excess supply. No wonder oil dropped to 18-year lows.
3:44 p.m. ET, March 26, 2020
NYSE President: Discussing closing markets increases investor uncertainty
New York Stock Exchange President Stacey Cunningham said keeping markets open is "really important" to fend off investor uncertainty.
No one is considering closing the market," said Cunningham on a conference call hosted by the Economics Club of New York Thursday, adding that "even discussing closing markets can actually increase that level of uncertainty and people feel like they're going to perhaps be stuck with a market closed and they won't have access to their money."
Cunningham said that she's been talking to other exchanges and regulators as financial markets experience increased volatility, but that closing them doesn't "eliminate any of those underlying concerns that exists that are driving markets down."
The NYSE president also said that greater market volatility and trading volume is putting strain on the exchange, but hasn't degraded performance of its systems.
"We've seen this enormous amount of strain but not a degradation of the performance—our systems continue to perform well," said Cunningham.
Cunningham said trading volume is three times what it is during normal periods.
1:49 p.m. ET, March 26, 2020
'Fortnite' creator Epic Games reveals financial terms of deals with three studios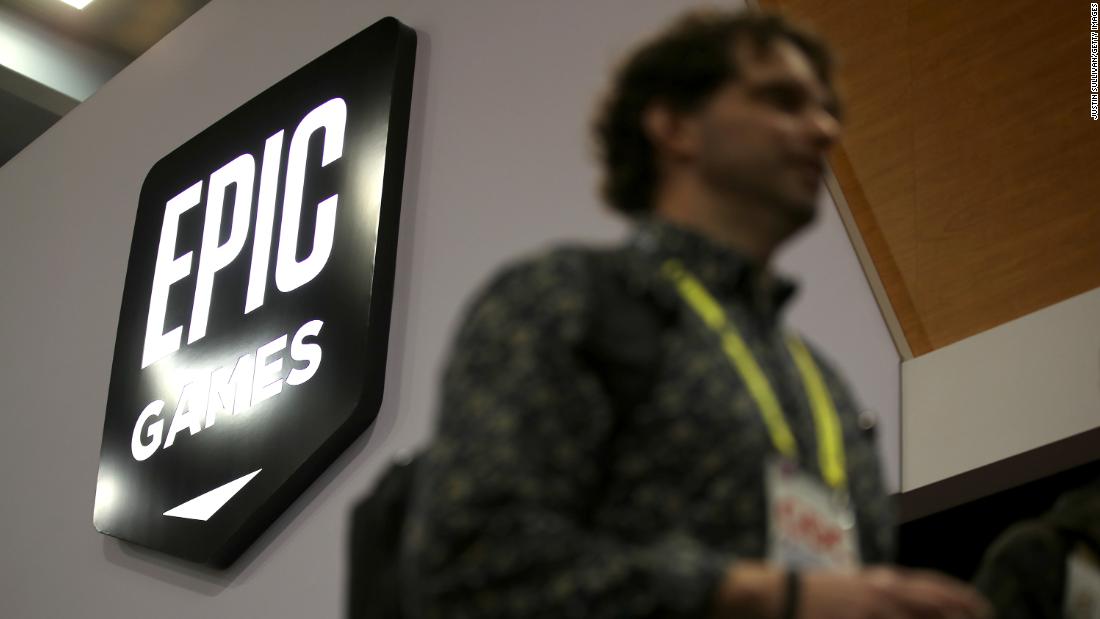 "Fortnite" maker Epic Games is getting into game publishing.
The company announced Thursday it's working with Finnish developer Remedy Entertainment -- which made the 2019 hit "Control" -- Japanese studio genDESIGN and Danish company Playdead to publish their games.
In an uncommon move within the industry, Epic revealed financial terms of the deal. Developers will retain 100% of intellectual property and creative control and receive "at least 50% of all profits," it said. Epic will fund up to 100% of development costs, including salaries and marketing.
"We're building the publishing model we always wanted for ourselves when we worked with publishers," said Tim Sweeney, founder and CEO of Epic Games, in a statement.
Epic already designs video games on its own platform the Unreal Engine and sells them in its store. Becoming a publisher for other studios is another step toward creating its own ecosystem of games.
The companies have yet to announce the games that will come out of these partnerships.
1:30 p.m. ET, March 26, 2020
The Dow has rallied nearly 20%... since MONDAY
The stock market is absolutely bonkers, and if any investors haven't gotten whiplash yet, this week just might do it.
Two weeks ago, on March 11, stocks fell into a bear market -- defined as 20% off their most recent peaks, which in this case was in February.
Well, this might just be the shortest bear market ever.
The Dow climbed nearly 20% between Monday's close and Thursday afternoon trading. Depending on where the index closes today, it could have re-emerged from a bear market in just eleven days.
The S&P 500, a broader measure of Wall Street, is still a bit deeper in bear market territory. Despite Thursday's rally, the index has bounced back "only" 14.9% since Monday's close.
1:11 p.m. ET, March 26, 2020
NBCUniversal CEO says he has tested positive for coronavirus
Jeff Shell, the CEO of NBCUniversal, told staff in an email on Thursday that he tested positive for the coronavirus.
"I recently have been feeling under the weather and just learned that I have tested positive for Covid-19," Shell wrote. "Although the virus has been tough to cope with, I have managed to work remotely in LA and am improving every day."
Shell, who succeeded Steve Burke in January, added that it is "absolutely critical" that employees work from home if they can.
"In the short term, the goals are simple. Take care of each other and take care of our viewers. Taking care of each other means working from home," he wrote. "While I can't give you an end date, I can commit that we will give everyone ample warning before we ask you to return to the office."
Larry Edgeworth, an NBC News staffer, died as a result of complications from the coronavirus last week.
12:28 p.m. ET, March 26, 2020
"Einstein of Wall Street" tests positive for coronavirus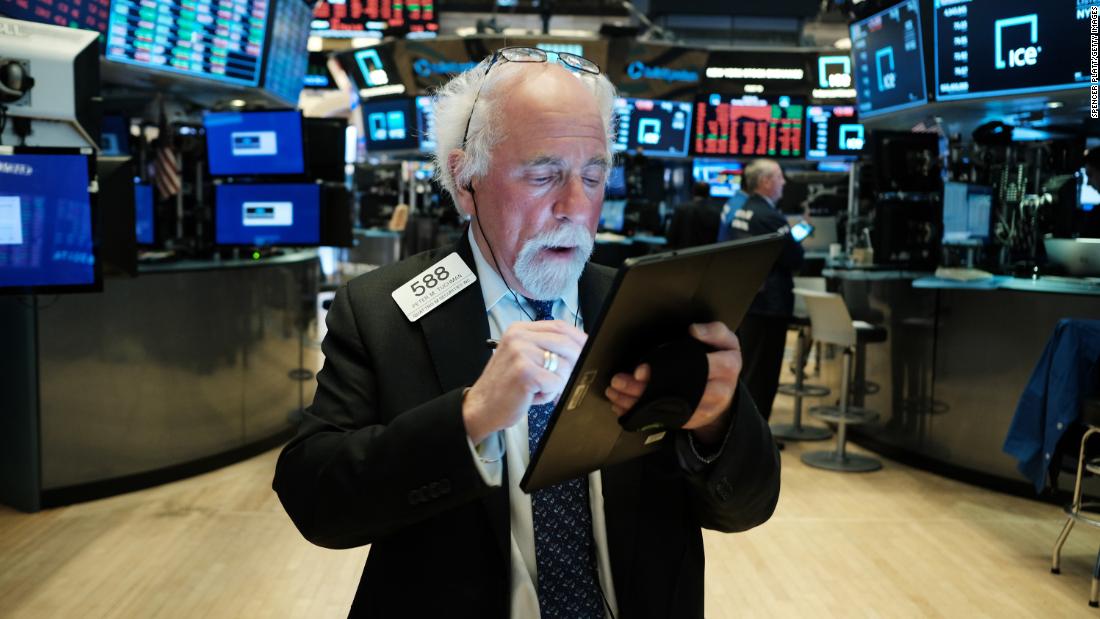 Peter Tuchman, arguably the most recognizable face on the floor of the New York Stock Exchange, confirmed on Thursday that he tested positive for coronavirus. 
The Quattro Securities trader told CNN that "while I am not feeling my normal energetic adrenaline-driven Wildman self, I will get to the other side of this and will see you again,"
Tuchman is one of the most photographed on the floor and is often called "Einstein of Wall Street".
In an Instagram post, Tuchman -- using a picture of a bottle of Corona beer -- said that he "has a great team of doctors no breathing problems that's a good thing all the other problems that's a bad thing will get to the other side of this, I'll be in touch.. soon.. send prayers." 
12:16 p.m. ET, March 26, 2020
Stocks are rallying at midday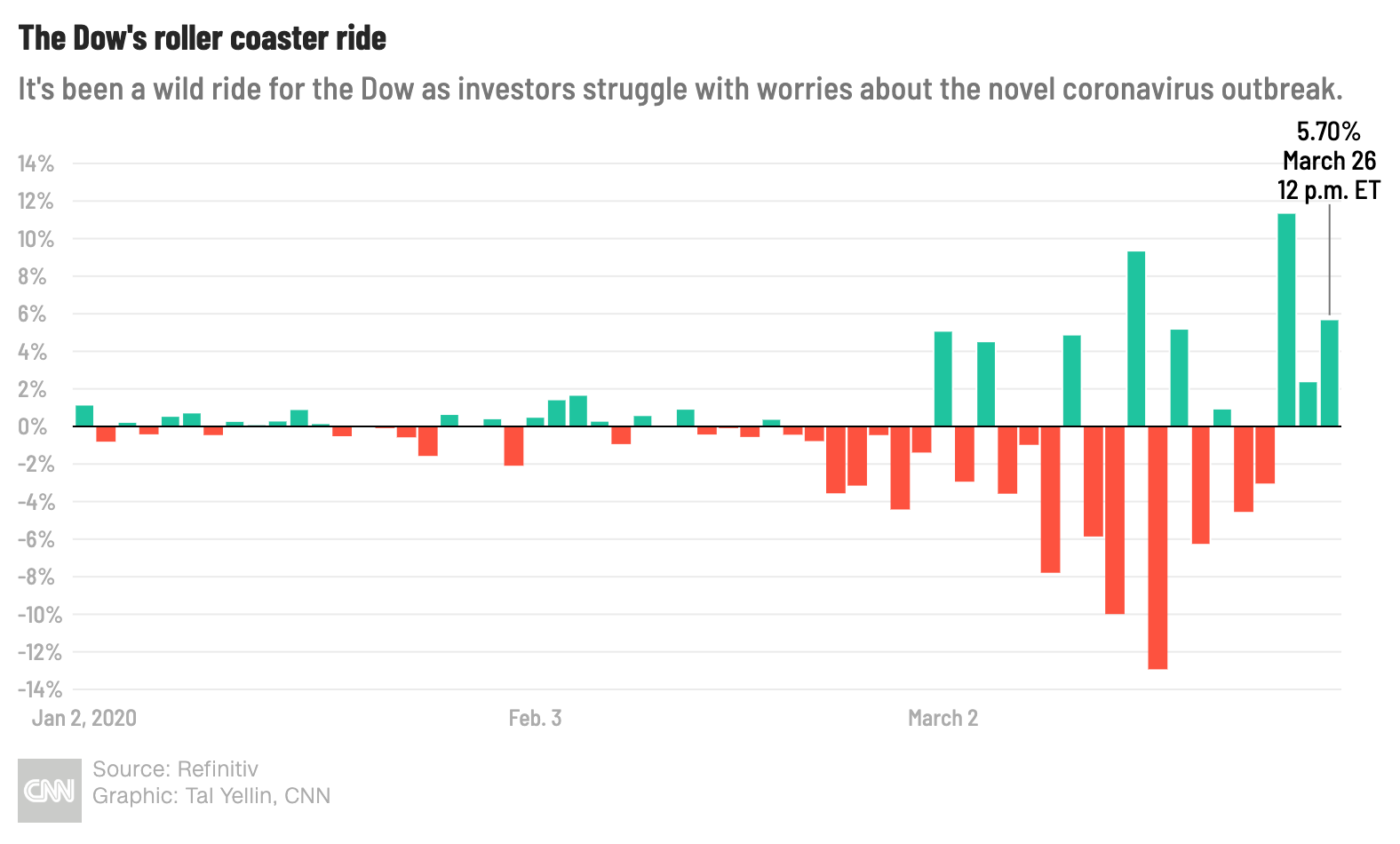 Looking at the performance of the stock market today, you wouldn't think that America logged the biggest number of claims for unemployment benefits in history.
Markets had already priced in a shock to the labor market, though, so stocks are rallying today in spite of the harsh reality of the economic data.
Stocks are going strong at midday, with the Dow up 5.7%, or 1,200 points, and the S&P 500 up 4.9%. The Nasdaq Composite was up 4.1% at noon.
12:03 p.m. ET, March 26, 2020
SEC suspends Zoom Technologies stock because people keep confusing it with the other Zoom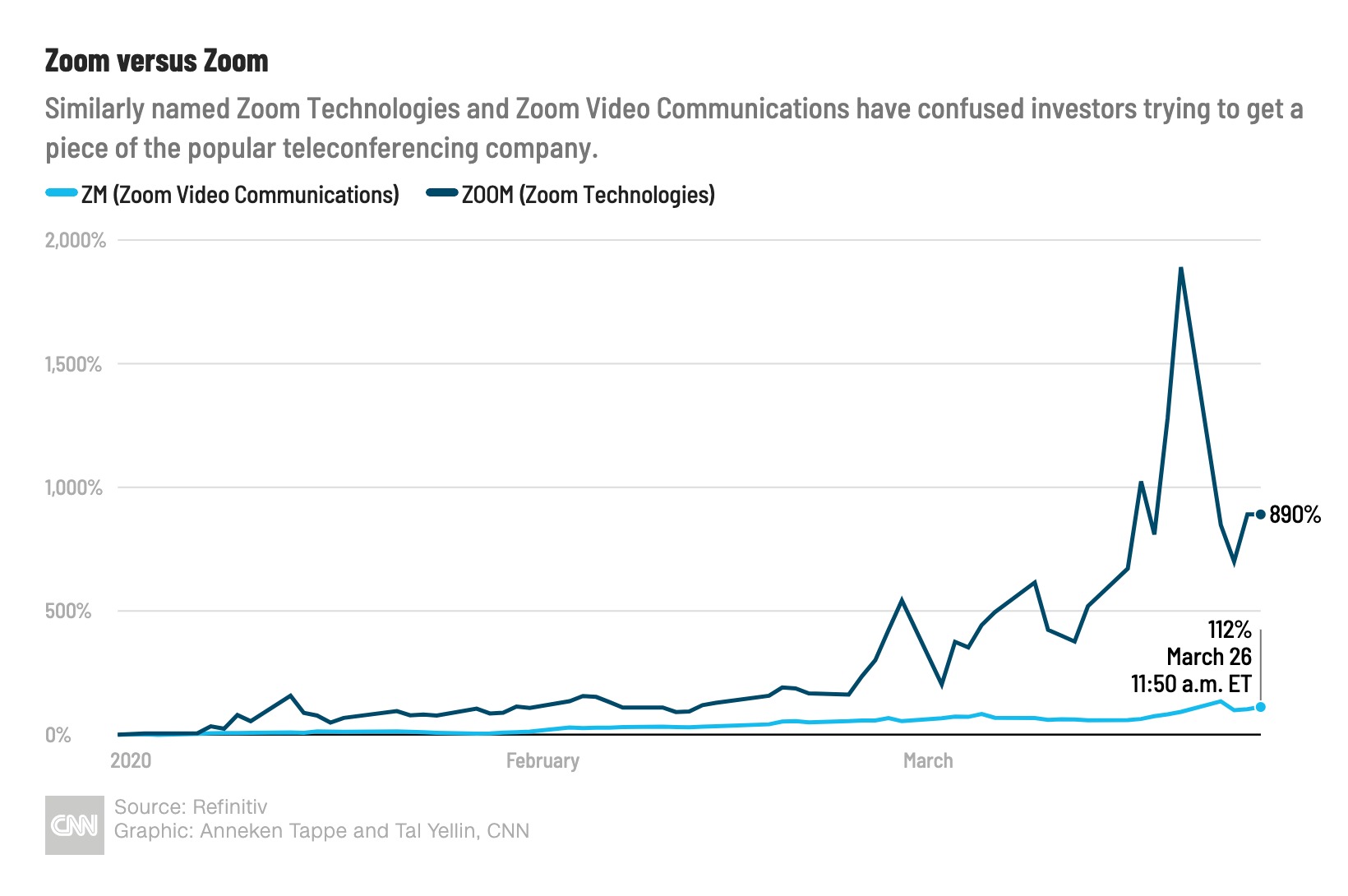 What's in a name? In some cases, the answer is a stock rally.
The Securities and Exchange Commission has stopped all trading in Zoom Technologies (ZOOM) starting today until end-of-day on April 8, in part because investors keep confusing it with Zoom Video Communications (ZM).
Zoom Technologies is a Chinese telecommunications company that hasn't filed anything with the SEC since 2015. Zoom Video Communications is an American remote conferencing services provider that IPOed just under a year ago and has gotten a major boost in customers, because people are working from home during the coronavirus outbreak.
You see how this might be confusing.
Zoom Video's stock has climbed 112% this year, while Zoom Technologies' shares are up 891%. If you're still confused about which one is which, here's a tip: only one of them is trading now.