US stocks resume their roller coaster ride: March 19, 2020
9:50 a.m. ET, March 19, 2020
Ford to offer six months of payment relief for new car buyers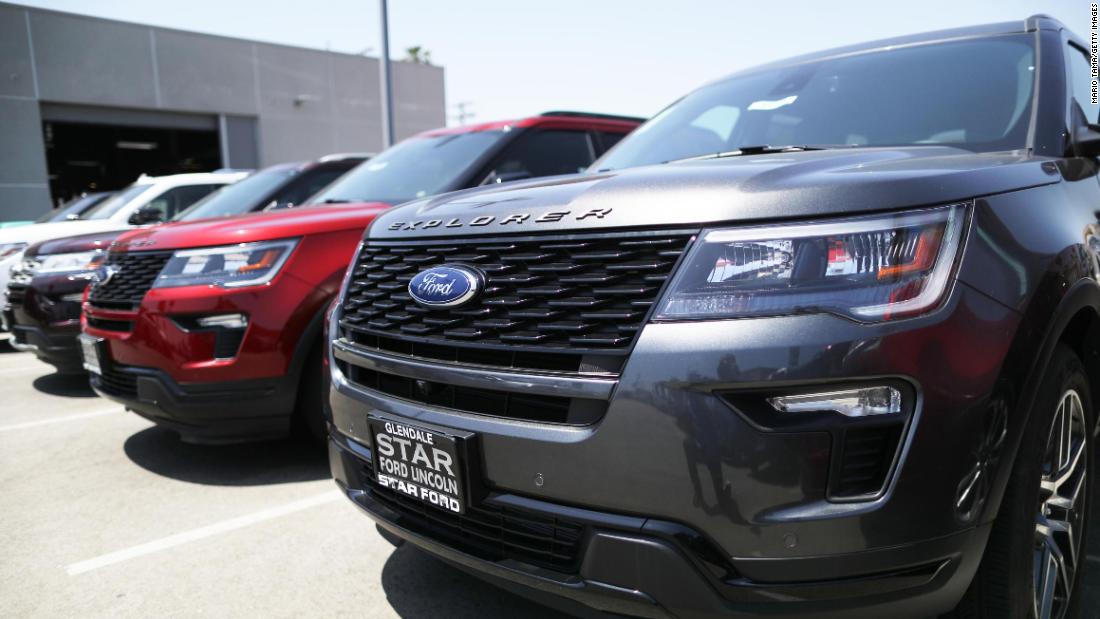 Ford announced it is offering customers no payments for six months on new car purchases in the face of the coronavirus crisis.
Ford said that under its "Built to Lend a Hand" program it will make three months of car payments for eligible new car buyers and that buyers can defer up to three additional months of payments when financing through Ford Credit.
Ford also announced it is suspending payments of its dividend, and that it will draw down $15.4 billion in cash it had available on two separate lines of credits to give it sufficient cash on hand heading into an economic downturn.
Early indications are that US automakers have ground to a halt in the face of crisis, although firm numbers have yet to be reported. Ford, General Motors and Fiat Chrysler all are shutting production at North American auto plants through the rest of the month to protect workers and because of supply chain issues. But the lack of sales means the shutdown likely won't cause a vehicle shortage at dealerships.
10:07 a.m. ET, March 19, 2020
Stocks open lower
US stocks opened mostly in the red on Thursday, adding on to yesterday's losses, as more and more corporations are coming out with revised performance outlooks amid the coronavirus crisis.
That said, Thursday's selloff is looking a little less dramatic compared to previous days. Trading was halted on both Monday and Wednesday this week after the S&P tripped a circuit breaker.
Both indexes extended their losses in the first moments of trading, with the S&P falling as much as 1.9% and the Dow dropping 2.4%.
The Nasdaq Composite opened slightly higher, up 0.2%, but pared these gains in the first moments of trading. The index was last down 1%.
9:36 a.m. ET, March 19, 2020
Fed makes emergency expansion of dollar program to Australia, Brazil and Mexico
The world is a scary place right now. So scary that investors can't get enough US dollars: Demand for the greenback, the world's safe haven currency, is through the roof.
The Federal Reserve responded to the shortage on Sunday by lending out dollars at near-zero rates to five major foreign central banks.
And now the Fed is expanding that emergency program to the central banks of nine other countries: Australia, Brazil, Denmark, South Korea, Mexico, Norway, New Zealand, Singapore and Sweden.
The goal is to prevent a liquidity crunch that chokes off credit to the coronavirus-battered economy.
The Fed said these new lending facilities will provide between $30 billion and $60 billion to each central bank for "at least" six months.
This is on top of the Fed's existing dollar liquidity swap lines with Canada, England, Japan, Switzerland and the European Central Bank.
The Fed said these facilities are "designed to help lessen strains in global US dollar funding markets," lowering the risk that this stress hurts the supply of credit to businesses and households -- at home and abroad.
9:20 a.m. ET, March 19, 2020
Philly Fed manufacturing index drops to lowest level since 2012
More ugly economic data this morning came from the Philadelphia Fed manufacturing index, which dropped to its lowest level since July 2012.
The index fell by 12.7 points, where economists had expected a 10 point increase.
The index is based on a business outlook survey, and expectations for general activity, new orders and shipments fell across the board as businesses are bracing for the economic impact from the coronavirus outbreak.
9:13 a.m. ET, March 19, 2020
Blue Apron stock is going absolutely bonkers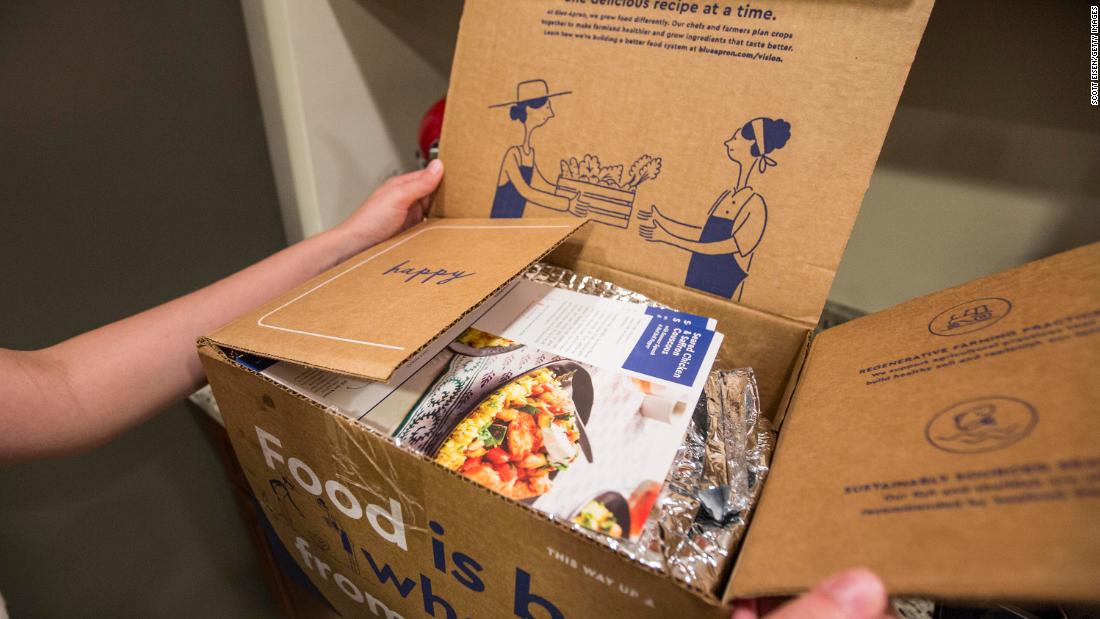 Apparently we're all going to become home chefs now that we're stuck indoors due to the coronavirus pandemic. How else to explain the insane surge in the price of meal kit company Blue Apron this week?
Shares of Blue Apron (APRN) started Monday trade at $2.28. They're now hovering around $23. That's a more than 900% pop! Not bad for an unprofitable company that's been pressured by intense competition and is considering a sale or other "strategic alternatives."
But Blue Apron isn't the only food delivery company that's gotten a lift lately. Waitr Holdings (WTRH), which owns Bite Squad and focuses on delivering meals from local restaurants in smaller markets, has skyrocketed from about 32 cents a share to $3.25 this week.
Waitr reported a solid jump in revenue for its latest quarter on Monday -- even as losses grew. The company also said Tuesday it is working with restaurants to offer free delivery, is supplying all drivers with gloves and will continue to pay any hourly worker who is in quarantine or has contracted coronavirus.
9:04 a.m. ET, March 19, 2020
Microsoft reports huge jump in Teams users over past week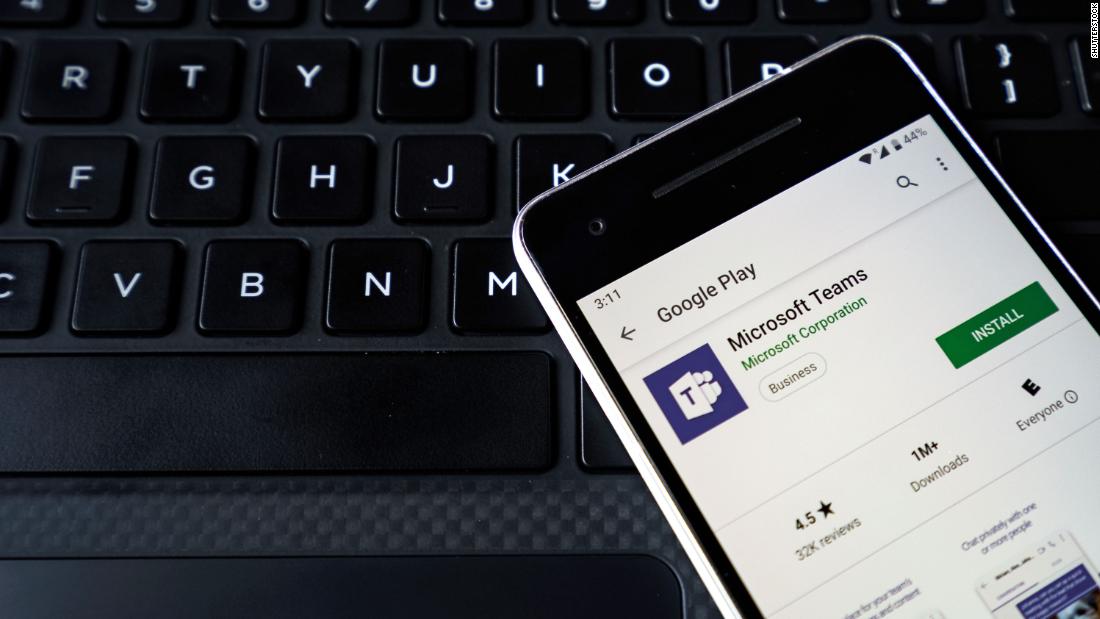 More people are working from home as a result of the COVID-19 coronavirus outbreak -- and that appears to be giving Microsoft (MSFT) a boost.
The software giant announced Thursday that its Team collaborative software tool, a rival to Slack (WORK), had 44 million daily users globally as of March 18. That's an increase of 12 million from just the past week. Microsoft also said it has 20 customers with more than 100,000 users, up from 14 a week ago. The company inked a deal for the NFL to use Teams earlier this month.
"Our customers have certainly turned to Teams during this challenging time, and we've seen usage spikes in markets most impacted by COVID-19. The last seven days, however, have shown the sheer unprecedented nature of the global demand," said Jared Spataro, Microsoft 365 Corporate Vice President, in a statement.
Microsoft made the announcement on what is the third anniversary of Teams and it also revealed several new features to keep the pressure on Slack. Shares of Slack have fallen 20% this year and are down nearly 60% from the high they hit shortly after last year's direct listing. Slack issued a disappointing outlook last week.
8:47 a.m. ET, March 19, 2020
Jobless claims spike to highest level in 2 1/2-years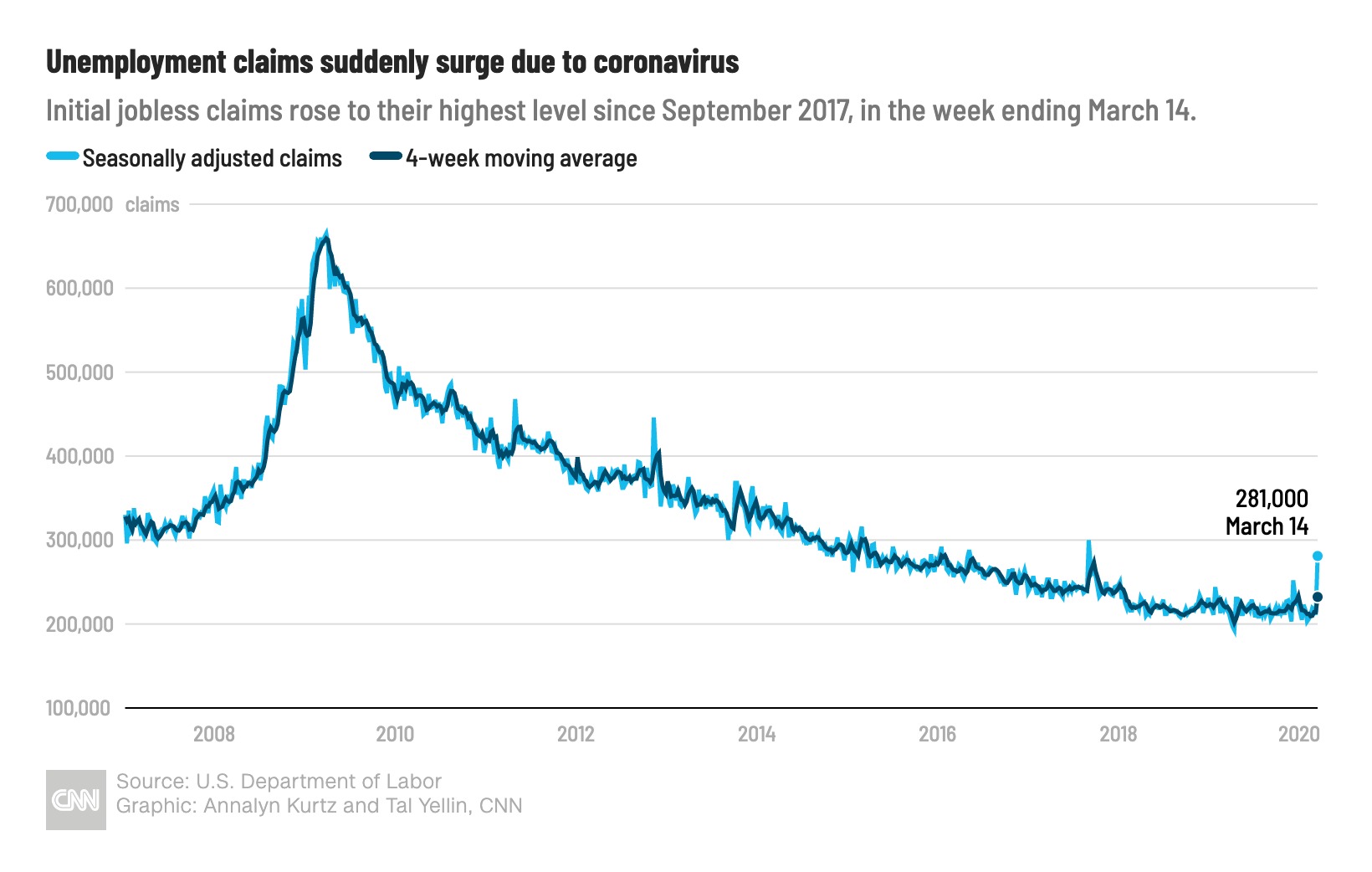 Last week's jobless claims spiked to 281,000 -- the highest level since September 2017.
This data point will get more and more attention in the months to come as it is published on a weekly basis, tracking the real economy much more closely than monthly data, which is always backwards-looking.
Layoffs are expected to worsen significantly as the coronavirus crisis is forcing businesses to readjust.
Treasury Secretary Steven Mnuchin said Wednesday that without the Trump administration's economic relief package, which includes loans to businesses so they can make payroll, US unemployment could spike to 20%, from its historically low level of 3.5% at the moment.
8:09 a.m. ET, March 19, 2020
The latest recession forecast from JPMorgan is dire
JPMorgan Chase (JPM), the biggest US bank, has dramatically changed its economic forecast for the next year. And it's bleak.
There is no longer doubt that the longest global expansion on record will end this quarter," Bruce Kasman, the bank's head of economic research, told clients on Wednesday.
"The key outlook issue now is gauging the depth and the duration of the 2020 recession," he added.
JPMorgan now believes that China's economy will shrink by 40% compared to the previous quarter between January and March, the biggest contraction recorded over the past 50 years at least. That will reverberate across Asia.
The shock to the United States and Europe, meanwhile, is expected to be concentrated between April and June as daily life grinds to a standstill. 
The bank thinks US GDP will shrink an annualized rate of 14% in the second quarter, far worse than in the fourth quarter of 2008, which yielded the steepest contraction of the Great Recession.
8:06 a.m. ET, March 19, 2020
Lufthansa is only flying 63 planes
Lufthansa (DLAKY) is grounding 700 of its 763 planes, which amounts to 90% of its fleet, the German airline announced Thursday in a drastic move to ensure its survival.
CEO Carsten Spohr said in a release that the coronavirus "has placed the entire global economy and our company as well in an unprecedented state of emergency." He also warned that the "future of aviation cannot be guaranteed without state aid."
It has slashed capacity and recently raised 600 million euros giving it liquidity of roughly 4 billion euros.