Wall Street's roller coaster week continues: March 11, 2020
4:27 p.m. ET, March 11, 2020
Dow closes in a bear market
US stocks sold off sharply on Wednesday, with the Dow falling into a bear market.
That means the Dow fell 20% below its most recent high.
The Dow finished 1,465 points, or 5.9%, lower. At its low-point of the day, the index was down 1,690 points.
Stocks erased all of Tuesday's gains. Coronavirus fears again weighed on markets, as the World Health Organization designated the global outbreak a pandemic.
The S&P 500 fell 4.9%. The index briefly fell into bear market territory in afternoon trading.
The Nasdaq Composite closed down 4.7%.
3:26 p.m. ET, March 11, 2020
S&P 500 also slips into bear market territory
3:16 p.m. ET, March 11, 2020
Minutes after Dow hits bear territory, NY Fed vows to pump in billions more
The New York Federal Reserve promised Wednesday to inject tens of billions of additional dollars into the financial system in hopes of easing coronavirus pressures rocking Wall Street.
The announcement, made minutes after the Dow plunged into bear market territory, signals the Fed's willingness to support teetering financial markets.
It marks the second ramp-up by the NY Fed in the past three days.
The NY Fed said it will now offer at least $175 billion in its daily overnight repo operations. That's up from at least $150 billion that was announced Monday and at least $100 billion before that.
And the NY Fed will now offer one-month repo operations of at least $50 billion.
Officials cited the coronavirus pandemic, which has hit Wall Street firms and forced some employees to work remotely.
The moves should "help smooth functioning of funding markets as market participants implement business resiliency plans in response to the coronavirus," the NY Fed said in a statement.
Translation: the Fed doesn't want borrowing costs to spike during the ongoing market mayhem. That's what happened last fall, setting off alarm bells on Wall Street.
3:00 p.m. ET, March 11, 2020
Gilead Sciences is one of only six S&P 500 stocks up today
Investors are running for the hills because of the coronavirus -- but one of just a handful of S&P 500 stocks that was trading higher Wednesday is up because of hopes that it can treat the virus.
Biotech Gilead Sciences (GILD), which is testing its remdesivir drug in human patients, was up more than 1%. The World Health Organization has previously said that the antiviral vaccine might be the best hope to contain COVID-19.
Insurance brokers Wills Towers Watson (WLTW) and Aon (AON), cloud software firm Citrix (CTXS), web content management firm Akamai (AKAM) and wireless giant T-Mobile (TMUS) were the only other S&P 500 stocks higher in late afternoon trading.
2:38 p.m. ET, March 11, 2020
Dow slips into bear market territory
The Dow fell into bear-market territory, dropping more than 20% from its most recent peak, which it reached on February 12.
The index was last down 1,390 points, or 5.6%, Wednesday.
The S&P 500, which is the broadest measure of the US stock market, as well as the Nasdaq Composite are not in bear-market territory, although they are also edging closer.
The S&P 500 fell 5.1%, and the Nasdaq was down 5%.
Watch:
2:40 p.m. ET, March 11, 2020
Starbucks expands catastrophe pay policy due to coronavirus
Starbucks (SBUX) employees who have been diagnosed with, exposed to or had close prolonged contact with someone who has coronavirus can now claim up to 14 days of catastrophe pay, the chain said in note to employees Wednesday.
"I want you to know that here at Starbucks, you should never have to choose between work and taking care of yourself," wrote Rossann Williams, who leads company-operated business in the United States.
Employees don't need to show symptoms to take advantage of the expanded policy, she added. If they can't come back to work after 14 days, employees may qualify for more paid leave.
Starbucks previously announced that it will make its March 18 annual shareholder meeting a virtual gathering in light of the outbreak. Starbucks is based in Washington state, where at least 273 cases of coronavirus have been reported.
2:18 p.m. ET, March 11, 2020
The Dow is extremely close to bear market territory
Stocks continue to plunge due to fears about the coronavirus outbreak and there seems to be no end in sight to the market panic. If this keeps up, the Dow could soon find itself in bear market territory -- 20% off a recent high. The S&P 500 and Nasdaq aren't far behind.
Here's where the three most widely watched market indexes stand as of mid-afternoon Wednesday -- and what they need to close at in order to be considered in a bear market.
Two other market barometers -- the Dow Jones Transportation Average and the small cap focused Russell 2000 -- are already in bear status.
2:22 p.m. ET, March 11, 2020
Stock hit fresh lows after WHO calls coronavirus a 'pandemic'
The World Health Organization officially designated the global coronavirus outbreak a pandemic on Wednesday. The disease has infected 118,000 people across the world.
Even though switching the label from epidemic to pandemic doesn't change the numbers, stock sold off further in the early afternoon.
The Dow dropped more than 1,100 points, or 4.5%, while the S&P 500 fell 4.1%.
The Nasdaq Composite was down 3.9%.
2:43 p.m. ET, March 11, 2020
'Stay calm and stay invested,' says Goldman Sachs Asset Management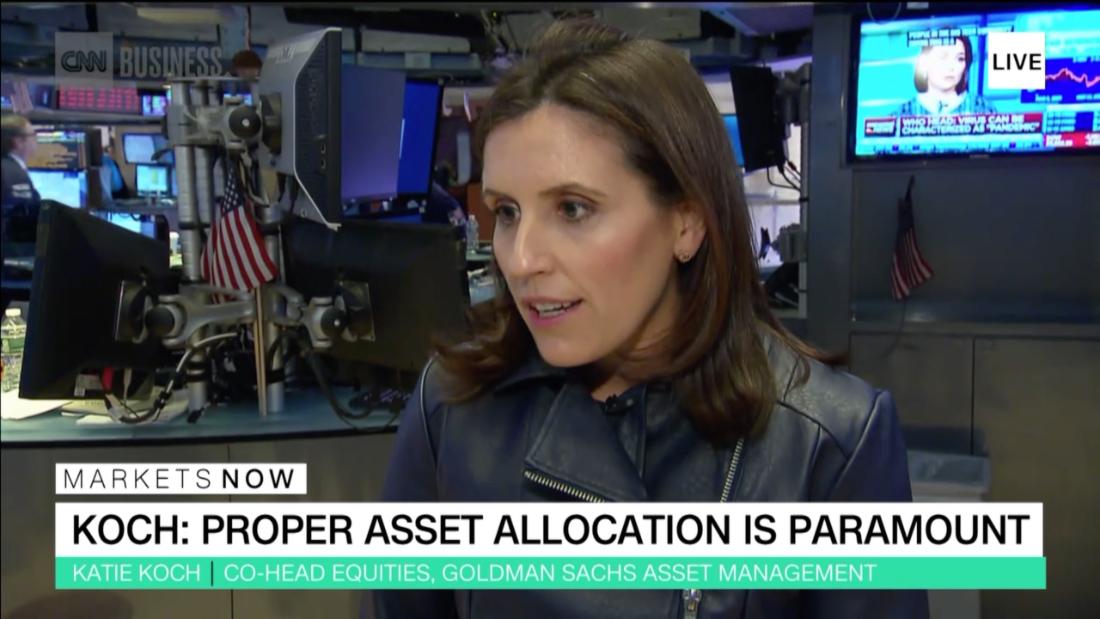 As stocks continue to fall, investors have got to keep a clear head.
"What we're actually telling clients to do is to stay calm and to stay invested," Katie Koch, co-head of Goldman Sachs Asset Management, told Alison Kosik on the CNN Business' digital live show Markets Now.
While the reflex might be to sell as soon as the market flashes panic, timing the best points is to cash out is difficult. That's why it's important for investors to stay put.
"It's very possible that we will have an economic contraction," Koch said. But the economy moves in cycles, so investors shouldn't panic.
Many people came into the virus outbreak with a balanced portfolio consisting of stocks and bonds, Koch said. The recent selloff might be a good point to rebalance these portfolios and add some cheap stocks, Koch said.
Sectors of interest right now are health care, including biotechnology, as well as consumer companies, she said.
"We're a big believer in the long-term spending power of the millennial consumer," Koch added. "They have a perpetual desire for experience over things."
Watch the interview here: