Wall Street's roller coaster week continues: March 11, 2020
1:29 p.m. ET, March 11, 2020
Boeing institutes a hiring freeze
Boeing has announced a hiring freeze as it navigates the "global economic disruption" from coronavirus and the ongoing grounding of its best-selling 737 Max plane.
"The year ahead is shaping up to be as challenging for our business as any in the recent past," an internal email to employees said. "On top of the work of safely returning the 737 MAX to service and the financial impact of the pause in MAX production, we're now facing a global economic disruption generated by the COVID-19 coronavirus."
To preserve cash, the company said it's taking several steps.
Limiting travel and discretionary spending to business-critical activities only.
Limiting overtime to critical 737 MAX return-to-service support and other key efforts in support of our customers.
Pausing or placing on hold any new personnel requisitions at this time, pending a review of priorities and critical needs.  
12:37 p.m. ET, March 11, 2020
Is Washington's slow policy response hurting US markets?
Global stocks are in the red Wednesday as fears about the coronavirus fallout are once again weighing on risk appetite.
But the selloffs are not created equal: US markets are down further than their European peers. Could this be the beginning of a trend?
"A gap may be about to open up between US and European market performance, reflecting the lack of policy action from the US government and straightforward interest rate cuts from the Federal Reserve," said Seema Shah, chief strategist at Principal Global Investors.
European countries, meanwhile, are ramping up their stimulus plans.
The UK unveiled a fiscal plan to combat the economic fallout from the virus, which could perhaps even be a blueprint for the United States, Shah said.
Interest-rate cuts alone won't help economies with the fallout -- but what will is targeted measures to ease the strain on smaller businesses and the most vulnerable parts of the economy, she added.
"Powerful, coordinated policymaker action may be the US economy's best chance of ensuring that this shock does not evolve from a short-lived hit to a prolonged and devastating downturn," Shah said.
12:20 p.m. ET, March 11, 2020
Boeing customers canceled more planes than they ordered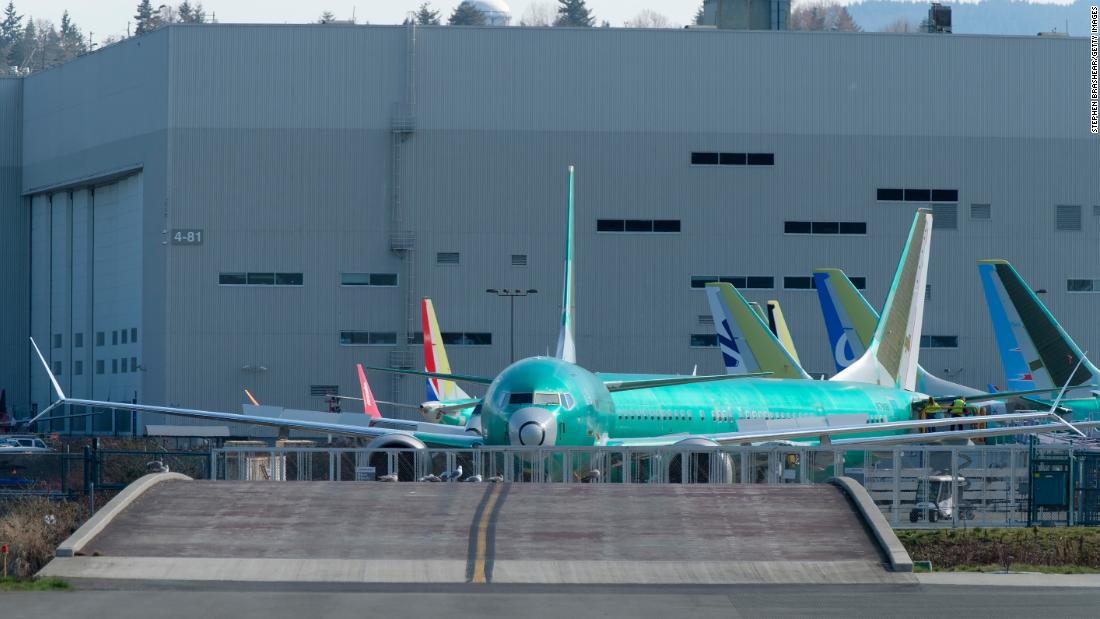 Yeah, so, not such great news for Boeing (BA) today.
Obviously the 737 Max was already in deep, deep trouble, and airlines were growing impatient with the yearlong grounding. But travel has come to a virtual standstill because of coronavirus, and airlines don't exactly need new planes right now. Super-cheap oil has also convinced some companies to live with their older, less fuel-efficient fleets for the time being.
So airlines canceled more orders for Boeing planes than they added new ones, Boeing announced Wednesday.
Boeing said customers canceled a net 43 orders for 737 Max jets in February. Although it received orders for other planes, Boeing still had a net-negative 25 orders for the month.
They say "if it's not Boeing, I'm not going." But currently no one is going anywhere, so...
12:11 p.m. ET, March 11, 2020
Stocks are near session lows at midday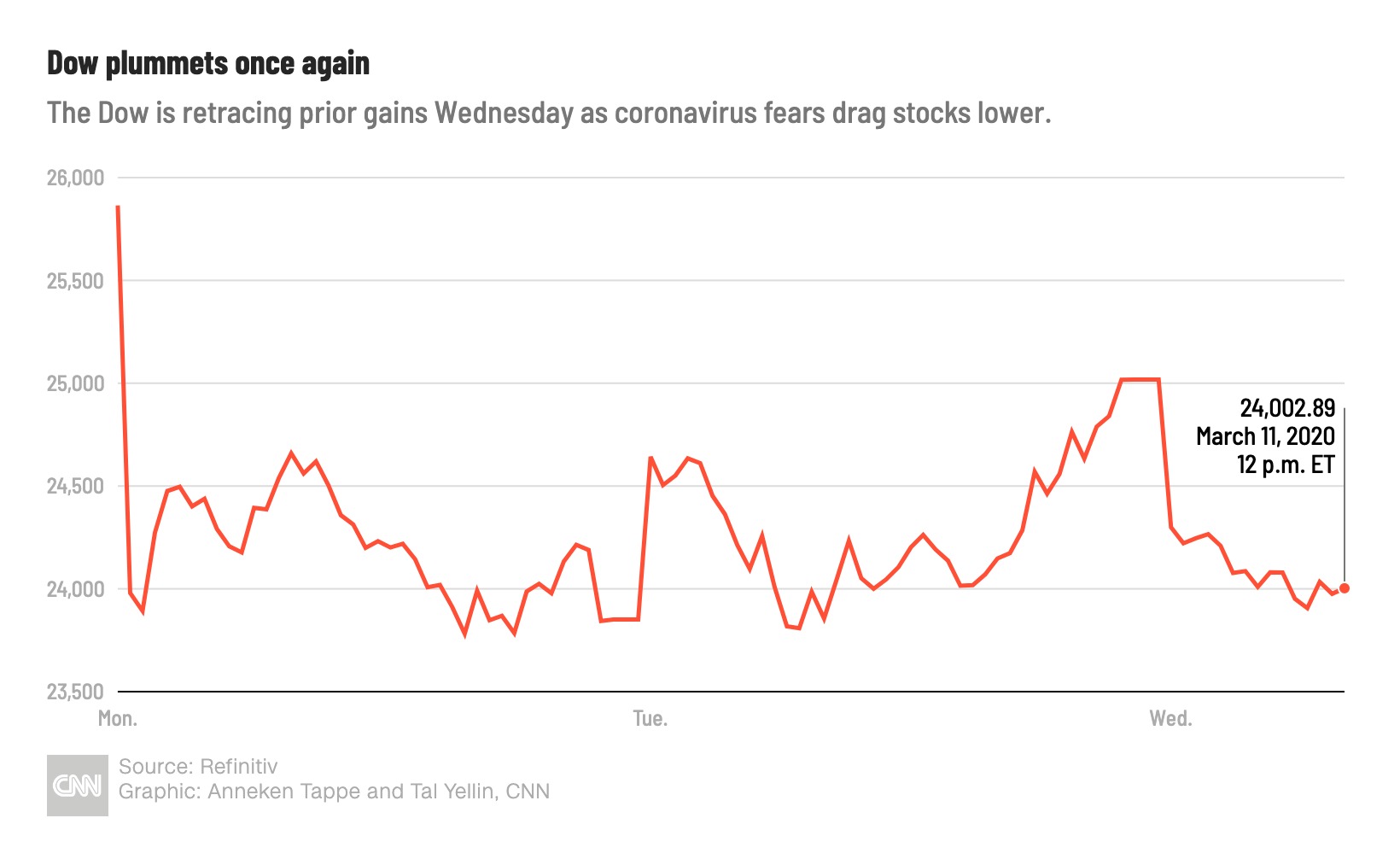 US stocks remain firmly in the red around midday.
The Dow was down more than 1,000 points, or 4%, near its session lows. The S&P 500 fell 3.7%, and the Nasdaq Composite dropped 3.4%.
12:18 p.m. ET, March 11, 2020
Disney's Bob Iger: 'We're all sobered' by coronavirus crisis
Bob Iger, Disney's executive chairman, opened the company's annual shareholder meeting on Wednesday by addressing the coronavirus crisis.
"I think it's fair to say that we're all sobered by the concern that we feel for everyone affected by this global crisis," Iger said on Wednesday. "These are challenging times for everyone."
Iger, who handed over the CEO title to Bob Chapek last month, told shareholders at the meeting in Raleigh, North Carolina, that Disney has "demonstrated repeatedly over the years is that we are incredibly resilient."
"When you think about the world today, what we create at the Walt Disney Company has never been more necessary or more important," he added.
Disney did not give updates on how the coronavirus would impact their domestic parks or their films. One such film that could be disrupted by the outbreak is "Mulan," which is set to open in North America on March 27.
Iger also used the meeting to officially introduce the new CEO to shareholders.
"It's a tremendous honor and a privilege for me to assume the role of CEO of what I truly believe is the greatest company on earth," Chapek said.
10:53 a.m. ET, March 11, 2020
Dow slides 1,000 points
US stocks sold off further around mid-morning, with the Dow plummeting more than 1,000 points.
The index was last down 4.1%, or 1,015 points, while the broader S&P 500 fell 3.7%.
The tech-heavy Nasdaq Composite fell 3.3%.
Banks are downgrading their earnings expectations for US equities, which isn't helping the market.
"We believe the path of quarterly profits will be more important than the full-year numbers," said Jonathan Golub, Credit Suisse's chief US equity strategist.
Golub said first quarter company earnings should be positive, albeit weaker, before profits go negative in the second quarter. He added that earnings will recover by the end of the year 2020.
Earlier in the day, Goldman Sachs slashed its S&P 500 earnings forecast.
10:33 a.m. ET, March 11, 2020
Here's why you should worry about the turbulent stock market... and why you shouldn't
It's been a wild couple of weeks for investors. Deciding whether to remain calm or freak out about the new normal of thousand-point selloffs isn't easy.
Stocks are inching closer to bear market territory, having dropped nearly 20% from their record highs in February as the market tries to price in the risk of the global coronavirus outbreak. Sandwiched between the bad days have been sharp rebound rallies that included the Dow's best three days in history in terms of points gained.
So what gives?
If market strategists can agree on anything in these volatile times, it's not to panic.
Since the start of the year, the S&P 500 has fallen more than 14%. But last year's rally boosted the index nearly 29%. So on balance, it's still up versus 2019.
Coronavirus, as scary as it might be for the economy, is also only a temporary factor.
At the same time, risks to America's longest economic expansion in history are growing.
It will take a few more weeks before economic data points for the first three months of the year begin to trickle in, finally giving investors a look at the initial impact from the coronavirus outbreak.
But with cases increasing in the United States, second-quarter economic growth could also be at risk. Some forecast negative GDP growth between April and June. No matter if it's negative or just slowing growth, though, the virus outbreak is expected to deal a hit to full-year GDP growth.
Read more about whether you should worry about the stock selloffs here.
10:58 a.m. ET, March 11, 2020
MGM Resorts shuts Yonkers Raceway due to death of worker with coronavirus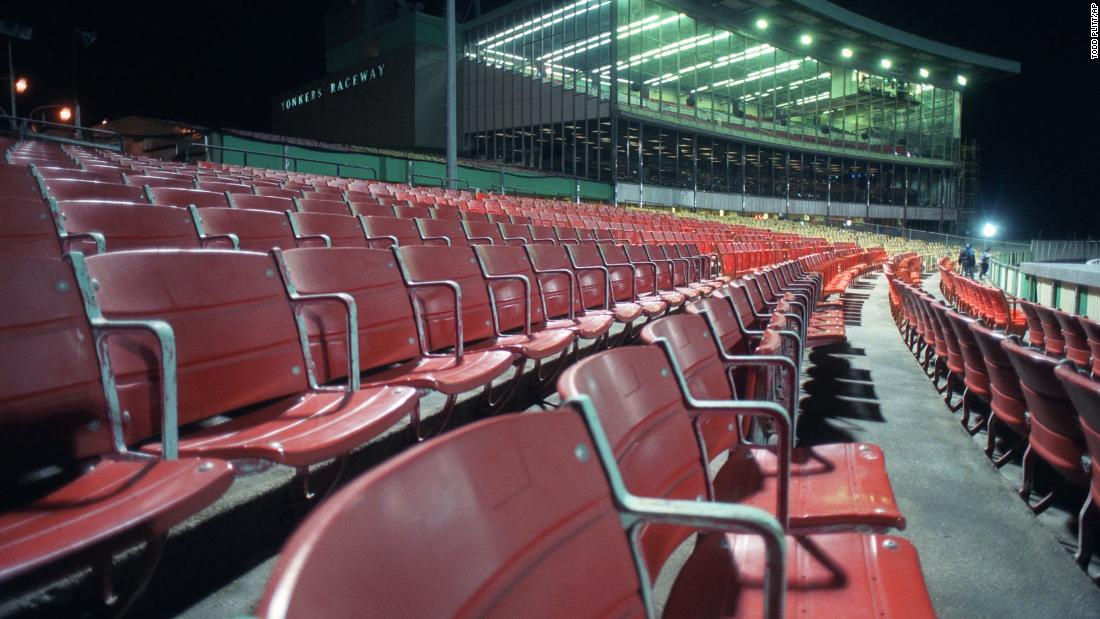 Casino giant MGM Resorts (MGM) is closing Yonkers Raceway near New York City after a worker for the Standardbred Owners Association -- the harness horsemen racing association that represents employees at the track -- died after being diagnosed with the COVID-19 coronavirus.
The employee worked in the office next to the racetrack and paddock and was a New Jersey resident, MGM Resorts said in a statement, adding that the company believes the worker was last on the property more than a week ago. MGM Resorts is now asking other employees who work in that area of the track to self-quarantine.
Shares of MGM Resorts tumbled 10% Wednesday morning as the broader market plunged due to renewed coronavirus fears. The company also owns the Empire City Casino that is nearby the harness racing track, as well as casinos in Las Vegas and Macau.
MGM Resorts is now adding hand sanitizer dispensers in high-traffic areas at its properties and is increasing disinfectant procedures for bathrooms, doors, light switches, elevator buttons and slot machines.
The Las Vegas Review Journal also reported that MGM Resorts has decided to temporarily shut down its buffet service at Las Vegas casinos. MGM was not immediately available for comment.
9:52 a.m. ET, March 11, 2020
Dow falls 700 points at the open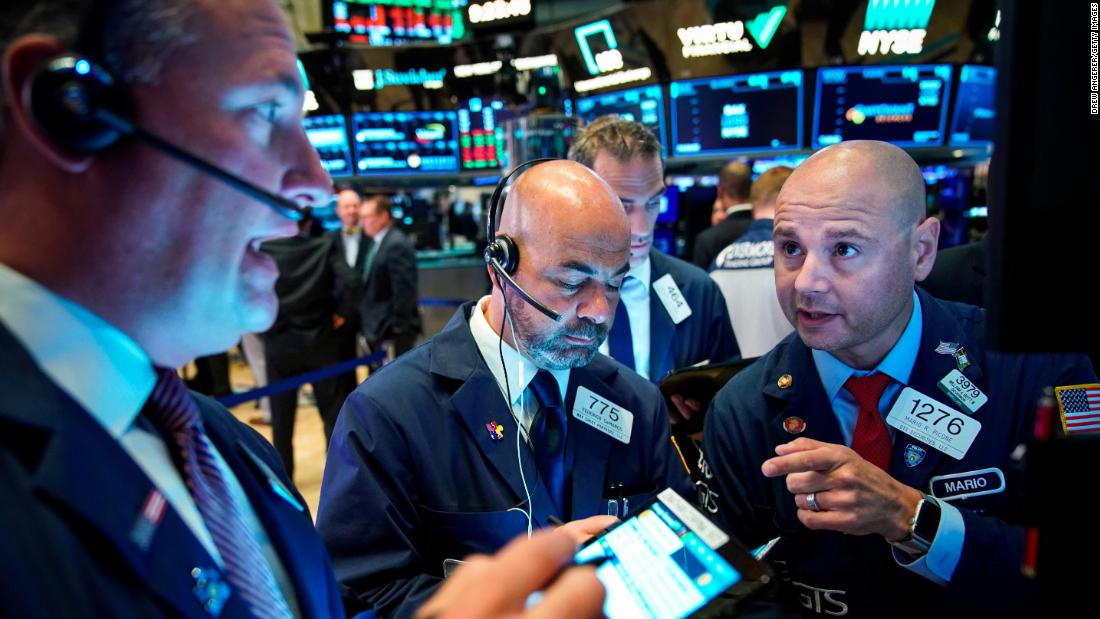 US stocks opened in the red on Wednesday, cutting off Tuesday's rally, as worries about the coronavirus outbreak once again took over.