What's moving markets today
5:50 p.m. ET, February 28, 2019
Gap Inc. will close 230 stores
Gap Inc. said it will close 230 Gap stores over the next two years. The closures will affect "specialty" Gap stores, which includes mall-based stores.
About 130 of those closures will happen this year. But the company also plans to open Old Navy and Athleta locations. Athleta, which will be part of the new Gap company, is a women's athleisure chain that has been a success.
As of the end of last quarter, there were 1,242 Gap stores worldwide — 758 of them were in North America.
5:34 p.m. ET, February 28, 2019
Gap Inc. had a rough holiday season
The holiday quarter wasn't great for Gap Inc.
The company's overall sales fell 3%, and profit fell 6%. Gap Inc. said profit was squeezed by bigger sales, coupons and other promotions than it normally provides customers.
Sales would have been even worse if it weren't for Old Navy. Sales at the Gap fell 5% and sales at Banana Republic dropped 1%.
5:28 p.m. ET, February 28, 2019
Why Old Navy is splitting from the Gap
Old Navy is Gap Inc.'s best-performing brand.
Last quarter's sales at stores open at least a year:
Old Navy: flat
Gap: down 5%
Banana Republic: down 1%
2018's sales at stores open at least a year:
Old Navy: up 3% versus
Gap: down 5%
Banana Republic: up 1%
Sales were slower across the board for all of Gap Inc.'s brands last quarter and last year. But Old Navy was the only business that grew in 2018.
5:17 p.m. ET, February 28, 2019
Old Navy spinoff: Sizing up the two new companies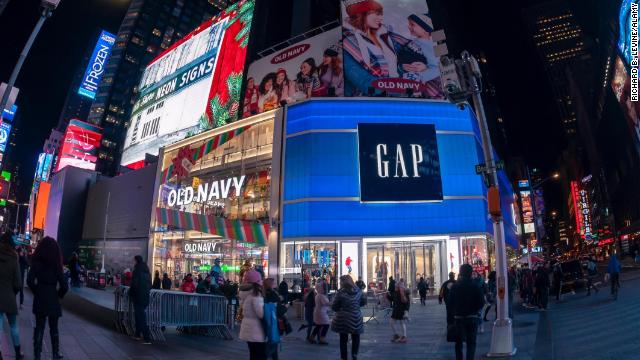 Old Navy
— >> $8 billion in annual revenue
— >> Sonia Syngal, Old Navy's current CEO, will lead the company
NewCo (real name TBD)
— >> $9 billion in annual revenue
— >> Art Peck, Gap's current CEO, will lead the company
Gap
Athleta
Banana Republic
Intermix
Hill City
5:42 p.m. ET, February 28, 2019
Gap is splitting in two
Gap (GPS) made a major announcement this afternoon: It plans to separate Old Navy from Gap, Banana Republic and Athleta and create two publicly traded companies.
Robert Fisher, Gap's board chairman said:
Each company now requires a different strategy to thrive moving forward."
Gap stock was up more than 20% in after hours trading. The spinoff is expected to be completed in 2020.
CNN Business' Nathaniel Meyersohn wrote this about the company in November:
The Gap was the coolest brand in retail two decades ago. It rode the mall boom in the back-half of the 20th century and won over everyone from teens to moms to celebrities like Sharon Stone. ... But years of missteps and a changing retail landscape have caught up to Gap's core brand.
4:25 p.m. ET, February 28, 2019
US markets close lower, but posted gains for the month
The Dow fell 69 points, or 0.3%. The S&P 500 was down 0.3%, while the Nasdaq also declined 0.3%.
But all three indexes finished February higher. The Dow increased 3.7%. The S&P 500 finished up 3%, and the Nasdaq ended up 3.4%.
JCPenney (JCP) surged 23% on Thursday to $1.52 after the retailer reported that the holidays weren't as bad as some expected. That's good news for the struggling company.
HP (HPQ), meanwhile, sunk 17% after the company's earnings disappointed.
Booking (BKNG) Holdings fell 11% on fears of a travel slowdown in Europe.
Tesla (TSLA), the electric car maker, finished up nearly 2% ahead of a mysterious announcement. CEO Elon Musk caused a stir when he teased the news Wednesday.
1:17 p.m. ET, February 28, 2019
Amazon's real estate chief wants to hyper-focus on Virginia
Two weeks after killing a deal to build a new campus in New York City, Amazon is expressing lots of love for the company's remaining second headquarters site -- Arlington, Virginia. 
"We want to locate in a community where not only our company but our employees are welcome, and we feel that in Arlington," said Amazon's worldwide head of economic development, Holly Sullivan, speaking before a crowd of local real estate types at an event sponsored by the news website Bisnow. 
Sullivan said the company sent a representative around to bars and coffeeshops while they were vetting sites in Crystal City, the dull collection of office buildings just across the river from Washington, DC, chatting up residents to see what they thought of Amazon coming to the area.
In contrast, Amazon had faced fierce opposition from local politicians in Queens as well as some activist groups, although polls showed that the majority of New York residents supported their plan to put 25,000 workers in Long Island City. 
 "We think we could've gotten New York done, but you always have to say, what are the costs?" Sullivan said. "We think we made a very prudent decision that gives us an opportunity to hyper-focus on Virginia." 
The path to getting a nearly $3 billion package of tax incentives negotiated in New York by Gov. Andrew Cuomo and New York Mayor Bill de Blasio had been complicated by a shift in power in New York's state senate. In Virginia, however, the $750 million incentive package sailed through the legislature and was signed by Democratic Gov. Ralph Northam in early February. 
Yet a handful of protesters interrupted Thursday's event for several minutes, chanting a demand for public hearings on the Amazon deal. They were met with boos from the sold-out audience, before being shepherded out. 
New York officials, while mourning Amazon's decision to scratch plans for New York, have also said that Amazon's public relations strategy was partly to blame for local opposition, along with "misinformation" about the nature of tax incentives. 
"I think they were not prepared in the way they reacted," said New York City Economic Development Corporation director James Patchett in a speech hosted by Crain's New York Business last week. "They didn't perform particularly well during their public hearings. They never hired a single New Yorker. They never really connected with people in the city."
Amazon only informed officials that it had chosen Long Island City 24 hours before planning to make a public announcement, Patchett said, which left them scrambling to organize the rollout.