What's moving markets today
4:14 p.m. ET, February 15, 2019
A sad toy story: Mattel plunges 20% on poor outlook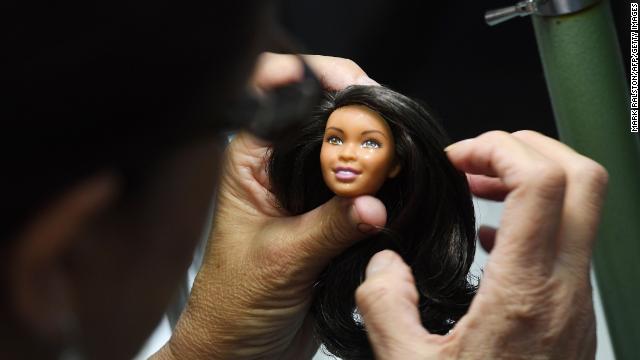 So much for that big turnaround for Mattel. The toy maker's stock plunged nearly 20% late Friday, its worst drop in nearly 20 years, after executives warned during an analyst presentation at New York's Toy Fair that sales for the first quarter of 2019 and profits for the full year wouldn't be as good as hoped.
The news comes shortly after Mattel wowed Wall Street with better-than-expected results during the holidays, led by solid sales for its iconic Barbie and Hot Wheels toys. The company said in its presentation Friday that those brands should still do well in 2019 but that momentum may slow a bit.
Other problems? A stronger dollar is eating into its foreign sales -- a problem that many big US multinational firms are facing. But Mattel also said that the demise of Toys "R" Us will continue to hurt it this year and that China sales will fall too.
Mattel's (MAT) bleak outlook likely doesn't bode well for rival Hasbro either. Hasbro reported weak holiday sales earlier this month as well. Hasbro (HAS) shares fell 4%.
But investors have to be wondering why Mattel, whose stock is still up 40% this year even after Friday's nosedive, waited until Toy Fair to warn when it could have detailed this outlook in its last earnings report.
3:12 p.m. ET, February 15, 2019
Logistics company XPO shellacked on Amazon delivery rumors
Amazon (AMZN) hasn't been shy about its plans to take more control of the package delivery process. That's not good news for traditional delivery companies.
One of them, XPO Logistics, warned in its latest earnings report it was cutting its outlook due to "the impact of our largest customer substantially downsizing its business." XPO Logistics added in its annual filing with the SEC that the decision will lead to a $600 million hit to its 2019 sales.
XPO Logistics wouldn't name the customer. But Deutsche Bank analyst Amit Mehrotra said in a report it likely was Amazon. Several other analysts have speculated as such too. Amazon told CNN Business it had no comment.
A spokesperson for XPO Logistics remained hopeful though. "We intend to replace this business over time with other customers," the spokesperson said. And CEO Bradley Smith noted during a conference call that its five biggest customers will only make up about 8% of its total sales this year.
But investors are nervous. XPO Logistics (XPO) plunged nearly 15% Friday -- and that dragged down FedEx (FDX) and UPS (UPS) as well.
2:13 p.m. ET, February 15, 2019
US, UK strike deals to preserve trade after Brexit
US and UK officials signed two agreements Thursday that will ensure $5 billion in trade isn't disrupted between the two countries once the United Kingdom leaves the European Union. 
The agreements don't cover all trade between the two countries. Instead, they focus on telecom equipment, tech products, pharmaceuticals, and marine equipment, the US Trade Representative Office said. 
Overall, trade of goods and services between the US and the UK totaled about $232 billion in 2017.
On Friday, President Donald Trump said that the new agreements will strengthen an already strong trade relationship with the United Kingdom.
"So with the UK, we are continuing our trade and we're going to actually be increasing it very substantially as time goes by," Trump said.
1:00 p.m. ET, February 15, 2019
What emergency? Markets roar on US-China trade talks
Wall Street doesn't care that President Donald Trump declared a national emergency. Investors are squarely focused on one thing: getting a China trade deal.
The Dow soared 335 points, or 1.3%, midday on Friday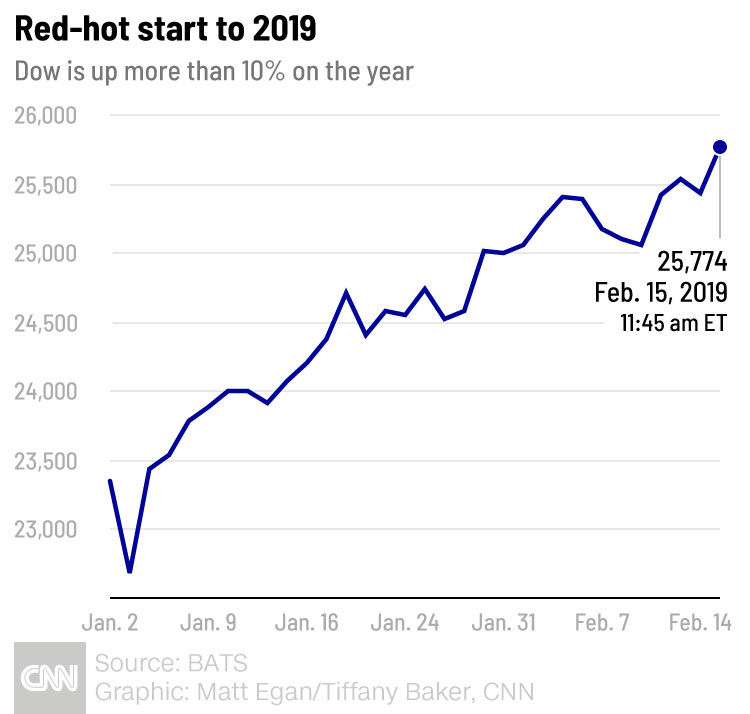 While Washington debates the merits of Trump's emergency declaration, investors are relieved that Congress and the White House have avoided another government shutdown. Even better from the market's perspective, the border wall may not be used as a bargaining chip in a future fight over raising the debt ceiling.
Trump's Friday press conference offered more hints of tentative progress on trade. The president said talks are going "extremely well" and he confirmed that China's negotiators will come to Washington next week to continue negotiations.
Newell Brands (NWL) got badly left behind by the Friday rally. The maker of Sharpie markers and Graco strollers plummeted 20% after posting disappointing sales and guidance.
11:55 a.m. ET, February 15, 2019
EA's red hot Apex Legends game may be headed to China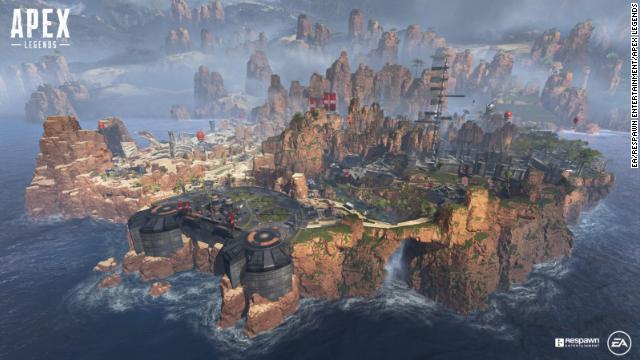 Electronic Arts has a huge hit with its new Fortnite-esque game Apex Legends. 25 million players in just one week. But the game could soon get another big boost from the world's biggest market.
The South Morning China Post reported Friday that Chinese tech giant Tencent (TCEHY) is talking to EA (EA) about a deal to distribute the game in China.
A deal would obviously be great news for EA, whose shares have surged nearly 15% this month thanks to the success of Apex Legends -- and despite the fact that the company reported weak earnings and a lousy outlook last week.
EA and Tencent were not immediately available for comment. But if Tencent does do a deal with EA, it will be interesting to see if that impacts playing time of Fortnite in China. That actually could be a problem for Tencent since it has a 40% stake in Fortnite developer Epic Games, the privately held company that's now worth $15 billion.
10:55 a.m. ET, February 15, 2019
There was a surprise drop in industrial production
Industrial production in the United States slid .6% in January, which was below expectations. The Federal Reserve also adjusted December's reading lower.
Here's more from our Matt Egan:
10:31 a.m. ET, February 15, 2019
Here's another company suffering without Toys 'R' Us
The dissolution of Toys 'R' Us is impacting another company: Newell Brands (NWL).
Shares plunged 17% following a dismal fourth-quarter earnings report. Partly driving the stock's decline is a 3% drop in sales for its Graco baby products brand.
Newell said the "continued negative impact of the Toys 'R' Us bankruptcy" was the issue. The company sold strollers to Toys 'R' Us and Babies 'R' Us.
The company also adjusted its full-year sales range lower. Today's plunge wipes out Newell's year-to-date gains: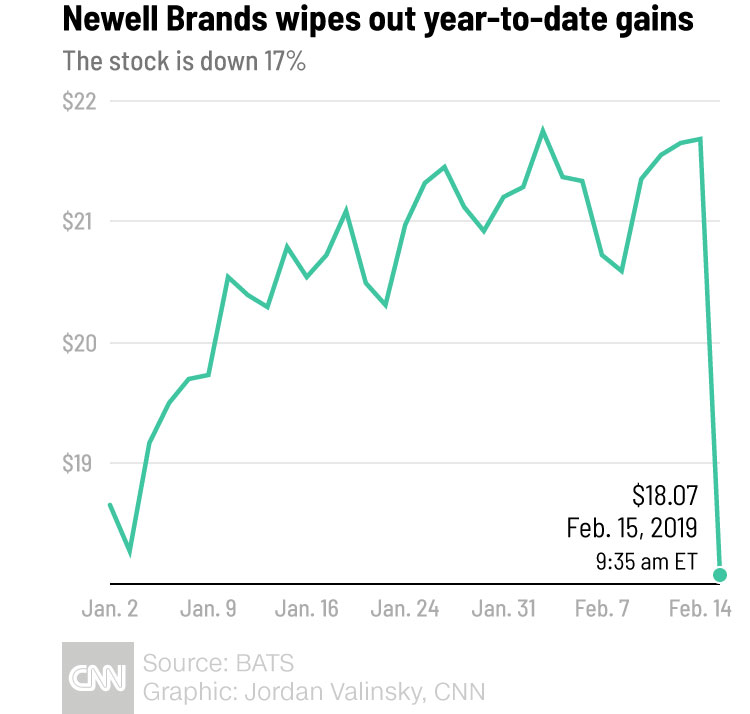 11:13 a.m. ET, February 15, 2019
It's all about trade: Dow races 250 points higher; Nasdaq goes for six in a row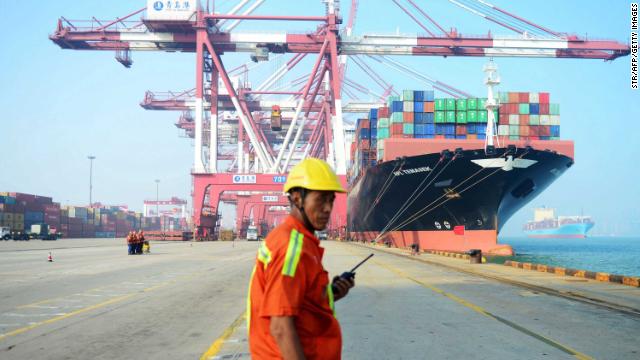 Hopes for trade peace between the United States and China continue to carry the stock market higher.
Markets were boosted by news that US-China trade talks will continue trade negotiations next week in Washington.
"That has turned what was a modestly negative tone to a modestly positive one," Paul Hickey, co-founder of Bespoke Investment Group, wrote to clients.
Hickey added, "Let the record show that we are getting just as tired about typing subject lines related to Chinese trade talks as you are reading about them."
Nvidia (NVDA) jumped 6% after posting guidance that wasn't as bad as feared. Newell Brands (NWL), the maker of Rubbermaid and Sharpie markers, tumbled 14% on a sales miss and tepid guidance.
Caesars Entertainment (CZR) gained 2% as billionaire investor Carl Icahn reportedly pushed the casino operator to sell itself.
8:21 a.m. ET, February 15, 2019
Berkshire Hathaway does a U-turn on Oracle
Warren Buffett's Berkshire Hathaway has sold its entire stake in Oracle — an investment it held for just one quarter.
A regulatory filing by Berkshire Hathaway (BRKA) on Thursday revealed that it sold over 41 million shares in the software company before the end of 2018. The stake was worth more than $2 billion when it was first disclosed in November.
Buffett's legendary investment company has also trimmed its stake in Apple (AAPL). Berkshire Hathaway owned 249.6 million shares in the iPhone maker as of December 31, a reduction of 1% from the previous quarter.
Shares in Oracle (ORCL) and Apple were both slightly lower during premarket trading.