What's moving markets today
7:34 p.m. ET, February 12, 2019
US national debt crosses $22 trillion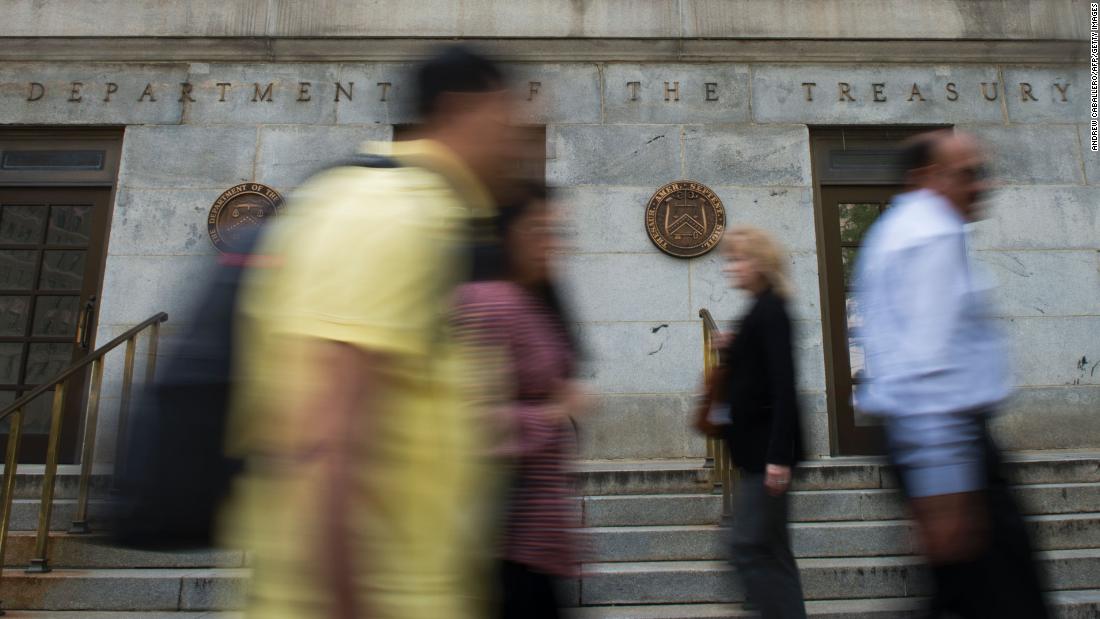 Total public debt in the United States has topped $22 trillion for the first time, according to data released today by the Treasury Department.
Talk about a milestone.
The national debt has been rising at an a faster clip since the 2008 financial crisis, when Congress and the Obama administration approved stimulus funding to prop up the economy.
The debt began to level off at the beginning of President Trump's term. But it jumped again after his 2017 tax cuts took effect.
4:20 p.m. ET, February 12, 2019
Boom! Dow soars nearly 400 points on shutdown, trade hopes
A dose of good news out of Washington sent Wall Street into party mode on Tuesday.
The powerful rally snapped a four-day losing streak in the stock market.
Investors were boosted by hopes that Congress and the White House have reached a deal to avert a government shutdown.
Trade-sensitive stocks like Caterpillar (CAT) and Boeing (BA) were lifted signs of progress on the US-China trade war. President Donald Trump said he would be willing to stretch his March 1 deadline if it appears the two sides are close to a deal.
Under Armour (UAA) soared 7% as its earnings beat demonstrates turnaround plan is working. Molson Coors (TAP) dropped 9% after restating its 2016 and 2017 results due to "material weakness" in accounting.
Energy stocks advanced as US oil prices closed 1.3% higher to $53.10 a barrel. Crude finished well off session highs.
3:56 p.m. ET, February 12, 2019
Marlboro owner taps bond market to finance $13 billion Juul deal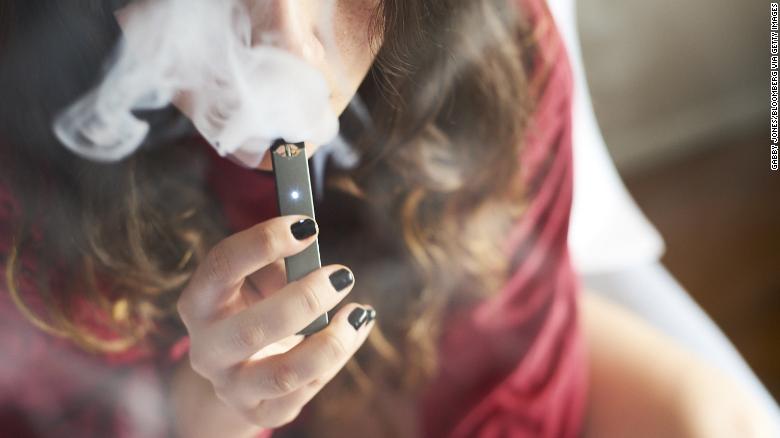 Altria is borrowing big bucks to help pay for its minority stake in e-cigs company Juul.
According to a filing with the SEC, the Marlboro owner plans to sell bonds to finance its $12.8 billion acquisition of a 35% stake in Juul. Altria (MO) also is making a nearly $2 billion investment to buy a stake in Canadian cannabis company Cronos (CRON).
The Financial Times and Bloomberg both reported that Altria was looking to sell $11.5 billion in bonds to help fund its investments.
Adding that much debt is a risky, but probably necessary, move for Altria as the company faces a steady decline in the use of traditional tobacco cigarettes. Vaping and marijuana are markets that are growing much faster.
1:24 p.m. ET, February 12, 2019
Trump says March 1 deadline might 'slide' for China trade talks
According to CNN's Kevin Liptak, Trump said he expects to meet Chinese President Xi Jinping:
We'll see how it works out. At some point I expect to meet with President Xi, who I have a lot of respect for and like a lot and make the parts of the deal that the group is unable to make," Trump said.
1:45 p.m. ET, February 12, 2019
Dow soars 340 points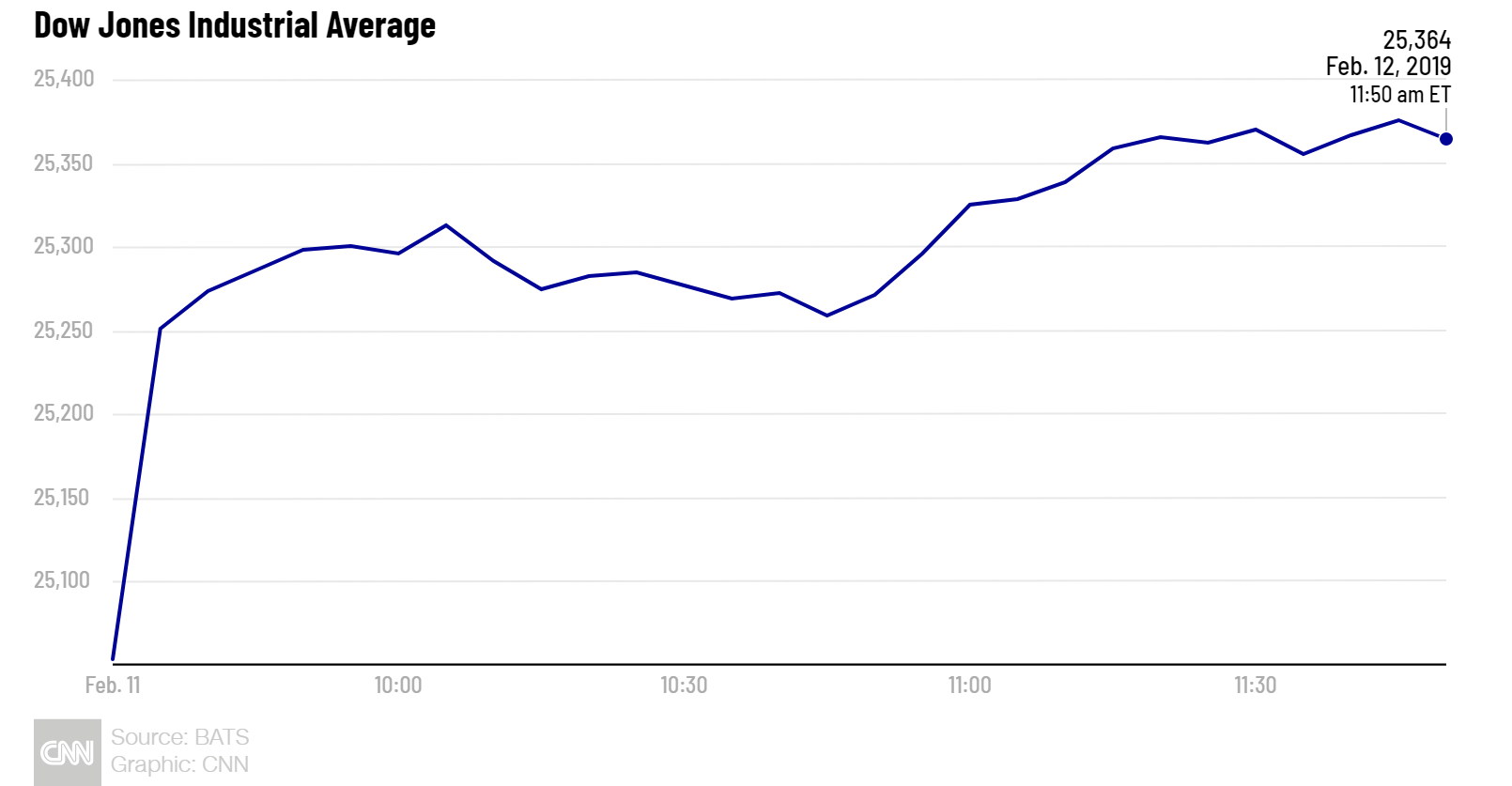 Wall Street on Tuesday cheered a reversal of two trends that had been weighing on investors: US politics and oil.
The Dow jumped more than 300 points Tuesday after politicians in the United States tentatively agreed on a plan to avert another government shutdown. Stocks also got a boost after Saudi Arabia decided to cut oil production.
3:43 p.m. ET, February 12, 2019
Chipotle shares hit three year high
🥑Chipotle (CMG) is currently trading at its highest level since November 2015: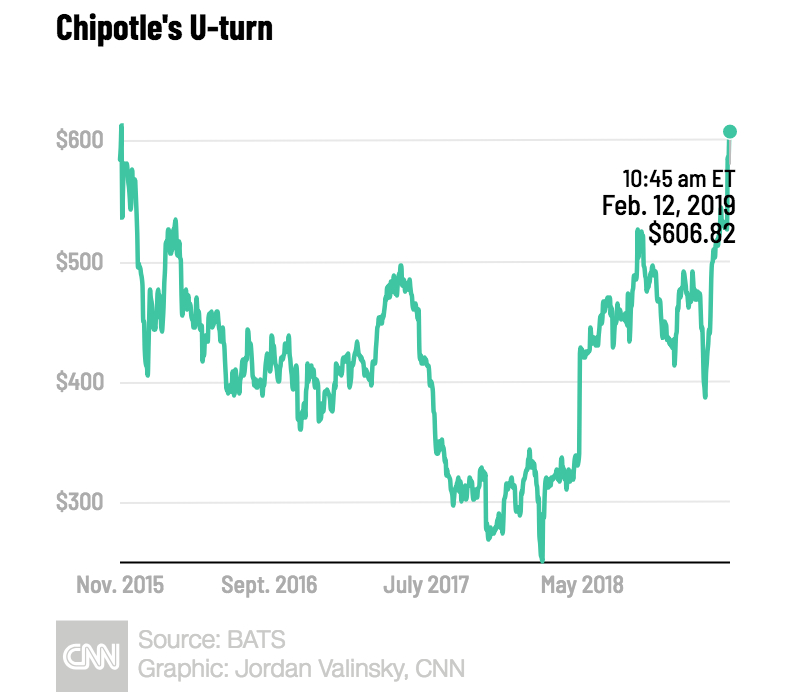 🌯 Chipotle's stock has climbed a whopping 140% since last year: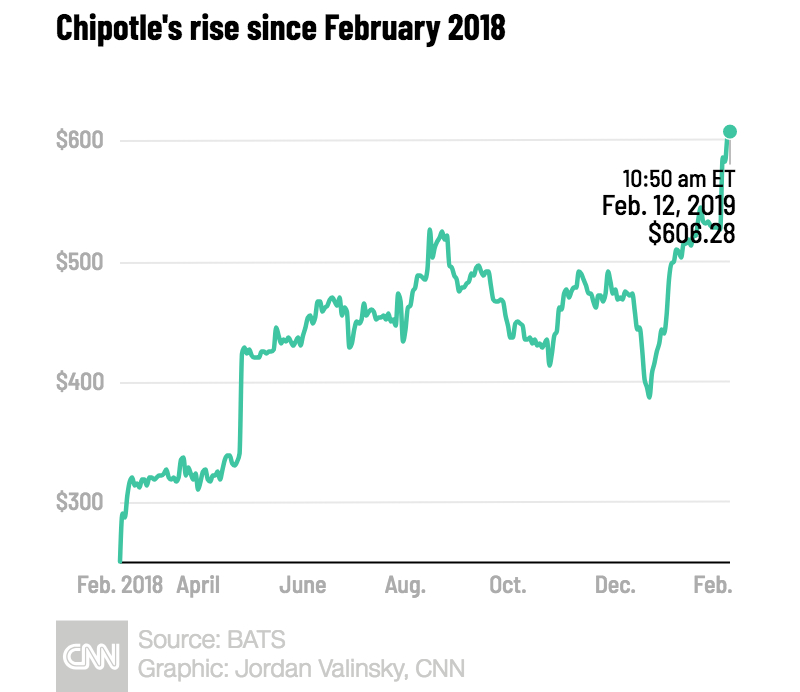 🌮It's all because of CEO Brian Niccol. In a recent interview with CNN Business, he said the company's success is due to its emphasis on digital orders, highlighting the company's real ingredients and introducing new menu items, such as diet-friendly bowls.
11:19 a.m. ET, February 12, 2019
Small business optimism drops to lowest level since Trump was elected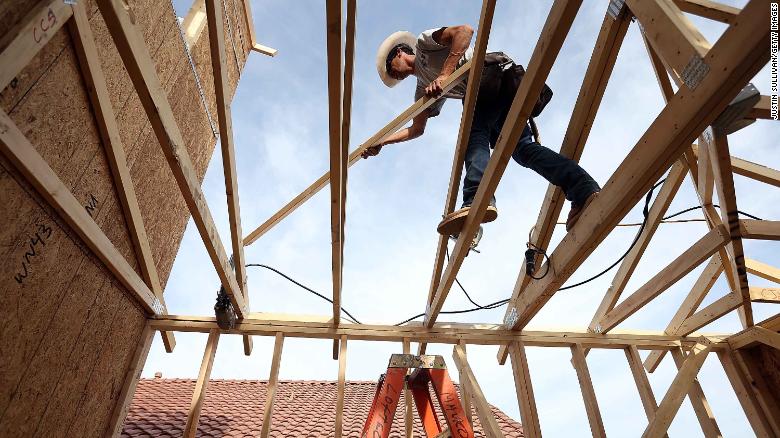 As gridlock mounts in Washington, small businesses are getting more worried about the future.
The National Federation of Independent Business' small business optimism index, which surged after the election of President Donald Trump and reached all-time highs last summer, last month dropped to the lowest level since November of 2016.
One thing small businesses make clear to us is their dislike for uncertainty," said NFIB's president Juanita Duggan, in a press release accompanying the report. "And while they are continuing to create jobs and increase compensation at a frenetic pace, the political climate is affecting how they view the future."
The survey was taken in the midst of the 35-day government shutdown. Although hiring and business investment remain strong, half of the decline in the reading came from business owners' expectations for economic growth in the second half of the year. Most economists expect to see a deceleration as the effects of tax cuts and spending wear off.
Other "soft" measures of consumer and business sentiment have also cooled off markedly in recent months, though the January hit may be temporary if the White House and Congress manage to head off another shutdown before the deadline passes this week.
Also on Tuesday, the Labor Department reported that job openings reached a high of 7.3 million in December, with a particularly large jump in demand for construction workers and accommodation and food service employees.
Since March 2018, there have been more job openings than unemployed people.