The Dow soars 550 points after getting another caffeine jolt: May 27, 2020
By CNN Business
Updated
4:31 PM ET, Wed May 27, 2020
4:13 p.m. ET, May 27, 2020
4:06 p.m. ET, May 27, 2020
Stocks log third day of gains
From CNN Business' Anneken Tappe
US stocks closed in the green on Wednesday, logging their third straight day of gains. The market was closed on Monday for Memorial Day.
Investor sentiment was boosted by hopes for more government stimulus, this time in form of return-to-work cash bonuses, as the economy begins to reopen across the country.
The S&P 500 and the Nasdaq Composite had fallen into negative territory throughout the day but climbed higher again in afternoon trading.
2:40 p.m. ET, May 27, 2020
Potential for credit downgrades is at an all-time high, S&P says
From CNN Business' Anneken Tappe
Ratings agency Standard & Poor's says the potential for credit downgrades is at unprecedented levels.
As the coronavirus pandemic continues to wreak havoc on the economy, a total of 1,287 companies could see their ratings slashed. That's higher than during the peak of the 2007-2009 financial crisis.
S&P expects credit profiles to erode further in the coming months, "especially [as] those in the lower-rated spectrum come under heavy fire from poor earnings, continued difficulties in managing cost structures, and market volatility creating limited funding opportunities," said Sudeep Kesh, head of S&P Global Credit Markets Research.
1:10 p.m. ET, May 27, 2020
Fixed income is the place to be: Anthony Scaramucci
From CNN Business' Anneken Tappe
Investors might want to look past the stock market given just how much good news is already priced in, said Anthony Scaramucci, founder and managing partner of SkyBridge Capital, on the CNN Business digital live show Markets Now.
Scaramucci is particularly concerned about how much FAANG stocks are driving the game. Those stocks are no panacea, he said, and the market could see a selloff "when the music stops for those stocks," he said.
The equity market is priced for an impending recovery, but the bond market is telling a different story.
"The biggest opportunity is in the fixed income markets," Scaramucci said.
This also holds true given the "green tsunami of money" the Federal Reserve has unleashed to support financial markets and the economy.
Skybridge had a painful March when fixed income markets seized up. Scaramucci admitted that his fund's investors pulled their money out.
But there is reason to be optimistic now.
"There's probably a 20% move [to go] in the structured credit markets, where that is already priced into the equity market," Scaramucci said. The structured credit market includes mortgages and collateralized loan obligations.
Scaramucci, who briefly served as White House Communications Director under President Donald Trump, said it would be hard to win for Trump to win a second term given the current recession and double-digit unemployment.
1:07 p.m. ET, May 27, 2020
Stocks are up but there are still risks on the horizon
From CNN Business' Anneken Tappe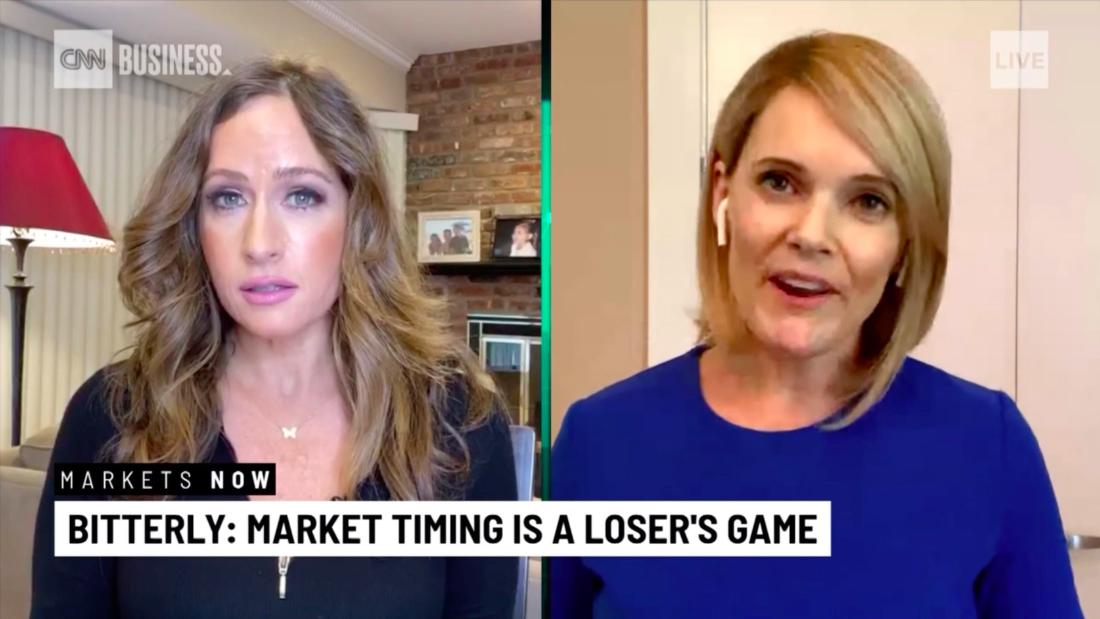 Stocks plummeted in March but have recovered since. The S&P 500 is back above 3,000 points today, a level it hasn't closed at since early March.
The index's drop below 2,200 points in March was likely the worst of the crisis, said Kristen Bitterly, head of capital markets for the Americas at Citi Private Bank. So is the only way up from here?
Not necessarily.
"It will be a rocky road from here on out because there are still risks on the horizon," Bitterly told Alison Kosik on the CNN Business' digital live show Markets Now.
As the economy reopens, questions remain about how and when people who are working remotely will be brought back to their offices, and what the post-pandemic workforce will look like. On top of that, politics are taking center stage, as the presidential election is edging closer.
12:14 p.m. ET, May 27, 2020
Boeing lays off nearly 7,000 workers
From CNN Business' Chris Isidore
Boeing (BA) let go 6,770 workers Wednesday, part of a reduction of 16,000 jobs it plans to implement in response to reduced demand for air travel during the Covid-19 pandemic.
Boeing and rival Airbus have encountered widespread delays and cancellations in existing orders for planes as most of the planes around the globe have been grounded due to the sharp drop in air travel.
Boeing disclosed the 16,000-job reduction target last month, as it cut production schedules. It has already offered buyouts to generate as many voluntary departures from the company as possible.
"We have come to the unfortunate moment of having to start involuntary layoffs," CEO Dave Calhoun said in a message to employees Wednesday. "I wish there was some other way."
12:09 p.m. ET, May 27, 2020
Another 2.1 million jobless claims are expected tomorrow
From CNN Business' Anneken Tappe
Weekly jobless claims are due tomorrow morning at 8:30 am ET, and another 2.1 million Americans are expected to have filed for first-time unemployment benefits last week.
That would bring the total of initial claims since mid-March, when lockdown measures began and businesses began to lay off their workers, to more than 40 million.
Historical comparisons show just how extraordinary these numbers are. On one hand, we're expecting the the eighth-straight decline in weekly first-time claims tomorrow -- a relatively good sign, because it means the number of people in need of aid is not growing. On the other hand, weekly claims used to be in around 200,000 range in the years before the coronavirus crisis started. So while the data appears to be improving, it's still terrible overall.
Economists polled by Refinitiv expect continued jobless claims, which show claims that are filed for at least two weeks in a row, to climb to 25.75 million, up slightly from the week prior.
Unemployment claims don't equal jobs lost -- the two data sets are based on different surveys -- but economists expect the unemployment rate to jump again in May. Next week's jobs report is expected to show an unemployment rate of nearly 20%, up from 14.7% in April.
11:14 a.m. ET, May 27, 2020
S&P turns red, while Dow clings to gains
From CNN Business' Anneken Tappe
Stocks are mixed in the late morning, with both the S&P 500 and the Nasdaq Composite in the red.
Technology and health care stocks dragged the indexes down. The S&P fell 0.2%, while the Nasdaq was down by 1.6%.
The Dowis clinging on to gains, though, helped by gains from big financial stocks including JPMorgan (JPM), American Express (AXP) and Goldman Sachs (GS). The index was up 0.6%, or 161 points.
11:13 a.m. ET, May 27, 2020
The pandemic is throwing a wrench into Puerto Rico's debt restructuring plan
From CNN Business' Anneken Tappe
The coronavirus pandemic has wreaked havoc on government and municipal finances all over the world. Puerto Rico wasn't spared.
The island declared it was unable to pay its debts in June 2015 and filed for the largest municipal bankruptcy in America's history.
But earlier this year things were finally looking up: the US territory agreed a restructuring plan with its creditors, less than half of year after fighting some of its creditors in the Supreme Court.
"Puerto Rico seemed to be headed into the right direction," said José B. Carrión III, chairman of Puerto Rico's Financial Oversight and Management Board, on a public call discussing the territory's fiscal plan on Wednesday. But Covid-19 might have put an end to the good news.
The oversight board proposed a one year delay in government rightsizing in its 2020 fiscal plan outlined on Wednesday. The plan also includes $6 billion over the next five years in investments in the health care, education and public safety, among other things.
So far, the oversight board authorized a $787 billion emergency package to help the island through the crisis.
The board projects the island's economy to contract by 4%, with a mild recovery to 0.5% GDP growth in 2021.