Dow bounces back: May 20, 2020
5:13 p.m. ET, May 20, 2020
Expedia posts $1.3 billion loss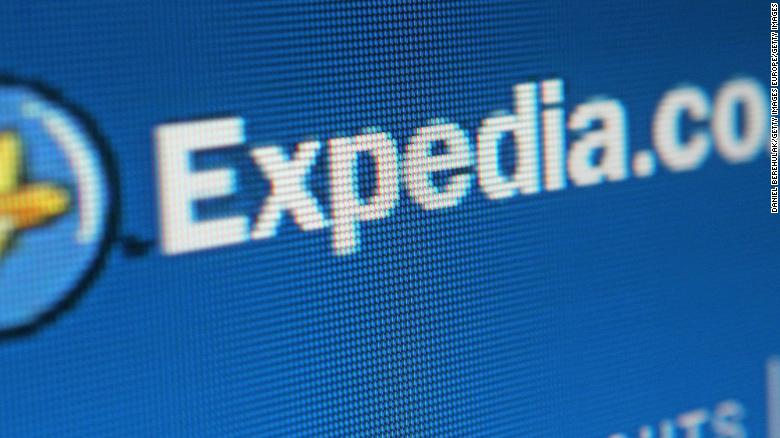 Expedia Group posted a $1.3 billion loss, its largest since the financial crisis of 11 years ago, as it also it suspended its dividend.
The company, which handles online travel bookings, said it will not pay a dividend again until the current financial crisis battering the travel industry has passed.
Most of the loss is due to the company writing down its estimated value going forward, a reduction in what is known as "goodwill" in accounting measures. Its adjusted net loss excluding special items came to $258 million.
Revenue at the company fell $400 million, or 15% to $2.2 billion.
Among the brands that Expedia operates are Expedia, Hotels.com, VRBO, Trivago, HomeAway, Orbitz, Travelocity, Hotwire, CheapTickets, CarRentals.com and CruiseShipCenters.
4:16 p.m. ET, May 20, 2020
Stocks hit a 2-1/2 month high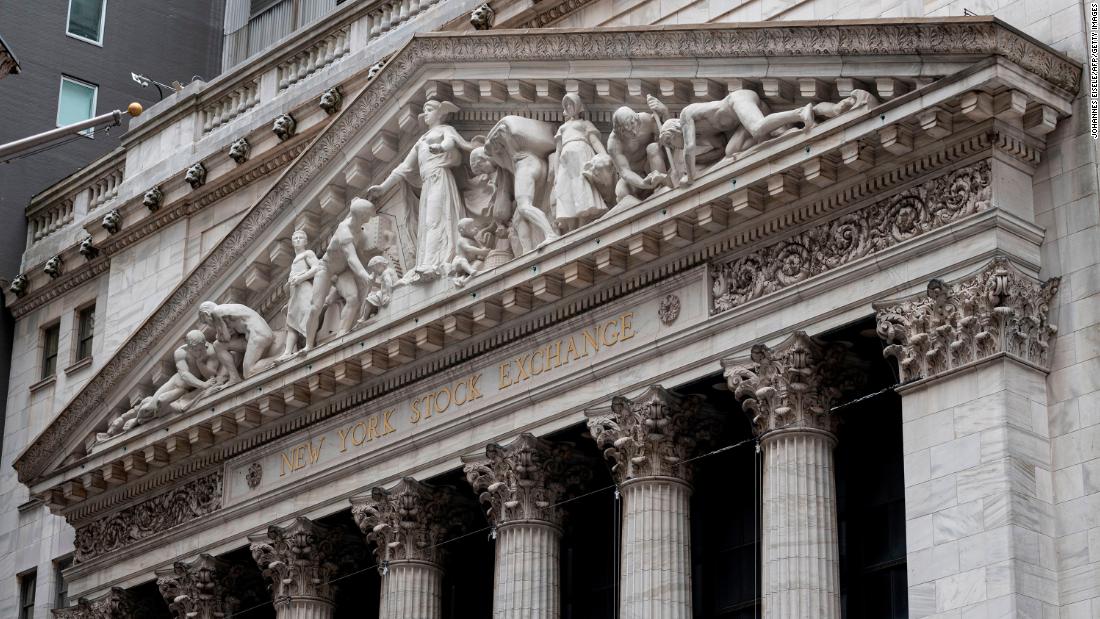 US stocks rebounded from the prior session's losses on Wednesday, finishing the day in the green.
Investors continue to be hopeful about the reopening of the economy.
The Dow finished up 1.5%, or 369 points.
The S&P 500 closed 1.7% higher. The index climbed to 2,971.6 points, its highest level since March 6.
The Nasdaq Composite ended up 2.1%.
4:00 p.m. ET, May 20, 2020
Green Growth Brands declares bankruptcy
Green Growth Brands, the Ohio-based cannabis company that operates dispensaries, such as The+Source in Nevada, and manufactures products, such as Seven7h Sense CBD, announced Wednesday it is filing for insolvency protection.
The company filed for insolvency under the Companies' Creditors Arrangement Act in Canada, where its shares are traded. In a statement, the company said the bankruptcy filing was due to a "severe liquidity crisis" that had been accelerated by the Covid-19 pandemic.
"The pandemic has forced the company to indefinitely suspend its [Seven7h Sense] cannabidiol business, ultimately resulting in the appointment of a receiver for that business and to restrict operations at the company's The+Source dispensaries in the Las Vegas, Nevada region as a result of Nevada Governor Stephen Sisolak's March 20, 2020, order limiting dispensary operations in the state," the company announced.
3:39 p.m. ET, May 20, 2020
Another 2.4 million jobless claims are expected tomorrow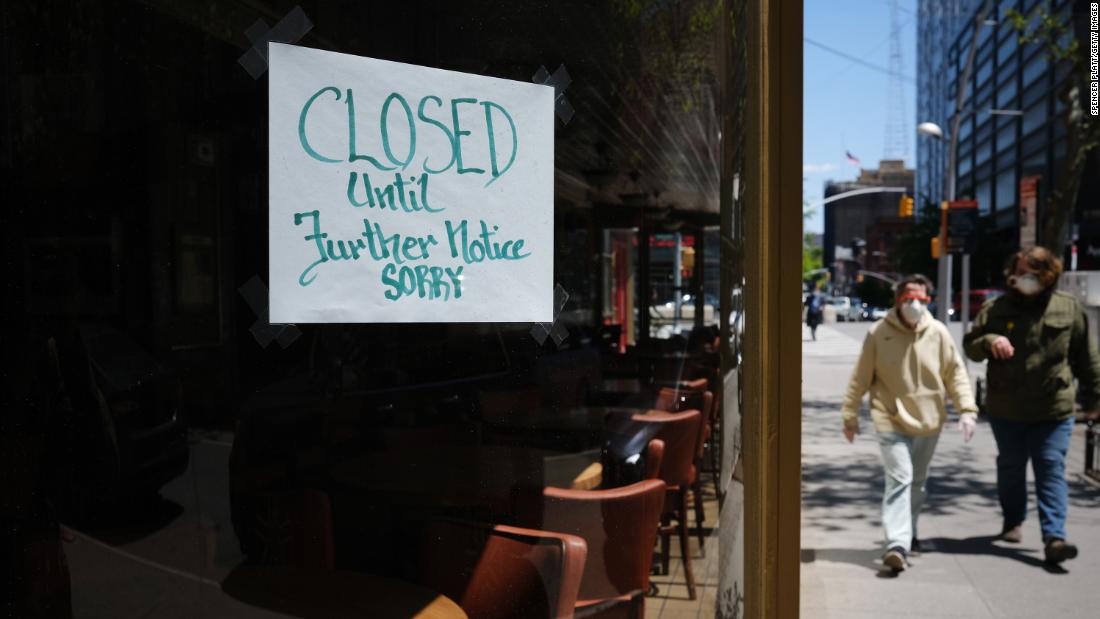 We're bracing for millions more jobless claims when the Department of Labor reports the latest numbers tomorrow.
Economists polled by Refinitiv expect 2.4 million Americans filed for first-time unemployment benefits last week. It would be the ninth week that jobless claims are in the millions, but also the seventh straight week that they declined from the week prior.
Continued jobless claims -- which count people filing for unemployment benefits for at least two weeks in a row -- are expected at 24.8 million. That would be about 2 million more than the week prior.
As the number of first-time claims begins to come down, economists are increasingly paying attention to how many people keep filing claims week after week. That provides a more complete picture of how the labor market is doing.
2:11 p.m. ET, May 20, 2020
Trump will lose in a landslide because of the economy, new election model predicts
The economy has gone from President Donald Trump's greatest political asset to perhaps his biggest weakness.
Unemployment is spiking at an unprecedented rate. Consumer spending is vanishing. And GDP is collapsing. History shows that dreadful economic trends like these spell doom for sitting presidents seeking reelection.
The coronavirus recession will cause Trump to suffer a "historic defeat" in November, a national election model released Wednesday by Oxford Economics predicted.
The model, which uses unemployment, disposable income and inflation to forecast election results, predicts that Trump will lose in a landslide, capturing just 35% of the popular vote. That's a sharp reversal from the model's pre-crisis prediction that Trump would win about 55% of the vote. And it would be the worst performance for an incumbent in a century.
"It would take nothing short of an economic miracle for pocketbooks to favor Trump," Oxford Economics wrote in the report, adding that the economy will be a "nearly insurmountable obstacle for Trump come November."
The model has correctly predicted the popular vote in every election since 1948 other than 1968 and 1976 (although two candidates lost the popular vote but won the presidency in that span, including George W. Bush in 2000 and Donald Trump in 2016).
1:28 p.m. ET, May 20, 2020
How Nike stores are changing after Covid-19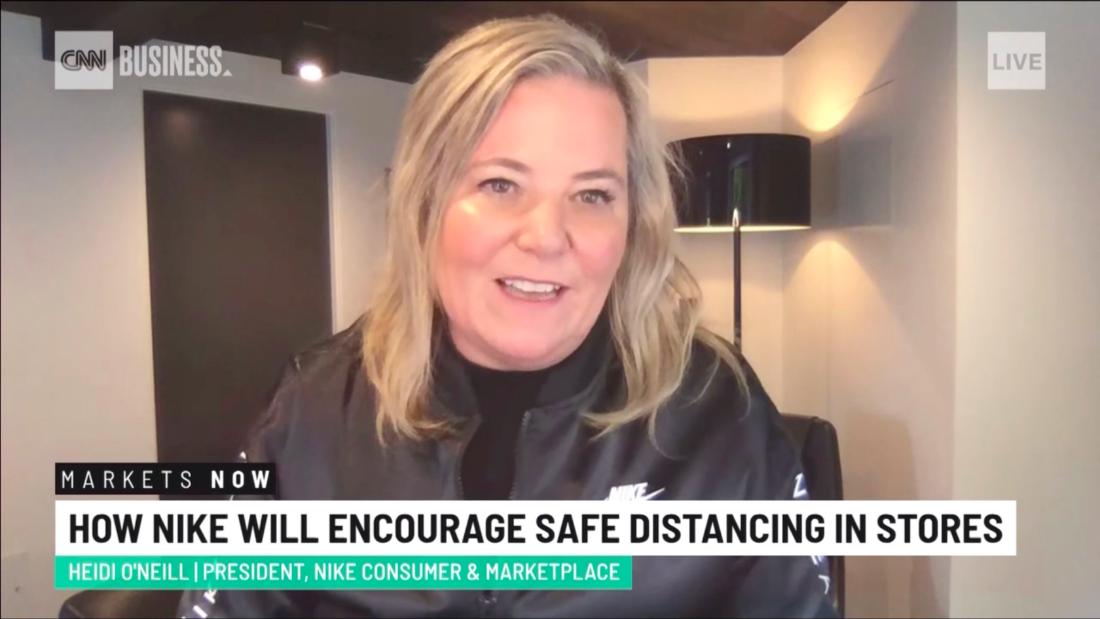 Nike (NKE) was one of the first retailers to close all its stores when the coronavirus pandemic hit. Now it has reopened 5% of its US stores, while all its locations in China and South Korea fully reopened again.
But the way those stores operate is changing.
"What we're focusing on is using our digital platforms and capabilities," Heidi O'Neill, Nike's president of consumer and marketplace, told Alison Kosik on the CNN Business' digital live show Markets Now.
Customers who visit the reopened stores can use a feature called "Click to Try or Click to Buy" on Nike's app, which allows them to scan a QR code and buy instantly or have their product taken to a dressing room. The company also offers a contactless way for customers to scan their feet to find footwear in their size.
And of course consumers can still order online and receive their products at home.
The company is also seeing increased use of its Nike workout app, O'Neill said.
1:18 p.m. ET, May 20, 2020
CIO outlook: 'Cautious but not bearish'
The US stock market has rebounded from its coronavirus lows. But where does this leave investors?
"We had a relatively V-shaped recovery in the market," said said Katie Nixon, chief investment officer at Northern Trust Wealth Management.
She said that the economic recovery won't trace the same shape but will be more drawn out, as economic data such as weekly jobless claims are suggesting we could be past the worst.
"The reason we're cautious is really just [about stock] valuation," said Nixon. Not all stocks are valued at a level that makes them attractive to buy.
At the same time, "we're still really looking at the US equity market as probably the best one in the world," Nixon added. "We think US equities are still an attractive place to be."
For example, America's big tech companies are leading the way out of this downturn, she said.
For average investors, now the time to look at how their investments have been working out, Nixon said. Questions like whether they have enough liquidity and enough high-quality fixed income assets in their portfolios are important to consider, she said.
1:11 p.m. ET, May 20, 2020
This won't be a smooth recovery: Jeffrey Sachs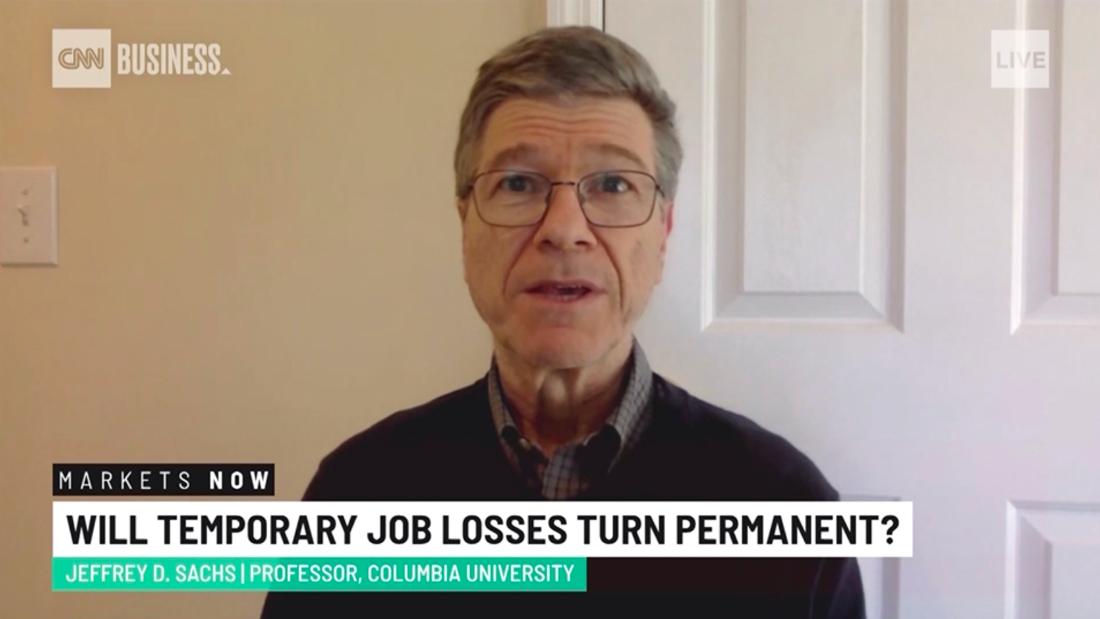 Even as coronavirus lockdown restrictions are easing across the United States, many people remain in their homes.
As long as the epidemic continues in different pockets of the United States and the rest of the world, it will be hard to have a real economic recovery, said Columbia University economist Jeffrey Sachs.
We may have blips, we may have moments of optimism, but we may have moments of despair, too," Sachs said on CNN Business' digital live show Markets Now. "A lot of the jobs that have been shed will not return any time soon. We have massive financial dislocations as well that will complicate matters severely."
The new normal of the economy will be based more on digital and e-commerce, as well as working from home.
On top of that, the country hasn't yet reached the peak of virus-related unemployment. The unemployment rate spiked to 14.7% last month, the highest level on record. But the May number is expected to be even worse. With a rate as that could be as high as 20%, the big question is how long a recovery will really take.
12:08 p.m. ET, May 20, 2020
'We don't pay enough attention to ripple effects,' says Schwab's Liz Ann Sonders
Stocks are rallying today as continued optimism boosts investor sentiments about the reopening of the economy.
As every investor knows by now, the current, second quarter of the year will have some of the worst economic data the United States has ever seen. A lot of that bad news is already priced in. Case in point: the stock market barely reacts to the dire labor market reports, either the weekly jobless claims or monthly jobs reports.
But therein lies a conundrum, said Liz Ann Sonders, chief investment strategist at the Schwab Center for Financial Research on a media call today.
I don't think we've thought enough about the ripple effects and second order effects," Sonders said. "I think at this point, given the rally in the stock market, they're not being discounted."
Take the labor market, for example, where most of the millions of coronavirus-related job losses are considered to be temporary. The increasing number bankruptcies could mean those layoffs might become permanent, Sonders said. In this month alone, retailers JCPenney, Neiman Marcus and JCrew have filed for bankruptcy.
Another fallout would be if colleges continue to teach online rather than in person come fall, Sonders said, which could create difficulties for the local economies of college towns.