Dow soars on vaccine and bailout optimism: May 18, 2020
By CNN Business
Updated
8:41 a.m. ET, May 19, 2020
8:41 a.m. ET, May 19, 2020
4:07 p.m. ET, May 18, 2020
Dow and S&P 500 log best day in six weeks
From CNN Business' Anneken Tappe
US stocks rallied into the close on Monday, boosted by hopes for a potential Covid-19 vaccine, as well as further stimulus for the US economy.
The Dow and the S&P 500 recorded their best performances in six weeks.
The Dow finished 912 points, or 3.9%, higher, its best point and percentage gain since April 6. The index was up 1,023 points at its peak today.
The S&P 500 climbed 3.2%, its best day since April 8.
The Nasdaq Composite 2.4%, logging its best day since April 29.
Federal Reserve Chairman Jerome Powell said in an interview Sunday that America's economy might need more help from the Fed and the government to get through the coronavirus crisis. Meanwhile, drug maker Moderna (MRNA) reported promising early results from a coronavirus vaccine trial on Monday morning. Moderna shares closed up nearly 20%.
2:30 p.m. ET, May 18, 2020
Dow rallies more than 900 points
From CNN Business' Anneken Tappe
Today's rally just won't stop.
Stocks are still shooting higher in the early afternoon. The Dow is up 908 points, or 3.8%, with less than two hours to go in the trading day.
Investors are optimistic after drug maker Moderna (MRNA) announced upbeat early results of a coronavirus vaccine trial, and Federal Reserve chair Jerome Powell said the central bank will take action on more stimulus to stimulate the economy if needed.
The S&P 500 is up 3.3%, while the Nasdaq Composite is up 2.5%.
Moderna's shares are up 25%.
2:17 p.m. ET, May 18, 2020
World trade will plummet this year because consumers won't spend: Moody's
From CNN Business' Anneken Tappe
One of the questions that's keeping economists up at night is how long it will take for consumer behavior to normalize after the coronavirus pandemic.
The answer has huge implications for the US economy. Consumer spending is the biggest driver of GDP growth.
The massive drop in consumer demand, along with a decline in investments and supply chain disruptions, is expected to shave 13% to 32% off global trade this year, according to ratings agency Moody's.
Consumer demand is broadly expected to recover in the second half of the year, provided there is no second wave of infections. But the negative effect on trade could lead to new US-China trade drama, Moody's said.
The pandemic is also expected to lead to more fragmentation in the trade of certain goods like medical supplies and exacerbate shifts towards regional supply chains, according to Moody's.
1:08 p.m. ET, May 18, 2020
Office Depot stock continues to climb after announcing 13,000 layoffs
From CNN Business' Jordan Valinsky
Office Depot (ODP) shares continued to rise Monday following a major restructuring announced Friday. Shares were up more than 6% in early afternoon trading.
The retailer is laying off 13,000 employees and closing an unspecified number of stores in over the next three years. Office Depot said in a regulatory filing that it expects to save $860 million once the changes are complete in 2023.
The stock had popped as high as 19% on Friday before closing the session up 6%. That said, Office Depot shares are trading at only a bit above $2.
Office Depot, which also operates OfficeMax, has around 1,300 stores and 40,000 employees.
1:08 p.m. ET, May 18, 2020
Chipotle, Home Depot, Boston Beer at record highs
From CNN Business' Paul R. La Monica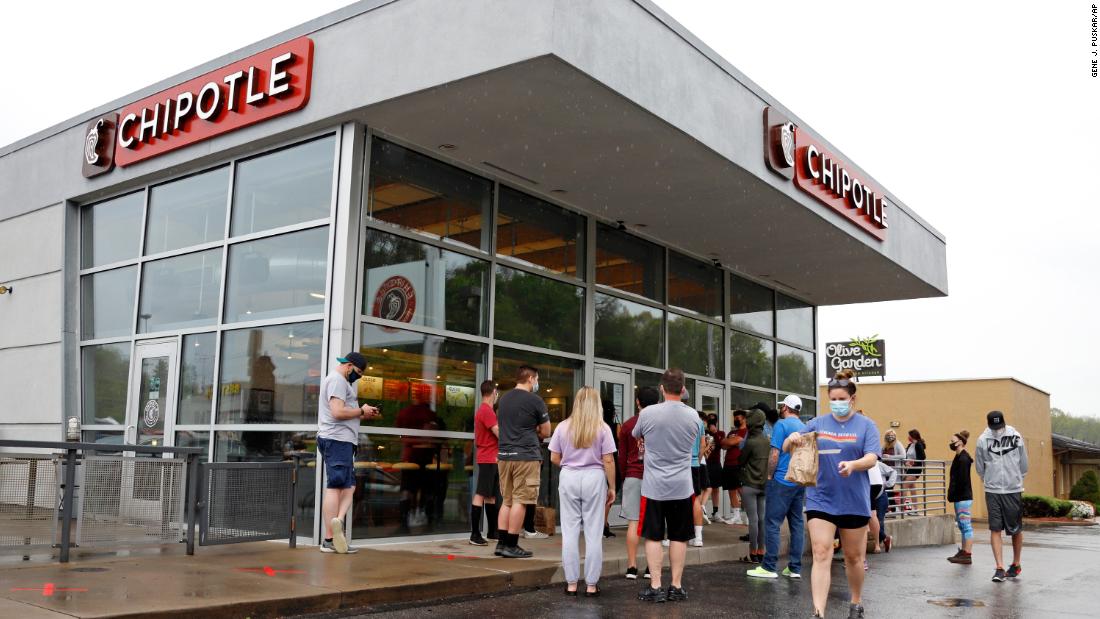 If there's one thing that any investor should know by now, it's to never bet against the willingness of the American consumer to keep spending -- even in the midst of a pandemic.
The broader market is surging Monday on hopes for a Covid-19 vaccine and more stimulus from the Federal Reserve. But several well-known blue chip retail and food and beverages stocks aren't just rallying. They are at all-time highs to boot.
Home Depot (HD), which will report its latest earnings Tuesday morning, is among the stocks hitting a new peak. The company's results could help give a glimpse as to how both the retail and housing markets are holding up.
Chipotle (CMG) also hit a new record Monday. CEO Brian Niccol was on the CNN Business Markets Now show last Wednesday talking about its successful digital ordering strategy.
Other consumer stocks at all-time highs? Retailer Dollar General (DG), computer keyboard and mouse maker Logitech (LOGI), gaming chip giant Nvidia (NVDA) and Sam Adams brewer Boston Beer (SAM).
The rally isn't limited to US consumer companies either. Chinese online retailers JD.com (JD), which reported strong results last Friday, and group buying deals site Pinduoduo (PDD) both hit all-time highs too. That could be a good sign for Alibaba (BABA), which will report its latest earnings on Friday.
1:50 p.m. ET, May 18, 2020
Dow rises 850 points because ... why not?
From CNN Business' David Goldman
Here's a quick check on the markets, brought to you by Investors Have Lost Their Minds. Got a case of overdone optimism about the economy? You should try Investors Have Lost Their Minds. Available now in rose color.
So what has investors so giddy?
Two things: 1) A promising vaccine trial and 2) Fed Chairman Jerome Powell said the Fed would take more action to stimulate the economy.
OK. Fine. But let's get real. A vaccine is still a long way away, and there's a big difference between a promising trial and getting the disease under control.
And Powell didn't actually say anything on "60 Minutes" that he hasn't said before. The Fed will do what it can to keep the economy afloat. But the economic destruction is real and long lasting, Powell said. We could be in this mess for years.
Sorry to be a downer. Go take some more Investors Have Lost Their Minds and buy, buy, buy!
10:59 a.m. ET, May 18, 2020
Hertz soars 15% after naming new CEO
From CNN Business' Jordan Valinsky
Hertz (HTZ) has named a new CEO to help the the troubled car rental company turn things around. Shares soared nearly 15% in early trading.
Paul Stone will take charge of Hertz effective immediately, replacing Kathryn Marinello after a nearly four-year tenure.
Stone was previously chief retail officer at outdoor retailer Cabela's and was also a vice president at Sam's Club.
The near-zero travel demand during the coronavirus pandemic has battered Hertz, which rents cars under the Hertz, Dollar and Thrifty brands in the United States.
The company missed an important payment that was due to a group of lenders in late April, though the creditors granted Hertz a temporary lifeline in early May.
12:40 p.m. ET, May 18, 2020
Low-income earners are hit the hardest in coronavirus recession
From CNN Business' Anneken Tappe
Although the pandemic has hurt people of all backgrounds, the burden of job losses is far worse for low income earners, according to a working paper from the National Bureau of Economic Research.
The paper says employment among lowest-income workers fell by 35%. Meanwhile, only 9% of the highest-income workers lost their jobs during the pandemic.
Overall, private sector employment declined by 22% between mid-February and mid-April, the authors said.
"This downturn differs from modern U.S. recessions in both the speed and magnitude of its job loss," they wrote.
This echos a recent survey from the Federal Reserve, which said that nearly 40% of those with a household income below $40,000 reported a job loss in March.
Most jobs were lost in the hospitality and leisure industry, where the bulk of salaries tends to be lower.