US stocks move higher ahead of earnings deluge: April 27, 2020
5:32 p.m. ET, April 27, 2020
Boeing to restart production at South Carolina factory
Boeing plans to restart production of the 787 Dreamliner jet at its factory in South Carolina next week.
The aircraft maker restarted commercial plane production at its Washington state factories last week, but the South Carolina plant — which was temporarily closed due to coronavirus concerns on April 8 — remains shuttered.
Executives at the plant will return later this week, and hourly workers will return starting Sunday night. The company said it is taking additional safety measures to insure that employees will be safe.
The company is concerned that a prolonged shutdown could hurt its suppliers that it needs for future production.
"We have to keep that flow of money going to the supply chain so that they have some predictability around how they operate," Boeing CEO Dave Calhoun said Monday at the company's annual meeting. "Without the supply chain there will be nothing for us to assemble so it's as simple at that."
5:08 p.m. ET, April 27, 2020
Amazon extends the shutdown date for distribution centers in France
Amazon is extending the shutdown of its distributions centers in France until May 5 after losing a court appeal on Friday. 
Earlier this month a French court ruled Amazon could only sell essential goods until it had undertaken a risk assessment of protecting workers against Coronavirus. This came after a complaint filed by a French labor union.
In a statement, Amazon said the decision was not about safety and blamed the unions for advancing their own agenda, saying they have deployed new safety measures across all of their sites. 
Employees will continue to be paid, according to the company.
Amazon France CEO Frédéric Duval is expected to appear before the French Senate Economic Affairs Committee on Tuesday. 
4:03 p.m. ET, April 27, 2020
Stock finish higher
US stocks closed higher on Monday, with the Dow recording its fourth straight day of gains. This hasn't happened since early February.
Investors shrugged off another selloff in the oil market and focused on the busy earnings calendar ahead.
2:19 p.m. ET, April 27, 2020
Dow aims for fourth day of gains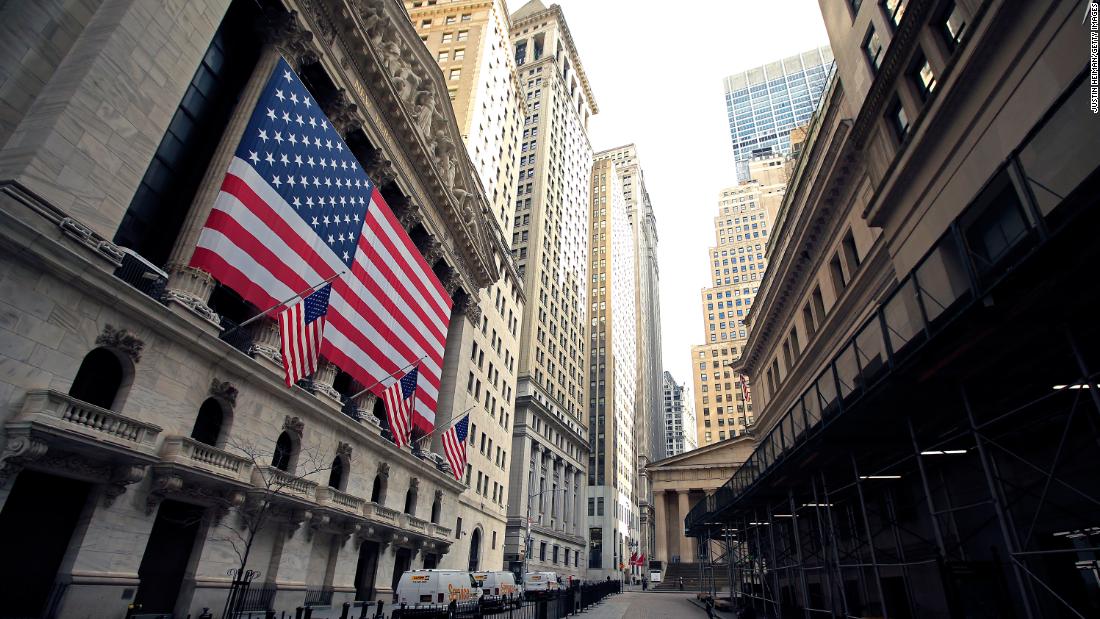 The three major US stock benchmarks are sharply higher in the early afternoon with the Dow on track for its fourth day of gains in a row.
The index was last up 1.2%, or 282 points, while the broader S&P 500 was up 1.3%.
The Nasdaq Composite was up 1.1% in the early afternoon.
With only three more trading days left in the month, the Dow is now on track for a nearly 10% gain in April, which would be its best month sine October 2002. The S&P 500 -- up more than 11% -- is looking at its best month since December 1991.
For the Nasdaq, which is up more than 13%, it looks to be the best month since October 2002.
But nothing is certain in this market and there are plenty of potential pitfalls ahead.
With so many big companies reporting earnings this week, sentiment could depend on their outlook. On top of that, the first quarter GDP report is due Wednesday morning, just hours before the Federal Reserve will unveil its monetary policy update.
12:42 p.m. ET, April 27, 2020
Boeing won't be paying a dividend any time soon
Boeing CEO Dave Calhoun told shareholders at the company's virtual annual meeting that they shouldn't expect to see dividend checks for at least several years.
"I'm confident dividend payments will resume. I'm not confident they will happen in the medium term. It will be years," he said in response to a shareholder question. He said paying down the debt the company is running up currently is a higher priority.
"We know we're going to have to borrow more money in the next six months in order to get through this really difficult moment," he said. "Our first priority is going to be to pay that back."
Boeing suspended the dividend on March 23, the marking the first time it has not paid one since 1941. It had spent $4.6 billion on dividends last year.
He said Boeing expects that it will take two or three years for demand for air travel to return to 2019 levels and several years after that for it to catch up with the growth that had been forecast before the pandemic. All of that will curb airlines' demand for new aircraft, and require a resizing of the business, he said.
"I believe we will return to a robust market, it's a question of how long it takes," he said.
12:59 p.m. ET, April 27, 2020
Adidas net income drops a stunning 97%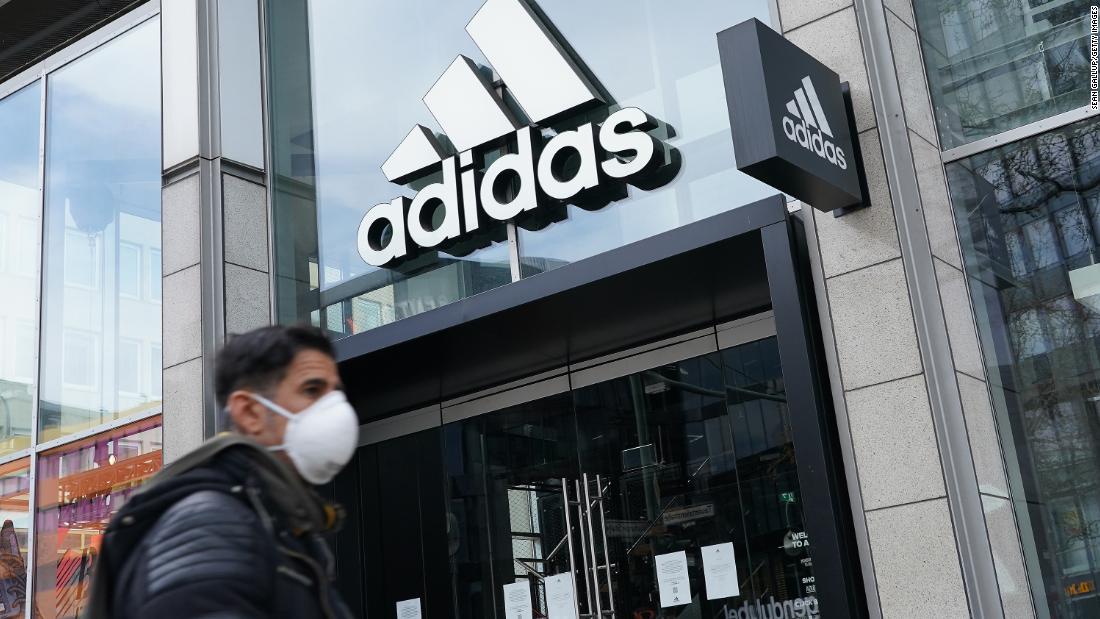 More than 70% of Adidas' stores are closed around the world because of coronavirus -- and the company is feeling the pain in its financial results.
Net income plummeted 97% and sales dropped by 19% in the first quarter compared with last year, thanks to a brutal March.
Adidas' sales outside of southeast Asia were up 8% during the first two months of the year, before coronavirus spread widely outside of that region and store closures and social distancing measures were implemented around the world.
"Our results ... speak to the serious challenges that the global outbreak of the coronavirus poses even for healthy companies," Adidas CEO Kasper Rorsted said.
Sales of Adidas and Reebok brand goods dropped 45% in the southeast Asia-Pacific region, led by a 58% drop in China.
There were a few relative bright spots. E-commerce sales for the quarter rose 35% over the year, which accelerated to a 55% surge in March. And sales in China have rebounded in April so far.
Still, Adidas expects second-quarter sales to decline by 40%, and the company isn't providing full-year outlook because of the continued uncertainty.
11:34 a.m. ET, April 27, 2020
Tesla soars on reports it may reopen California plant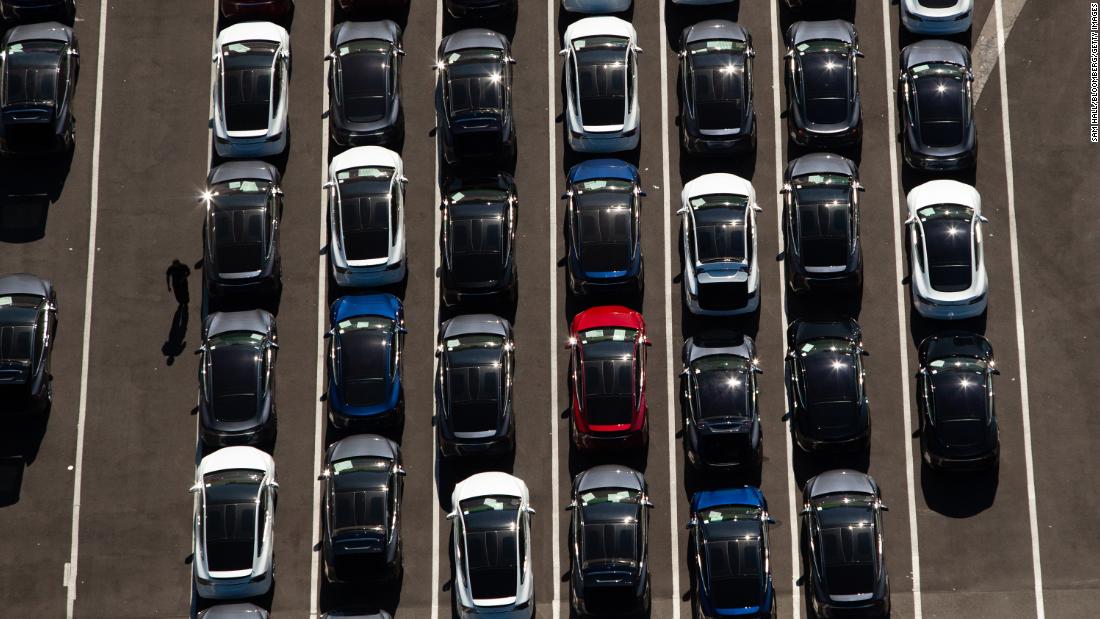 California's Bay Area still has a shelter-in-place order that is in effect until at least May 3. But Bloomberg and CNBC have both reported that Tesla may reopen its Fremont factory near San Francisco for some employees to return to work as soon as Wednesday April 29.
Shares of Tesla (TSLA) surged nearly 9% on the news Monday. The company was not immediately available for comment about the reports.
But Tesla is due to report its latest quarterly results after the closing bell Wednesday. So CEO Elon Musk could share more details on what's next for Fremont then. The company shut down production in March.
"Tesla appears to be getting its core factory artery ready for re-opening...which would be a major boost to its production/delivery hopes and get the growth engines restarted," said Wedbush analyst Dan Ives in a report Monday.
Tesla is expected to post a loss for the quarter but analysts are also forecasting a nearly 30% jump in sales. That's one reason why the stock is up nearly 90% in 2020.
Still, the Covid-19 pandemic is crippling the global economy, making it uncertain that consumers in the United States, China and elsewhere will be willing to spend big bucks on pricey electric vehicles just yet. The company, like other automakers, has also been making ventilators in order to help America and the rest of the world in the midst of the coronavirus outbreak.
10:25 a.m. ET, April 27, 2020
Beyond Meat's stock spikes on meat shortages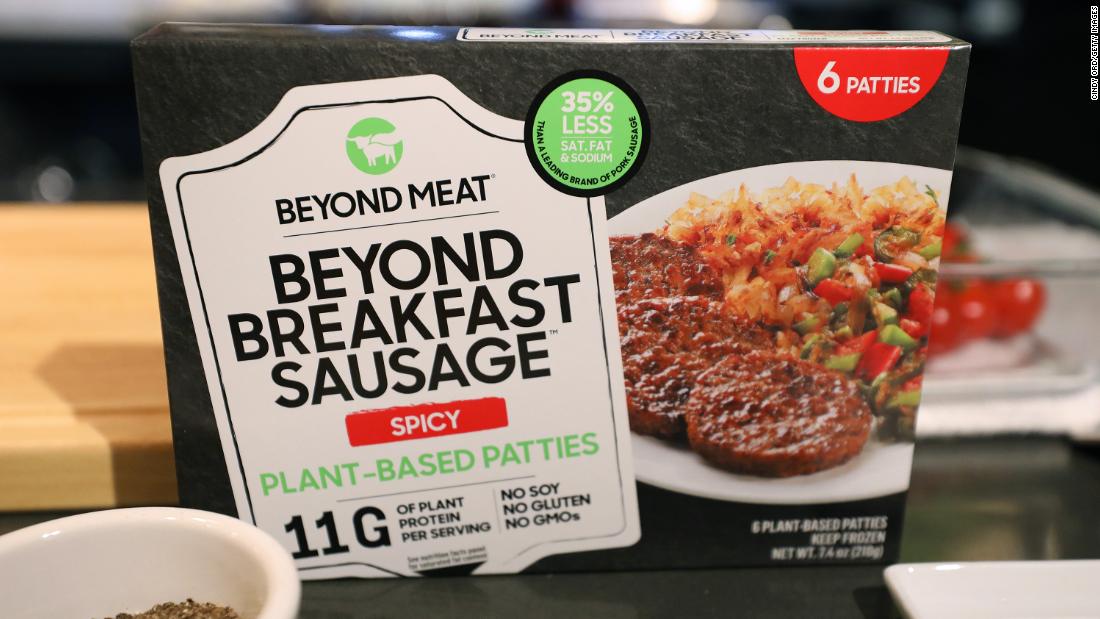 Warnings of potential meat shortages in the United States because of food processing closures have led to a boom for Beyond Meat's stock. New deals to sell plant-based food in China are helping too.
Shares of Beyond Meat (BYND) soared more than 40% last week. That was the stock's best weekly performance since the company's initial public offering last May. It rose another 4% in early trading Monday.
Coronavirus outbreaks at meatpacking plants have led to closures of beef, pork and poultry facilities at major food processing companies Tyson (TSN). Chinese-owned Smithfield and Brazil's JBS (JBSAY).
10:21 a.m. ET, April 27, 2020
Oil company Diamond Offshore files for bankruptcy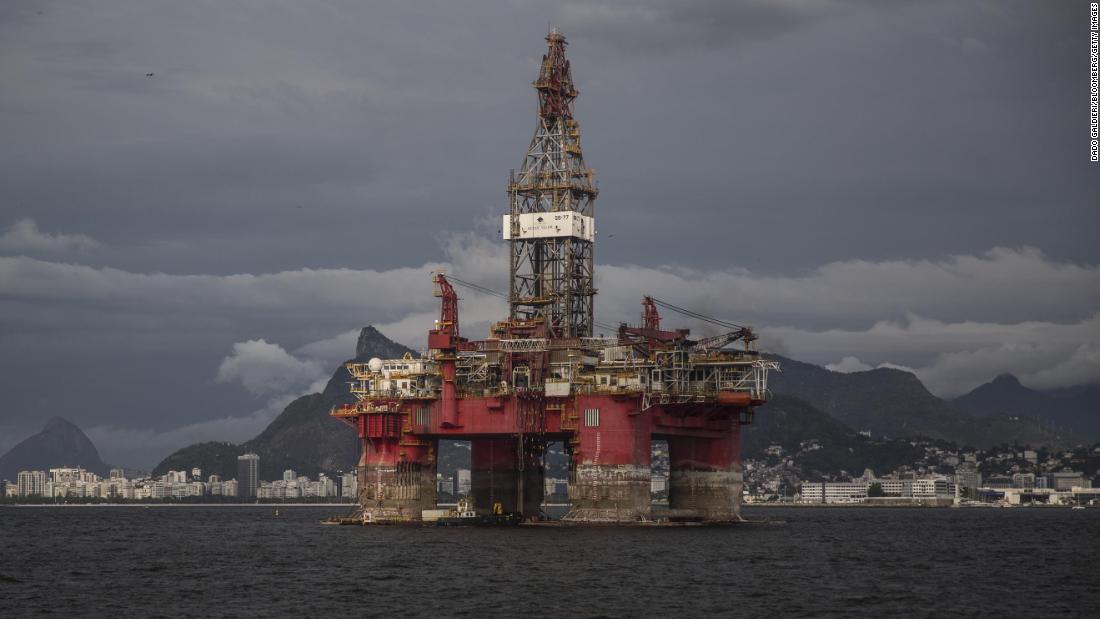 The cratering oil market has tipped yet another energy company into bankruptcy.
Diamond Offshore (DO), which was posting losses even before the current plunge in oil prices, filed for bankruptcy protection Monday. As its name suggests it conducts offshore drilling with 15 rigs working for Hess, Occidental (OXY), Petróleo Brasileiro and BP (BP).
Diamond lost $357 million last year -- nearly twice the loss it posted in 2018 -- as revenue fell 12% to just under $1 billion. It has posted losses in four of the last five years, with only a narrow profit of $18 million in 2017. Over the last five years its losses total $1.2 billion.
The company had nearly $2 billion in long-term debt on its balance sheet as of Dec. 31, and only $156 million in cash. Diamond employs 2,500 workers.