US stocks unmoved by America's massive jobless claims: April 23, 2020
5:34 p.m. ET, April 23, 2020
Intel shares fall despite strong earnings in the first three months of 2020
Intel (INTC) shares took a sharp dip after the closing bell Thursday, despite the company's strong earnings report for the first three months of 2020.
Intel reported earnings per share of $1.31, up 51% from the same period in the prior year, on $19.8 billion in quarterly revenue. Wall Street analysts had projected the company would make around $18.6 billion in revenue during the first quarter.
The chip maker's stock fell more than 5% in after-hours trading, though, after the company declined to provide financial guidance for the full year given the economic uncertainty caused by coronavirus. For the three months ending in June, Intel is projecting earnings per share of $1.04, up just 13% from the prior year.
"Our first-quarter performance is a testament to our team's focus on safeguarding employees, supporting our supply chain partners and delivering for our customers during this unprecedented challenge," Intel CEO Bob Swan said in the earnings press release Thursday.
The shift for many companies to remote working set-ups amid coronavirus may have been a boon to Intel. Revenues from the company's data center group were up 43% to $7 billion during the quarter, which includes 53% year-over-year growth in cloud service provider revenue. Intel's PC business was also up 14%.
In a March 19 letter to customers, Swan called the technology industry "more essential now than it has ever been," and said Intel's manufacturing and production teams were maintaining on-time delivery rates above 90%.
But given the economic impact of coronavirus, analysts have wondered whether companies will be able to keep spending on enterprise tech services from firms such as Intel. On a call with analysts Thursday, Swan also acknowledged that demand in the second half of this year "remains more uncertain" because of the pandemic.
4:07 p.m. ET, April 23, 2020
Stocks finish mixed
US stocks finished mixed on Thursday after losing steam into the close.
The Dow recorded its second gain in a row, closing up 0.2%, or 39 points.
The S&P 500 finished down 0.1%.
The Nasdaq Composite ended unchanged.
The market once again shrugged off a bleak look at America's labor market. 4.4 million people applied for first-time unemployment benefits last week, bringing the total over the past five weeks to 26.5 million. This met market expectations.
Drug maker Gilead (GILD) closed down 4.3% following a report that the company terminated a trial of a potential coronavirus treatment early, and thus had no conclusive findings about its effectiveness.
1:32 p.m. ET, April 23, 2020
Stocks lose steam after report of Gilead drug trial fail
It was going so well...
US stocks lost some steam in the early afternoon following a Financial Times report saying the trial for a potential coronavirus drug from drug maker Gilead (GILD) had failed.
Stocks came off their highs following the report, showing just how much hope and uncertainty remain part of day-to-day investor sentiment swings.
The Dow was last up 215 points, or 0.9%, while the S&P 500 was up 0.8%. The Nasdaq Composite gained nearly 1%.
Gilead, which is a Nasdaq-traded stock, fell more than 5%.
12:43 p.m. ET, April 23, 2020
Quibi loses its head of brand and content marketing
Megan Imbres, Quibi's head of brand and content marketing, is leaving the new short form streaming service just weeks after its launch.
Imbres, who worked on ad campaigns for the service, including spots during the Oscars and Super Bowl. The service premiered on April 6.
"Megan played an important leadership role in the development of Quibi's unique brand," a spokesperson told CNN Business. "She helped build an all-star brand and content marketing team that is well-equipped to transition Quibi from pre-launch to post-launch. We wish her all the best in her next endeavor."
Quibi offers videos and series that are cut into segments of 10 minutes or less. It was launched with much media fanfare, but the buzz has since waned.
The service, the brainchild of Jeffrey Katzenberg and Meg Whitman, has raised nearly $2 billion in funding. It costs $4.99 with ads, $7.99 without and offers a 90-day free trial.
Quibi said Wednesday that it had more than 2.7 million app downloads in its first two weeks. It did not say how many people are actually watching the service.
1:11 p.m. ET, April 23, 2020
Dow climbs more than 250 points at midday
US stocks are in the green for a second day in a row, with the Dow up 250 points around midday.
The Dow rose 1.1%, or 270 points, while the S&P 500 and the Nasdaq Composite both climbed 1%.
The market is not reacting much to weekly jobless claims that economists are paying so much attention to, in great measure because the number of lost jobs was widely expected. Touted as the closest economic data point to real-time developments, the weekly first-time claims for unemployment insurance are now the pulse point for how the crisis is affecting Americans. In the past five weeks, 26.5 million people have filed first-time jobless claims.
These are staggeringly big numbers. But the fact that the initial claims data has moderated for three consecutive weeks now should be seen as a positive for risk assets," said Shaun Osborne and Juan Manuel Herrera, currency strategists at Scotiabank, in a note.
Weekly claims are still in the millions, but have come off their peak of 6.9 million in the last week of March.
1:09 p.m. ET, April 23, 2020
Boeing sued by aircraft leasing company that wants its 737 Max deposits back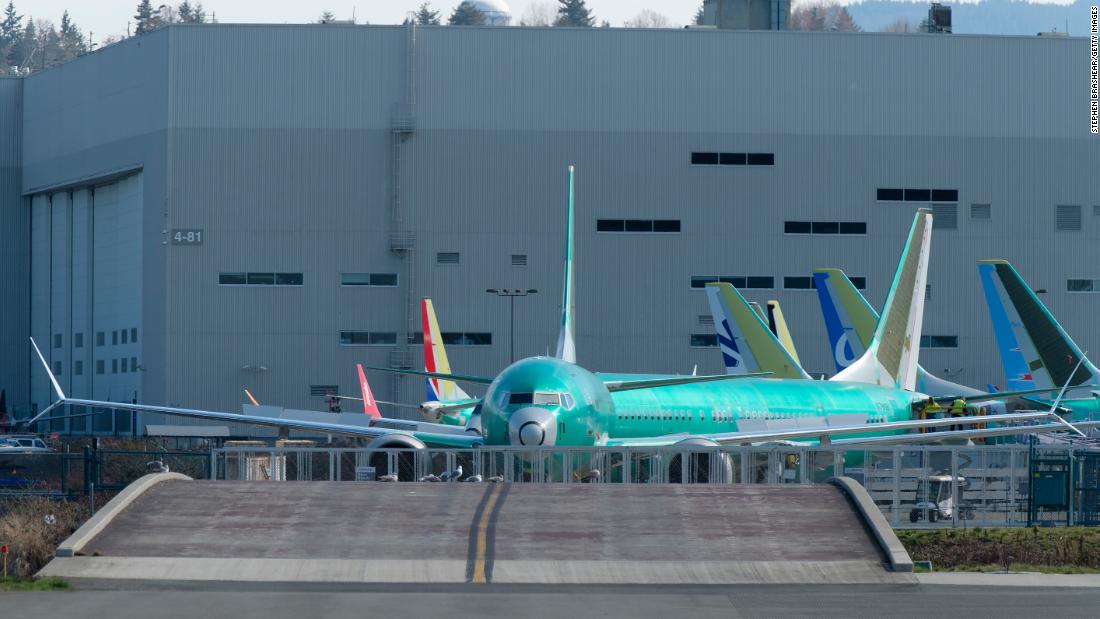 Kuwaiti aircraft leasing and finance company Alafco has sued Boeing to get back $336 million in deposits it put down on 40 737 Max jets.
The suit, filed this week, said that the company was supposed to take delivery of the jets starting in March of 2019, and should received 10 planes by now. All deliveries of the 737 Max were put on hold by the worldwide rounding of the jet that same month, following two fatal crashes that killed 346 people.
In its suit, Alafco said it has canceled the full order and demanded a return of the deposits, but that Boeing has not responded to the demand. The current circumstances "substantially impair the value of the purchase agreement as a whole," the leasing company said. Boeing would not comment on the suit, which was filed in federal court in Chicago.
With more than two-thirds of commercial jets worldwide now parked due to a near halt in demand for air travel, airlines and aircraft leasing companies have been canceling or delaying orders for new jets.
Boeing has seen 220 canceled orders for the Max so far this year, including 29 canceled orders disclosed earlier this week by the aircraft leasing arm of the China Development Bank. Unlike Alafco, however, most of those who canceled still have orders for more of the planes on the books. The CDB still has orders for 70 737 Max jets.
11:09 a.m. ET, April 23, 2020
New home sales plummet in March
Sales of newly-built single-family homes plummeted 15.4% in March, totaling just 627,000 last month, according to data from the Census Bureau and the Department of Housing and Urban Development. The revised rate for home sales in February was 741,000.
Year-over-year sales for March fell 9.5%. The last time that figure was so low was in May 2019.
The coronavirus pandemic is forcing people to shelter in place, and a stalling economy with tens of millions of job losses is leading consumers to avoid big-ticket purchases.
And it's likely to get worse. "Given the widespread nature of the shutdown during April, it is probable that new home sales activity will drop much further when the April figure is reported," said Ben Ayers, senior economist at Nationwide, in emailed comments.
10:42 a.m. ET, April 23, 2020
Oil prices are skyrocketing... back to $18
The US oil market is in such disarray that even after stringing together a series of ridiculous percentage gains, crude remains well below $20 a barrel.
Consider the past few days of head-scratching moves out of negative territory:
Tuesday: +127%
Wednesday: +38%
Thursday: +29%
And yet crude is sitting at just $18 a barrel. That's still down an incredible 72% from the January high of $63.27 a barrel.
Outsized spikes can take place when asset prices sink to extremely low levels.
"It's not going to take a lot to move this market," said Ryan Fitzmaurice, energy strategist at Rabobank.
US crude settled at -$37.63 a barrel on Monday, the first trip below zero since oil futures launched in 1983.
"We're seeing oil prices revert back to fair value," said Fitzmaurice. "This is evidence that Monday's fall into negative territory was mostly technical."
Yet subzero oil also reflected the fact that the world is running out of room to store all the barrels piling up during the pandemic.
The oil market may have been helped in recent days by renewed tensions between the United States and Iran.
10:48 a.m. ET, April 23, 2020
S&P downgrades Disney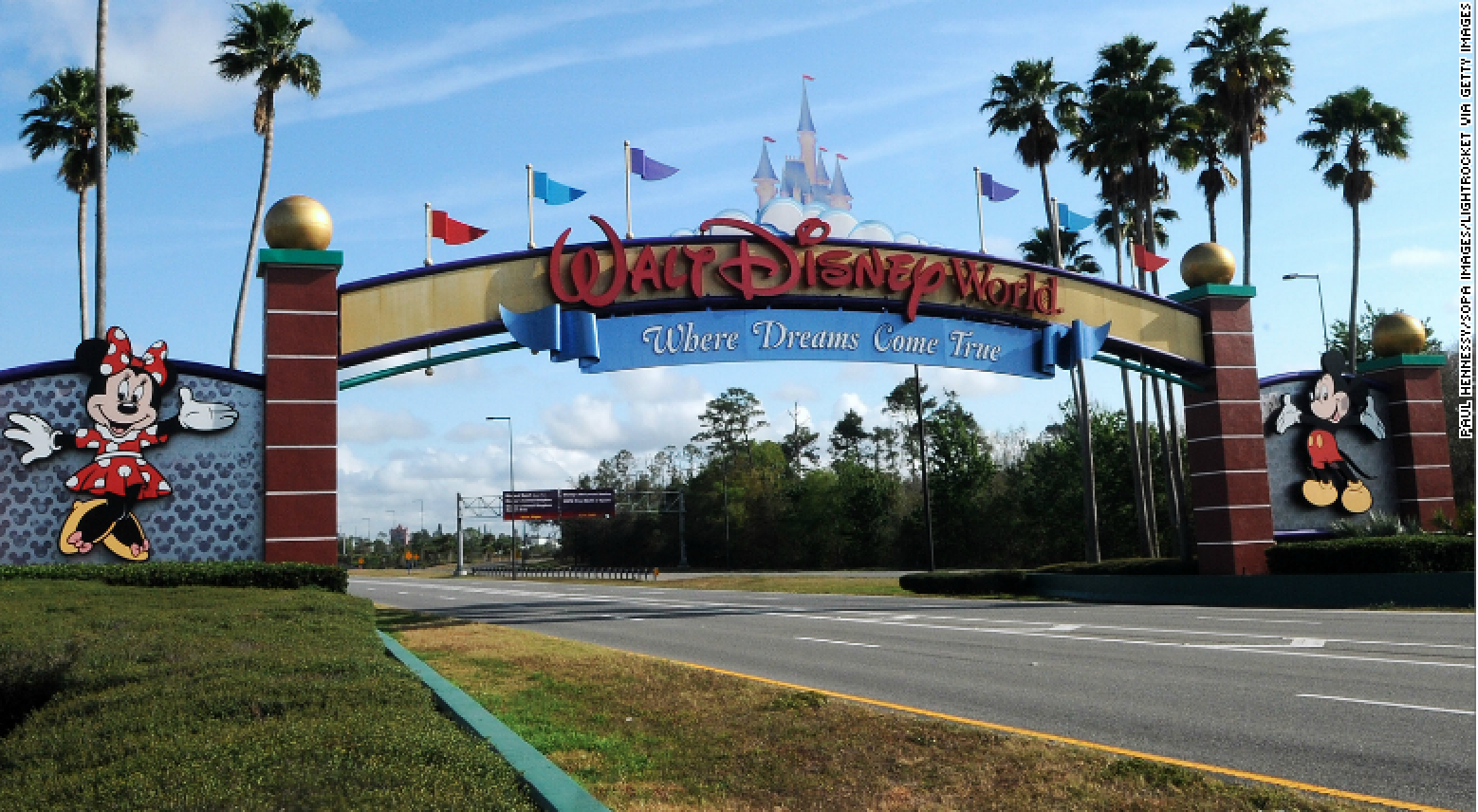 S&P Global Ratings downgraded Disney's credit rating on Thursday because the coronavirus outbreak continues to damage its business.
"Its theme parks and film and TV studios remain closed by government-mandated social distancing orders and it's unclear when they will be allowed to reopen," S&P said in a statement on Thursday.
The credit ratings company downgraded Disney's debt to an "A-" noting that because many of Disney's businesses "require social interactions," the outbreak has hit Disney "the hardest of the global media and entertainment companies."
Disney (DIS) has been significantly exposed to the coronavirus pandemic. Its theme parks around the world have closed, major films have been delayed and live sports, which propel ESPN's broadcasting, have been put on hold.
S&P added that Disney's parks won't likely return to normal capacity even after stay-at-home restrictions are lifted.
"Continued government-imposed social distancing and, longer term, consumer concerns about attending public events will likely retard theme park attendance.," it said.
Disney has taken steps to manage the financial impact on the company, including executives taking pay cuts and furloughing employees "whose jobs aren't necessary at this time."