Oil weighs on markets as stocks sink: April 21, 2020
By CNN Business
Updated
6:58 a.m. ET, April 22, 2020
6:58 a.m. ET, April 22, 2020
4:04 p.m. ET, April 21, 2020
Stock close down for second day
From CNN Business' Anneken Tappe
US stocks closed in the red on Tuesday, as the oil market collapse weighed on markets and investor sentiment for a second straight day. The three main US benchmarks posted their worst days since April 1.
Concerns about oil storage availability amid weaker demand for the commodity has driven prices down. While the May US oil contract, which settled in negative territory Monday, rallied back before expiring, both the June contract and the global benchmark Brent traded lower.
"Earnings took a bit of a backseat on Monday but that will change over the coming days as more companies report, including some big tech names," said Craig Erlam, senior market analyst at Oanda.
2:56 p.m. ET, April 21, 2020
Oil could drop to -$100 a barrel next month, Mizuho analyst says
The oil market is broken, and there's little to do to fix it but wait.
The US May oil contract settled at -$37.63 a barrel yesterday -- the first negative settlement in history. Storage facilities in America are running at capacity, which is what led the price to plummet. Plus the May contract is expiring today, which made for very erratic trading.
But what's really staggering about yesterday's negative price is that the US oil market might get fundamentally worse the coming month, said Paul Sankey, managing director at Mizuho Americas, a Japanese bank.
"This negative price was not a purely paper anomaly," but rather the meeting point of the financials and the physical realities of commodities, Sankey said in a research note today.
The physical reality of oil is that it is difficult to handle, volatile, potentially polluting, and actually useless without a refinery. If you had a stinking barrel of oil in your back yard, would you pay someone $100 a barrel to take it away? Yes, and you would probably be relieved you were not charged $300 a barrel," Sankey added.
The oil market is in a full-on day-to-day management crisis, he added, and that won't just go away.
Will we hit -$100 a barrel next month? Quite possibly," Sankey said.
Reducing production will take some time, Sankey said, so this situation of too much oil and nowhere to store it is here to stay. At least for now, and until demand picks up again.
2:35 p.m. ET, April 21, 2020
Dear everyone who said negative oil prices were a fluke: Read this
By CNN Business' David Goldman
A bunch of naysayers Monday claimed that negative oil prices were a fluke -- a result of a market mechanic that was produced by low volume in the expiring front-month May contract, the next contract set for delivery.
Their evidence: Oil for June delivery was trading normally, at more than $20 a barrel. ("Normal" is relative: we haven't seen prices that low in more than a decade, but still...)
Well, Tuesday, the June contract fell 68% to $6.50 at one point. It's now trading at just above $10 a barrel. There's nothing particularly normal about that.
True, they're not negative. True, Brent -- the global benchmark -- is still trading at $18 a barrel (it's "only" down 29% today). But the oil market is broken, and negative prices could come back sooner than yesterday's skeptics would like to believe.
1:42 p.m. ET, April 21, 2020
Here's why the dollar is up even though the US oil market broke
From CNN Business' Anneken Tappe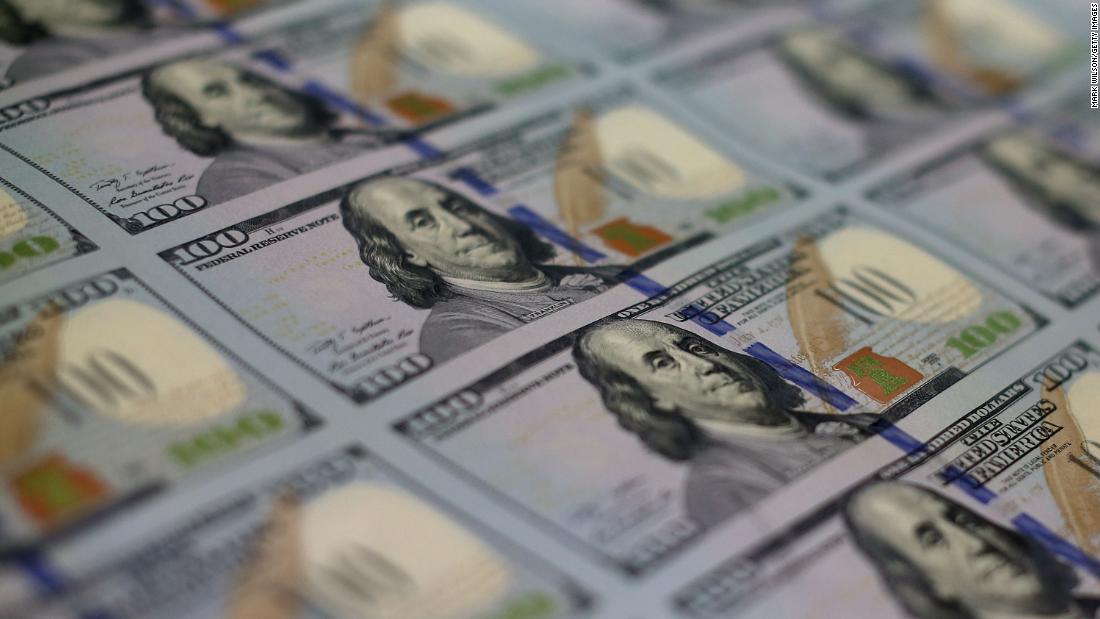 Currencies of commodity-linked countries like Canada, Norway, Russia, Mexico and Brazil are getting clobbered for a second day after the oil market fell apart yesterday.
Even though the May contract for US oil rebounded ahead of its expiration later today, it settled in negative territory for the first time in history on Monday. The June contract and the global benchmark Brent remain in the red.
In lockstep, currencies of oil-related economies are suffering and are selling off against the US dollar.
But America is also a net oil exporter -- it exports more than it imports -- and the current selloff is to a large part driven by storage shortages in the country. So why is the greenback not selling off?
"Today is a risk-off day and day and so you're seeing the dollar a bit stronger," said Minh Trang, senior currency trader at SVB.
The greenback is once again being saved by its safe-haven status, Trang added: "The dollar continues to be the place where everyone goes."
The ICE US dollar index was up 0.4% at 100.31 in the early afternoon.
12:57 p.m. ET, April 21, 2020
Netflix is booming while everyone is at home
From CNN Business' Frank Pallotta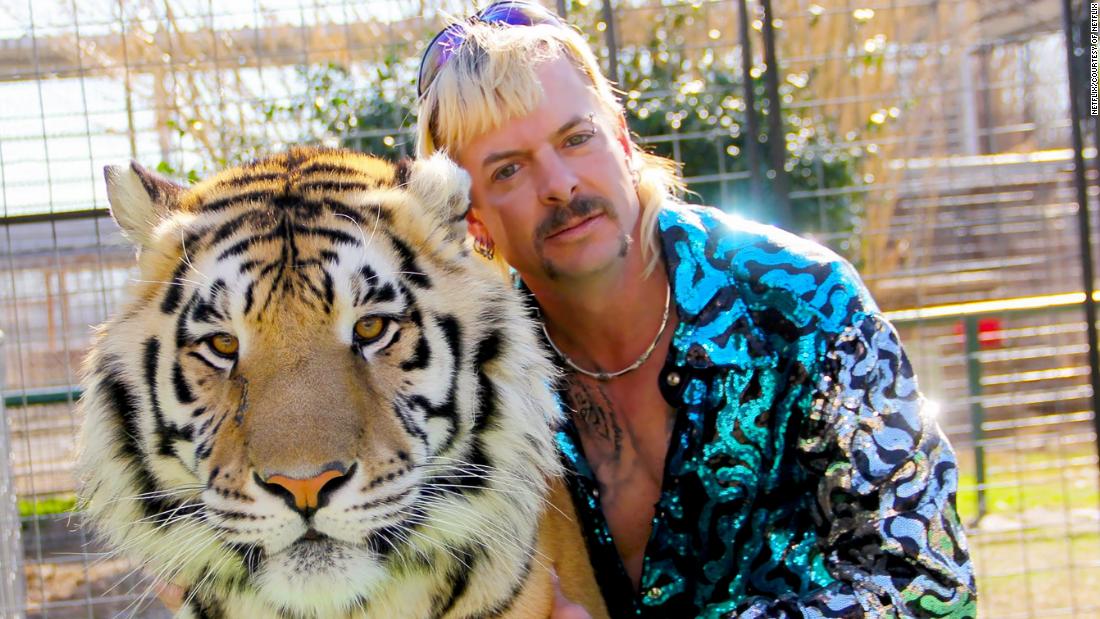 Netflix is set to report its earnings after the bell today, and investors are eager to learn how the pandemic has altered Netflix's business, viewership and subscriber count.
Netflix's (NFLX) own subscriber forecast is roughly 174 million worldwide — growth of around 7 million from last quarter. Bernie McTernan, a senior analyst at Rosenblatt Securities, believes the company should blow that number out of the water thanks to a boost from people being stuck at home.
Netflix's stock has been surging: It's up 30% this year.
Here's what else to look out for:
Will Netflix raise prices?
As demand for streaming video grows, Wall Street investors are growing hopeful that Netflix will soon raise prices, McTernan said. But that could be a tough pill for many customers to swallow with so many people out of work.
The Tiger King effect
Like its competitors, stoppages in production because of coronavirus could pinch Netflix's content supply chain, McTernan noted. Netflix could weather the storm if its massive library keeps pumping out hits like "Tiger King: Murder, Mayhem and Madness," but that's no sure thing.
Roughly 34 million unique viewers watched the series over the first 10 days of its release, according to Nielsen. However, that number doesn't include viewers outside of the United States, so Netflix will likely flaunt more detailed numbers about the series.
Streaming wars ramp up
Netflix may also have a lot to say about its growing list of streaming rivals.
Peacock, the Comcast (CCZ)-owned streaming service from NBCUniversal, launched on April 15 for Comcast's X1 and Flex customers and CNN's parent company WarnerMedia is set to release its new service, HBO Max, next month.
Disney (DIS) has been crippled by the outbreak with its parks shut down and its films delayed, but its Disney+ streaming service has been thriving. It crossed the 50 million subscriber mark earlier this month.
12:28 p.m. ET, April 21, 2020
Stocks are near session lows at midday
From CNN Business' Anneken Tappe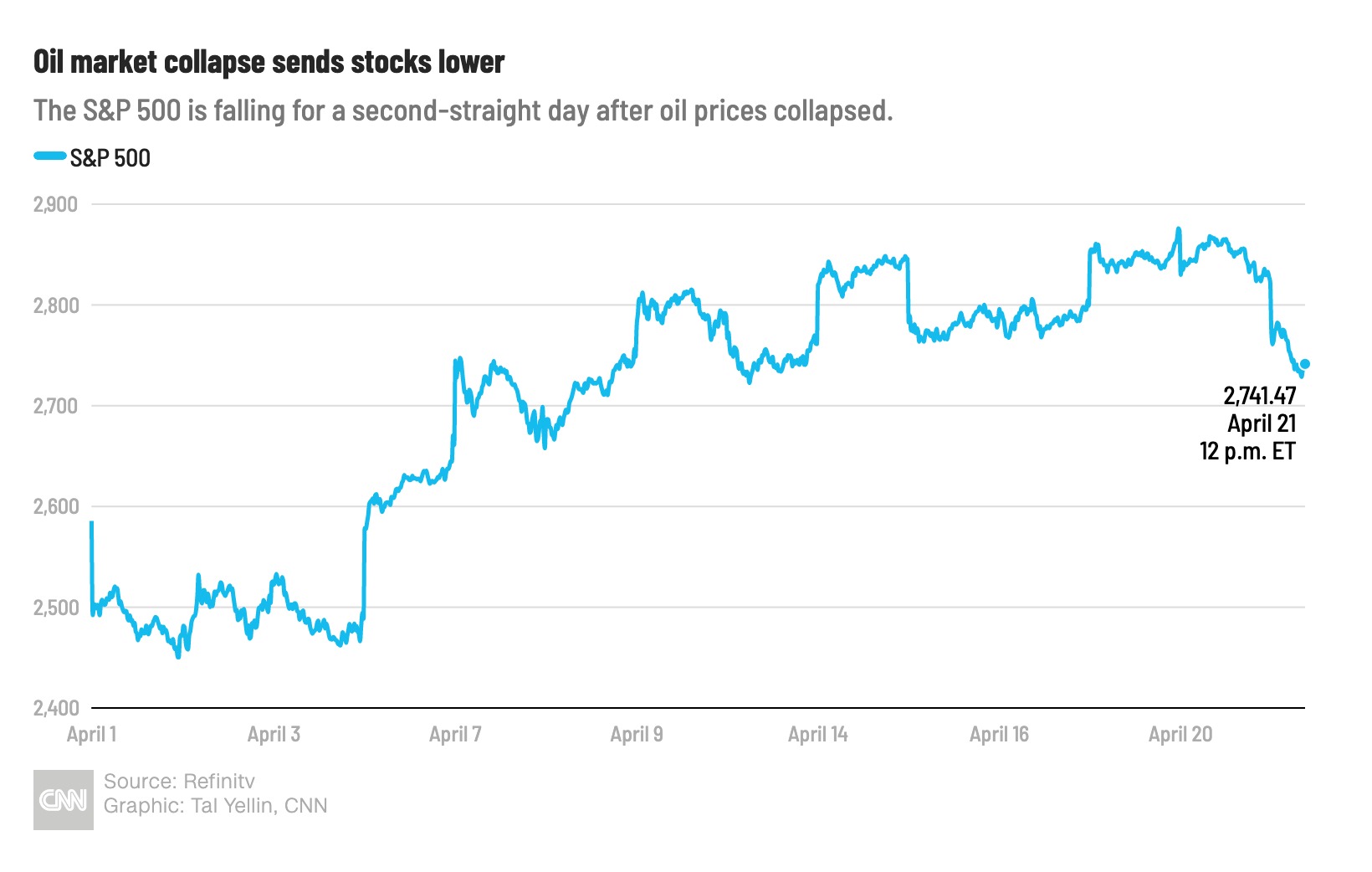 The collapse of the oil market continues to weigh on market sentiment today. US stocks are near their session lows around midday.
12:56 p.m. ET, April 21, 2020
Oil roars back ... to $5
From CNN Business' David Goldman and Julia Horowitz
Oil bulls everywhere are rejoicing: The price of a barrel of WTI crude to be delivered in May has turned positive. It was last trading just above $5 per barrel.
OK, no bulls are rejoicing. Oil remains more than 70% below its recent high in January. But it has come all the way back from settling at -$37.60 per barrel Monday, the first negative close in history.
Producers, which are running out of storage space as demand for energy collapses, are willing to pay buyers to take crude off their hands. That's never happened before for West Texas Intermediate futures, the US benchmark.
The May contract closes on Tuesday, which means trading is light and most investors are looking ahead to June. But this isn't just a case of odd market mechanics. The price of a barrel of WTI crude to be delivered the following month is also plunging. It's down 28% and is now trading below $15 per barrel.
Brent crude futures, the global benchmark, dived below $20 per barrel on Tuesday to their lowest level since 2002. They were last trading at $20.46 per barrel, a nearly 21% decline.
12:56 p.m. ET, April 21, 2020
Consumers expect the COVID-19 interruptions to last through the summer, survey finds
From CNN Business' Anneken Tappe
The coronavirus pandemic is changing the way we live. Politicians are grappling to figure out how to reopen the economy when the outbreak is over. But consumers are settling in for this to take some time.
Respondents to Cowen's mid-April consumer tracker insights survey on average expect the outbreak to be disruptive to their work and home life for another 5.1 months. Two weeks prior to this survey, consumers only expected a 4 month impact on average.
53% of surveyed consumers said they expected to spend less over the spring and summer. The first round of cost cutting would be on dining out and social activities, followed by apparel and accessories and travel and vacations.
Most respondents also expect to receive stimulus checks from the government, and expect to use the money to contribute to their savings, buy groceries and pay down debt.