Touring the new Star Wars: Galaxy's Edge
12:11 p.m. ET, May 30, 2019
Here's what's on the Galaxy's Edge menu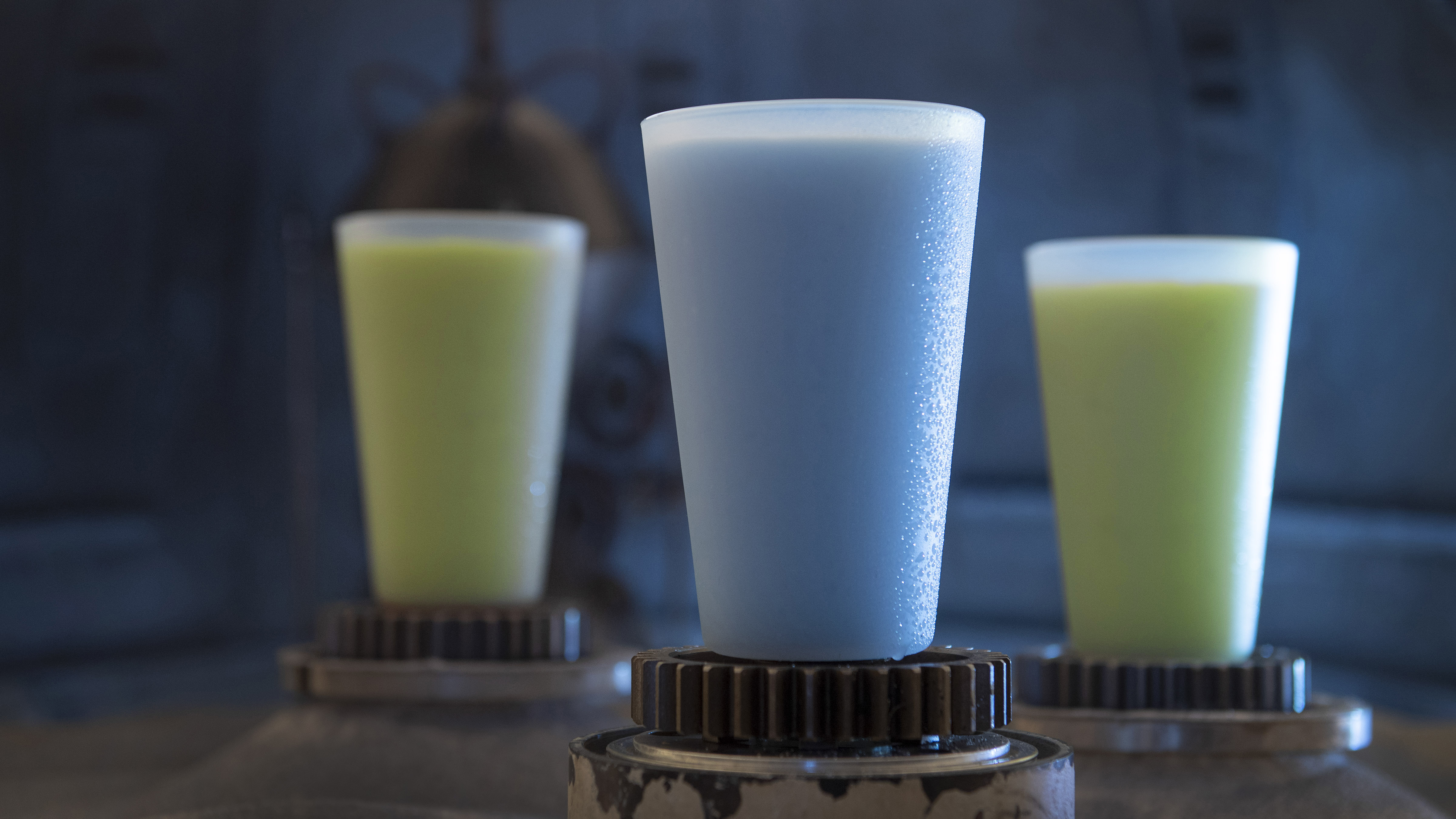 The immersion at Star Wars: Galaxy's Edge is so deep it'll even impact how you eat iwhile you're there.
The new land offers all types of food with a Star Wars bent. There's fried Endorian Tip Yip, or as we like to call it chicken.
There's also Ronto Roasters, which will offer Ronto Wraps (hot dogs with some coleslaw). In fact, when you walk into the Ronto Roasters restaurant you can see your wraps being "cooked" by an old pod-racing engine.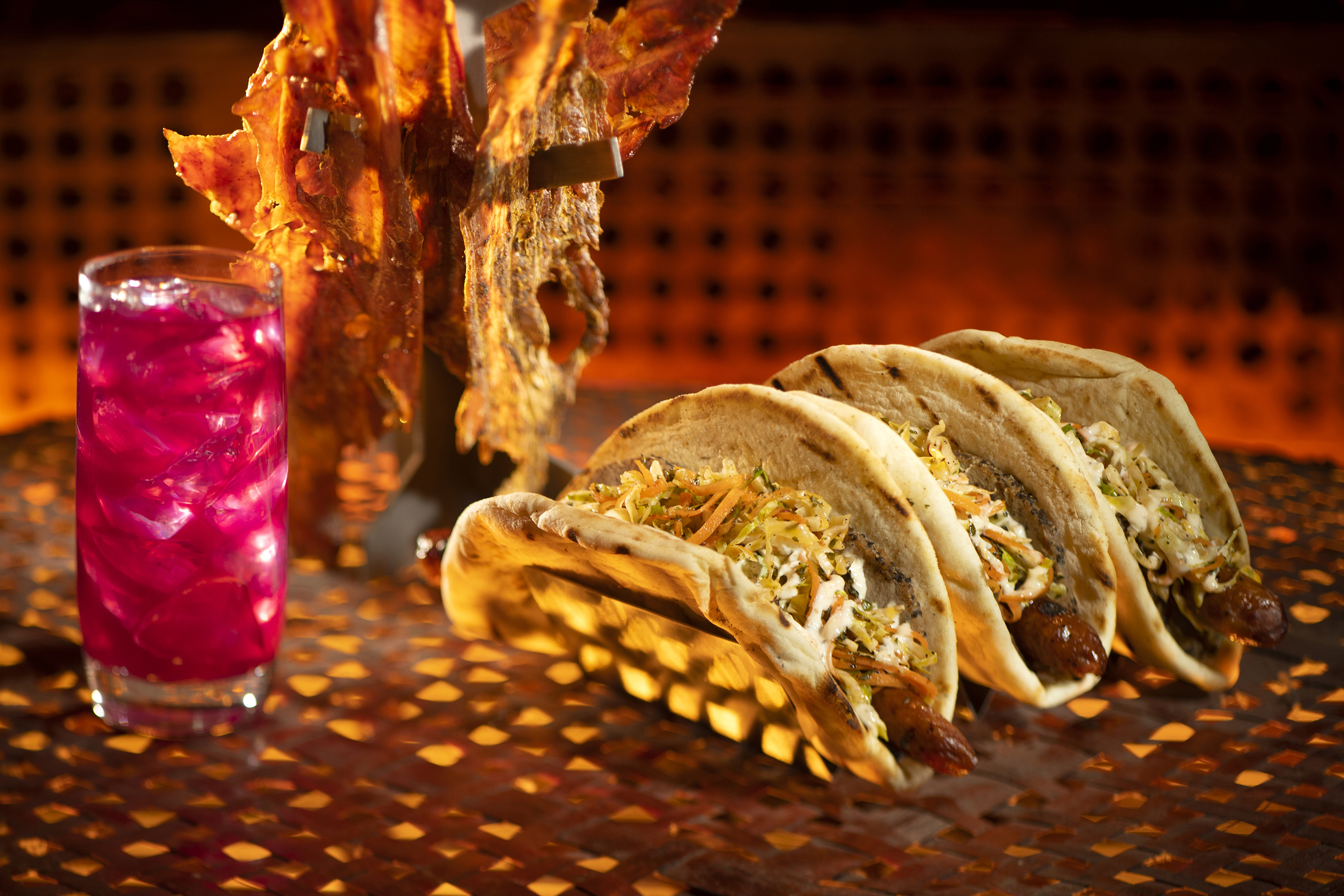 And, of course, there's one of Luke Skywalker's favorite beverages, Blue Milk. The drink is creamy and of course blue (it tastes like a sweeter rice pudding).
I wasn't a huge fan of it, but hey maybe my palette isn't ready to go galactic just yet.
12:18 p.m. ET, May 30, 2019
Porgs and lightsabers: There's a ton of stuff to buy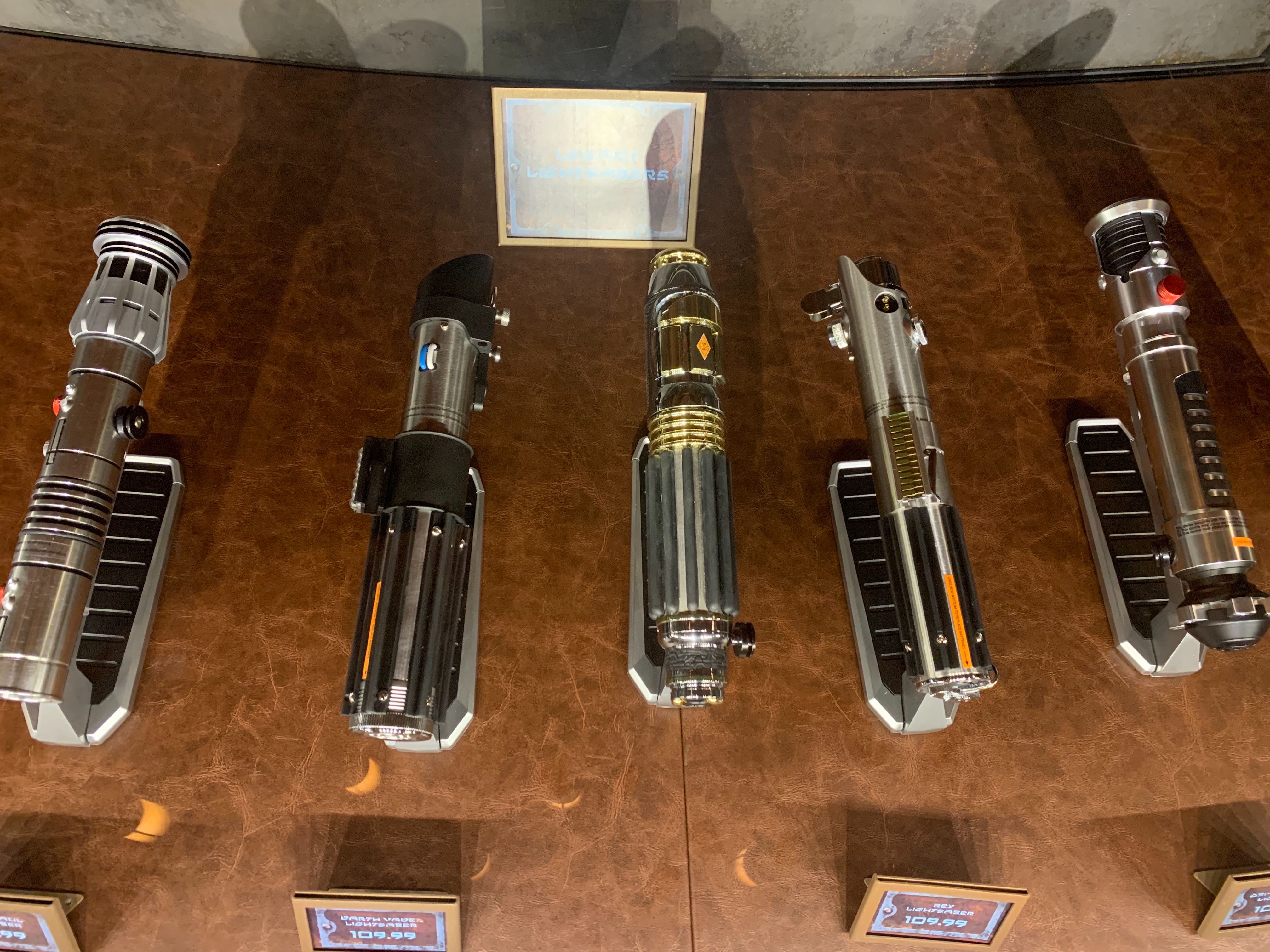 You don't just visit Galaxy's Edge -- you'll bring it home too.
I mean, it's a Disney park, so there are naturally gift shops galore -- and they have gone to the trouble to offer a truly eclectic selection of merchandise.
For starters, you can buy a lightsaber. And not like a toy one but actual metal lightsaber with a fiberglass blade. You can buy one based on the one owned by your favorite character such as Kylo Ren or Luke Skywalker, or customize one yourself. Pretending to be a Jedi Knight won't be cheap, however. It'll cost you around $200.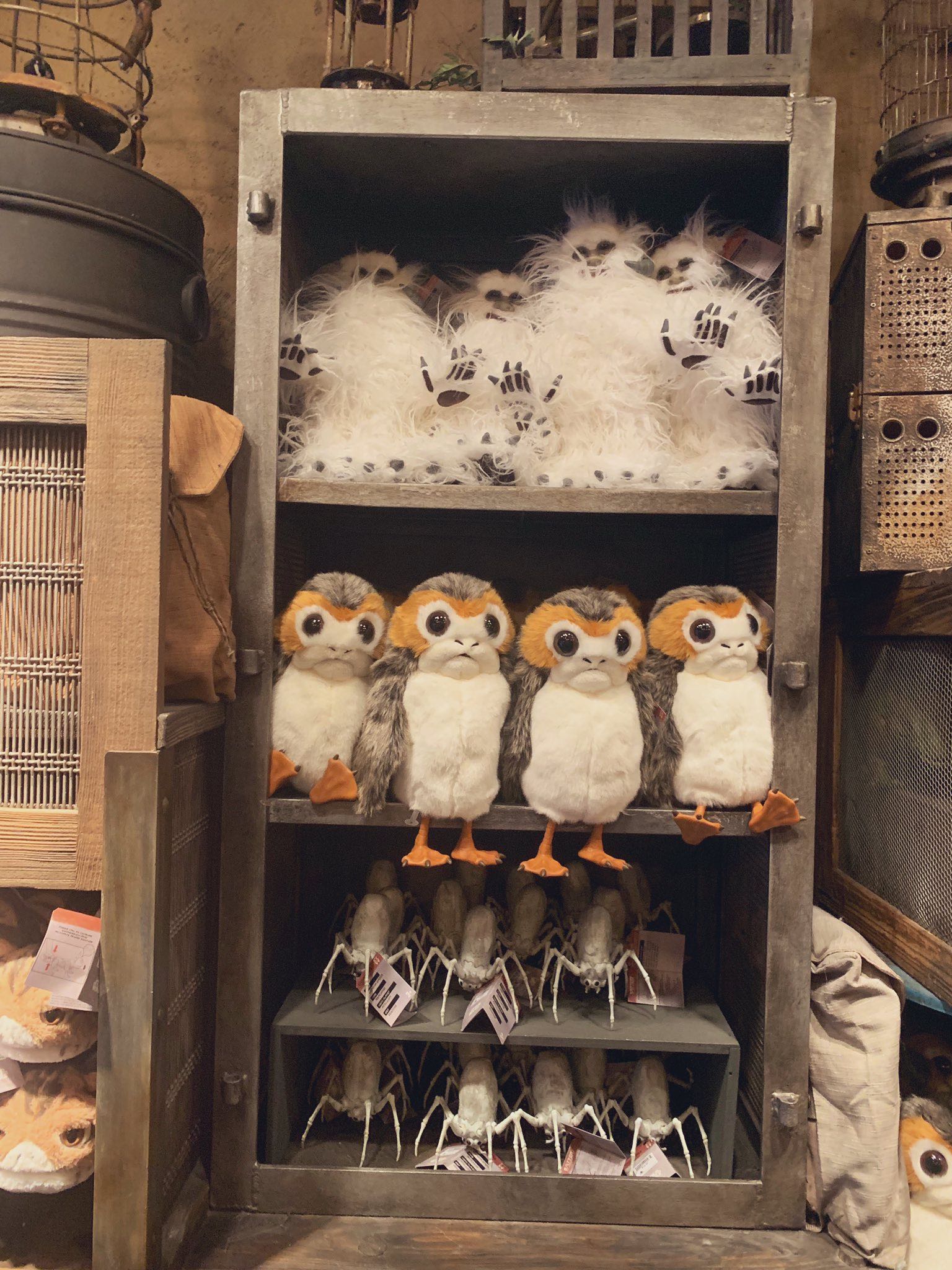 Then there are the Porgs. Galaxy's Edge's creature shop will let you bring home a plush toy based on the franchise's many lovable or creepy critters. A Porg, which is a penguin like creature, flaps its wings and squawks and goes for the low, low price of $50.
9:48 a.m. ET, May 30, 2019
R2-D2 is rolling around Galaxy's Edge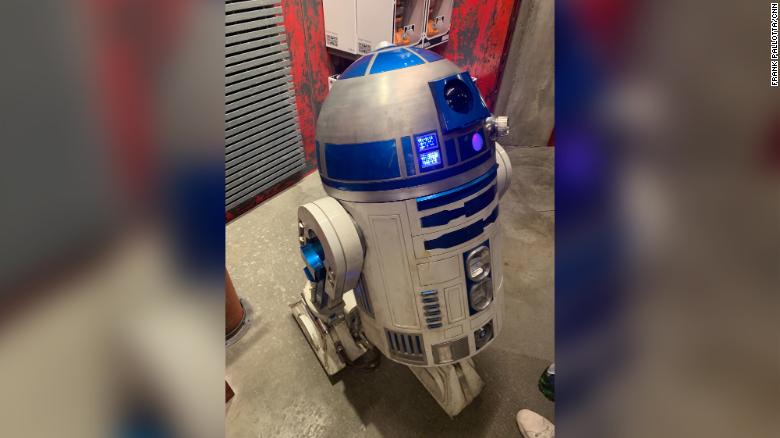 Another character to say hi to at Galaxy's Edge is R2-D2. A lifelike, up and running version of the droid from the franchise is rolling around the land.
The little droid beeps, bloops and can be found in one of the land's many gift shops — The Droid Depot. It reacts to you by moving it's head and beeping different sounds.
You can even bring R2 home if you want it. All you'll need is $25,000.
11:56 a.m. ET, May 30, 2019
Take a photo with Chewbacca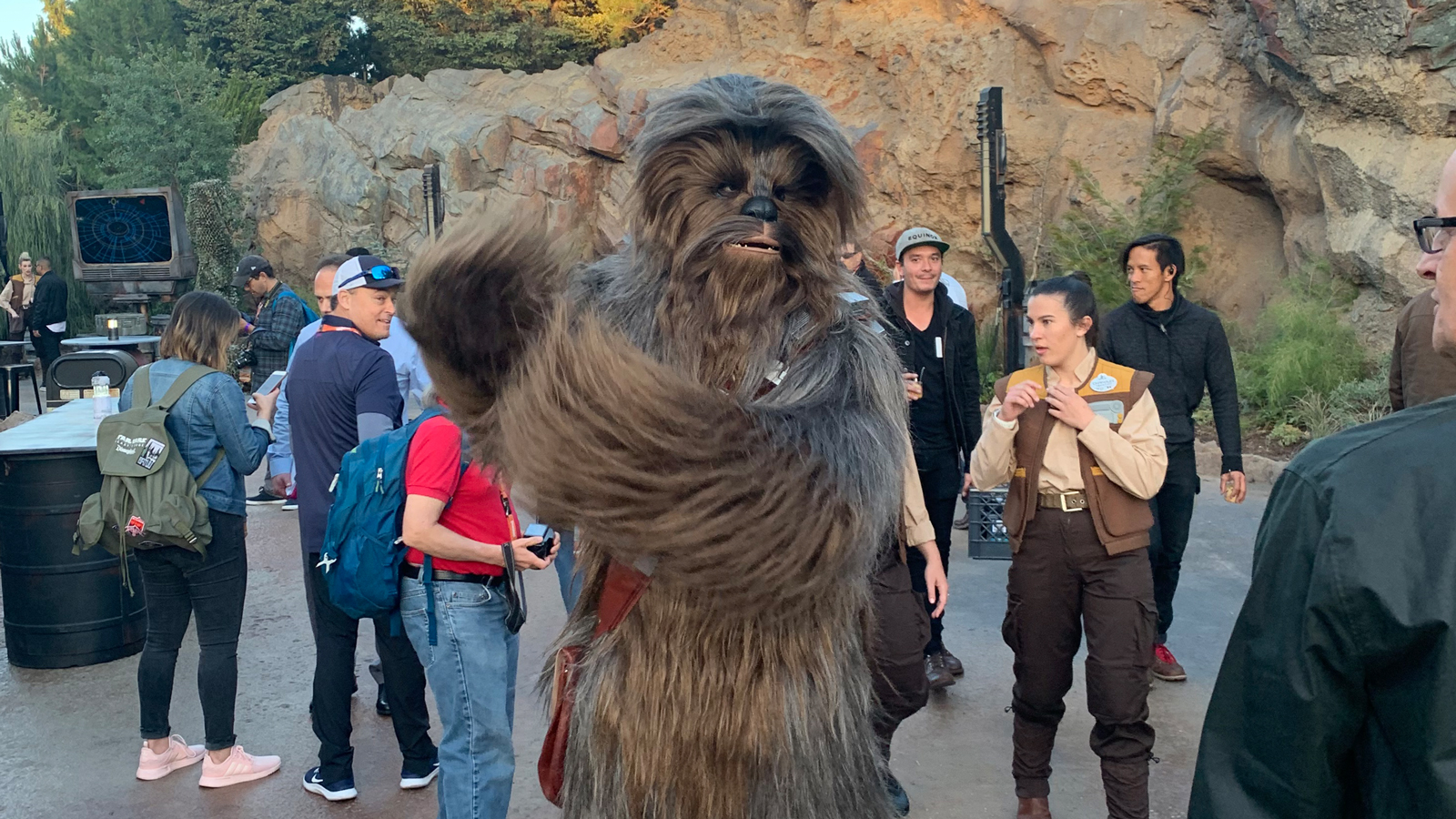 What would a Disney park be without characters?!
Galaxy's Edge is a chock full of Star Wars characters including Rey, Kylo Ren and, of course, everyone's favorite co-pilot Chewbacca.
The characters walk around the land and even stop to take photos with you. And yes, Chewie is taller in person.
9:54 a.m. ET, May 30, 2019
Mark Hamill and Harrison Ford surprise the crowd at the Galaxy's Edge opening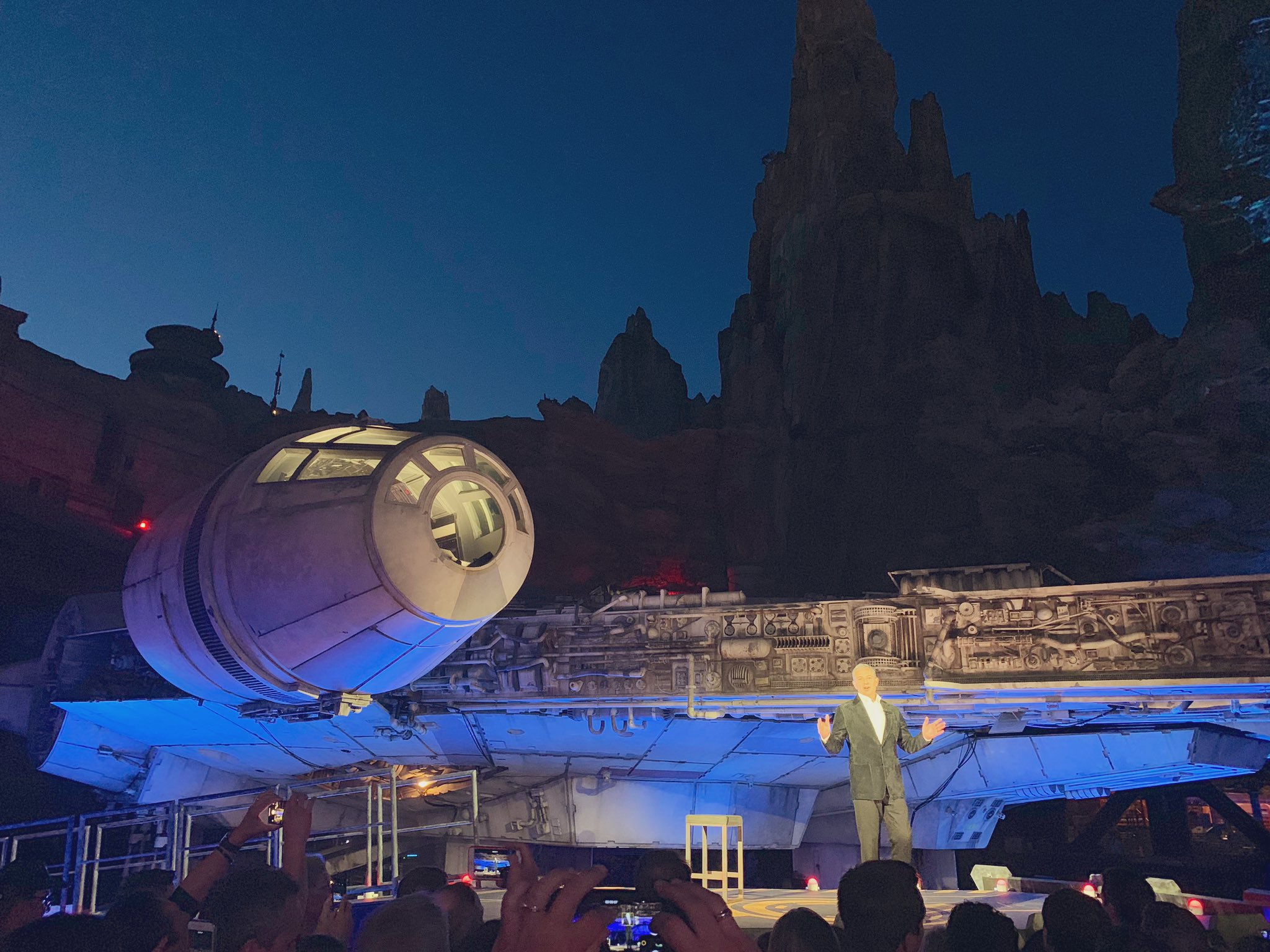 Disney (DIS) pulled out all the stops at the world premiere of Star Wars: Galaxy's Edge on Wednesday night.
Disney CEO Bob Iger stood in front of the Millennium Falcon, the spiritual heart of Galaxy's Edge, and told a crowd of hundreds that the opening was one of his best nights as CEO.
He then brought out the man who came up with this whole world, Star Wars creator George Lucas.
"This is like Star Tours but on steroids," Lucas said.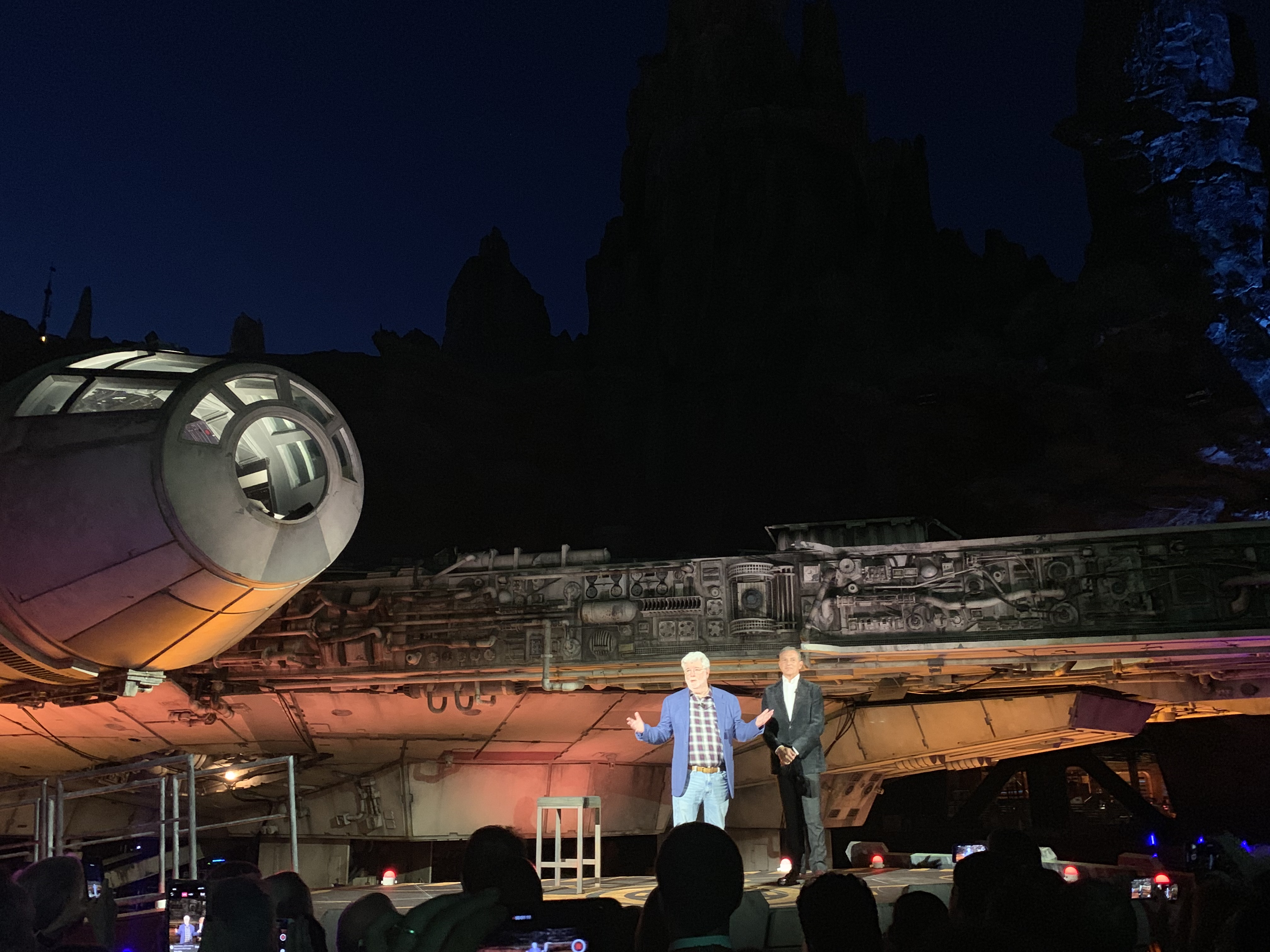 But the surprises didn't stop there. Stars from the franchises including Billy Dee Williams, Mark Hamill and most surprisingly Harrison Ford came on stage with Iger to officially open the land with fireworks and cheers.
12:30 a.m. ET, May 30, 2019
Disney CEO Bob Iger: 'You're leaving your reality'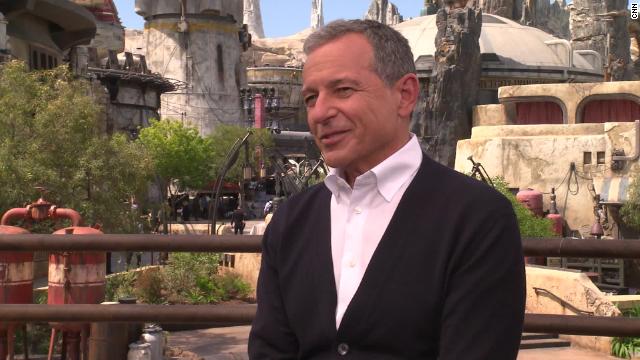 2019 has already been a big year for Disney (DIS), with the record-breaking success of "Avengers: Endgame," the unveiling of Disney+ and the opening of Galaxy's Edge. And it could get even bigger with "The Lion King" this summer.
For CEO Bob Iger, the biggest challenge of creating his company's new Star Wars land Galaxy's Edge was "making sure that this place in every aspect of it is true to what Star Wars is."
"You're leaving your reality, and entering the reality of Star Wars," Iger told CNN Business' Christine Romans in a wide-ranging interview at the new attraction Wednesday.
"This has become one of our most profitable businesses as we've expanded around the world," Iger said of the parks division.
The CEO also laid out his strategy for Disney's upcoming streaming service Disney+, and explained how he hopes the company will "do better than we did before" in 2020 and beyond.
Read and watch his full interview here.
8:15 a.m. ET, May 30, 2019
Disney spared no expense in building this park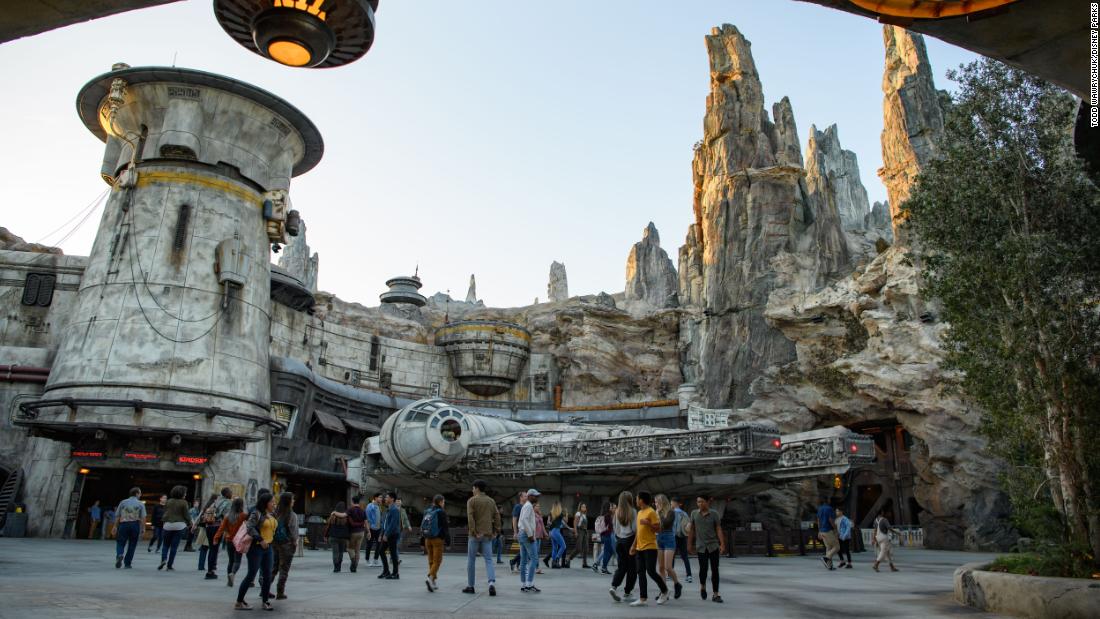 It feels like you're actually in Batuu. That's unique," says Bob Chapek, Disney's chairman of parks, experience and products.
Creating that "unique" experience wasn't cheap. Disney reportedly spent $1 billion on the sprawling 14-acre park in Disneyland in Anaheim, California.
A second Galaxy's Edge is opening later this summer in Florida's Disney World.
Context: Disney (DIS) is investing this money in its parks and resorts at a time when profits in its media division are falling. Profits hit a high in 2015, but have since dipped 15%. In that same period, profits for Disney parks and resorts have gone up 47%.
Read more about what all this means for the company's bottom line here.
10:29 p.m. ET, May 29, 2019
Welcome to Batuu!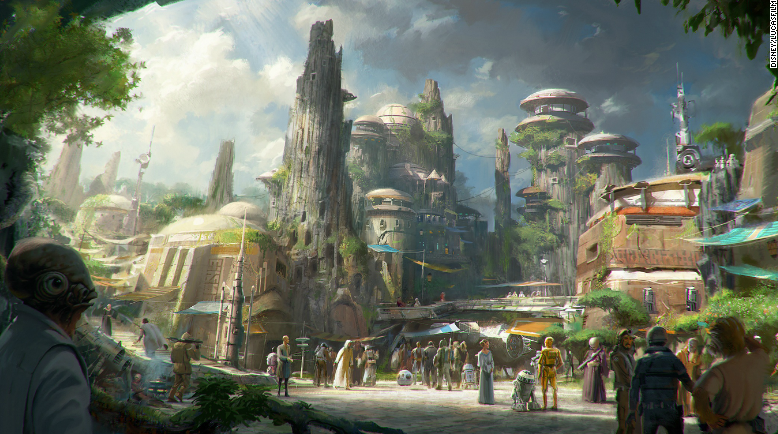 The galaxy is no longer far, far away. It's in Anaheim, California.
After four years of planning, Disney (DIS) is finally ready to debut the company's largest expansion at its parks ever, Star Wars: Galaxy's Edge.
The new land, which opens to the public at Disneyland in California on Friday, is a huge moment for Disney and the Star Wars brand.
This December, the Skywalker era of Star Wars will come to an end with "The Rise of Skywalker." Disney is now trying to prove that the franchise is much more than just the family drama of Luke, Leia and descendants like Kylo Ren. It's betting a lot (the land reportedly cost $1 billion) that Galaxy's Edge will help do that.
When guests walk into Galaxy's Edge they'll be entering the unfamiliar village of Black Spire Outpost — a bustling trading port on the planet Batuu -- rather than familiar Star Wars locales like Hoth and Endor. And that's very much the intention.
Galaxy's Edge is a new land, a new story and a new experience for Star Wars fans, which Disney hopes will expand the franchise for decades to come.
10:29 p.m. ET, May 29, 2019
Galaxy's Edge is just the beginning for Disney Parks
Disneyland is more than just about meeting Mickey.
Galaxy's Edge is a major investment in the future of Disney's parks division. That investment comes at a time when the division looks more and more important to the future of the whole company.
The company's media networks unit has traditionally been Disney's biggest moneymaker. Those profits hit a high in 2015, but have since declined 15%, likely due to cord-cutting and rising programming costs.
In that same period, profits for Disney's parks and resorts have jumped 47%.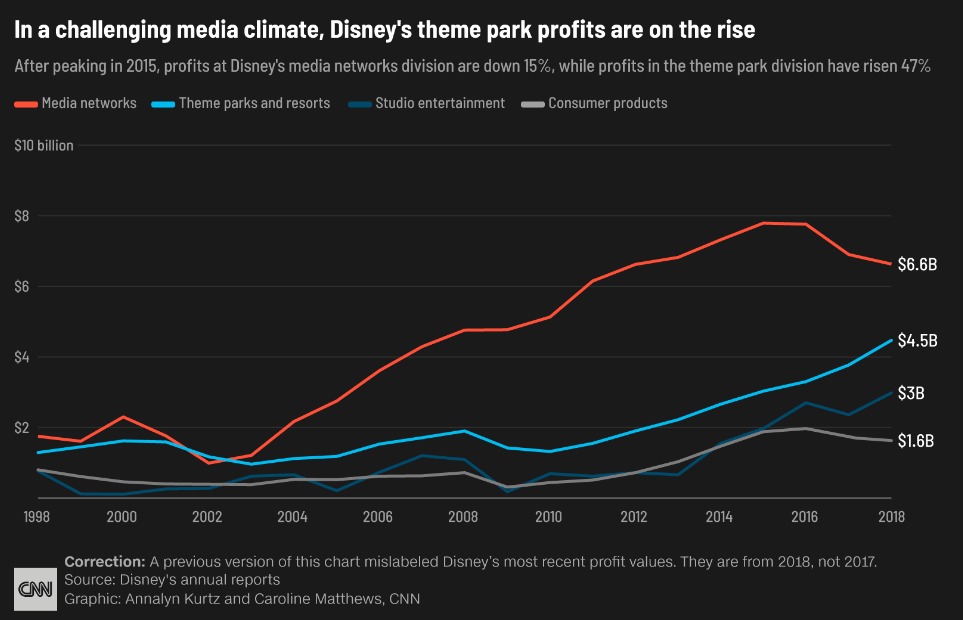 Disney (DIS) is investing heavily in its parks, even beyond the Galaxy's Edge.
It's adding new attractions to Epcot including a "Guardians of the Galaxy" roller coaster and a ride based on "Ratatouille." It's also building new Marvel-themed areas at Disney's California Adventure, Disneyland Paris and Hong Kong Disneyland, as well as a "Zootopia"-themed land in Shanghai's Disneyland Park.
Galaxy's Edge is just the beginning.