What to watch at the Milken Institute conference
7:46 p.m. ET, May 1, 2019
Milken pitches exclusive club adjacent to new DC outpost
The Milken Institute may be based in Santa Monica, but it will soon have a very prominent outpost in Washington — and a swanky club along with it, catering to the very clientele that attends its tony annual conference.
Milken is planning something it calls the "Center for the American Dream," a museum and conference center devoted to free enterprise, that will be located in an historic bank building that the Institute owns located directly across from the Treasury Department on Pennsylvania Avenue in Washington D.C. The tenant for the top five floors will be an exclusive retreat called Ned's Club, run by the UK's Soho House & Co. and the Sydell Group of New York, along with California venture capitalist Ron Burkle.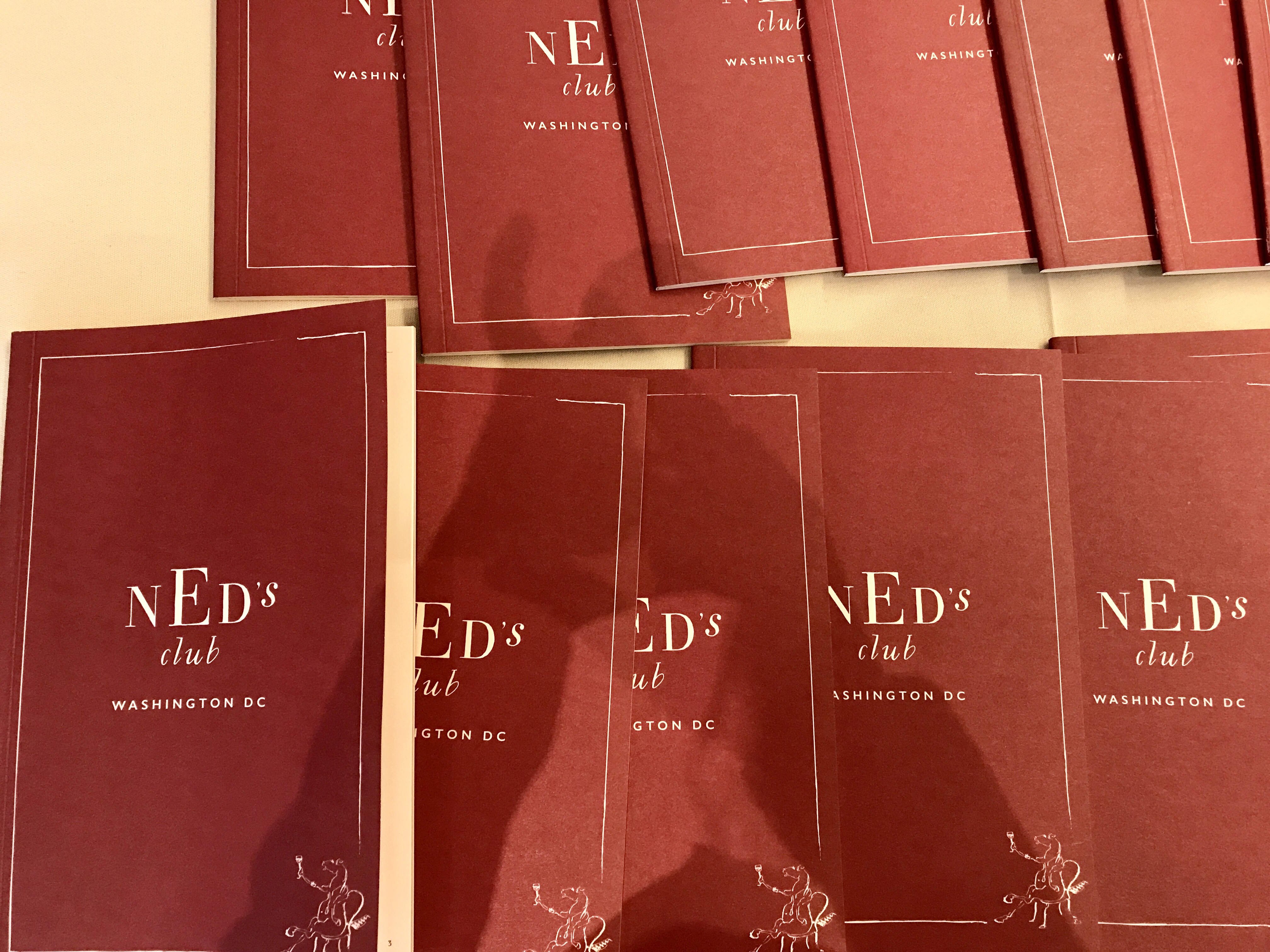 Right before the last lunch panel of the conference, Michael Milken sat down on stage with Gareth Banner, managing director of the new venue, which will open in 2020. It's modeled on another club in an old bank in London called The Ned, and will have "a rooftop of premium space where members can eat, sleep, and even hold private events" with interior decor "designed to channel the glamour of the 1920s," Banner said.
That will make it even more exclusive than other expensive-but-still-accessible hotels in the neighborhood, including the W, the Willard InterContinental, and the President's own Trump Hotel.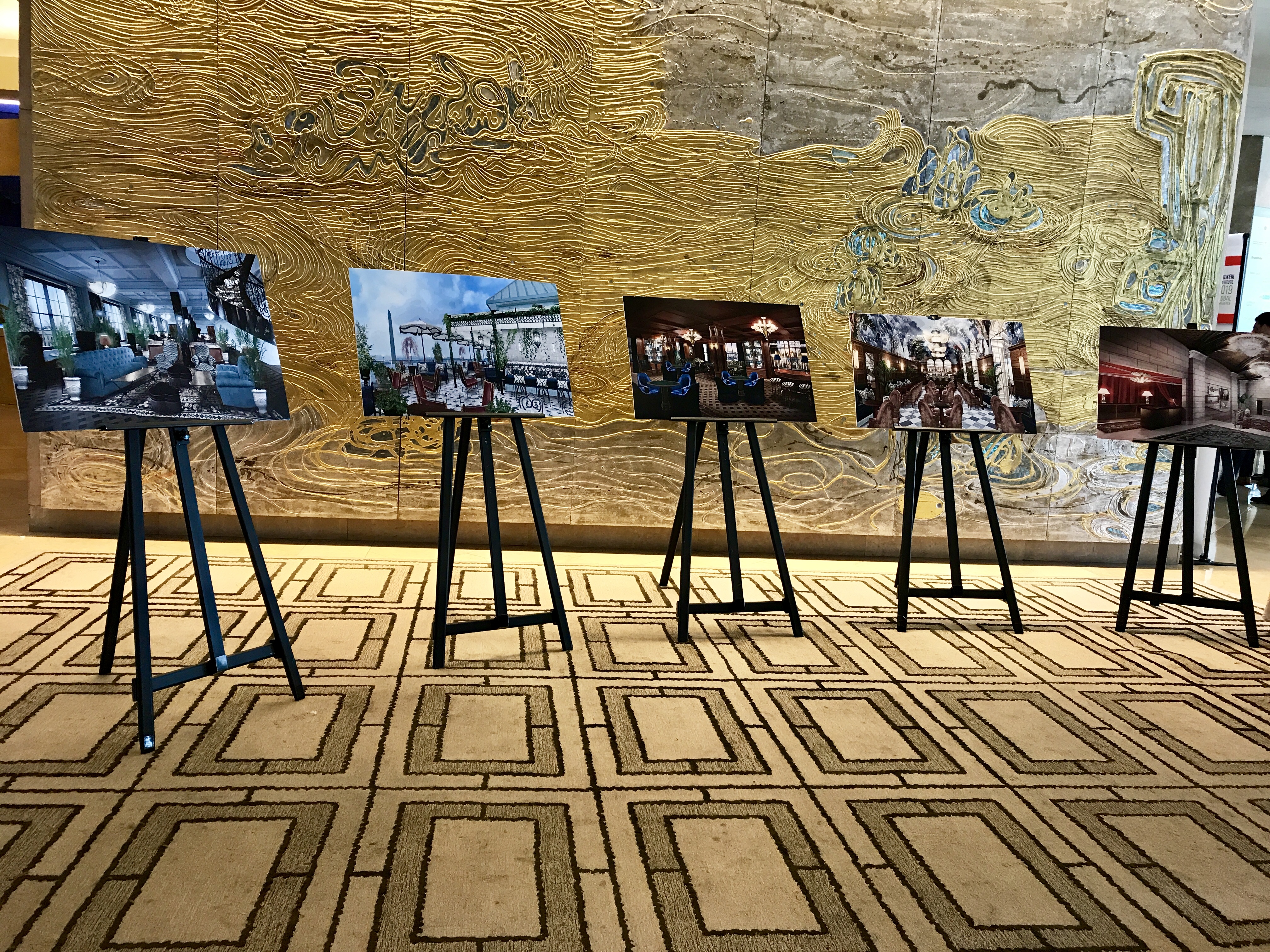 After several minutes of talking up the new museum and its attached club, Milken referred the thousands of well-heeled attendees to the lobby, where there stood an array of posters with renderings of the interior and booklets on thick card stock.
The pricing of an annual membership, however, was unavailable.
6:21 p.m. ET, May 1, 2019
Institutional investors are sick of quarterly reporting
It's no secret that quarterly reports have contributed to a focus on short-term corporate goals, sometimes to the detriment of a company's long-term health. The same is true of investment funds. And some of the world's biggest pension funds would like to just ... not talk about them.
Hiromichi Mizuno runs Japan's Government Pension Investment Fund, the $1.4 trillion system that's entrusted with the retirement security of 100 million Japanese people. It's so big that it lost $138 billion in a quarter and didn't bat an eye. But Mizuno thinks that level of transparency just isn't that useful.
"If someone kept an eye on quarterly reporting they would understand that quarterly reporting doesn't mean much for long term performance," he said on a panel Wednesday morning. Plus, Mizuno said, they would only get press attention when the fund lost money, creating the impression in the public that the fund was in much worse shape than it was. Although they still report quarterly results, they just stopped having press conferences.
"Why don't we owners make a joint statement: We don't want quarterly reporting," he said. "People can't stop it, because they have transparency, accountability, those kinds of things. But if any of us is advocating long-term investment, we should say something about the short term pressure on corporate executives. We need to break the chain."
Mizuno isn't alone in that opinion. President Donald Trump has asked the Securities and Exchange Commission to consider the idea of requiring companies to report less frequently.
Mizuno's co-panelists didn't go that far — investors like to know as much as possible about the companies they own, after all. But they definitely de-emphasize their own quarterly returns.
"I never provide a quarterly number," said Kim Lew, chief operating officer of the Carnegie Corporation of New York, which manages about $3.5 billion. "If someone asks me, I'll say, 'you know we're long term investors. What happens in the short term is not important.' I only present the 10-year number. If they don't get it, they can't ask about it."
6:13 p.m. ET, May 1, 2019
The future of Europe seems bleak
Populism is on the rise. Brexit will weaken both the European Union and the United Kingdom. You think Europe has a migrant crisis now? "You ain't seen nothing yet," said Niall Ferguson, senior fellow at Stanford's Hoover Institution.
Europe's prognosis is pretty bleak, according to (admittedly pessimistic) participants of a Wednesday panel on the future of the continent.
"We are underestimating the extent to which there are countries in the heart of Europe where democracy and freedom are gone," said Yascha Mounk, associate professor at Johns Hopkins University.
"We're also underestimating, when we talk about European institutions, how much [that] is a threat to them." He argues that it will be hard to make the case to French and German citizens to "share sovereignty with a dictator."
On top of that, according to Richard Haass, president of the Council on Foreign Relations, it will be difficult to repair relations between Europe and the United States, which have deteriorated under President Donald Trump.
"It's difficult to me to see how Europe is a central partner of the United States in contending" with challenges posed by China, Haass said, noting that Asian allies will likely become more important partners. "I just don't see it happening."
But a US-European alliance is essential, said Peter Beyer, member of the German Bundestag and coordinator of Transantlantic cooperation in the German Foreign Office. The two regions need each other to prosper, he said.
One bright spot? France and its president, Emmanuel Macron. Ferguson said that French stocks have outperformed US and UK stocks since early this year, and that Macron has a clear sense of what needs to be done to put Europe on the right track.
4:51 p.m. ET, May 1, 2019
How sports and entertainment will look different in 10 years
On Wednesday morning, five of the most powerful executives in sports business were asked to talk about the tech gizmos they're developing to keep fans coming back to their stadiums, TV programming, and video games. Here are a few.
The death of the ticket: Casey Wasserman, chairman of the Los Angeles 2028 Olympic Games, is pretty sure that by the time his events start, the box office will be a thing of the past — along with security checks, since everyone will be background checked beforehand. "Everything will be facial recognition, you'll walk right into the building, and there won't be lines." 
Even trippier concerts: Dan Beckerman, president and CEO of the sports and entertainment company AEG, said he's working on integrating augmented reality into events like Coachella. "This food stand is interesting, what's the history there?" he said. "Here's an interesting piece of art, where did that come from? What's the next concert I want to go to, how do I get there? We want to use tech to enhance it."
Real-time wagers on random questions: Carl Mergele, CEO of the sports data company STATS, is working on technology that will allow fans to get odds on events that might happen in a game, like how many free throws a player will make. "You can sit in a stadium and actually ask a question," Mergele said. "Having thousands of people betting simultaneously on something." 
11:29 a.m. ET, May 1, 2019
Private equity is trying to repair its slash-and-burn image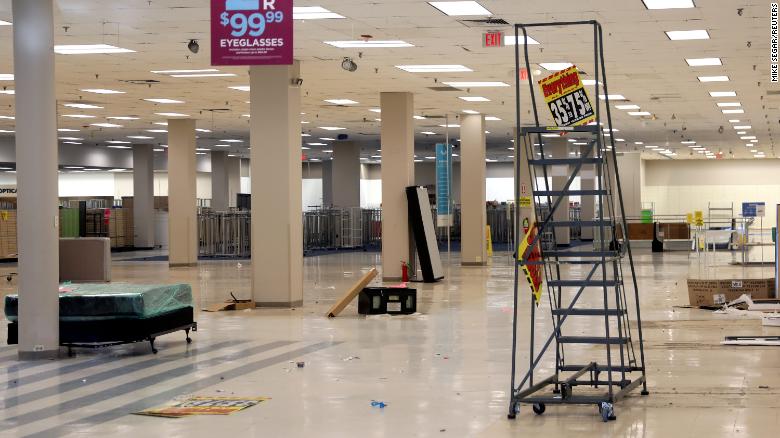 Private equity funds haven't had a good public reputation in recent years, given their habit of buying companies, loading them up with debt, and often laying off thousands in the name of "synergy." Sears and Toys 'R' Us are just the most recent examples. 
People who work in the industry know they're not popular, and say they're trying to at least seem less rapacious. 
At a panel about mergers and acquisitions, EY's head of transaction advisory services Steve Krouskos said that companies are focusing on how mergers will help the company expand rather than simply gain efficiencies.
"In the last 12 months, you're seeing a bigger emphasis on revenue and growth synergies rather than cost synergies," he said. 
The panelists agreed that ultimately that's a better approach both for the bottom line and public perception. 
"Private equity is trying to change the view that it's buying an asset to cut a lot of cost, get the margin up, and sell it for a higher multiple," said Kevin Sherlock, co-head of Global Financial Sponsors Investment Banking at Bank of America Merrill Lynch. "Making sure that you grow the business through acquisition is what really drives multiple growth." 
That's probably a good thing, given the growing role that private equity is playing in the capital markets, as companies wait longer to go public if they ever do at all.
"Whether or not [private equity shops are] good stewards of capital, it's a fait accompli that they are going to grow as a percentage of the pie," said Jason Greenberg, managing director of the investment banking firm Jefferies. "The amount of capital sitting as dry powder is at an all-time record high. For better or worse, these funds have five or six years to spend a lot of capital."
10:16 a.m. ET, May 1, 2019
Middle eastern finance types say they don't have a gender problem  
The Milken Conference is certainly no paragon of gender equality, with most panels heavily skewed towards men, and suits far outnumbering skirts in the audience. 
But at least it's made more progress than the Middle East, right? 
But some of the region's largest financiers and diplomats argue that they don't have a problem.
On her panel about investment in the region — which featured entirely male speakers — CNBC's Hadley Gamble asked, "Where are all the women?" The response was vehemently defensive. 
"We are very proud of what we have achieved so far," said Ibrahim Saad Almojel, director general of the Saudi Arabia Industrial Development Fund, a state-owned financial institution. From a base of zero, he said, half of the fund's hires have been women since the beginning of 2018, including a female Vice President of strategy and business development. 
Likewise, the United Arab Emirates' Ambassador to the United States Yousef Al Otaiba emphasized that a third of his country's cabinet members, the vast majority of college graduates, and a third of members of Parliament were women. "I don't think of this as an issue at all," he said. Even if the current panel was all-male, he joked, that might be because "men are more eager to visit LA than women." 
Finally, Bahrain Economic Development Board chief Khalid Al Rumaihi said that his agency is working to institute a paternity leave policy to help women continue their careers after having children. "If you're hiring on competence, you are going to hire more women than men," he said. "In terms of women, I don't think we have any issues." 
One wonders whether women in their countries would say the same thing.  
11:34 a.m. ET, May 1, 2019
Don't make us choose between the US and China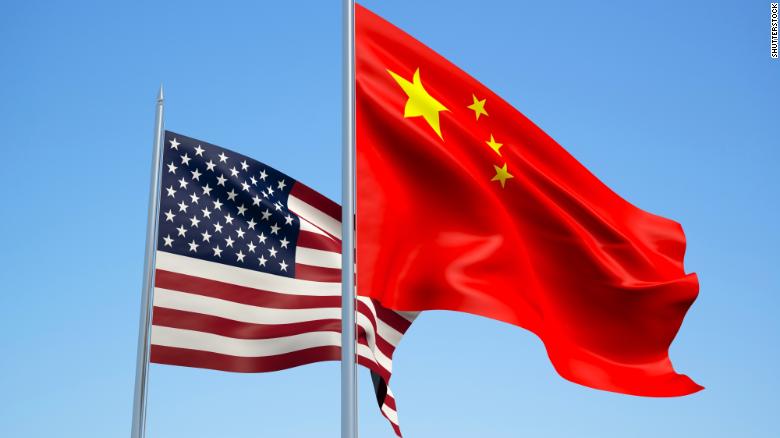 As the Milken conference stretched into its third afternoon on Tuesday, the country most on everyone's minds seemed to be China. Indeed, US Treasury Secretary Steven Mnuchin canceled a scheduled appearance so he could conduct another round of trade talks in Beijing. 
With rhetoric between the two countries often running hot, the question for everyone else becomes: Do we need to align one way or the other? 
Yousef Al Otaiba, the ambassador of the United Arab Emirates to the US, said his country wasn't interested in doing that. 
"You look at the rise of China, and you say 'I have to do more business with them,'" he said at a panel on investment in the Middle East. "The more we work with China, even if it's just an economic thing, is starting to get people in Washington nervous. But we don't look at China as a threat." 
The UAE had just inked $3.4 billion worth of investment deals with China over the weekend during the larger country's Belt and Road Initiative summit, and China is a key export market for the UAE's agricultural and marine projects. Prime Minister Sheikh Mohammed bin Rashid al Maktoum tweeted that his country would be a "vital station on the new Silk Road." 
It's Al Otaiba's job to smooth that over in Washington.
"I'm trying to get our colleagues to understand we want to do business with the United States, but we also want to do business with China," he said. "This is going to become an increasingly difficult conversation." 
"As the US and China increasingly look at each other as competitors, do not make us choose sides," he finished. "We don't want to choose sides, we want to work with everyone, because it's in our national interest." 
11:45 a.m. ET, May 1, 2019
To secure the future of food, install plant sensors and eavesdrop on shrimp
If the United States wants Americans to have food in the future, in needs to reduce food waste and invest in agriculture tech.
That's what Stephen Censky, deputy secretary of the US Department of Agriculture, said during a panel called "Ag Tech: Food security as national security," on Tuesday afternoon.
Food tech will help increase productivity, which is crucial, he said. He said it runs the gamut from sensors that can tell when a crop needs more water to gene editing that can prevent disease in animals.
"In some countries, they want to keep the food system exactly as it is," he noted. "I think that's absolutely at mankind's peril."
Fellow panelist Devry Boughner Vorwerk, chief communications officer and head of global corporate affairs at Cargill, shared a surprising way that her company fights waste: Listening to shrimp eat.
You can hear when the shrimp are done eating, and stop feeding them accordingly — rather than simply guessing how much they consume, she explained. That prevents waste and lowers costs, she explained.
11:23 a.m. ET, May 1, 2019
The best Milken event was a 'human performance workshop' in the pool
On Monday afternoon, about three dozen Milken conference attendees swapped out their regular suits for wetsuits to participate in a "human performance workshop" at the Beverly Hilton's outdoor pool.
Led by human performance expert Andy Walshe, the exercise was a departure from the other Milken events  — mostly panels, with a few yoga and meditation sessions (and, I should add, puppy parties).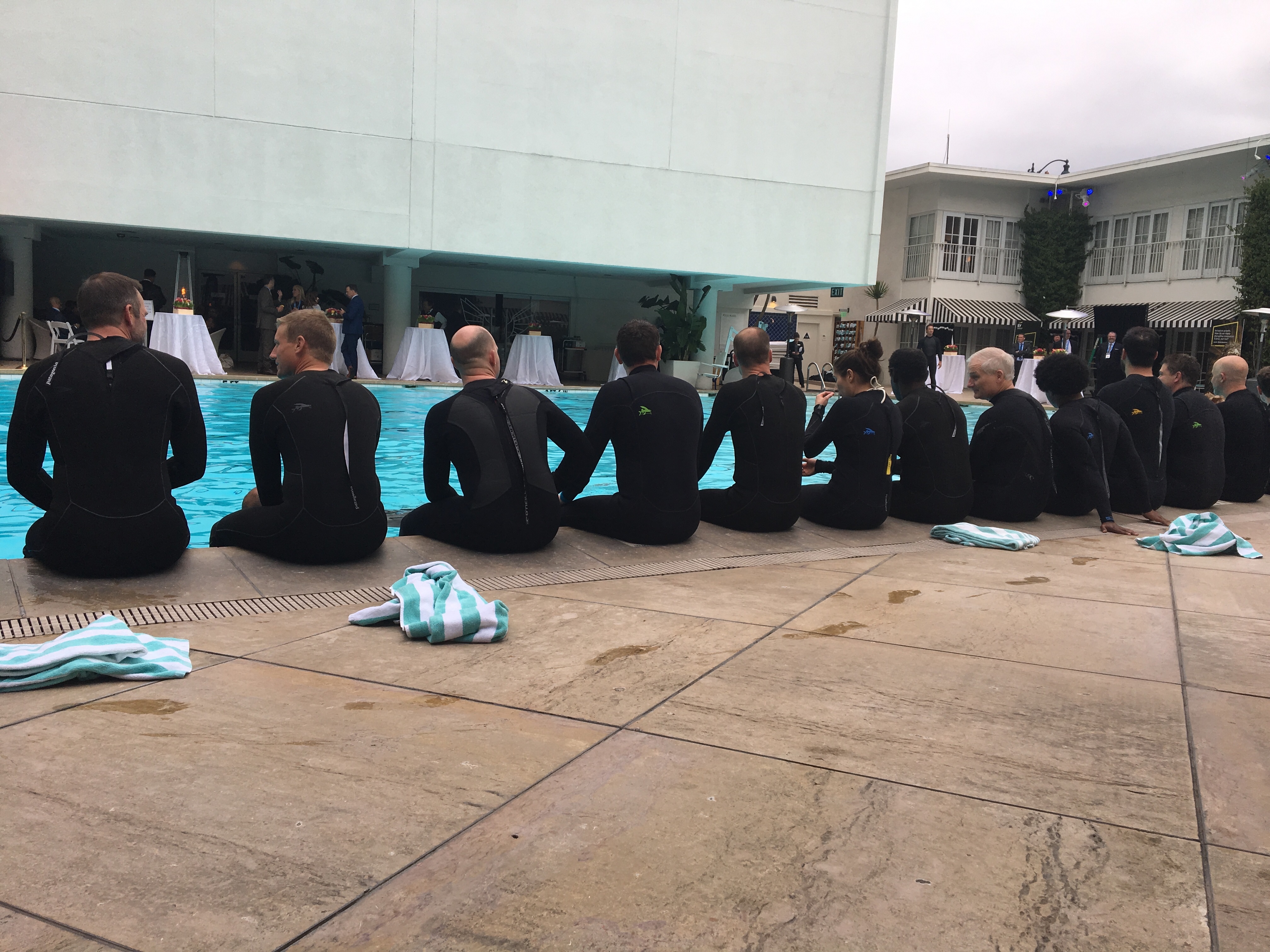 Walshe was the performance manager for Red Bull Stratos, the energy drink's space diving project. He helped skydiver Felix Baumgartner jump from the edge of space in a breathtaking 2012 stunt. On Monday, the task was less daunting: The goal was to hold your breath underwater for, perhaps, a bit longer than you thought you could.
Before instructing the crowd to change into wetsuits, Walshe guided them through some breathing exercises and told listeners not to think of the activity as a competition. The idea was to remain calm, push beyond your fear, and focus.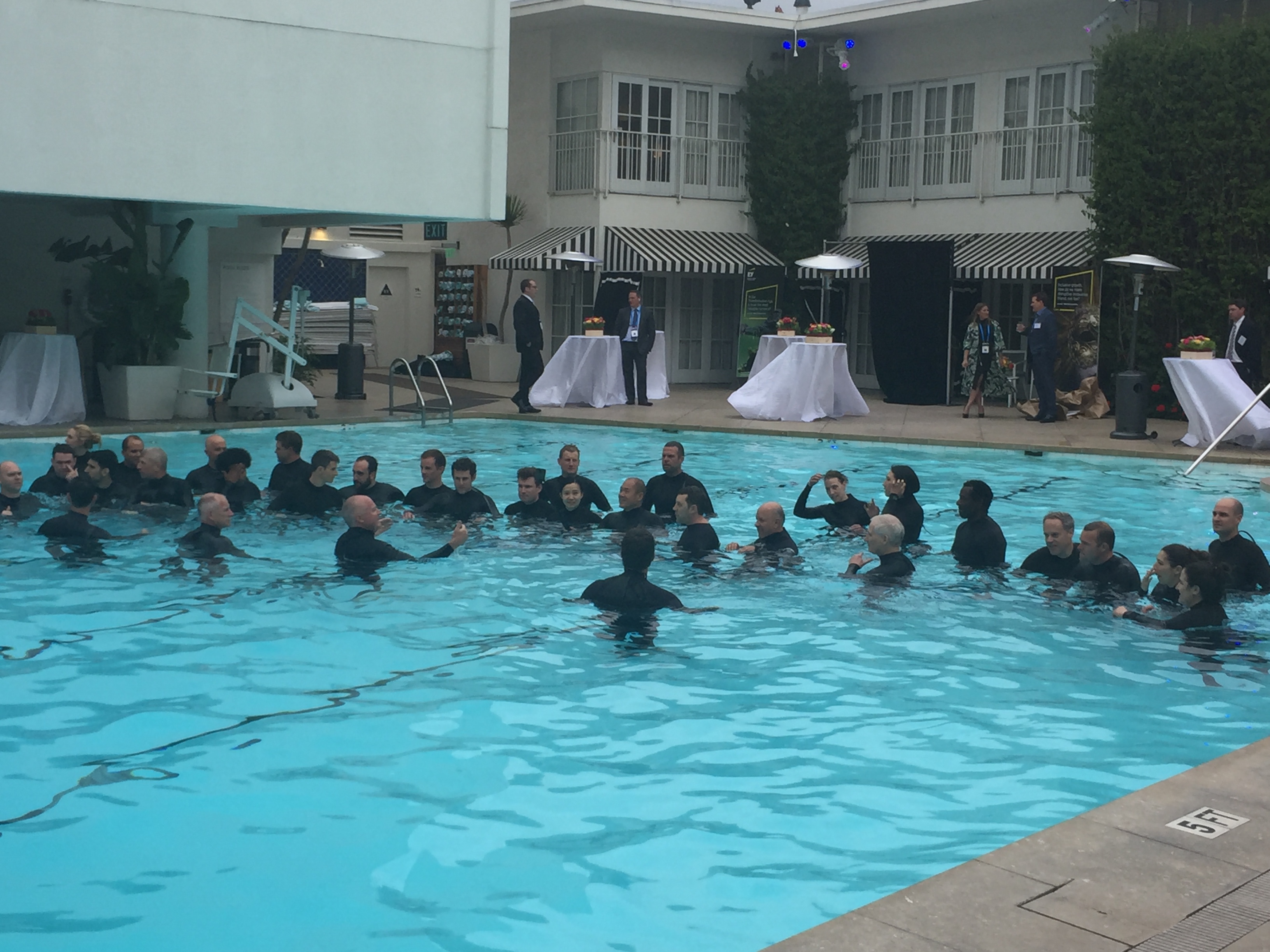 Participants buddied up, changed and hopped in the pool. After a series of breathing exercises, one participant would go into a dead-man's float, while still maintaining physical contact with their partners, and communicating their well being through hand signals. Participants repeated the sequence, trying to increase their time spent underwater.
Maggie Chen, who works for Junson Capital, had heard about this type of exercise before she saw Walshe's session in the Milken program, so she decided to check it out. "I just wanted to see it for myself," she said.
"I was a bit nervous in the beginning," she said. But once she put her head in the water, she just focused on counting and controlling her breathing. For Chen, the experience was something like skiing. "You control your speed, you try not to get off track."
For John Parker, founder and principal at Springhood, the appeal was similar. "I like trying new things," he said. Plus, by Monday afternoon, he was ready for something different. And the session got people talking — which can be rare at such a massive conference, he said.
Parker was disappointed that he didn't get to try to hold his breath himself. The session ran out of time before half of the participants had their turns, and just as happy hour attendees started sipping drinks and sampling canapés under heated lamps surrounding the pool.