GM strike, Day 2: Nearly 50,000 workers off the job in 19 states
9:32 a.m. ET, September 17, 2019
UAW wants GM to shift jobs from Mexico to the United States
The autoworkers union has asked General Motors to shift jobs and manufacturing from Mexico to the United States. GM would not budge on that point, according to a UAW source close to the negotiations.
A GM spokesperson, who asked not to be identified, confirmed that the UAW asked about moving jobs currently held in Mexico to the United States. But the spokesperson said GM understood the UAW's request to mean autoworkers wanted the company to create more jobs in the United States.
GM has pledged to create more than 5,400 new jobs and invest $7 billion in the United States as part of its offer to the UAW.
3:35 p.m. ET, September 17, 2019
GM strike goes into its second day. Negotiations will resume this morning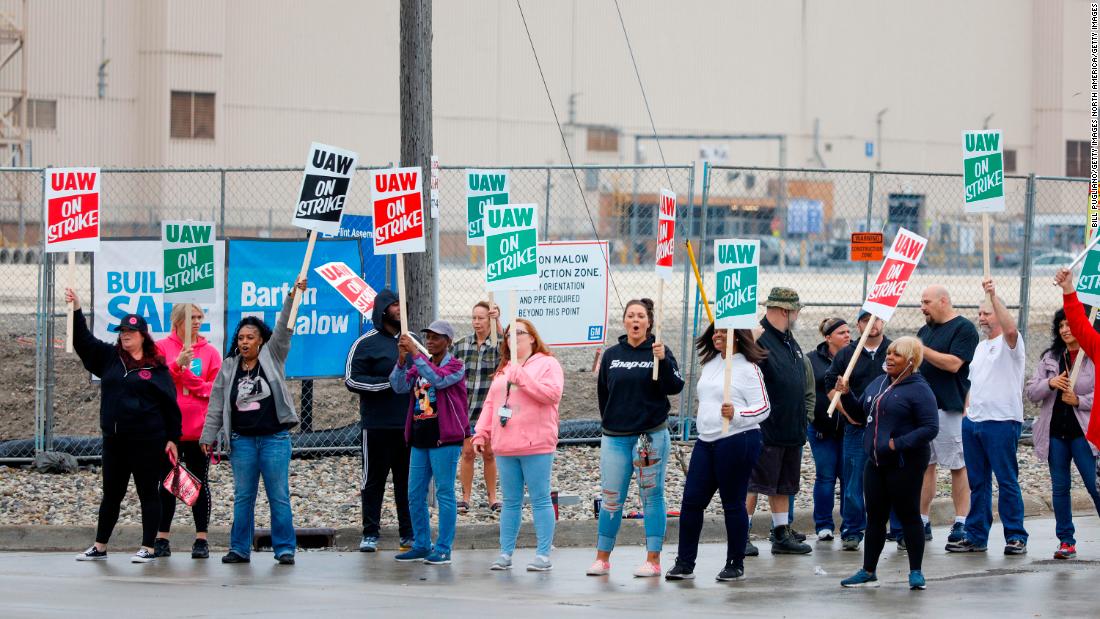 Negotiators from General Motors and the United Auto Workers union are due back at the negotiating table Tuesday as Day 2 of the strike by nearly 50,000 workers gets underway.
The talks wrapped up around 9 p.m. on Monday, according to a person familiar with the talks. Typically, negotiators will work late into the night if they are close to an agreement.
GM said it is ready to engage in round-the-clock talks. Union officials repeatedly said Monday that despite some progress the two sides remain far apart on key issues of wages, profit sharing, health insurance, job security and GM's reliance on about 3,000 temporary hourly workers. The union wants those workers to have permanent and better paying jobs. The union also wants vehicles built in Mexico shifted to US plants now slated for closure.
The strike is costing GM about $50 million a day in lost revenue, according to an estimate from Credit Suisse. Those losses could be partly offset because the company won't be paying the striking workers.
8:08 p.m. ET, September 16, 2019
UAW union members' health insurance will continue through the end of the month
CNN Business has obtained a letter from Terry Dittes, vice president of UAW, telling union members that during the strike their health insurance will continue through the end of September— paid for by GM.
"To allay any concerns that our Members may have regarding an interruption in health care coverage, I am writing to confirm that the Company will continue health care benefits through the end of the month for all UAW-represented employees as provided for in the contracts," Dittes wrote.
8:10 p.m. ET, September 16, 2019
UAW/GM negotiations to continue through Monday night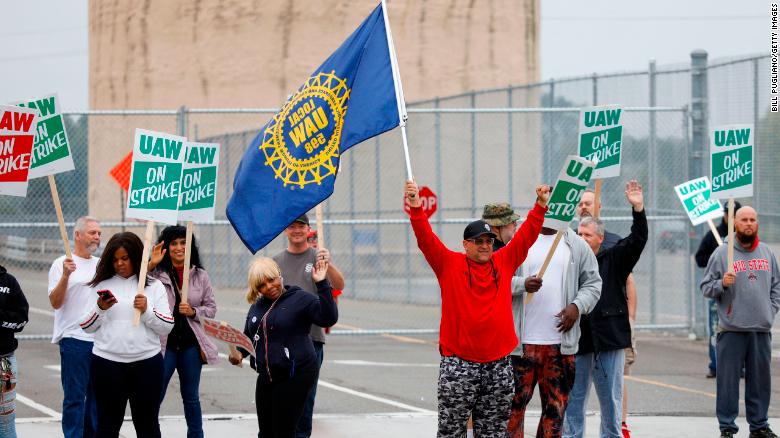 A source close to the UAW/GM negotiations tells CNN Business that discussions will continue through Monday night.
8:01 p.m. ET, September 16, 2019
GM workers are picketing at 55 GM facilities
GM (GM) workers were picketing at 55 GM facilities in 19 states across the country, according to James Kaplan, a spokesperson for UAW.
The states are:
California
Colorado
Illinois
Indiana
Kansas
Kentucky
Maryland
Michigan
Missouri
Mississippi
North Carolina
Nevada
New York
Ohio
Pennsylvania
Tennessee
Texas
Wisconsin
Wyoming
3:29 p.m. ET, September 16, 2019
Teamsters won't cross UAW picket lines
The Teamsters union, which represents many of the truckers who haul GM's vehicles from ports and factories to dealerships, will not cross UAW picket lines to carry GM vehicles.
"Teamsters and the UAW have a decades-long relationship of having each other's back," Teamsters president Jim Hoffa said in a statement posted to the Union's web site.
This means that, if there are picketers in front of a factory that has finished vehicles ready to be shipped to dealers, Teamster truckers will honor the picket line and refuse transport those vehicles. The same would be true at an international port of entry that had GM vehicles waiting to be transported by trucks.
While Teamsters members will not cross UAW picket lines to pick up vehicles, they will still pick up and transport vehicles from locations where there aren't any picket lines, as they are contractually obligated to, Teamsters spokesman Brett Caldwell said.
Members of the International Brotherhood of Teamsters handle a "significant portion" of the transportation of GM's products within the US, Caldwell said, but he couldn't say exactly how much.
A GM (GM) spokesperson has not yet responded to questions about how much disruption this might cause.
3:56 p.m. ET, September 16, 2019
Strike could plunge GM into junk bond status
General Motors' credit rating could topple into junk bond status if the current United Auto Workers union strike last more than a week or two, according to a note from Moody's. GM's debt rating is just one step above junk bond status.
GM's ability to contend with a one-to-two week strike is "comfortably supported" by having 77 days of vehicles to sell, $17.5 billion of cash available, and the ability to borrow $16.5 billion under its current loan agreements, said a note from Moody's.
"Beyond the initial one-to-two weeks, the financial burden of a strike will become more material and the prospects of a contract that avoids erosion the company's current competitive position is less likely," said the note from analyst Bruce Clark.
Having its credit rating reduced to junk bond status would make borrowing money more difficult and more expensive. GM was downgraded into junk bond status in 2005, several years before it ended up in bankruptcy court and in need of a federal bailout. It took until 2013 for it to shake that rating, and have its debt classified as "investment grade."
GM did not have any immediate comment on the Moody's note.
Last week Moody's downgraded rival Ford into junk bond status. It said it was concerned about Ford's ability position to pull off a planned $11 billion restructuring plan.
3:29 p.m. ET, September 16, 2019
UAW-GM meetings are 'very tense'
Here's the latest from CNN Business' Vanessa Yurkevich, who is on the ground outside of a Detroit-area plant:
Watch more here:
2:02 p.m. ET, September 16, 2019
Paying workers good money is what grows the economy
Michael Burson, a striking GM employee, told CNN Business that he likes his job and its benefits. But he's hoping that the automaker listens to the employees' demands for profit sharing and raises.
"If you pay the people good money, this is what's going to grow the economy," Burson said. "It's not paying the rich guy and making the big companies richer. That's not going to grow the economy ... you got to pay the people."
Watch the full interview here: