GM strike: Nearly 50,000 workers walk out at America's biggest automaker
8:09 a.m. ET, September 16, 2019
Democratic presidential candidates voice support for the workers
Several Democratic candidates vying for the presidential nomination announced their support on Twitter, including Joe Biden, Pete Buttigieg, Bernie Sanders, Elizabeth Warren and Julian Castro:
6:38 a.m. ET, September 16, 2019
Strike begins for morning shift workers
Workers for the early morning shift at Detroit-area plant began picketing instead of clocking in, according to a reporter on the ground:
6:24 a.m. ET, September 16, 2019
Strike kicks off
The United Auto Workers union officially went on strike against General Motors (GM) on Sunday night, the first work stoppage in the US auto industry in 12 years.
The union's 46,000 hourly workers walked out at 31 GM factories and 21 other facilities, spread across nine states, mostly in the center of the country.
The strike started at 11:59 pm on Sunday. It's the largest strike by any union against any business in the United States since the last strike at GM in 2007.
The two sides did not formally meet on Sunday after the union declared its intention to strike at a morning press conference, although union spokesman Brian Rothenberg said that the dialogue between the two sides was ongoing.
6:23 a.m. ET, September 16, 2019
UAW and GM will go back to the table on Monday
The United Auto Workers union and General Motors (GM) are returning to the bargaining table at 10 am Monday morning, according to a company spokesperson. 
No negotiations took place between the two parties on Sunday.
"We are ready to go 24/7. We are prepared to negotiate around the clock," said the GM spokesperson. 
6:39 a.m. ET, September 16, 2019
How we got here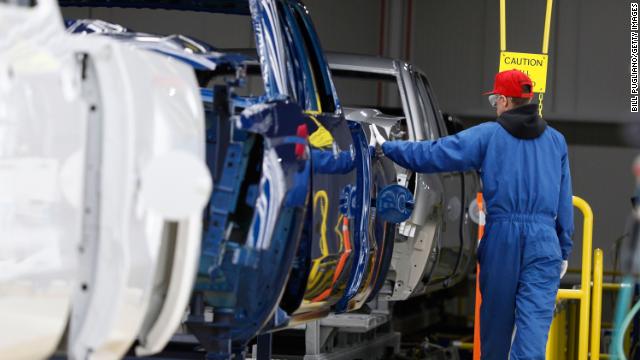 The union's contract with GM actually expired at 12:01 a.m. on Sunday, but the union's 46,000 members at GM did not walk off the job at that time.
Earlier this month, the union extended the contracts at two other US automakers, Ford (F) and Fiat Chrysler (FCAU), as it targeted GM (GM) in an effort to reach a deal that would set a pattern for the industry.
Terry Dittes, the UAW vice president leading the negotiating team, had told members in a letter late Saturday that there remained "significant differences between the parties on wages, health care benefits, temporary employees, job security and profit sharing."
Then a union statement on Sunday morning suggested the two sides were still very far apart in negotiations for a new contract.
"If GM refuses to give even an inch to help hard-working UAW members and their families then we'll see them on the picket lines tonight," it said.
GM, the largest US automaker, also issued a statement, saying that it was willing to work around the clock to try to reach a deal to build "a strong future for our employees and our business."
We continue to work hard on solutions to some very difficult challenges ...
There are thousands of GM families and their communities — and many thousands more at our dealerships and suppliers — counting on us for their livelihood."
6:39 a.m. ET, September 16, 2019
What GM has offered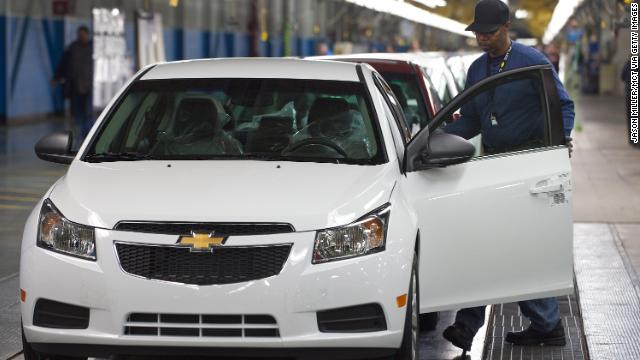 General Motors (GM) on Sunday issued a statement laying out its latest offer for a new contract with workers, including:
5,400 jobs and $7 billion in investment at its US plants
Wage or lump sum pay increases in all four years of the deal
A signing bonus of $8,000 per member
An improved profit sharing formula
GM said it also offered "solutions" for the two assembly plants that are poised to be closed: one in Lordstown, Ohio, where work stopped earlier this year, and the Hamtramck plant in Detroit, which is scheduled to shut in early 2020.
The company did not release details of what those solutions would be.
The United Auto Workers union has vowed to get GM's agreement to keep all or at least some of those plants operating.
A person familiar with GM's offer said it included a promise to build a new electric truck at Detroit Hamtramck, and to build new batteries for electric vehicles in Lordstown. That work wouldn't start immediately, so the plants would likely remain dark for some time.
Work would start sometime in the next four years if the offer were accepted.
6:23 a.m. ET, September 16, 2019
A union scandal makes negotiations harder
The deadlock comes at an awkward time for the United Auto Workers union, one of the most powerful labor groups in the country.
UAW President Gary Jones was directly implicated late Thursday in a growing scandal involving the union and its finances, the Detroit News reported.
It could further damage the necessary trust that rank and file union members have in the union's leadership during negotiations.
The scandal involves misappropriation of union funds, and in some cases, union officials accepting bribes from officials at one of the automakers, Fiat Chrysler.
Agents from the FBI, IRS and Labor Department had searched Jones' home late last month, an FBI spokesman confirmed to CNN.
On Thursday a top union official, Vance Pearson, became the first active union official to be indicted in the scandal.
Nine other people who have pleaded guilty in the scandal were former union officials, the widow of one union official, or employees at Fiat Chrysler who dealt with the union.
The indictment did not name Jones, but the Detroit News reported that he's one of the unidentified co-conspirators named in the government's filing, identified only as "UAW Official A." The News cited three unnamed sources for its report.
The allegation against the UAW president, even if only in a news report, could be bad news for GM in its hope of reaching a deal with the union at a difficult time for the industry, said Kristin Dziczek, vice president of industry labor and economics for the Center for Automotive Research, a Michigan think tank.