Geneva Motor Show: Live updates
11:47 a.m. ET, March 5, 2019
This $19 million Bugatti is the most expensive new car ever sold
Someone, Bugatti won't say who, paid €16.7 million (almost $19 million) for this one-of-a-kind supercar. Based on the Bugatti Chiron, La Voiture Noire (The Black Car) is a tribute to the Bugatti Type 57 SC Atlantic from the 1930's. Only four of those cars were made, three of which are known to survive. They are worth at least $50 million each. 
The idea to do a new take on the Depression-era model was suggested by the buyer, Bugatti said.
La Voiture Noire maintains the general shape and proportions of the Chiron, but the body has been subtly changed all over. Behind the seats, under a lattice of small triangles cut into the car's carbon fiber skin, is Bugatti's 1,500 horsepower 16-cylinder engine.
Asked about the nationality of the buyer, Bugatti CEO Stephan Winkelmann would only say that the car will remain in Europe.
4:03 a.m. ET, March 5, 2019
Audi goes electric
Audi has unveiled its highly anticipated electric SUV concept, giving fans a taste of what the carmaker's electric future could look like.
The Audi Q4 e-tron compact SUV is an early look at a model expected to enter full production by the end of 2020.
Audi brought only electrified vehicles to Geneva — four battery electric models and four hybrids, reflecting its strategic shift away from internal combustion engines. The Volkswagen Group's luxury brand plans to offer 12 pure electric vehicles by 2025, as well as an electrified version of each of its core models.
To pull off the move away from gasoline and diesel, Audi has committed to spending about €14 billion on electric mobility, digitalization and autonomous driving by the end of 2023.
6:37 p.m. ET, March 4, 2019
Pininfarina has a new $2 million electric car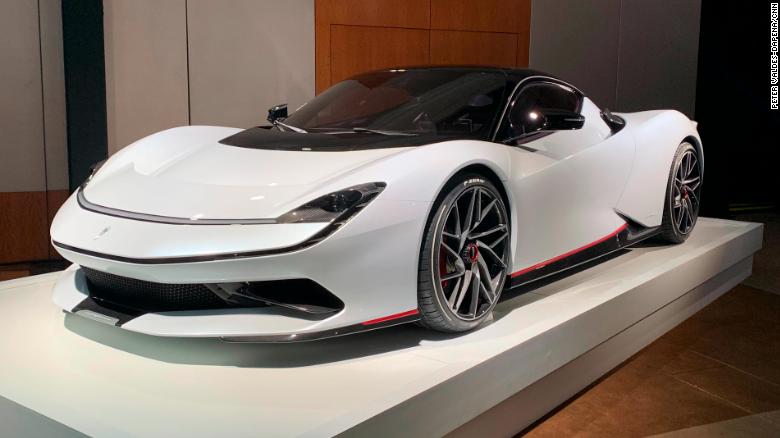 The Pininfarina Battista is a new $2 million 1,900 horsepower all-electric supercar that can launch itself from zero to in 60 under 2 seconds.
Automobili Pininfarina, the company that made this car, was spun off from the famous Italian auto design firm Pininfarina. Pininfarina is best known for designing some of Ferrari's most famous cars. The Battista is named after that original firm's founder, Battista "Pinin" Farina.
Today, the company is owned by Mahindra & Mahindra, an Indian company that makes a variety of mass market cars including electric ones. This will be Mahindra's most expensive EV by far.
The Batista is expected to have a driving range, on a single charge, of about 450 kilometers or 250 miles. Only 150 of the cars will be built.
3:44 p.m. ET, March 4, 2019
New Bentley Continental GT Number 9 recalls a jazz age classic
Bentley will make just 100 copies of this special edition Continental GT. It celebrates the famous supercharged "Bentley Blower" that raced at LeMans in 1930.
5:34 p.m. ET, March 4, 2019
VW unveils electric dune buggy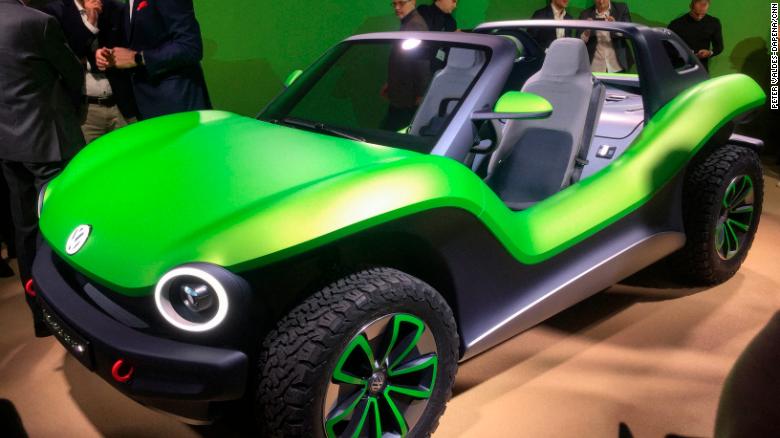 Volkswagen has unveiled an electric dune buggy in Geneva, a concept that hearkens back to custom Baja Bugs that earned a cult following in the 1960s and 1970s.
CEO Herbert Diess told reporters at an event Monday that the concept was an example of his company's commitment to electric vehicles. 
The original Baja dune buggy, called the Meyers Manx, was created by American Bruce Meyers in 1964. That vehicle was based on a shortened Beetle chassis, and found an ideal playground in the deserts and beaches of California and Baja, Mexico.
Volkswagen used the concept to show off the versatility of its Modular Electric Toolkit, or MEB, a platform developed specifically for electric vehicles. Of course, like the electric microbus concept Volkswagen revealed in 2017, the dune buggy also allows Volkswagen to remind people of its past successes in creating pop culture phenomena.
Diess said that Volkswagen is opening the platform to other car makers, the latest sign that auto manufacturers are seeking to share the cost of developing electric and autonomous vehicles.
2:26 p.m. ET, March 4, 2019
Supercars, everywhere! What we're looking for at the Geneva Motor Show
We're in Switzerland for the Geneva Motor Show, one of the most exciting displays of auto engineering and design on the global car-show circuit.
Mainstream brands like Nissan, Kia, Renault and Fiat are here, and many of them will be touting the latest in electric cars. But this is the show where exotic brands like Lamborghini, Ferrari and McLaren unveil their new models. This year, we'll also see cars produced by Italian design house Pininfarina, a resurrected Hispano Suiza and Italdesign.
While most attendees come to just gawk at those cars, a lot of business gets done here. For companies that build cars costing six, seven, and even eight figures, the Geneva Motor Show is a selling floor. Wealthy shoppers travel from around the world to see the latest luxury offerings in one place.
Journalists get a preview on Tuesday and Wednesday. The show opens to the public on Thursday, March 7, and runs through the 17th.
2:27 p.m. ET, March 4, 2019
Lego builds its own version of the Bugatti Chiron
The first vehicle that visitors see while walking from Geneva's airport to the city's auto show is not made of steel, iron or aluminum. It's made of Legos.
Lego and Bugatti have teamed up to construct a nearly life-size version of the Chiron that appears to be made entirely of the tiny plastic blocks.
Smaller Lego sets of the Chiron were on sale in Geneva for 439 Swiss francs ($439). The real thing sells for an eye-watering $3 million.
Here's a couple more shots of Lego's Chiron.
And here's a pic of the car's interior, just because it's so cool.
4:49 p.m. ET, March 4, 2019
Volvo limits the top speed of its cars to 112 miles per hour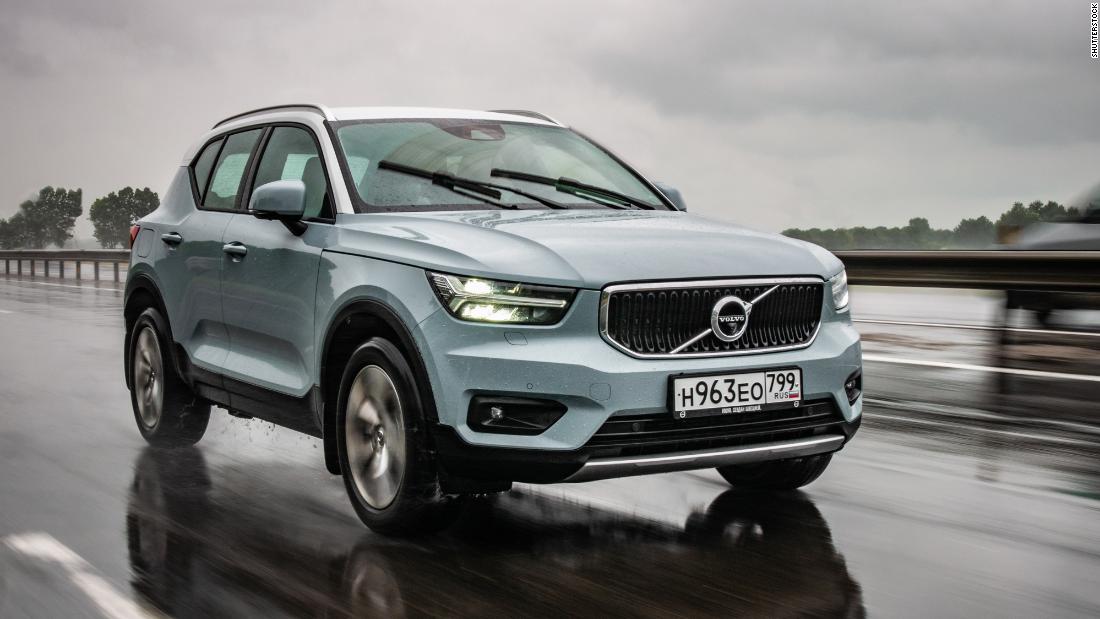 Volvo will put a speed limit on its cars as part of its effort to eliminate fatal accidents.
The automaker said Monday that it will prevent its cars from going faster than 180 kilometers per hour (112 miles per hour). It said it is also considering other technology that could put stricter speed limits on cars when they're driving near schools and hospitals.
Volvo has set a goal of zero fatalities or serious injuries in new Volvos by 2020. But its statement Monday said that no matter what safety features it builds into cars, it needs to also address driver behavior as part of its efforts.
Volvo is a leader in safety: we always have been and we always will be," said Volvo CEO Håkan Samuelsson. "While a speed limitation is not a cure-all, it's worth doing if we can even save one life."
The European Union is considering requiring what's known as "Intelligent Speed Assistance" on new cars sold there by 2022. The proposed regulation would require cars to have technology that would make them comply with speed limits.
2:29 p.m. ET, March 4, 2019
Smart to show off a teeny convertible
Smart, the tiny-car brand from Mercedes-maker Daimler, released images of its Geneva Motor Show concept a few days early.
The Smart FourEase+ is a concept car is for those who want an electric Smart car with a classic convertible top. By next year, all of its funky little city cars will be electric.
Smart shared more images of the car on its official Instagram account: