Live updates from the 2019 Frankfurt Motor Show
1:55 p.m. ET, September 11, 2019
Cars now have so many screens, this car even has one in the steering wheel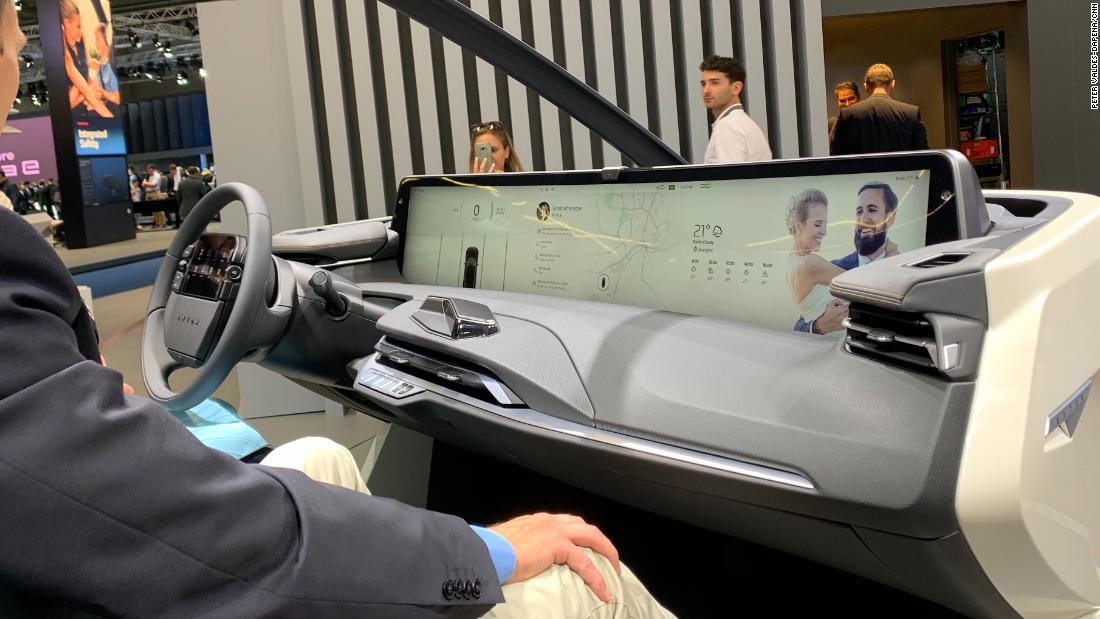 As if we don't spend enough time at home and at the office staring at screens. Automakers now make cars where we're staring at them while we drive, too. Well, hopefully you don't really stare at them -- eyes on the road, people! -- but you're looking at them a lot. Almost all new cars these days have them.
But wait until you get inside Porsche's first electric car, the Taycan. This car takes it to another level.
The Taycan has digital gauges that appear on a curved glass screen behind the steering wheel. There are touch screens in the center console between the seats, as well as a very long screen across the dashboard. The nice thing is that long screen extends in front of the passenger where there's an area just for them to use. That allows your passenger to enter destinations into the navigation system while you drive.
Touch screens can be annoying to use while driving, but Klaus Zellmer, CEO of Porsche North America, assures me the Taycan's controls have been thoroughly tested and found to be largely annoyance-free.
Then there's the Chinese automaker Byton, which has its first production car, the electric M-Byte, on display here. The M-Byte has a screen roughly the size of a snowboard running the entire dashboard. But it also has a screen in the steering wheel.
Seriously, in the steering wheel. The screen manages to stay still while you turn the wheel -- a major engineering challenge. You use the screen as a touchpad to control things on the big dashboard screen while you drive.
"It's logical to put it where my hands usually are when I'm driving, in the steering wheel," said David Twohig, Byton's chief technical officer.
Valid point. He also insists this interface is easy to use. It's impossible to tell sitting in a stationary car at an auto show display, though. I'll circle back on that when I get behind the wheel of the M-Byte and I've tried to adjust the stereo volume while going around a curve.
8:01 a.m. ET, September 11, 2019
Lamborghini's vision for battery-free electrics
While checking out the new Lamborghini Sián hybrid supercar, I grabbed a few minutes with Maurizio Reggiani, Lamborghini's chief technical officer. We've spoken in the past about Lamborghini's plans to electrify future models so I knew Reggiani wasn't a fan of battery power. Batteries are just too big and heavy. Weight is the enemy of performance and, if you've ever sat inside a supercar, you know there's not a lot of room to spare.
Reggiani has been talking supercapacitors instead. That's what powers the Sián. Supercapacitors store power using an entirely different method from batteries. When you rub your feet on a carpet then give someone an electric shock, or when you see a lightning strike, those are examples of natural capacitors storing and releasing electricity.
Supercapacitors are ideal for supercars, Reggiani says, because they're light and they can transfer electricity quickly without losing energy as heat. They charge up during braking, then blast out electricity during acceleration. The Sián's 34 horsepower electric motor can drive the wheels directly to get the car moving and to keep pushing it along between shifts in its automatic transmission.
But the Sián isn't a hybrid like the Toyota Prius. It's a "mild hybrid" (if anything carrying the Lamborghini brand can ever be called "mild.") It can't drive even a short way under electrical power alone. The V12 engine does the vast majority of the work.
Someday, maybe, supercapacitors will be able to drive electric cars with no gasoline power at all. That's something Lamborghini is working on with MIT as shown in the Lamborghini Terzo Millennio concept car. But that's many steps away in a fairly distant future, he said.
"This is the first step on the road and the Terzo Millennio is the arrival point," he said.
8:47 a.m. ET, September 11, 2019
Honda's cute new electric car will hit Europe's streets next year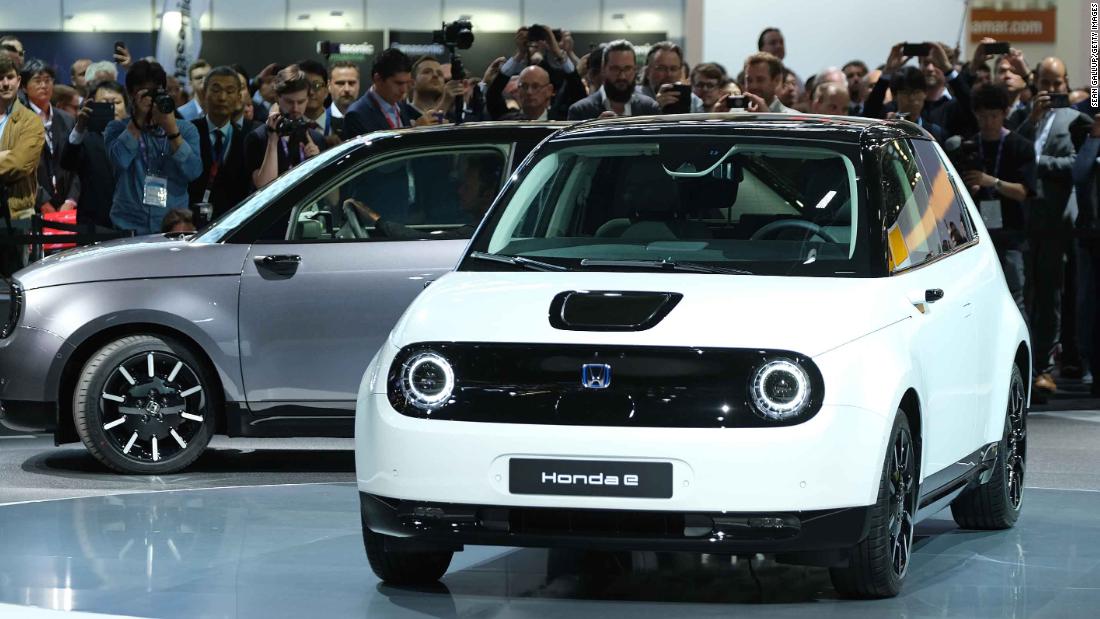 Electric vehicles are nothing new to Honda - its EV Plus, which debuted more than 20 years ago, was one of the first all-electric vehicles from a major automaker. It has introduced other EVs since then, but it has never been a major player in the all-electric market.
But at Frankfurt, the Japanese automaker debuted the Honda e, its biggest effort yet in the electric market -- and it has gotten a lot of attention at a show where EVs have been front and center.
The cute subcompact takes some styling cues from the original 1972 Honda Civic, including headlights and front grill. It also offers up some interesting features, including a side camera system to replace the traditional side view mirrors and retractable door handles, both of which are designed to improve its aerodynamics. 
But the Honda e's range will be modest compared to many electrics already on the market. Designed more for urban commutes than long road trips, the Honda e will only be able to go 200 to 220 km on a single charge, or about 124 to 136 miles.
The Honda e will debut in Europe next year. So far, it's not slated to be released in the US. The price will be 33,850 euros, or about $37,300, for the base version, and 36,850 euros, or about $40,600, for the advanced version, which has more power.
he Honda e will debut in Europe next year. So far, it's not slated to be released in the US. The price will be 33,850 euros, or about $37,300, for the base version, and 36,850 euros, or about $40,600, for the advanced version, which has more power.
5:23 a.m. ET, September 11, 2019
How Lamborghini's €2 million hybrid got its name
Lamborghini has just revealed some important details about its new hybrid supercar, including its full name and price.
The company will make 63 Lamborghini Siáns, with prices starting at €2,010,000, or $2.2 million. The production figure commemorates the year Lamborghini was founded — 1963.
The car's full name is the Lamborghini Sián FKP 37. Sián means "bolt of lightning" in the traditional Bolognese dialect of Lamborghini's northern Italian home. FKP stands for Ferdinand Karl Piëch, the former head of the Volkswagen Group who died late last month. The number 37 is for the year of his birth, 1937.
In 1998, under Piëch's leadership, Volkswagen acquired Lamborghini, the same year that it also bought Bentley and the Bugatti brand. (There was no Bugatti car company at the time.)
"The Lamborghini Sián FKP 37 provides fitting recognition of the role Piëch, and the Volkswagen Group, played in facilitating our flourishing brand today, as well as heralding Lamborghini's innovative route to the future," Lamborghini CEO Stefano Domenicali said in a statement.
5:51 p.m. ET, September 10, 2019
US automakers mostly a no-show at Frankfurt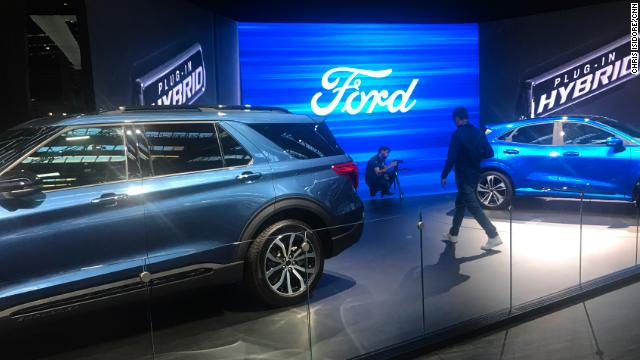 At the Frankfurt Motor Show, the USA is mostly MIA.
Ford is the only US automaker with any presence, and it's a relatively quiet one. No press conference. No big news or vehicle to reveal.
Fiat Chrysler, despite its European home base, passed on attending the show. Auto analyst Jeff Schuster, head of Americas Operations at LMC Automotive, says its absence is a sign of the lessening importance of auto shows.
"It used to be you went to every auto show because it's what you did," he said. "But if you don't have a significant launch, there's no reason to be here."
General Motors also isn't here, but that's hardly surprising. GM pulled out of Europe altogether two years ago when it sold its Opel and Vauxhall Motors brands to French automaker Groupe PSA.
Despite its growing European sales, particularly in Scandinavia, Tesla is also a no-show. Although Tesla doesn't typically spend money on auto shows and has never advertised, so it's absence isn't so surprising.
Chinese automakers are far more visible at the show with several, including Byton, Great Wall Motors, Hongqi and Wey all holding events. And if you count its Land Rover and Jaguar brands, India's Tata has a higher profile than any US automaker on the show floor at Frankfurt.
Correction: An earlier version of this post incorrectly stated that this year was the first time Fiat Chrysler had not attended the auto show.
2:26 p.m. ET, September 10, 2019
What it's like to drive a Bugatti at 305 miles per hour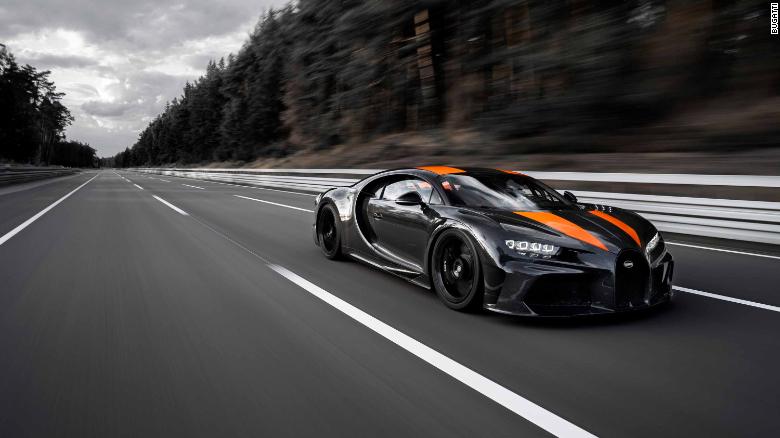 The tires on Bugatti's specially modified Chiron might not have lasted very long at 305 miles per hour, but they would have certainly been good for at least 10 minutes or so. That's more than fine because, driving at over 300 miles an hour, the Bugatti Chiron would have drained its 26-gallon, or 100-liter, fuel tank in six minutes and 50 seconds.
"The great thing about Bugatti is every single thing you talk about in terms of numbers is extreme," said test driver Andy Williams.
It's remarkable that tires designed to be legally used on ordinary public roads can withstand such speeds for even a few seconds. To test them, Michelin had to use special equipment located in North Carolina that was used to test space shuttle landing gear tires. The Bugatti's tires were tested for speeds somewhat higher than 305 miles an hour, or 490 kilometers an hour, to allow for a respectable safety margin, said Benjamin Vilpert, Michelin's Super Sports Tire Developer. The tires were also X-rayed before the drive to make sure there were no hidden flaws in them.
Despite having complete trust in the tires and in all the people who developed the car and assisted with the test drives, going over 300 miles an hour can be a scary business, Williams said. A former racing driver, he's used to extraordinary velocities but this was the fastest he'd ever driven by far, he said. The slightest steering error could have disastrous consequences. The brakes and gas, likewise, had to be pressed with great care.
The top speed was approached only after testing with computer simulations and many days of driving at the track going incrementally faster and faster to make sure the car behaved predictably, Williams said. The smallest road imperfections became issues. A tiny seam in the pavement was nicknamed "The Jump." On his fastest run, he hit it going about 278 miles an hour, or 447 kilometers an hour. What might ordinarily would have just made a sound, made the car bounce.
"That gets your attention, definitely," he said.
10:12 a.m. ET, September 10, 2019
Land Rover gives one of its most famous SUVs a makeover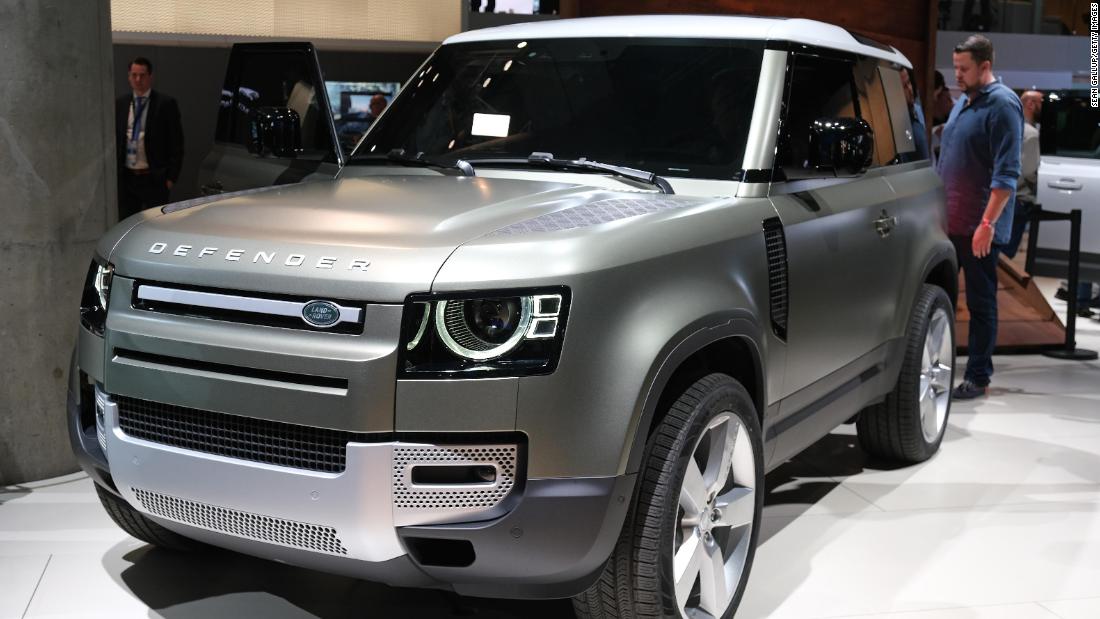 There are few SUVs more famous than the Land Rover Defender, the classic off-roader.
Now the British carmaker is hoping to extend the Defender's illustrious 70-year run with an all-new version unveiled Tuesday at the Frankfurt Motor Show.
It retains the Defender's famous boxy shape, but with more modern lines and new technology. Like a Jeep Wrangler, the Defender is built to withstand serious off-road use --even though many buyers will rarely take it beyond the suburbs. 
The new Defender rides 0.8 inches (2 cm) higher off the road than other Land Rover models and offers a camera system that allows drivers to see what's passing underneath the front wheels
In addition to its rugged off-road credentials, it offers luxuries such as a 10-inch (25 cm) touch screen with Apple CarPlay and Android Auto, systems that allow drivers to interact with their phones while driving. 
It will initially be offered in the Land Rover 110 range with seating options for up to 7 people. A smaller Land Rover Defender 90 will be available later. Prices for the larger model will start at just under $50,000 when it goes on sale in the Spring.
8:44 a.m. ET, September 10, 2019
See Volkswagen's new electric hatchback
The ID.3 is the first fully electric car to go into production from Volkswagen's "ID family." It will be sold in Europe starting this spring.
10:05 a.m. ET, September 10, 2019
Life after GM: Opel launches first new cars in two years
Opel was sold by GM to France's Groupe PSA two years ago as the American automaker exited the European market. But it took Opel until Tuesday for it to unveil its first new cars since the change in ownership.
The German automaker, which General Motors (GM) sold along with Britain's Vauxhall Motors, debuted new gas and electric versions of the Corsa at the Frankfurt Motor Show. It also unveiled a new version of the Astra and the Grandland X plug-in hybrid.
Opel had been part of GM since the 1920s, but it had lost money for the last 16 years as part of the US automaker. PSA, which makes Peugeot and Citroen cars, has turned things around pretty quickly. Both Opel and Vauxhall are now making money again.