Live updates from the 2019 Frankfurt Motor Show
2:51 p.m. ET, September 9, 2019
Indians have stopped buying new cars
The slump in India is getting worse. Car sales plunged 41% in August compared to the same month last year, according to the Society of Indian Automobile Manufacturers. That's the biggest monthly drop in two decades, and a tenth straight month of declines.
India had been a bright spot for carmakers until recently, with annual sales of passenger vehicles rising by about 33% over the past five years.
Global players, like Hyundai and its subsidiary Kia, invested billions to expand in India, and new players like Chinese state-run carmaker SAIC have also tried to grab a slice of business.
Before the slump hit, India was predicted to overtake Germany and Japan to become the world's third largest car market by 2020 — behind only China and the United States.
But the country's biggest carmakers are now struggling. New safety and emission regulations have driven up prices, troubles at India's consumer finance providers have hit lending, and a broader economic slowdown has made people reluctant to spend on big items.
Maruti Suzuki, India's biggest carmaker, suspended production at two of its main plants on Saturday and Monday.
Read more about the downturn in India's car industry here.
1:59 p.m. ET, September 9, 2019
We'll finally get a closer look at VW's new electric car
Volkswagen hasn't even unveiled the new ID.3, the brand's new mass-market electric car, but all 30,000 of the special "First Edition" models have already been spoken for. VW has been accepting €1,000 refundable reservations since May. Prices for the cars will start at less than €40,000. At least initially, the ID.3 is only being offered in Europe.
Volkswagen has said the new ID.3 will look sort of like a Golf on the outside, but will have the roominess of a Passat on the inside. After years of concept cars, we'll finally get a look at the car all these people have already agreed to buy at the Frankfurt Motor Show.
2:13 p.m. ET, September 9, 2019
Porsche will have its first electric car on display, too
Porsche will be bringing its first all-electric car to the show, too. The Taycan was already officially unveiled last week, but this will be our chance to see it up close. 
Porsche insists the Taycan will offer better overall driving performance than anything on the road now. It will corner and handle better -- plus, it can be driven harder for longer -- than any electric car out there, they say. 
I'll be most interested in the Taycan's "glass cockpit" with its heavy reliance on touchscreens. Those screens look great, but they could be awful to use. 
2:13 p.m. ET, September 9, 2019
Is Lamborghini's hybrid supercar the next wave in electric car technology?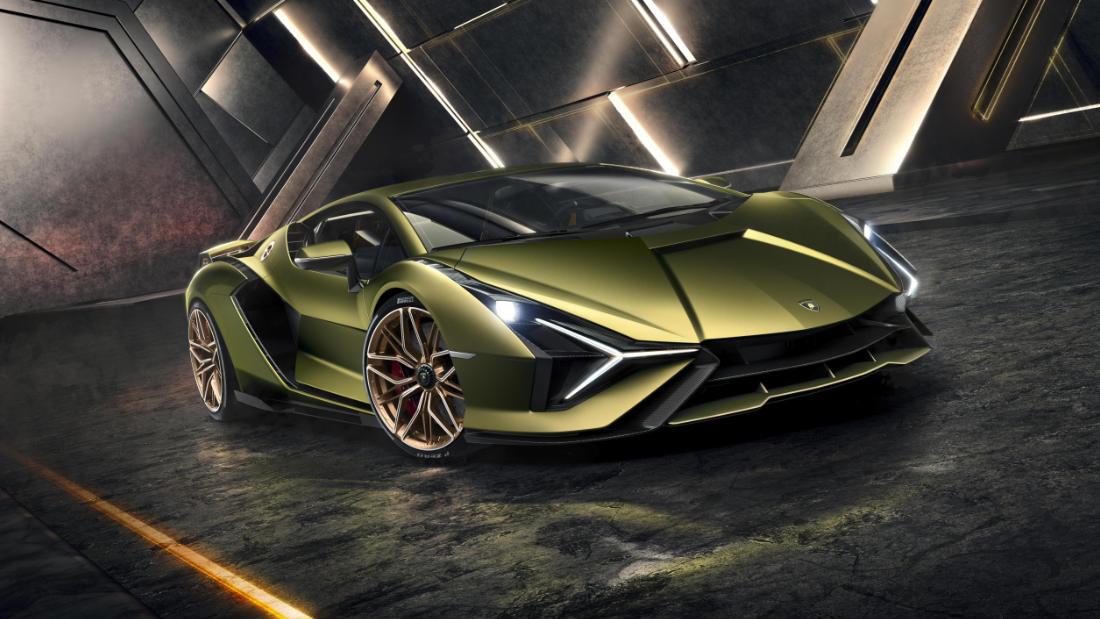 It's not like hybrid supercars are a new thing -- Ferrari and McLaren have made them before -- but the new Lamborghini Sián represents a big step, and not just for supercars. This is one of those cases where the technology appearing in a car that only the super-wealthy can afford today could, just maybe, end up in everyone's cars years from now.
You see, the Sián doesn't store energy in a battery pack like other hybrid and electric cars. Instead, it's got a supercapacitor, an entirely different way of storing electricity.  Supercapacitors are lightweight and can absorb and release energy very quickly. But they have some downsides, one being they're expensive, but Lamborghini engineers love them.
The Italian automaker has teamed up with the Massachusetts Institute of Technology to develop these supercapacitors. Together, they revealed a fully electric concept car in 2017 with a body described as being made from supercapacitors.
The ultimate goal of this work is lightweight, powerful supercapacitors that can drive electric cars. For now, a small supercapacitor in a super-expensive hybrid is a step toward that goal. The 63 people paying millions of dollars each for a Sián are helping Volkswagen Group, Lamborghini's parent company, come up with what could be a revolution in the way cars are powered someday.
12:51 a.m. ET, September 9, 2019
There are some dark clouds hanging over Frankfurt
The Frankfurt Motor Show, one of the largest in the world, should be a time for the industry to celebrate. But there are a lot of problems looming over the industry, making this the most nervous time for the auto industry since the financial meltdown a decade ago.
Number one is weakening auto sales. China, the driver of growing auto sales for most of this century, has become a major problem. Sales are down 11% so far this year, due to the weaker economy there. And economic slowing could hurt sales in other major markets. Sales are down in the US and UK and flat in Germany, as recession worries mount in all three markets.
Then there's the problem of Brexit and what that might do to supply chains for the auto industry throughout Europe.
And while the show will highlight lots of new offerings in electric cars and the promise of self-driving vehicles, automakers have had to invest billions developing that next generation of vehicles long before there is a major global market for them.
1:09 p.m. ET, September 9, 2019
What to expect from the Frankfurt Motor Show
The Frankfurt Motor Show -- officially the Internationale Automobil-Ausstellung or IAA -- starts Tuesday morning in Germany. This will be where Volkswagen will officially step out as an electric car brand.
Not only will VW reveal the ID.3, the first car to be sold under its new ID electric car sub-brand, but VW will also unveil a new logo. (Don't expect anything shocking. It'll probably be like the VW logo went to a plastic surgeon for a lift and a tuck.)
As with most car shows these days, the biggest news will be around plug-in cars and, in this case, one very fast hybrid. Volkswagen Group, in particular, will have lots to talk about with a new VW electric car and one from Porsche as well and that new hybrid Lamborghini.
Honda will also unveil its own cute little EV and, on a larger scale, Mercedes-Benz will show off an electric luxury sedan.
But it's not all cool new technology and flashy designs. These are tough times for the car industry. Trade wars are starting to take a toll, the Chinese auto market, long a rich source of sales, is on a slide and Britain is getting ready for a possibly very messy Brexit.
Still, the industry goes on and, in the end, it's all about products.
Stay tuned as we look at the latest cars and trucks from a rapidly changing industry.