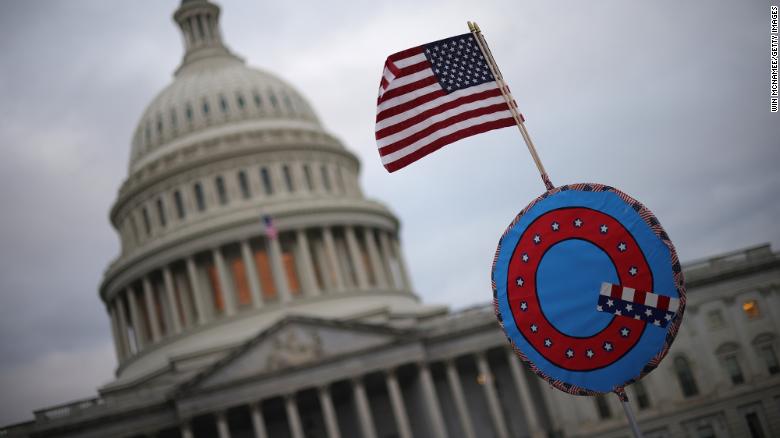 Facebook said Tuesday that since August it has removed about 18,300 Facebook profiles and 27,300 accounts on Facebook-owned Instagram for violating its policies against QAnon. The company has also removed 10,500 groups and 510 events for the same reason.
In a blog post, updated on the eve of the inauguration, the company said it had taken action on tens of thousands of "militarized social movements" and self-described militias since last summer.
"As of January 12, 2021, we have identified over 890 militarized social movements to date," the company said.
Facebook has come under scrutiny for the role its platform played in the lead-up to the deadly insurrection at the Capitol earlier this month. Groups and individuals spreading lies about the 2020 election and calling to protest the outcome continued to hide in plain sight on Facebook even after the Capitol riots.
Facebook announced it would crack down on QAnon last summer. The baseless conspiracy theory has been circulating since 2017. People identifying as part of QAnon were part of the mob of Trump supporters who stormed the Capitol.
Last week, Twitter announced it had suspended more than 70,000 accounts for promoting QAnon.
Despite crackdowns, the conspiracy theory continues to spread on Twitter, Facebook and fringe social platforms, according to new research from nonpartisan nonprofit Advance Democracy.
Over the holiday weekend, more than 1,280 accounts related to QAnon posted on Twitter about 67,000 times, peddling conspiracy theories about the election and President-Elect Joe Biden, according to the research.
For example, one QAnon account shared a 45-second video rife with false claims about election fraud. The video racked up about 360,000 views. After CNN Business flagged the video, Twitter took down the account for violating its rules against ban evasion.